16 Gorgeous Gray Nursery Ideas For New Parents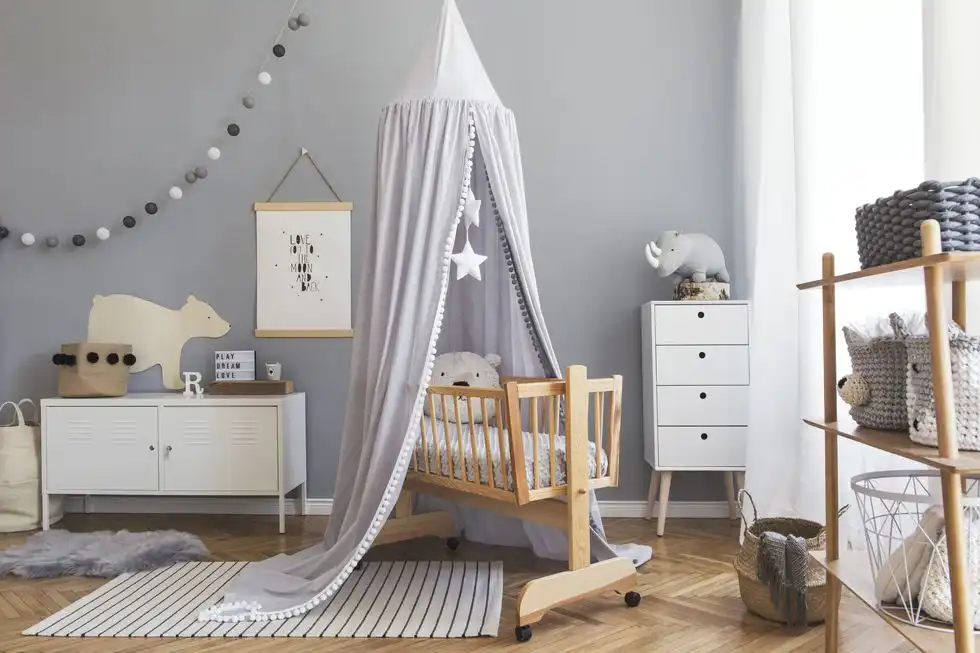 Gray is misunderstood as boring, uninteresting, or even depressing, yet it's bursting with possibilities! The gender-neutral nursery decor option of gray is ideal for the journey from infancy through toddlerhood and beyond.
Gray also gets along well with every other color in the spectrum. It can be anything, from melancholy to crisp, striking to tranquil, and frilly to rugged, so there are many ways it may create the tone in your baby's nursery. Some of my favorite gray nursery decorating ideas are seen here.
Gray baby room ideas with celestial details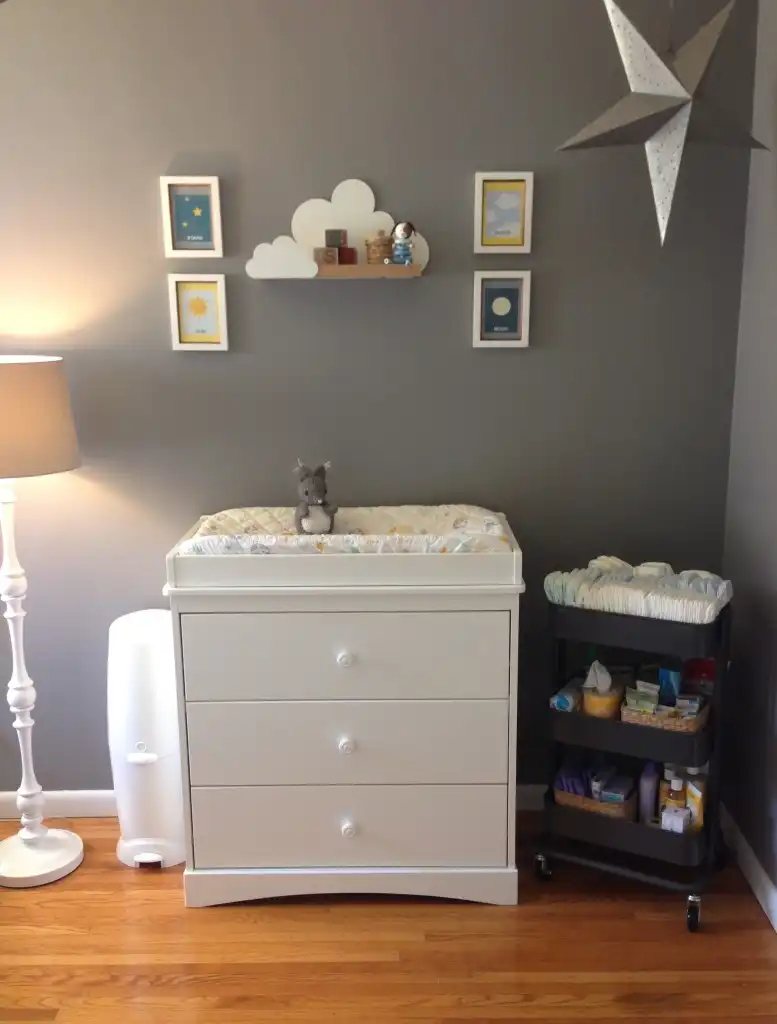 Soft grays are the ideal color scheme for a moon and star motif nursery.
This adorable little shelf is a beautiful illustration of how to include a heavenly motif in a gender-neutral nursery.
Coastal gray nursery decor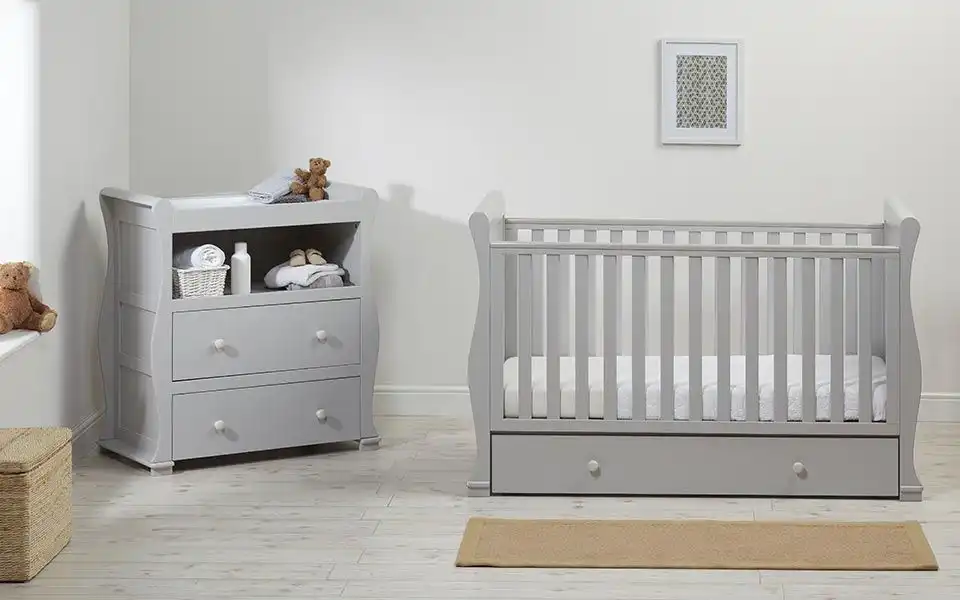 Consider a coastal-themed nursery with gray undertones, tiny splashes of blue and white, and ocean-inspired decorations if sea spray comes to mind when you think of your child.
This dreamy gray and white nursery is a stunning inspiration for creating a coastal vibe.
Charcoal gray nursery crib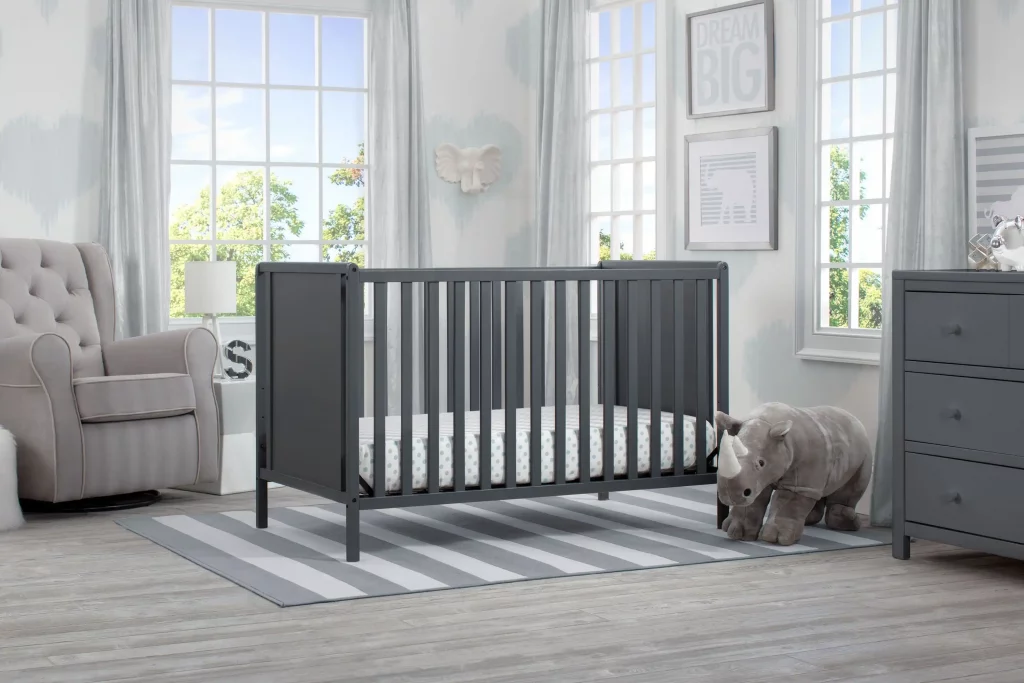 The dark gray nursery crib, with visible wood grain, is a perfect mix of rustic and chic.
Baby will sleep soundly and in style with this beautiful and unique piece in the gray nursery.
Gray nursery textured walls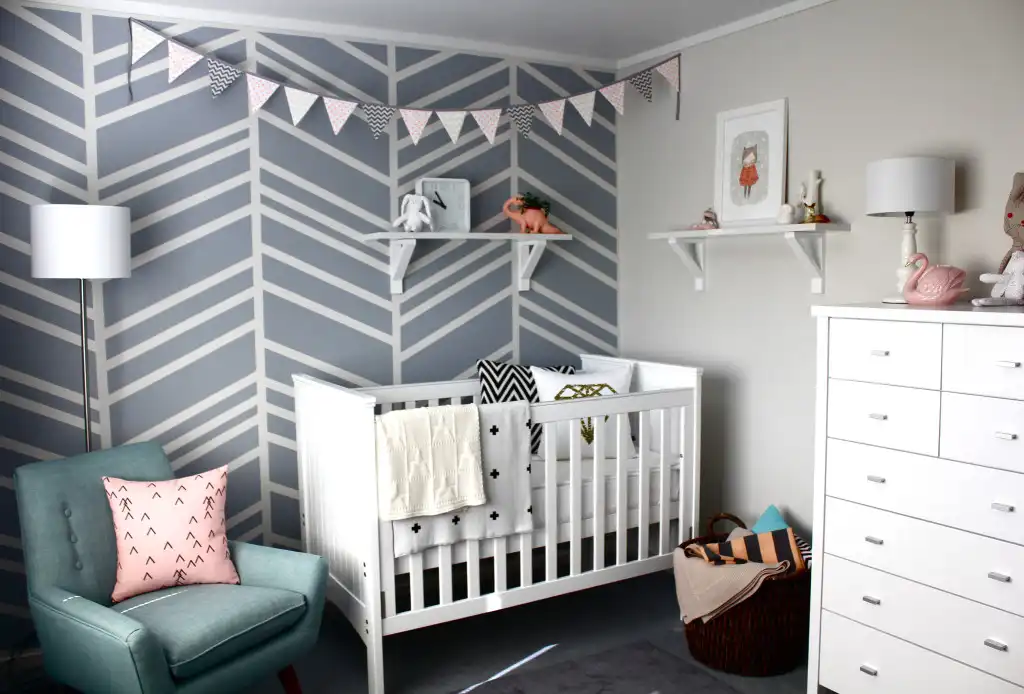 Adding texture is a lovely way to create aesthetic interest while adhering to your gray nursery theme.
This square-molding accent wall is an attractive option for a gray nursery.
Dove gray nursery crib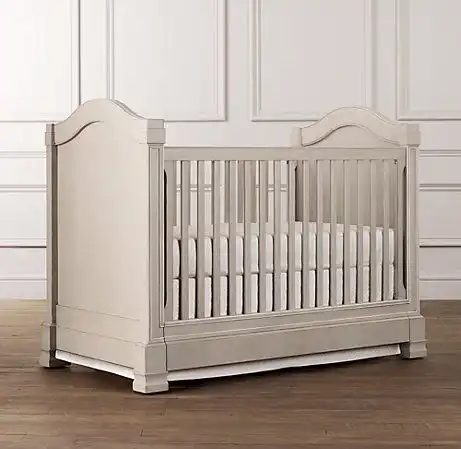 Although charcoal wood is rustic and lovely, choosing a sleek and pale gray crib is another excellent option for a modern nursery. This look is elegant and sophisticated. It will work well for a boy or girl (and any subsequent children!).
Gray nursery bookcase/changing table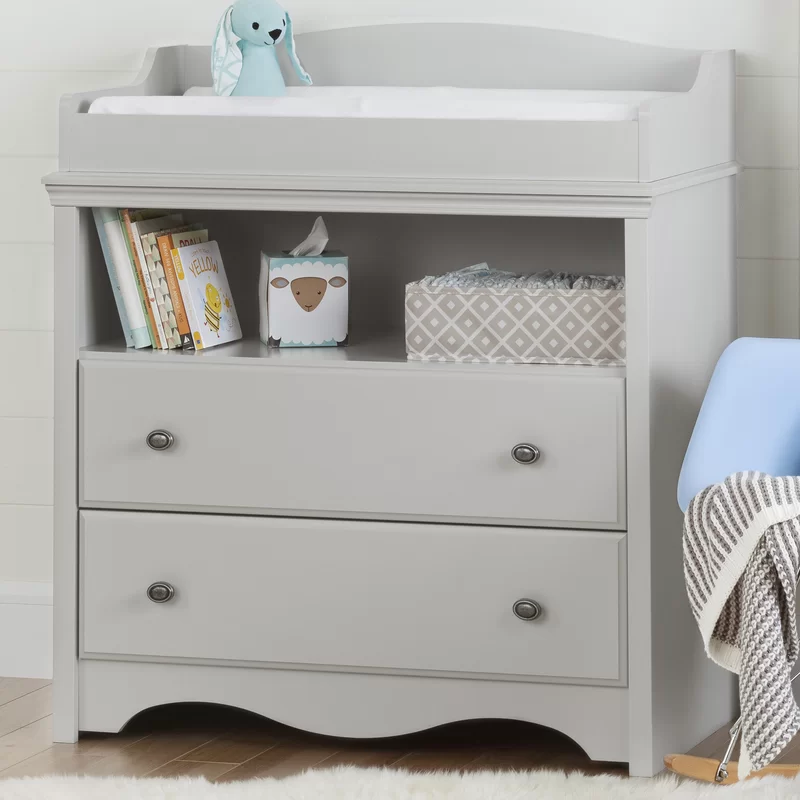 One of my favorites is this convertible bookcase and changing table, a modern nursery essential.
In gray, it exudes style while serving several purposes in Baby's room.
Pink and gray nursery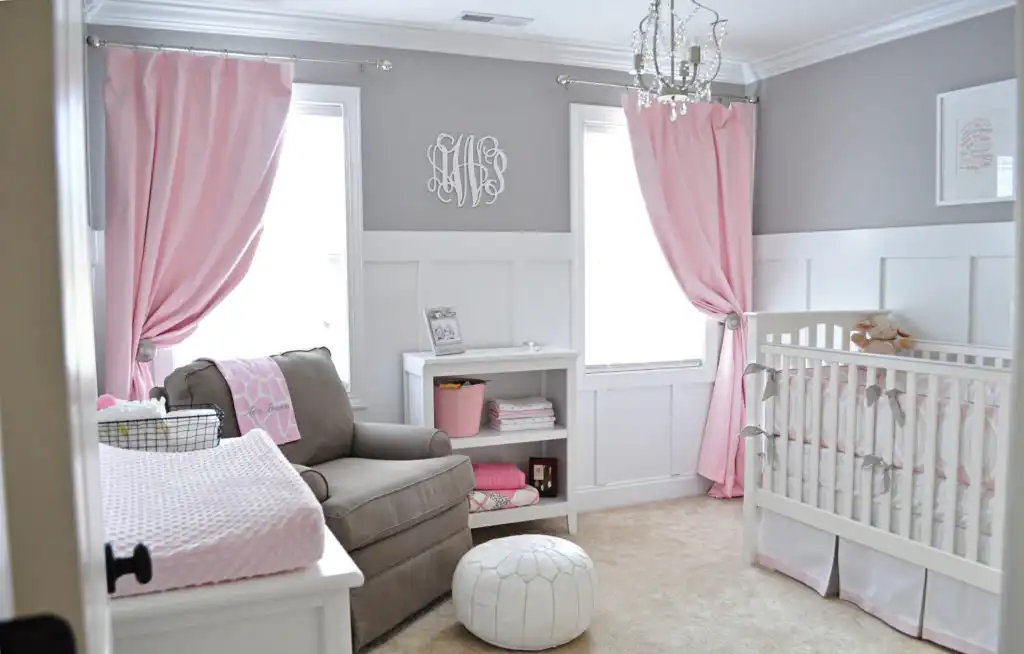 Gray nurseries can be somewhat bland, monochrome affairs.
You may add ballet-pink poufs to the room to add accents of pale pink to the gray to create a charming and airy infant nursery, as shown below.
Super sophisticated gray nursery idea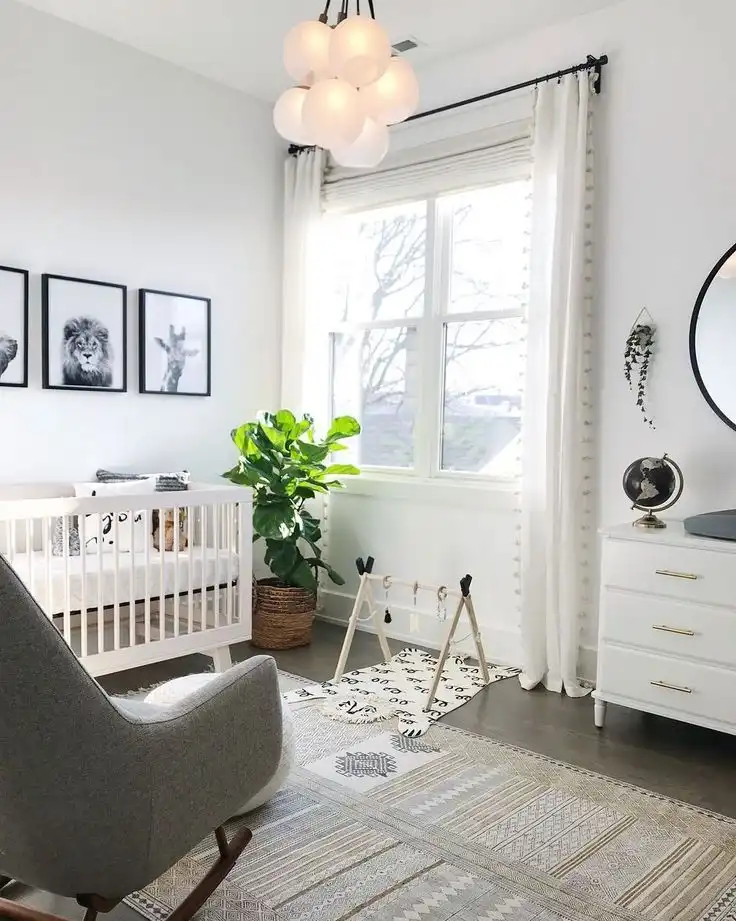 An excellent way to decorate a baby's room is to approach the project as if it weren't a baby's room.
Decorating with a more adult aesthetic can benefit from not having to replace babyish details in a few years and create an atmosphere of calm.
This sophisticated gray nursery hits all the right marks—and the paint color on the closet wall is perfect!
Soft gray nursery
To make a strong message, you don't have to be audacious.
For a baby's room, a soft gray accent wall is an attractive option that may be decorated with any pastels that best suit your taste.
Sporty gray nursery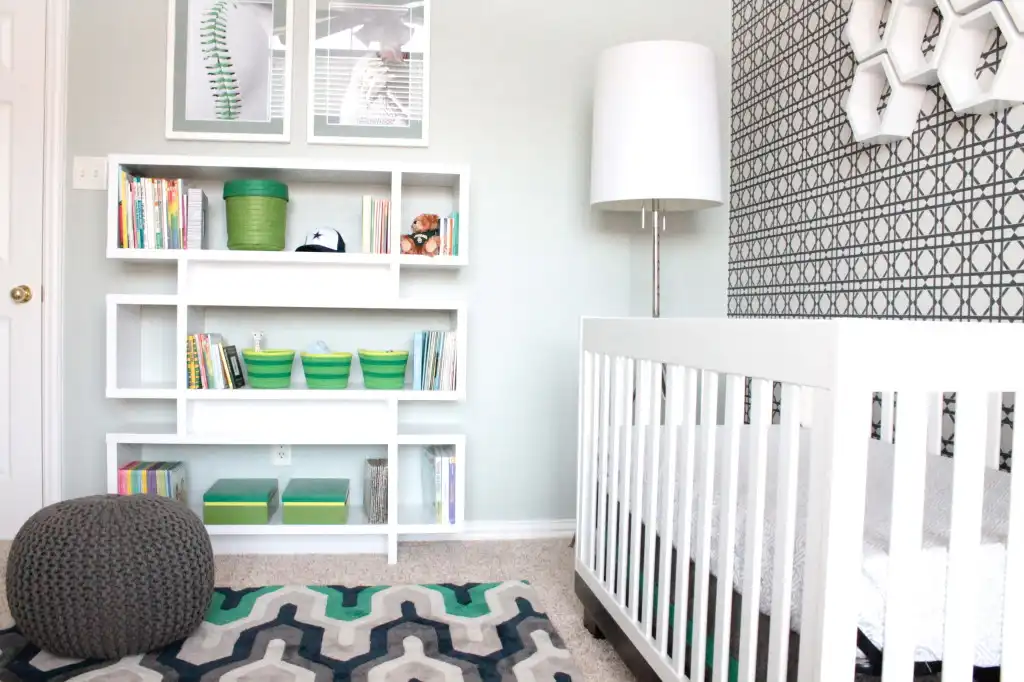 Consider a nursery with a sports theme. It will look stylish in gray. This family devised a unique method to bring the baseball motif home by making a "scoreboard" to place above the crib.
A gray nursery statement rug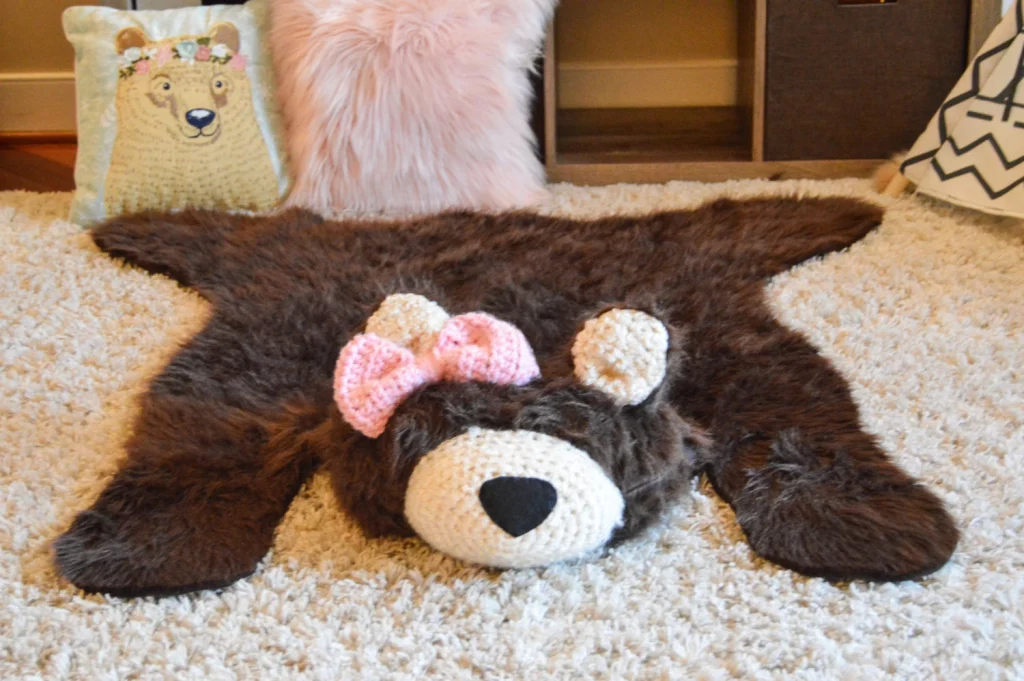 If sticking with neutral hues, inject some unexpected humor into the nursery with items like this sizable imitation grizzly bear rug.
It's adorable, plush, and oh-so-sweet, and it perfectly complements the gray color scheme of your baby's room.
The dark gray nursery door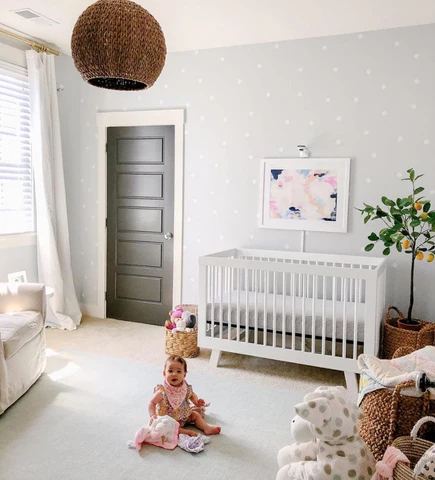 A black accent, like the door in this image, gives contrast if you want to keep your grays generally mild. Sweet white dots on the walls, a striking light fixture, and contemporary nursery art all appeal to this nursery.
Earthy gray nursery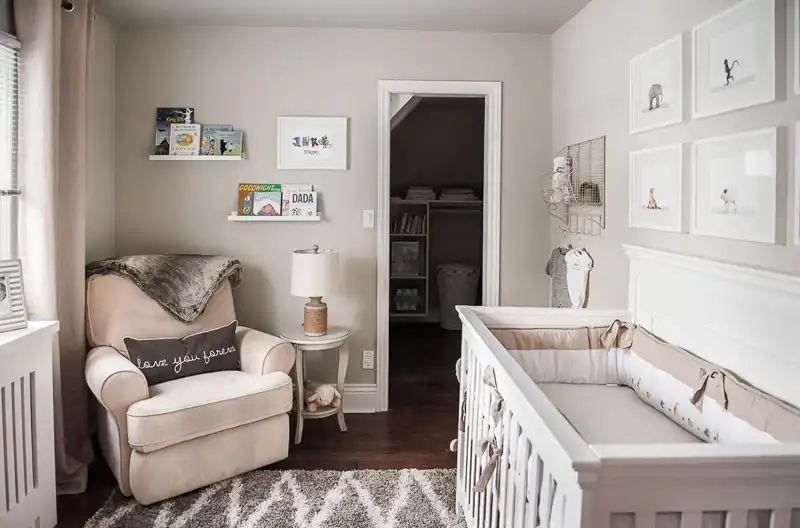 Warm earth tones and organic materials with natural textures, like wicker and wood, can complement your gray nursery. This playful and boyish space is ideal for daydreaming.
Gray nursery with flower power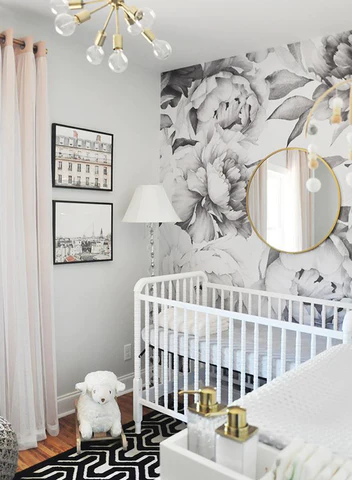 This feminine interpretation of the gray nursery for babies shows that you don't need pink (or any color!) to pull off a floral theme.
The wallpaper with a monochromatic flower pattern and the sea of black, white, and gray are skillfully mixed to make baby Girl's room tranquil.
Muted gray nursery idea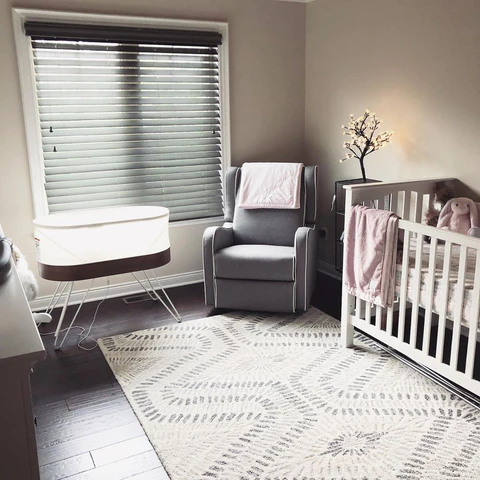 Low-key gray nursery, showing that sometimes less is more. Light gray accents stand out against the dark flooring and dresser.
A couple of pink touches add a touch of fun here—but consider this sophisticated baby room the perfect canvas for your favorite accent color (or perhaps one bold piece of art).
Green and gray nursery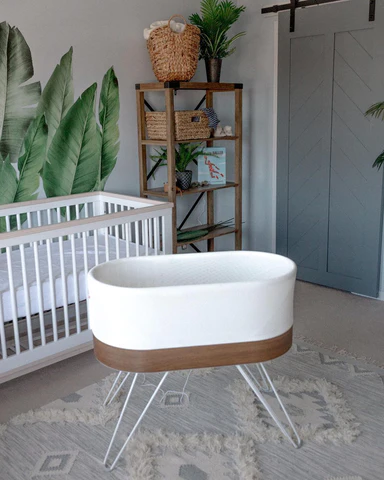 This example shows that Green and Gray Nursery Gray and vibrant green work well together. The light gray rug and dark gray door add contrast and make the green details stand out.
Also Read: 15 Whimsical Woodland Nursery Ideas for 2023
Verdict
There are many beautiful gray nursery ideas to choose from. You can find inspiration from traditional, rustic, and even modern nurseries. You can use gray as the primary color in your nursery, or you can use it as an accent color. To get started, explore some of the gorgeous gray nursery ideas below.
What Colour goes with gray for the nursery?
Blush pink, navy blue, energizing green, and cheery yellow complement grey in any space, especially a nursery, and help elevate the aesthetic.
Is grey a good nursery color?
The gender-neutral nursery décor option of gray is ideal for the journey from infancy through toddlerhood and beyond. Gray also gets along well with every other color in the spectrum.
How do you lighten a grey nursery?
Establish contrast. The key is to create lots of contrast to prevent your gray walls from feeling bland. Gray looks best when contrasted with its parents, black and white. 
Black accents add sharpness, while white accents keep grays looking tidy and bright.
Is grey a neutral baby color?
For babies, muted and pastel tones of numerous colors are a perfect neutral choice. Gray, navy, brown, and cream have become fashionable colors.