18 Truly Beautiful Blue Nursery Ideas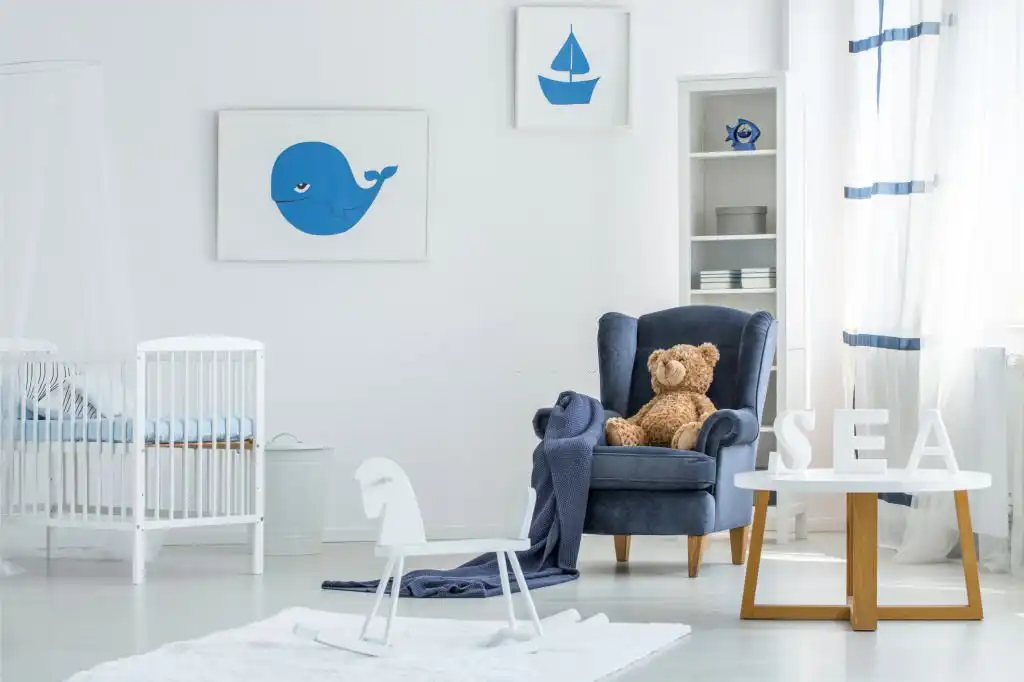 Although blue has been the go-to color for baby boy nurseries for a long time, modern times call for a change! These stunning blue nursery ideas prove that this color is a great choice for any gender.
Checks & such blue nursery
Baby can have a pleasant traditional style with a lovely blue nursery wallpaper like this one, toile fabric all over, and elegant drapes in a coordinating color. This combination of blues is made to stand out in the nursery thanks to the white cot and lighting fixture.
French blue-walled nursery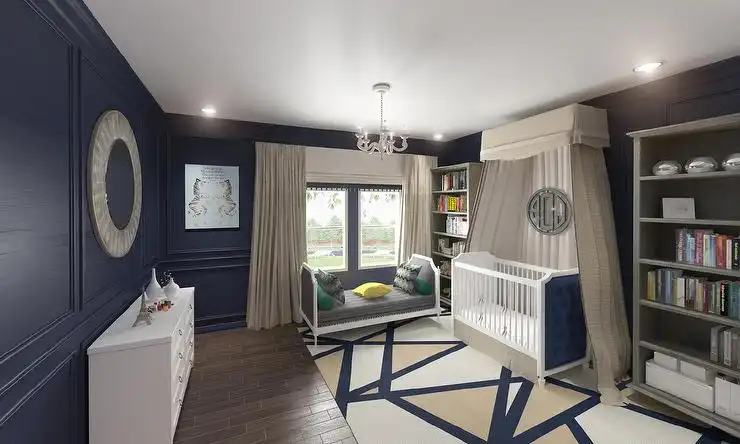 The high-rising wall molding painted in a bold blue creates contrast and interest in this blue nursery. The space feels enchantingly European and stylish.
Blue animal print nursery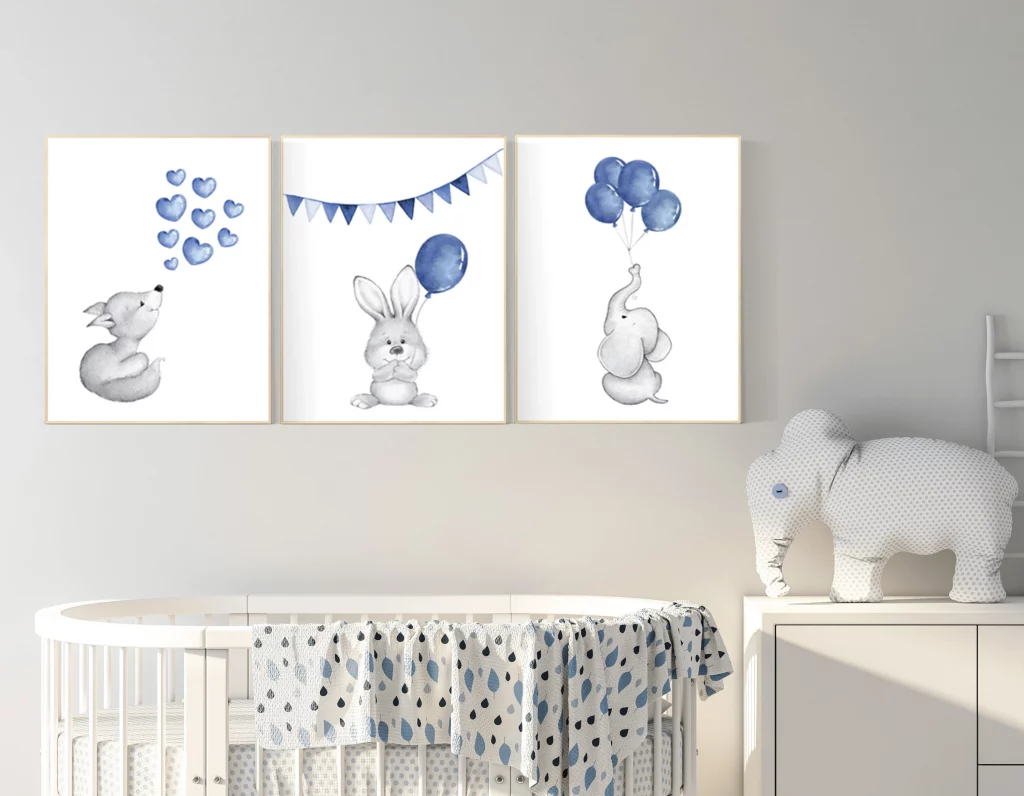 This adorable wallpaper with a dog design puts the wow in bow-wow! A blue animal-themed nursery that rivals any zoo can be created by combining it with some soft taxidermy, as seen here.
Blue shades in spades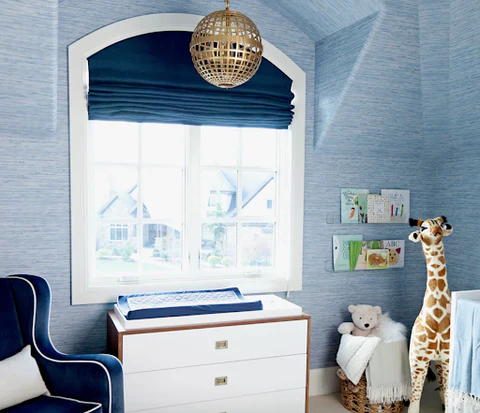 A blend of blue hues can create a cozy and chic baby room. Navy to sky and sapphire are just a few of the shades you can use to achieve a brief look in your baby blue nursery.
A girly take on the blue nursery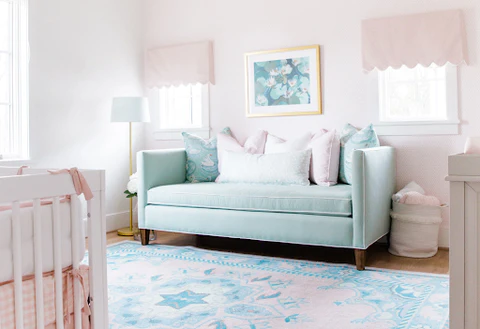 It's not just boy rooms that get to have all the fun! A little girl's space can be charming with blush and robin's egg colors. It's effortlessly feminine while not being too expected.
Pretty printed blue nursery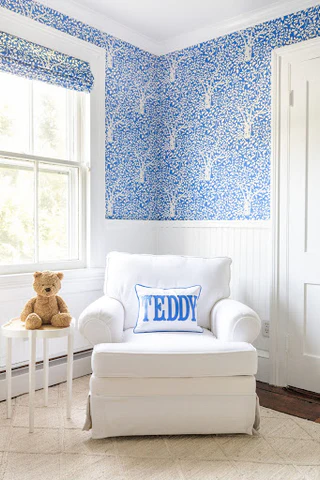 Enjoy choosing a wallpaper (or busy area rug) that speaks volumes in color and print. These colorful walls are imaginative and entertaining for a wonderfully decorated blue nursery. (The personalized cushion is a nice touch, too!)
Blue nursery with lots of texture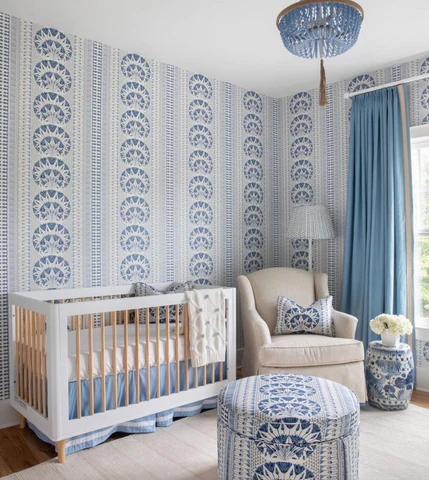 Dreams of elegant design come true with this nursery. The ball-strung lighting fixture and sumptuous curtains complement the animated wallpaper, pillows, and pouf, which add drama to the room. Various designs and textures may work wonders in the nursery when used with blues.
Up in the air blue nursery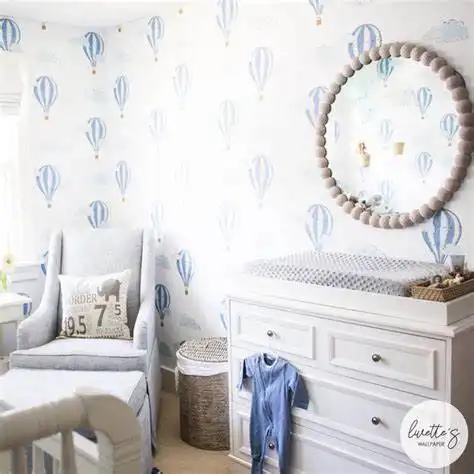 This delightful hot air balloon wallpaper brings together whimsy and wonders for a delightful baby blue bedroom that's sure to bring joy and cheer!
Serene scene blue nursery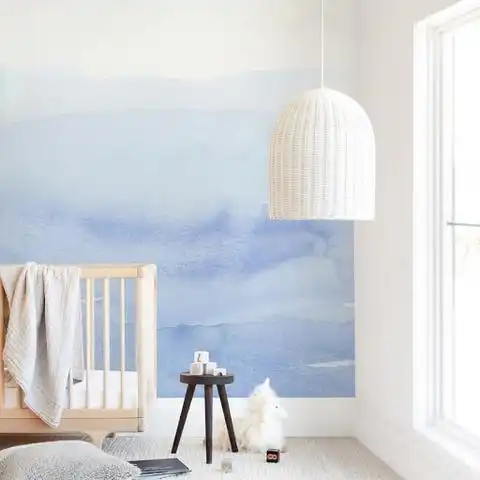 It's easy and lovely to add watercolor-print wallpaper to Baby's room to make it stand out without overly cluttered. This soft blue removable mural offers a serene atmosphere for a lovely, contemporary nursery.
Blue ombre nursery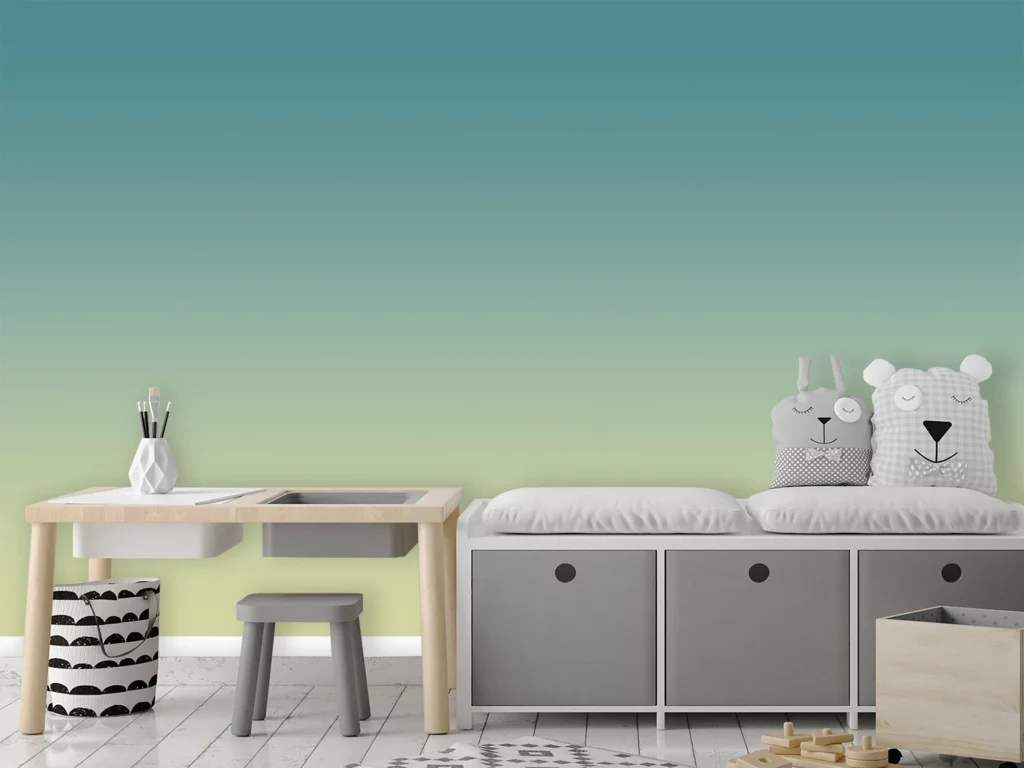 This bright blue nursery looks like a delightful place to grow up in; it's probably the most childlike environment on our list. The stylish factor is amplified in this gorgeous blue motorcycle in the corner, the contemporary dots on the walls, the ombre blanket, and the window treatment.
Dark & bohemian blue nursery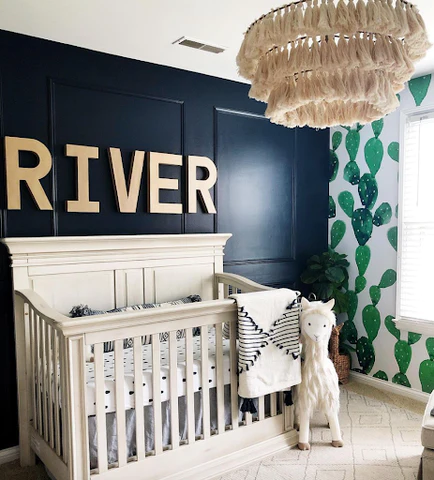 The darkest navy is a stunning option for a contemporary boho nursery. This blue goes well with neutrals and even, as seen here, accents in vibrant green. The space will come together beautifully as you incorporate your bohemian furnishings against a navy blue accent wall.
Blue pattern-mixed nursery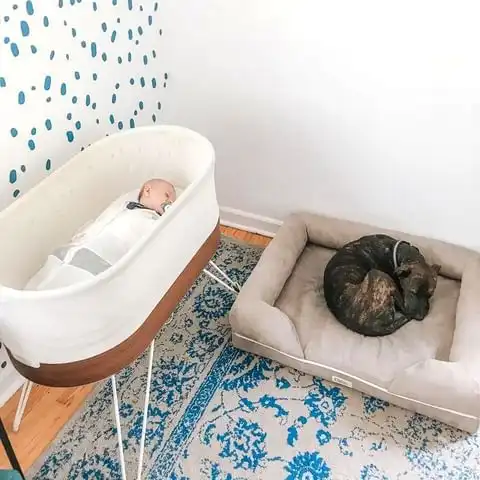 This blue nursery looks beautiful, with blue dots on the wall and blue flowers on the rug. The different shades of blue create an elegant, mismatched nursery design.
Jen talbot design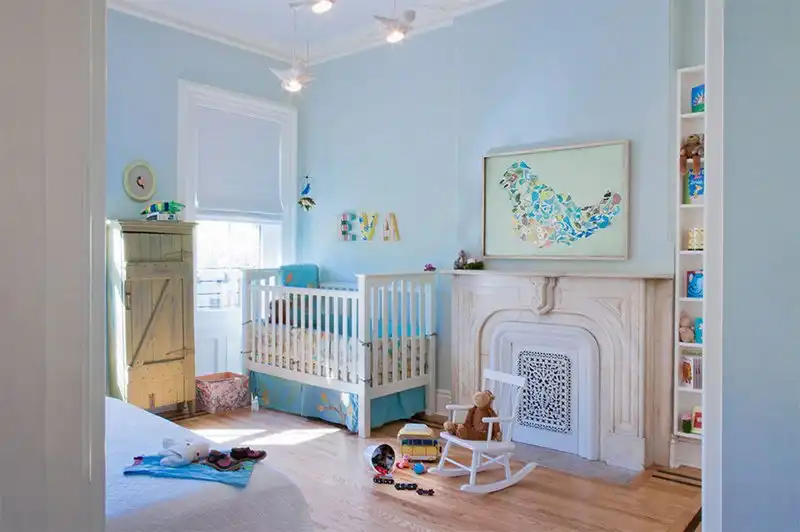 This nursery has a modern mix of custom hand-cut paper bird art on the wall. Like the light blue wall, you'll also notice other fun decorations around the room.
Galaxy gazer nursery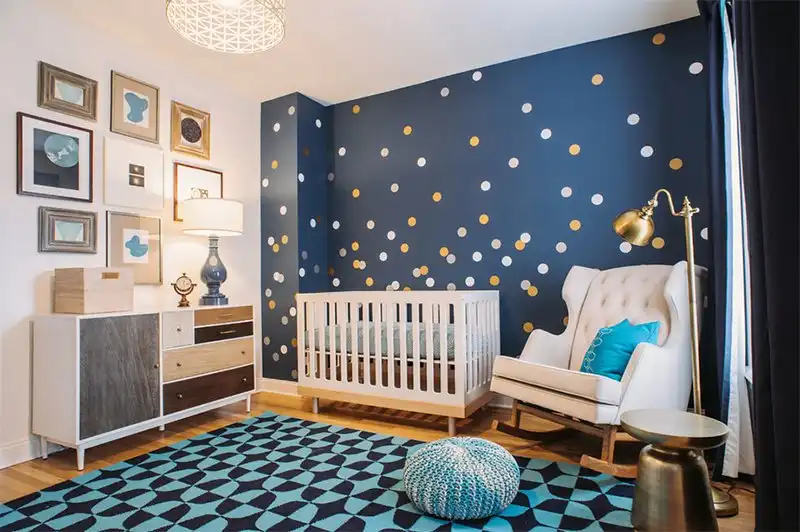 Geometric shapes are employed beautifully in modern bedrooms, from the circles on the wall to the patterns on the area rug.
Night sky nursery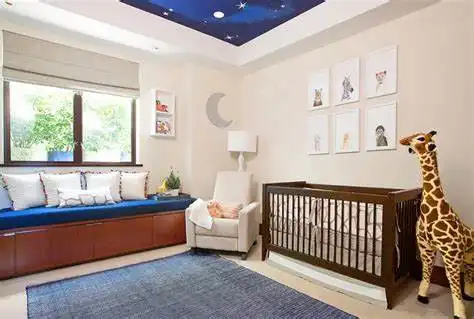 This nursery features a night sky ceiling in addition to animal decorations, which is a good approach to give it a nocturnal air.
Coastal living residence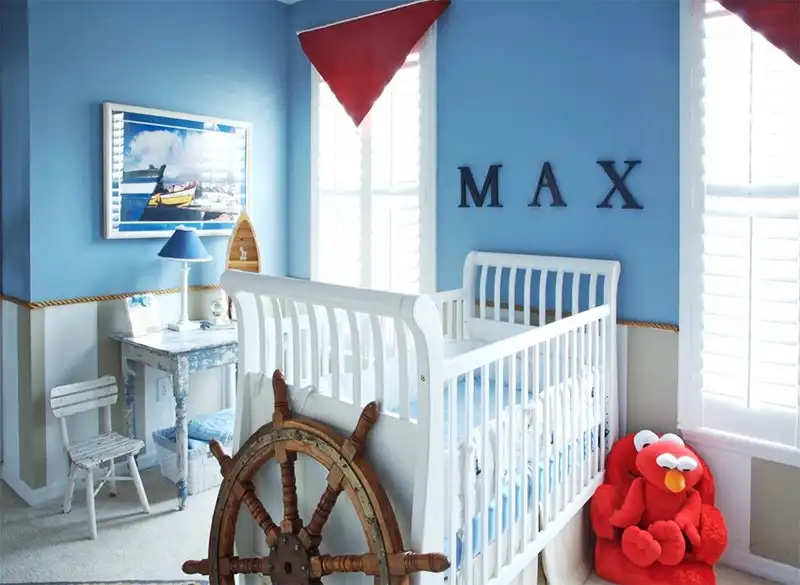 This nursery has a lovely coastal theme that anyone would adore. You'll fall in love with the wheel on the floor and other sweet details in the bedroom.
Galaxy gazer nursery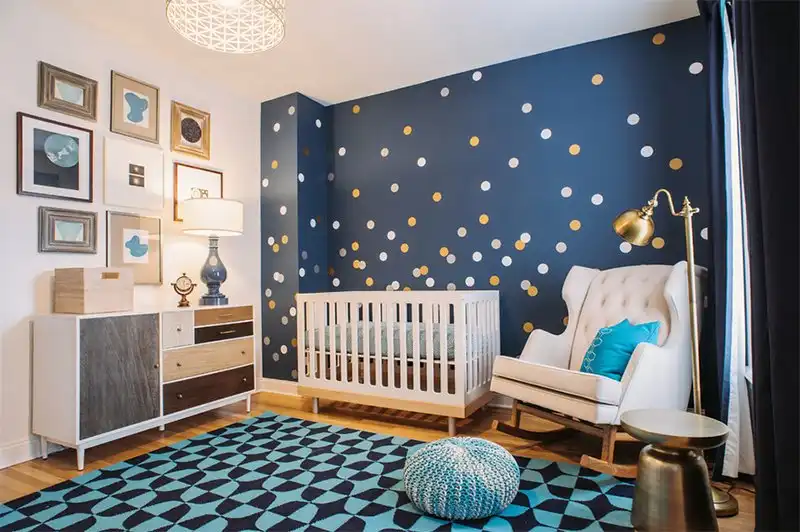 Beautiful geometric designs are used throughout a modern bedroom, from the patterns on the area rug to the circles on the wall.
High style nursery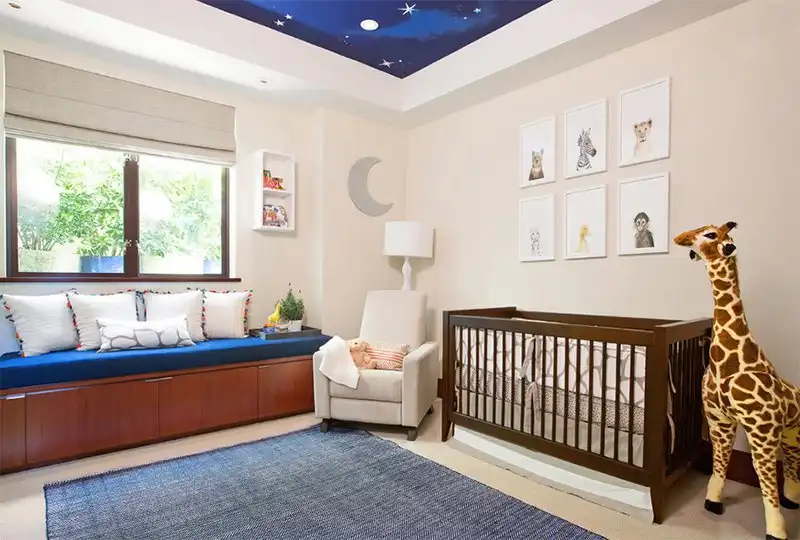 This is a traditional nursery with a chevron area rug, a blue seat, and a traditional blue crib. There is also a lovely tree on the wall!
Also Read: 16 Neutral Nursery Ideas That Will Work For Baby Boys Or Girls
Verdict
This article provides a great starting point if you are looking for beautiful blue nursery ideas. There are various blue nursery ideas to choose from, and each one is stunning. You will find the perfect blue nursery for your baby with many great options
Which Colour is suitable for babies?
The best colors for babies to wake up to are softer shades such as blues, greens, and pinks because babies' eyes can perceive those colors at about the same time as they develop.