20 Creative Small Nursery Ideas When You're Tight On Space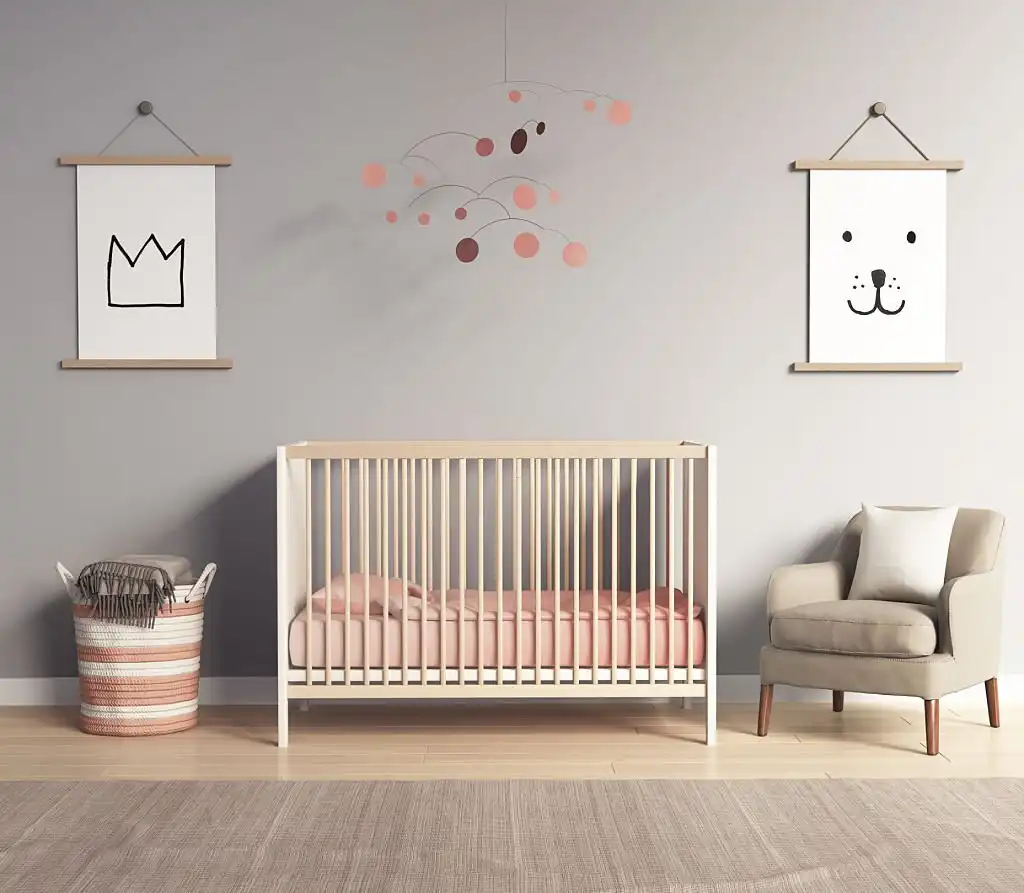 Organizing the nursery for your child can be enjoyable, but the task can rapidly become daunting if you don't have much room or want to reduce the number of baby items to a minimum.
There is no lack of goods and technology marketed toward expectant mothers. However, you only need a small number of necessities (and many infant things you don't need).
If you want to maximize your space, here are some small nursery ideas to help you set up a miniature nursery in a limited area. These ideas are perfect for apartments, tiny houses, shared bedrooms, or any other small space.
See also my list of how to arrange nursery furniture in a small room
How to get the most out of your small nursery
Use these six suggestions to set up a nursery in a tiny space and make the most of the available space, along with plenty of examples:
Utilize the space on the walls.
Pick products that can serve multiple purposes.
Choose your baby's furniture wisely.
Use the doors to your advantage.
Use smart storage solutions.
Decorate to make the room appear bigger.
1. Maximize wall space
You may place many items on an empty wall to make your nursery more functional if you're looking for small nursery design ideas. Even in small nurseries, using wall space to organize items is helpful.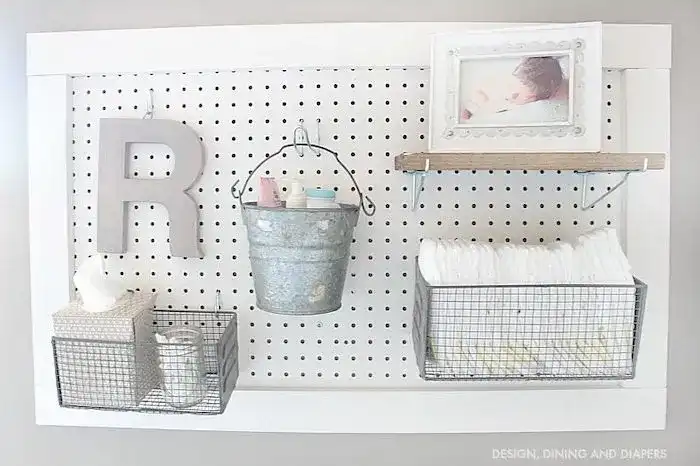 Utilize a pegboard to hang all of your diaper-changing items above your changing table. Like Taryn Whiteaker, I organize diapers, wipes, tissues, baby creams, and other items in buckets and baskets. As your infant gets bigger, you can use this for creative supplies for larger children.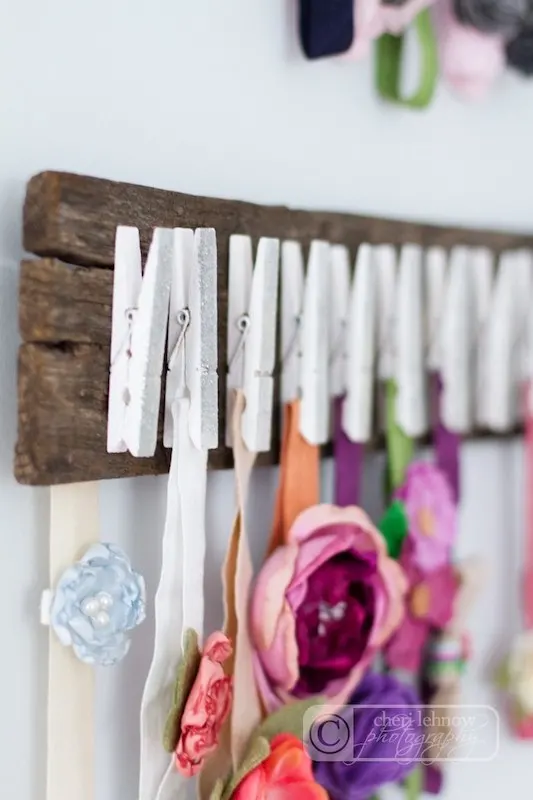 With this easy-to-make but adorable DIY headband holder from Tinker With This, you can hang baby girl headbands and bows on the wall. Create it on your own or with the name of your newborn girl.
Gray House Studio's wall-mounted DIY diaper changing station is cute and functional for small spaces. In her tutorial, she shares how a few simple materials can be used to make it. This helps keep all those diaper necessities organized and at your fingertips!
Since ledge shelves are narrow, they don't take up much room. To store books, decorations, and other baby essentials, make your own shelves using the CRAFT tutorial or purchase them.
Add wall-mounted decorative hooks to hang items like a hamper, diaper bag, or storage containers.
Also Read: Baby's Nursery Organization: How to Set It Up
2. Pick products that multitask
Choose multipurpose furniture while selecting items for your baby's compact space. By adopting dual-purpose goods, you can save money and a lot of space.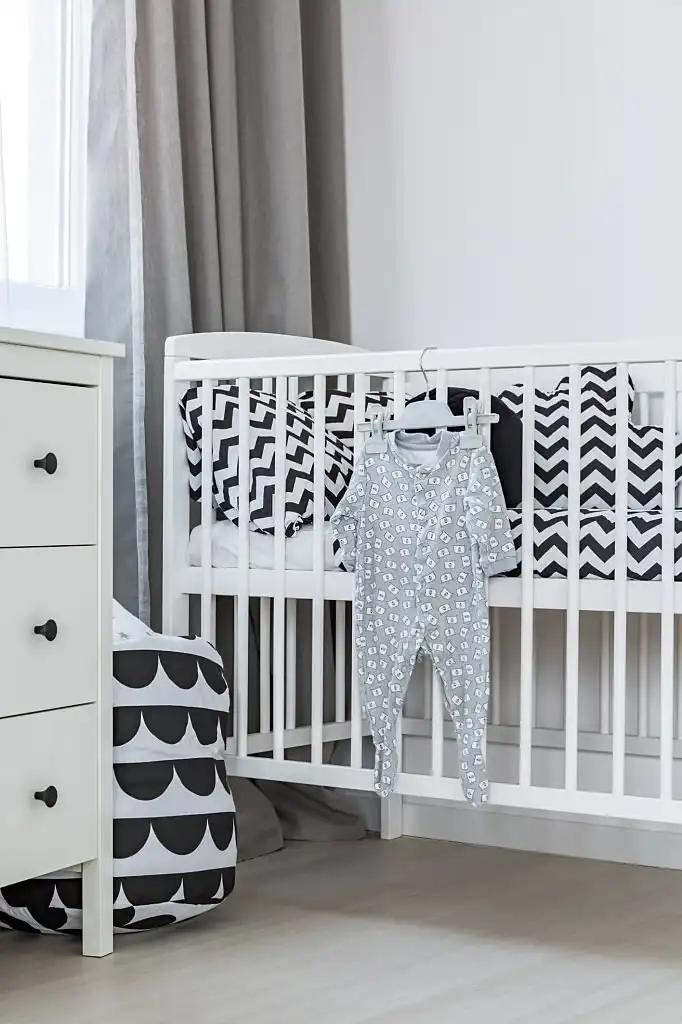 Instead of a changing table, use a large dresser with a changing pad on top. This will make the room feel more open and spacious. Ashlee's dresser and a changing station in the nursery closet are great space-saving solutions!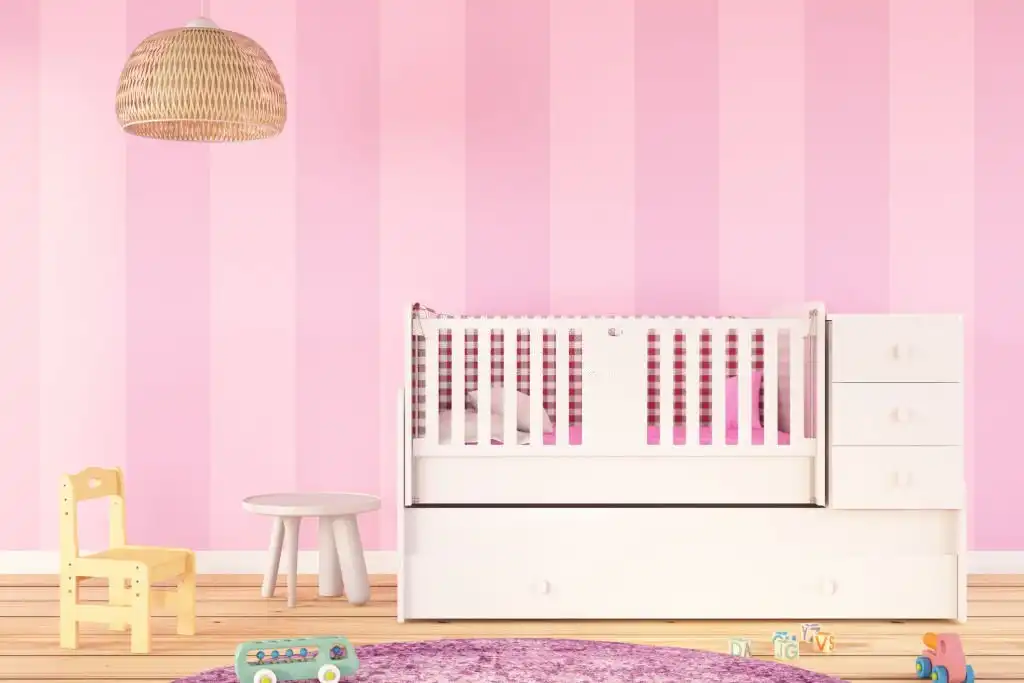 You can get a crib with drawers built into it. You now possess a bed and a dresser in one! This also makes it very simple to find items.
3. Choose furniture wisely
You might not need standard nursery products and furniture, like a rocking chair. Instead, look for furniture that will fit your small nursery well and outside-the-box products that are innovative and save you space.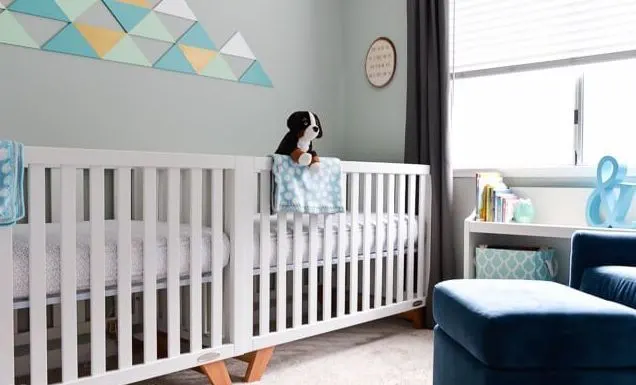 You may arrange your baby's nursery however you choose, because these gorgeous modern cribs have the same height on all four sides. See how we squeezed two into this little nursery with an adventure theme. They can be used for years because they convert into a toddler and twin beds.
Use a bassinet for small spaces if you intend to share a small space with the baby before transferring them to their room. Several of the bassinets on our list can accommodate infants weighing up to 35 pounds!
The portable rocker from Ready Rocker is brilliant! Grab one of these instead of the bulky nursing glider to rock your baby in bed, the living room, the kitchen, or even outside! Anywhere you go, you can rock the baby with it!
4. Utilize door space
Utilize any doors in the space to create more storage and conserve crucial floor space in the nursery for your child. It saves room and keeps things orderly to hang stuff on the door!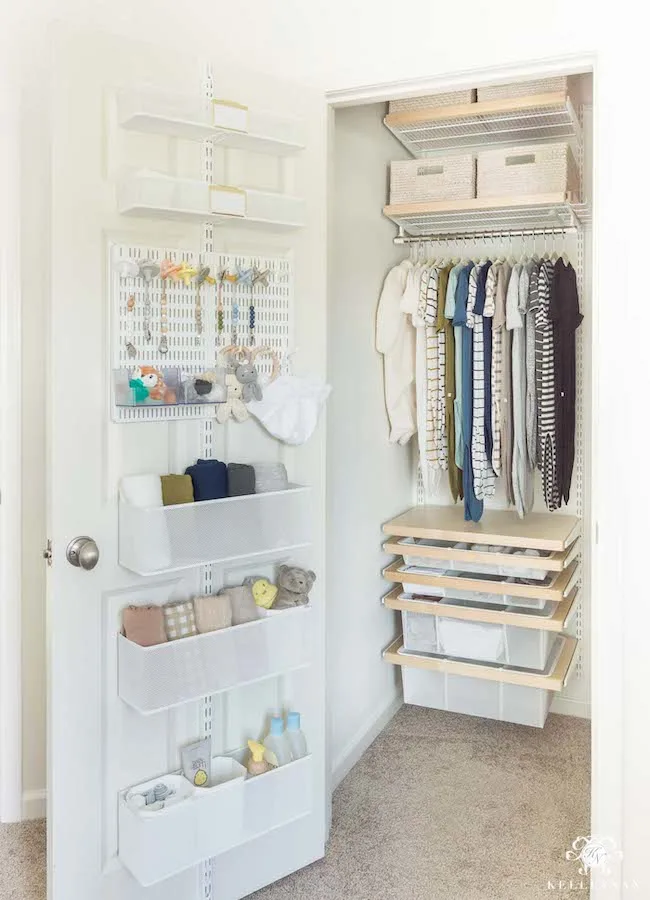 Kelley's organized door solution in the closet is highly customizable. You can add bins, baskets, and other accessories to make them fit your tiny nursery storage needs.
This over-the-door storage organizer is perfect for storing a lot of baby gear. Put rolled-up baby blankets, extra pacifiers, lotion, bibs, and other items inside.
5. Use smart storage solutions
Make use of space-saving storage options that can accommodate a large number of objects. These compact nursery storage solutions can keep your cramped area tidy.
Fill a moving cart with treats! Wendy displays all the necessities she incorporated in this space-saving arrangement while packing this cart full of diapers, receiving blankets, lotions, creams, and other items.
With the help of this guide from Table and Hearth, you can make your own hanging closet storage crates. These are excellent for carrying larger goods and can be tailored to complement the design of your nursery.
Add another pole to the closet to store twice as many baby clothes. Use these suggestions to keep infant clothing arranged in the dresser or closet. Two times as cute! Check out Kid Space Stuff's closet space hack to see how she was able to double her space.
Do not forget the additional space below the crib—you can purchase extra storage containers to hold spare bedding, sheets, and mattress covers when required.
6. Decorating tips to maximize space
It is often said that space is in the eye of the beholder. You can make your small space have a big style with the right decorating tips and tricks!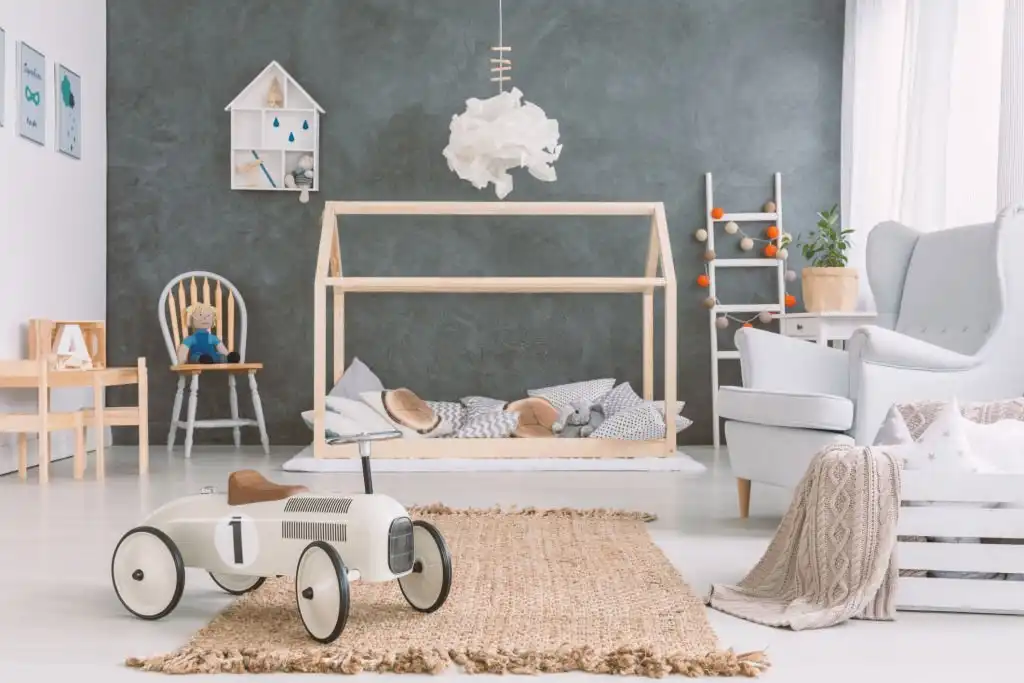 The appropriate color choices may enlarge any space. Choose shades like whites, greys, and pastels for furniture like the crib and rocking chair. Small rooms will appear larger if the walls are painted. This lovely, neutral color scheme from Lynzy and Co. seems so airy and light.
Your baby's nursery might become more spacious and brighter with attractive lighting. The Life of Two Texans has a lovely chandelier that gives their lovely room much depth. Take note of how your eyes are averted.
A room might appear bigger or taller by accent patterns like painted vertical or horizontal stripes on the walls. In this image from Project Nursery, notice how tall the walls appear.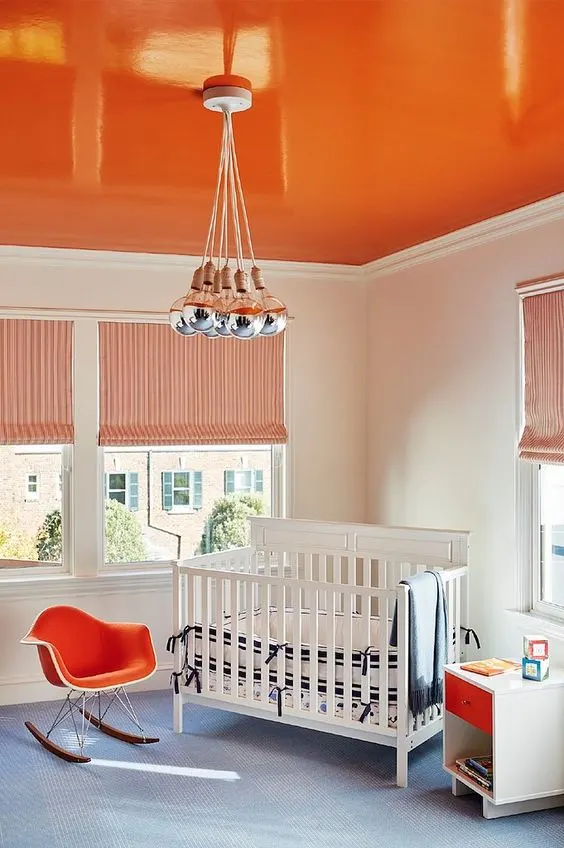 Decorate the ceiling. A dramatic decorating effect is produced, and the room appears larger when the ceiling is painted differently from the rest of the walls. Look at how this orange nursery draws our eyes upward.
Do not forget that you probably do not require as much Stuff as you believe. If you're short on room, choose creative storage options and employ decorating hacks to make the most of your little nursery!
Verdict on best small space nursery ideas
You're not alone if you're tight on space in your nursery. Many parents find themselves in the same situation. The good news is there are plenty of ways to make the most of a small nursery!
You can turn a small nursery into a stylish and functional space with creativity and clever styling tips. Here are 20 clever small nursery ideas to get you started:
Choose furniture that can do double duty.
Don't be afraid to go vertical.
Use the walls to your advantage.
Keep it simple.
Get creative with storage.
Maximize natural light.
Create a focal point.
Use light and airy colors.
Keep the scale in mind.
Embrace multi-purpose pieces.
Consider a corner nursery.
Opt for a mini crib.
Dress up your shelves.
Use a changing table tray.
Integrate built-ins.
FAQs on best small space nursery ideas
How can I brighten up my nursery?
Use mirrors to increase the visual area in a dark nursery—one of the simplest and quickest methods to make it more cheerful. The nursery will be brighter if a mirror is placed close to a window or other light source that reflects light.
Can you put a crib in front of a window?
Never position your child's cot close to a window.
Babies and toddlers may fall through window screens or become entangled in window blind cables or drapes.