Baby's Nursery Organization: How to set up nursery furniture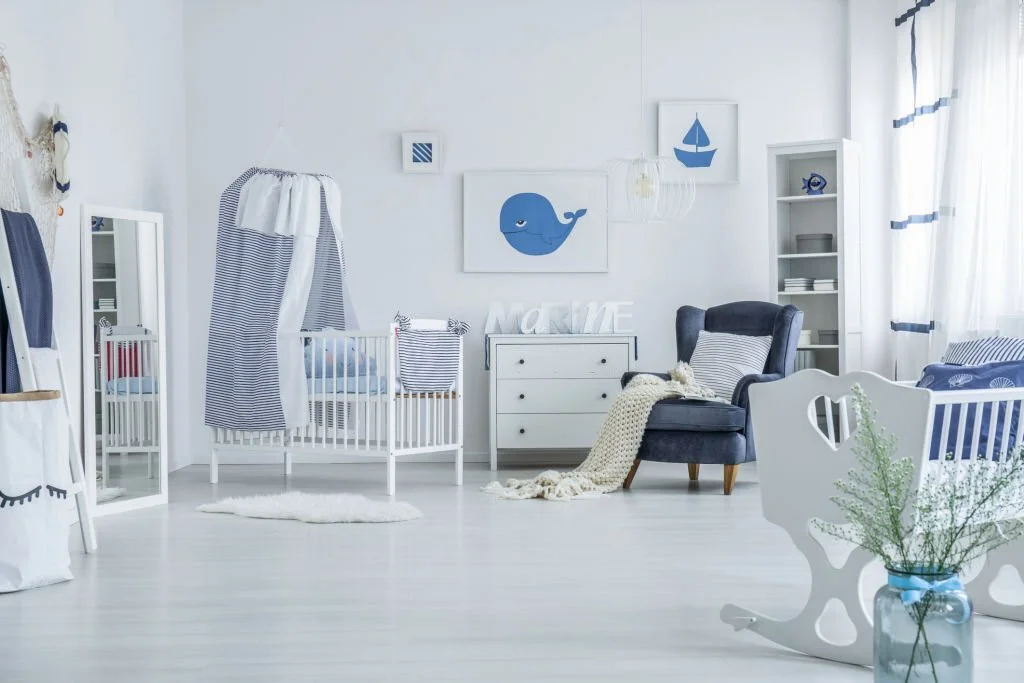 Your baby won't care about the nursery's organization or the handmade quilt on the rocking chair. Babies don't take in all the visual details of their nursery, but there are certain things you can do to make the nursery comfortable and organized for both of you.
Assigning a place for all of your baby's things will make dressing, diapering, and feeding much easier. Here are some tips on how you can organize your baby's nursery.
When should you begin setting up a nursery?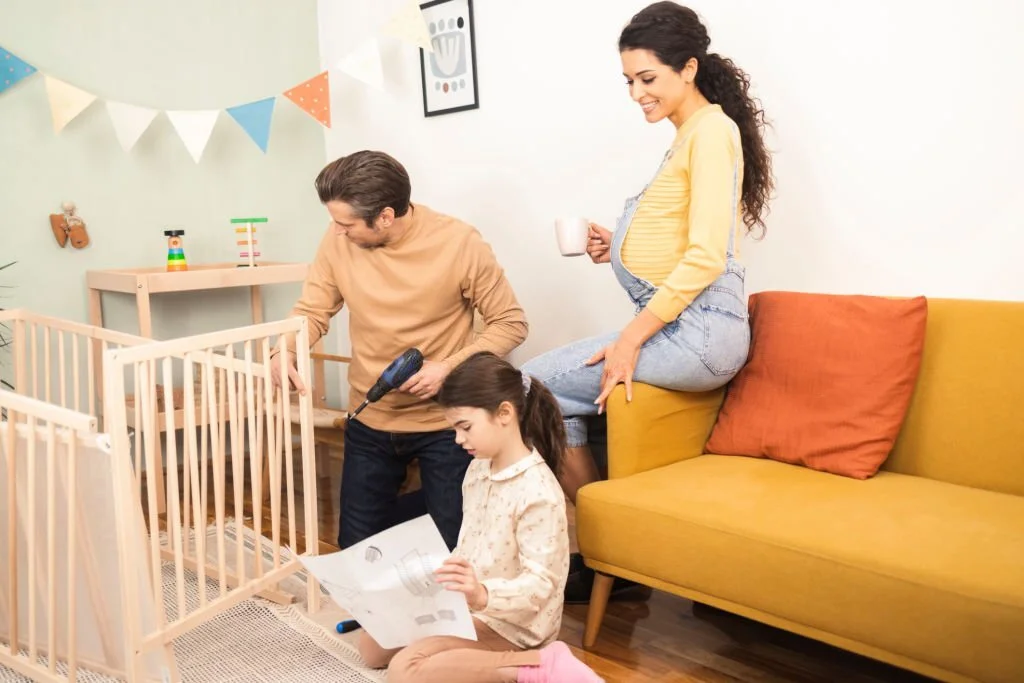 Ideally, you should start organizing your nursery during your second trimester when morning sickness and fatigue might have subsided.
It will be more difficult to get things done the closer you get to your due date! There might be some items that you've put on your registry that won't be arriving until later.
If that's the case, organize as much of the nursery as possible and fill in the gaps with items you receive from your baby shower. Try to set up any large pieces of furniture while you're still relatively comfortable.
How do I Organize baby stuff?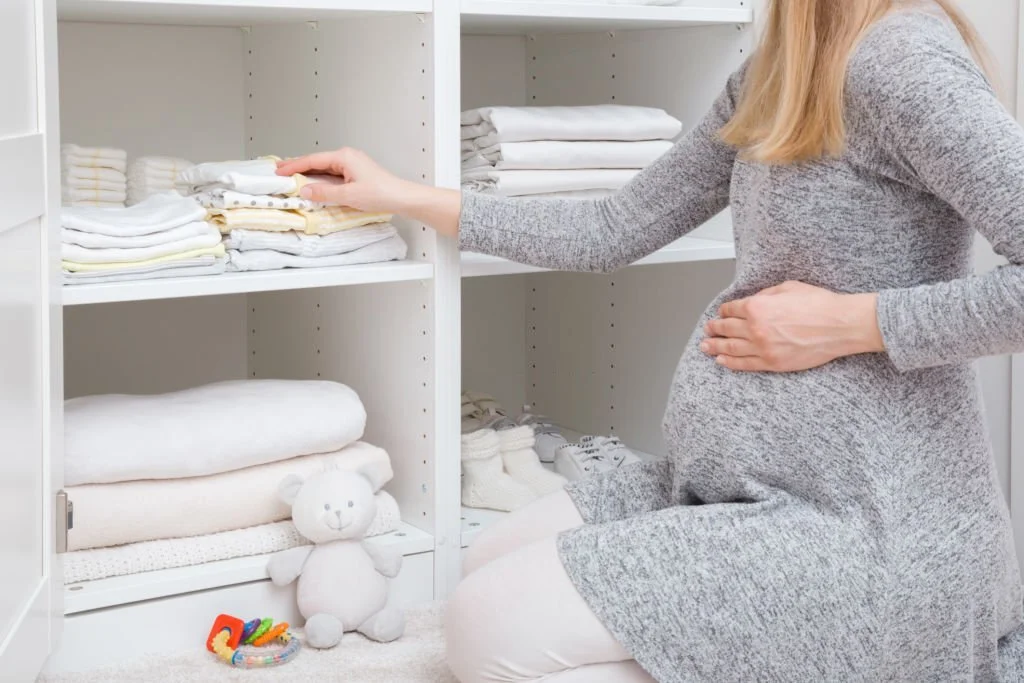 For their nursery, each family will have specific requirements. The items I used for my baby's nursery organization are listed here, along with some advice from other mothers.
How to organize the nursery sleeping area
Even though it may not seem like it, your kid will sleep a lot in those early days. You can set up your baby's nursery to provide the best sleeping conditions.
Keep all toys, pillows, bumpers, and stuffed animals out of the baby's sleep area. You can use a crib immediately or a pack-and-play or bassinet until you're ready to transition to a crib. Use a firm mattress and tight-fitting sheets.
Instead of using a blanket to keep your infant warm, use a swaddle or sleep sack. According to the American Academy of Pediatrics, preventing loose objects from being near the sleeping space lowers the chance of entrapment or suffocation.
A waterproof mattress pad is the first layer of your bedding, followed by crib sheets. Pulling everything off will be much simpler if you ever pass out late at night or throw up. Keep some additional waterproof sheets and a mattress pad handy for those late-night changes.
One more piece of advice for putting your infant to sleep: use blackout curtains to help your infant sleep a little longer. With the help of this video from Two Twenty-One, you can even create your own.
Also Read: Baby Furniture Buying Guide: What Do You Need for the Nursery?
How to Organize a baby's feeding area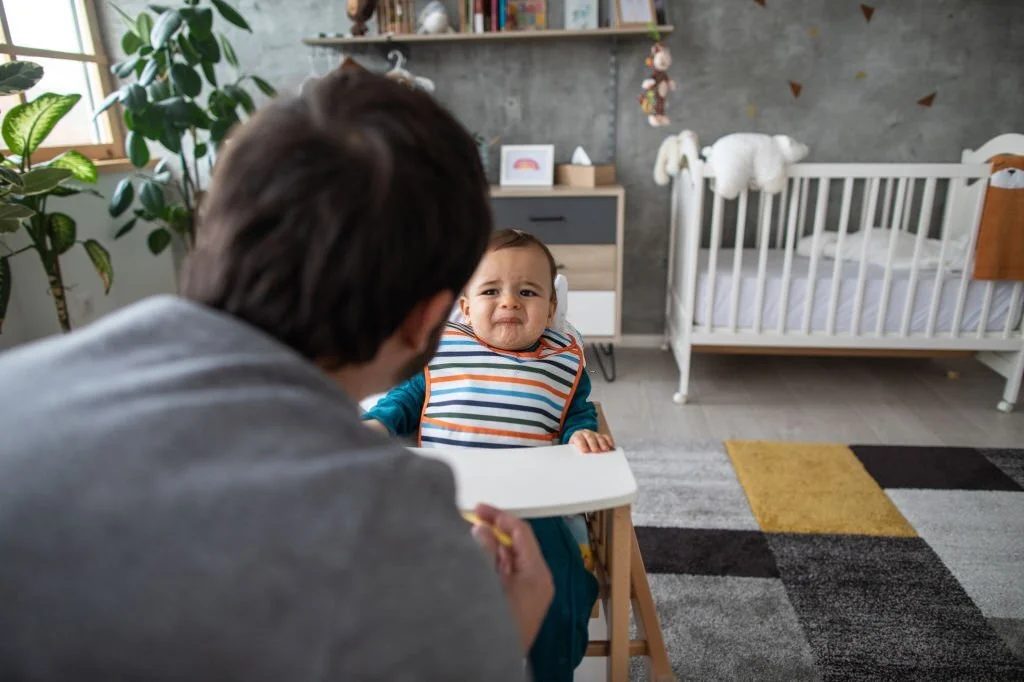 Get comfortable because feeding your infant will take a lot of your time. A cozy chair or glider is one of the most crucial items of nursery furniture. Place it close to a small side table (you can also use a nightstand).
Use this space for minor items like your coffee, water, and other needs. Additionally, I always had a few extra burping rags for the inevitable spitting up.
I wouldn't mind rocking a baby for hours in this lovely glider area that Loverly Grey has set up. Okay, perhaps three hours might be a bit much. But this arrangement seems cozy and valuable!
Healthy Little Mama's inviting breastfeeding station demonstrates how she sets up everything for breastfeeding. What a clever little basket for mom!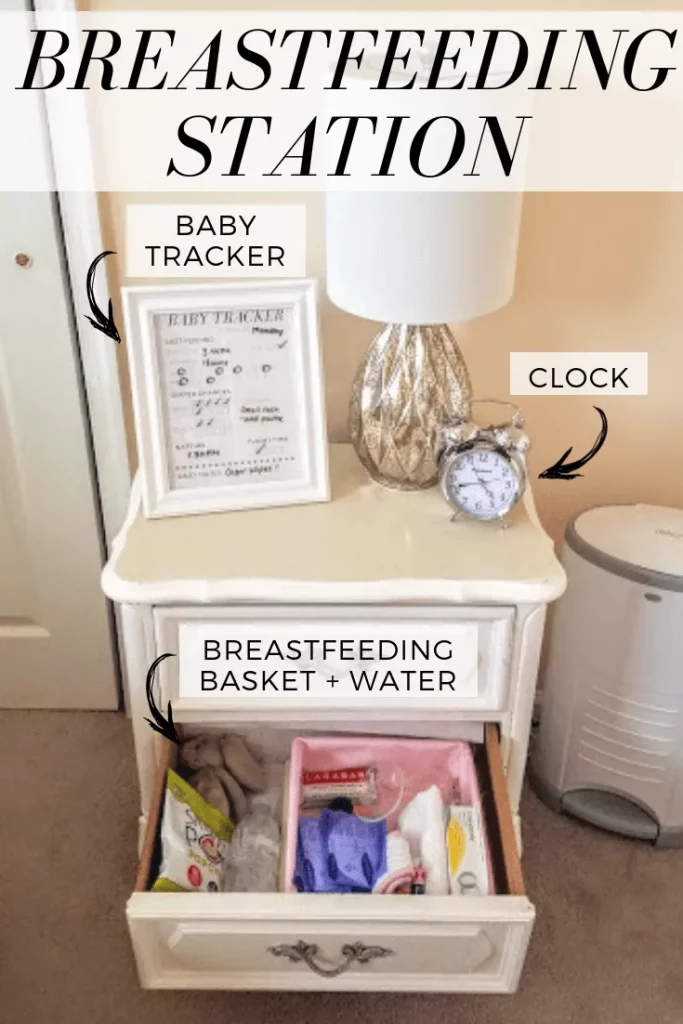 Look at how Best Friends for Frosting set up this area of her nursery for breastfeeding, rocking, and reading. This space will expand as your child does.
As your baby ages, you can use it for cuddling, storytelling, feeding, and rocking. The shelving unit works great for storing items like books and toys.
How to Organize baby's changing area
Prepare for entertaining diaper changes! They aren't that horrible. Use a changing mat atop a dresser or a specialized changing table.
A changing pad with a cover was my favorite. It was simple to pull off the pad and throw it in the washing machine whenever we got excrement on it. Maintain a diaper genie close by with your diapers, wipes, cream, and diapers.
A nearby hamper is another thing I enjoy. It is simple to throw the baby's clothes in the hamper after a blowout or spit-up. I'm far more prone to keeping dirty clothing piled up when there isn't a hamper nearby. Consider investing in a cheap clothing basket to save your sanity.
Don't overlook the tiny things, such as bookcases or shelves for holding books, figurines, and other ornaments.
How to set up a nursery in a small space
What if you have a tiny space and need to set up a baby nursery? The good thing about babies is that their items are tiny! Here are some excellent suggestions for designing a baby room in a limited area.
A diaper pegboard is ideal for keeping things accessible and orderly in a tiny area. The board and your baskets can be painted in the same colors as your nursery design.
Make use of your closet space to store all the baby's necessities. Check out how the Avid Appetite kept her closet organized and added a ton of storage space to a tiny space.
It feels like you're constantly searching for a burp cloth or baby blanket with a newborn. To keep track of them, put them in a hanging shoe bag as Remodelaholic did.
How to organize a nursery dresser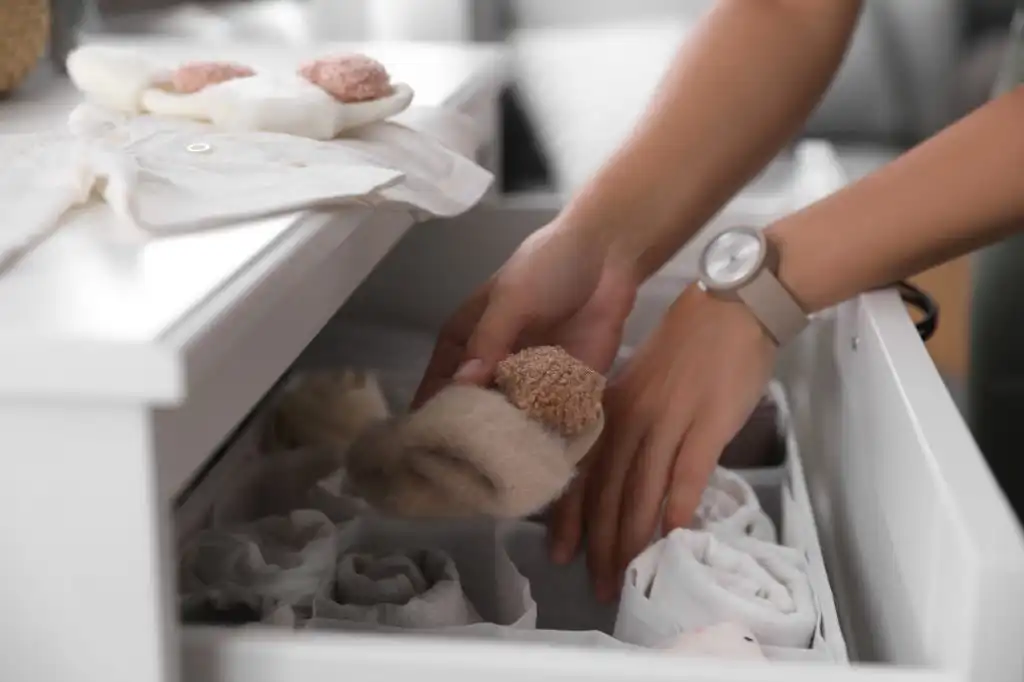 To help divide up tiny baby onesies, socks, and diaper covers throughout all of your clothing drawers, store and organize baby clothes that currently fit the baby in drawer dividers.
Seasonal clothing, such as coats and outfits for special occasions, can be stored in the closet using dividers.
Save room by storing extra clothing in space-saving bags or boxes that can be stacked.
To keep everything tidy and to organize your baby's outfits, go through everything every few months.
Other essentials for baby's nursery
You can add gorgeous decor and a small nursery organization to your drawers and closets! Considering how much time you'll spend here, you might enjoy it!
1. Your baby's nursery should have a ceiling fan installed to help lower the risk of SIDS (SIDS).
2. When you have those late-night feedings, a soft night light prevents you from wandering around in the dark and turning on solid overhead lighting.
3. A small, charming sign, like this free printable, makes adorable, straightforward decor.
Enjoy setting up the nursery for your child! You don't have to adore it to appear like something from a Pottery Barn catalog. Budget-friendly baby nurseries are also possible to design! Just incorporate some relaxing aspects that you and the baby will appreciate!
Verdict on how to set up nursery furniture
There are a few important things to keep in mind when organizing a baby's nursery. The nursery furniture should be set up safely for the baby.
FAQs on how to set up nursery furniture
When should you set up nursery furniture?
Most people consider the second trimester the best time to start setting up the nursery.
At this stage in your pregnancy, you should hopefully be over the morning sickness and fatigue but still, be able to move around with relative ease and comfort.
 How do I organize my baby's nursery?
1. Create zones in the nursery.
2. Keeping a safe sleep zone for the baby
3. Set up a diaper changing station.
4. Create a Nursing Nook
5. In the nursery, create a play space.
6. Get the nursery dresser organizer.
7. Declutter the nursery closet.
8. Make the Most of the Nursery Closet.