Crib Placement In Your Baby's Room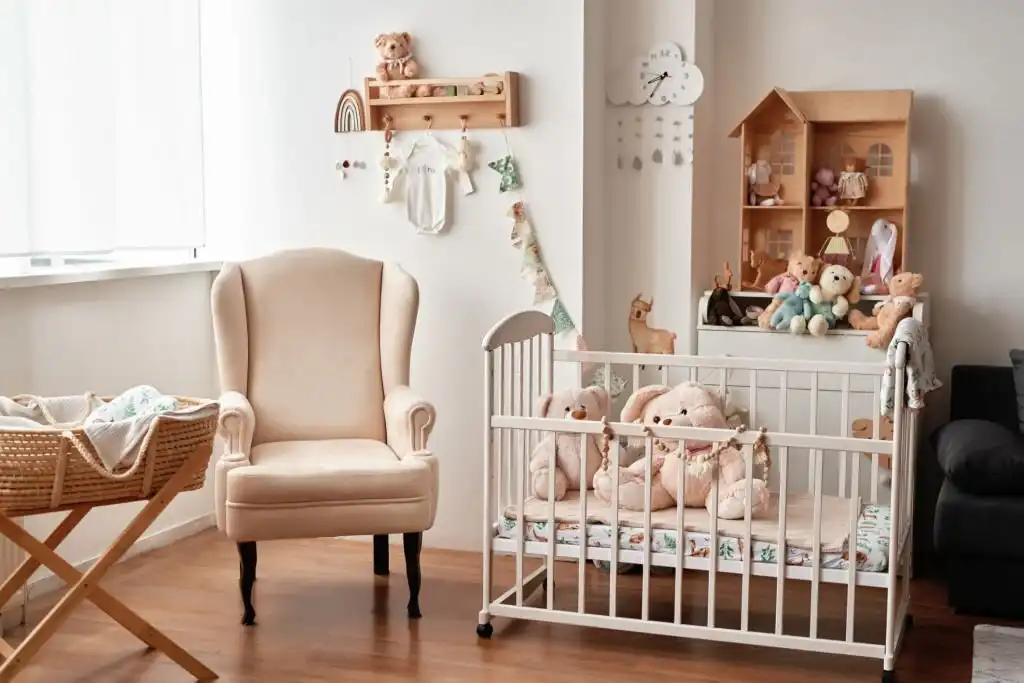 While designing your baby's nursery can be enjoyable, you must strike the appropriate balance between providing play areas for your child and easy access to all the essential pieces of furniture, such as gliders, changing tables, wardrobes, and drawers, in addition to the cot.
You can put the crib in several places, typically the nursery's main point. The most popular locations are in the center of the room, in a corner, or close to a wall. Let's examine each of these choices in greater detail and discuss crib placement pitfalls.
Where is the safest place to put a crib?
The cot should ideally be placed pretty near the nursery door in general. If you need to get up in the middle of the night to tend to their cries for help, this will make things simpler for you. If possible, try to position it against a wall or in a corner rather than right up against it to lessen the chance that your child will become trapped between the two.
The crib could also be positioned in the room's center. This can be pretty fashionable when done well, but if your baby's room is small, a crib might take up a lot of room.
Follow these safety guidelines when setting up the crib:
You should never place your baby's crib near a window.
Babies and toddlers may fall through window screens or become entangled in window blind cables or drapes.
Clear the crib area.
Cribs should be positioned as far away from all electrical cords as possible. Additionally, do not place a crib beneath shelves or anything else heavy that could fall off the wall and injure your baby.
Avoid placing any items with strings or ribbons near your baby's crib.
These present choking risks. Even crib mobiles must be hung high enough out of your baby's reach. When your infant can sit up on their own, remove them completely.
As per the American Academy of Pediatrics, it is acceptable for newborn twins to share a crib. However, they will need separate sleep areas as they get bigger and squirmier. Use the same tips when it is time to place your second crib.
Practical and Safe Furniture Arrangement
The changing table works best when it is close to the crib. Please do not put all your changing items under the table; put them somewhere they are easy to grab. You might want to change supplies in other areas of the house, so you can change your baby wherever it is most convenient. The chair or rocker you use for nursing or rocking should also be close to the crib and the door, so you can quickly transfer your sleeping baby and exit quickly.
Your newborn won't be moving around independently, but eventually, your toddler will, and they love to climb. To prevent accidents, you should use furniture straps to secure all tall and heavy furniture to the walls. It's better to do it when you're first setting up the furniture rather than trying to remember later.
Use furniture straps to keep your infant:
Toybox
Dresser
Changing table
Bookshelf
Verdict
Use a night light to illuminate the path you must take to enter and exit the nursery.
Ensure the toy box's lid has spring-loaded support if your baby's toys are in it to prevent it from slamming down on their hands or heads. However, you might need to update hand-me-down toy chests if you have recently acquired ones.
Lastly, don't forget to include a functioning smoke alarm and carbon monoxide detector in your baby's room!
Can a baby sleep near a window?
You might be tempted to place your child's crib next to a window so that they can enjoy some fresh air when sleeping and napping. This is not advised, though. Babies and young children can grip drapes or window blinds, offering a danger of injury from falling or pulling the cords, which can strangle them. 
In reality, over 30 kids in the UK have passed away in the previous 15 years due to becoming entangled in drape or window blind cords. Sadly, the number will be significantly more significant if you multiply this globally. If the crib is too close to the window, there is also a chance that newborns will fall through the window or a window screen.
If you don't have many options for placing your baby's crib, such as limited space, and it has to go near a window, buy drapes or blinds without cords.
How far should the crib be from a window?
For peace of mind and your baby's safety, leave the largest space you can—ideally at least 2 feet—between the window and the crib.
That way, if your child pulls themselves up in the crib, they won't be able to reach the window and pull on any cords, drapes, or blinds, or they won't be able to fall out of the window.
Can you put a crib in the middle of the nursery?
The main benefit is that your infant is in the center of the room and away from potential dangers.
There are no surrounding drapes, window shades, or drape cords that they could pull on and potentially strangle themselves. You don't have to be concerned about bookcases or hanging photos falling and touching them.
Suppose you enjoy the concept of placing a crib in the center of a room but are worried about space. In that case, you might consider getting a round crib because they are more flexible in design and take up less room.
Can you put your baby's crib near a radiator?
There are two main reasons why you shouldn't place your baby's crib adjacent to a radiator:
1. Your baby or toddler risks self-burning if they can get to the radiator through the crib slats.
2. Your baby is more likely to overheat, which raises the risk of SIDS (Sudden Infant Death Syndrome)