Baby Nursery Checklist: 7 Nursery Furniture Must Haves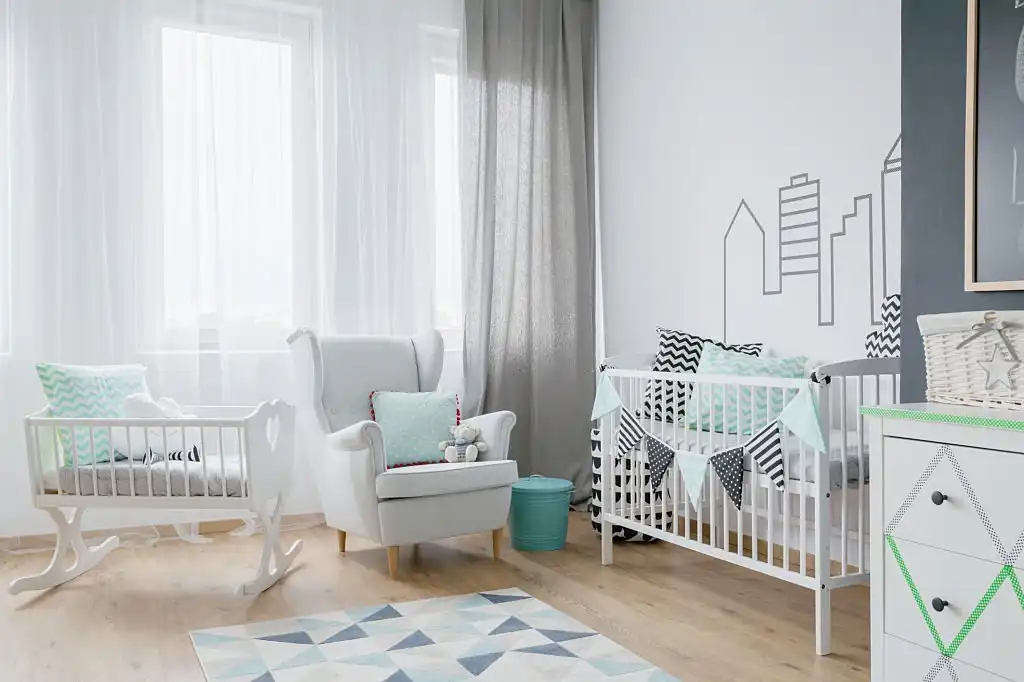 The nursery should be a place for both you and your newborn to feel comfortable and at ease. But what nursery items are necessities, and which are luxury items? Use the handy nursery checklist below to ensure you have what you need and splurge on what you want.
Baby's nursery must-haves
The nursery for your unborn child should ideally be ready a few weeks before your due date. You never know when they might decide to show up!
As a future mother, you want to do everything you can to prepare for your child's birth. Pregnant women commonly go through their "nesting" phase in the third trimester. The desire to arrange and clean the house is natural.
Despite the many design options, a baby crib, bedding, and a changing table are the top three necessities for a nursery.
Crib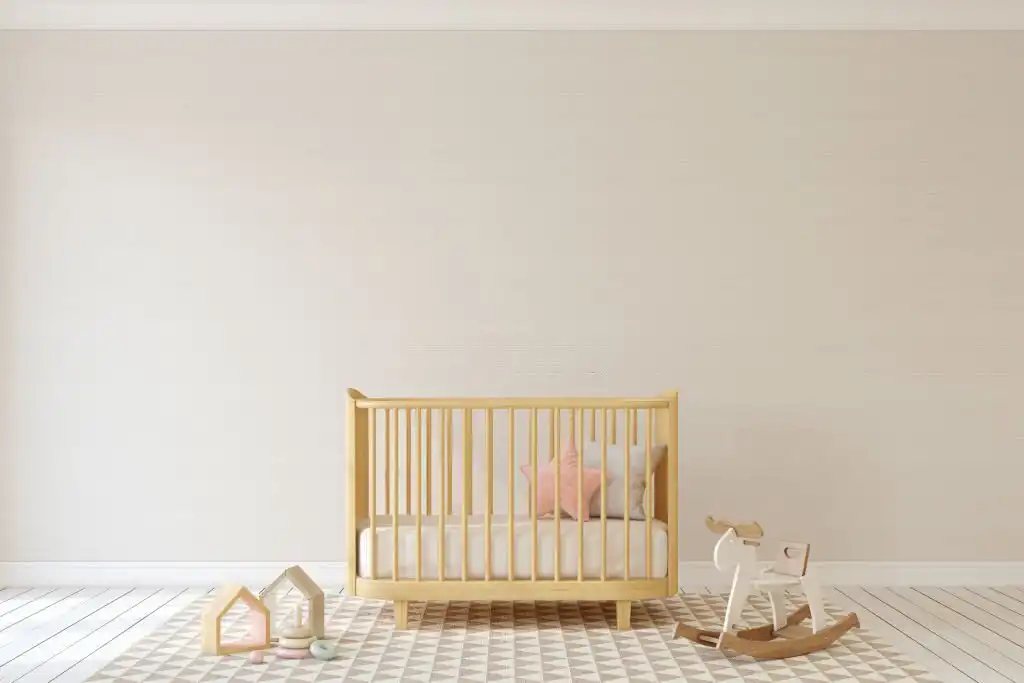 Your infant can rest peacefully in this secure, comfortable place. Pick one that will grow with your baby and be appropriate until they are three. But you might need to replace it sooner if they finally learn to climb out independently.
Cribs are subject to severe safety regulations in the majority of nations. Choose the following characteristics while shopping:
A straightforward layout devoid of ornamental embellishments that could catch garments or present dangers.
Vertical slats spaced 2 3/8 inches apart or less
A secure frame with no protruding bolts or screws
Stationary sides, as opposed to drop-sides, which are considered unsafe.
Try to get your mattress at the same time as your crib to guarantee a tight fit. Aside from that, keep in mind that most models aren't pre-assembled, so give delivery and set up extra time. Lastly, avoid purchasing an old crib to save money since it might not follow current safety rules.
Bedding
When it comes to your baby's bedding, safety comes first. You only need a fitted crib sheet with elastics and washable crib mattress covers.
Avoid using pillows, blankets, padded bumpers, and plush animals in your child's crib to lessen the risk of choking or asphyxiation. Instead, wrap them up in a swaddle or wearable blanket/sleep sack during the winter to keep them warm and cozy.
Changing table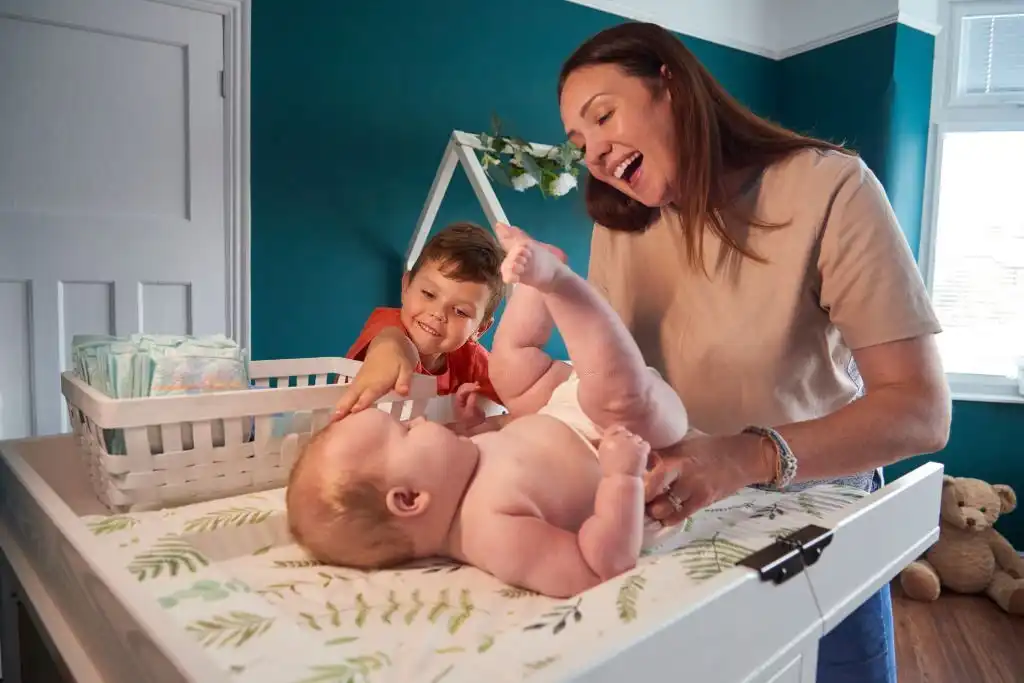 Organize a specialized area for changing your infant where fresh diapers, wipes, creams, and onesies are within easy reach.
Many changing tables available today come with built-in shelves and drawers, ensuring these items are always close at hand. Choose a piece that is at a comfortable height for you to lean over.
Ensure it is enclosed on all four sides and secured to prevent tipping. A table with a safety strap is usually your best option. However, this does not mean you should leave your child unattended at the table.
How to set up a nursery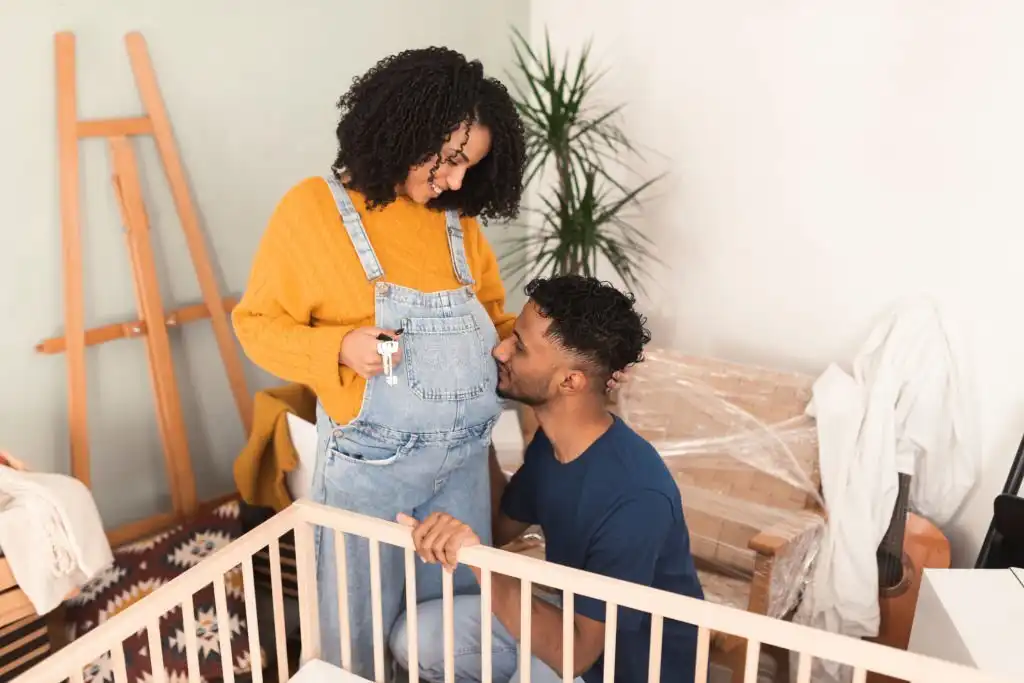 Now that you understand what is required for a nursery, the next step is to set one up. Everything will run smoothly with the proper planning, from daily feedings to diaper changes to getting them dressed.
Put everything within your reach.
A well-organized nursery has essentials like baby clothes, bedding, and supplies within easy reach. Never store items on high shelves that cannot be accessed without assistance.
Avoid closing closet doors and dresser drawers with unnecessary clutter, and relocate non-essentials to other rooms. If your nursery also serves as a playroom, incorporate low, kid-friendly shelves with soft baskets for toy boxes and books.
Arrange furniture the smart way.
Remember to prioritize function over form when planning your layout. The crib should be positioned away from windows, heaters, wall hangings, electrical outlets, and power cords.
Keep a clear path between the doorway and the crib if you ever have to hurry or navigate in the dark. Double-check play areas for sharp objects and other hazards and eliminate vent obstructions.
Also, bolt dressers and shelves to the wall. It would also help if you tried to keep your changing table and breastfeeding chair as close to the crib as possible.
Nursery checklist nice-to-haves
In addition to the essential items on your baby's nursery checklist, you might consider adding these four items.
Nightlight
Install a tiny nightlight in the nursery because you'll probably be there all hours of the day and night. Just remember to keep it away from fabrics and furniture.
Diaper pail
You may not know this, but your child will use more than 2,000 diapers in just their first year. Spare yourself extra diaper trips to the dumpster and unpleasant odors by keeping a pail nearby.
Baby monitor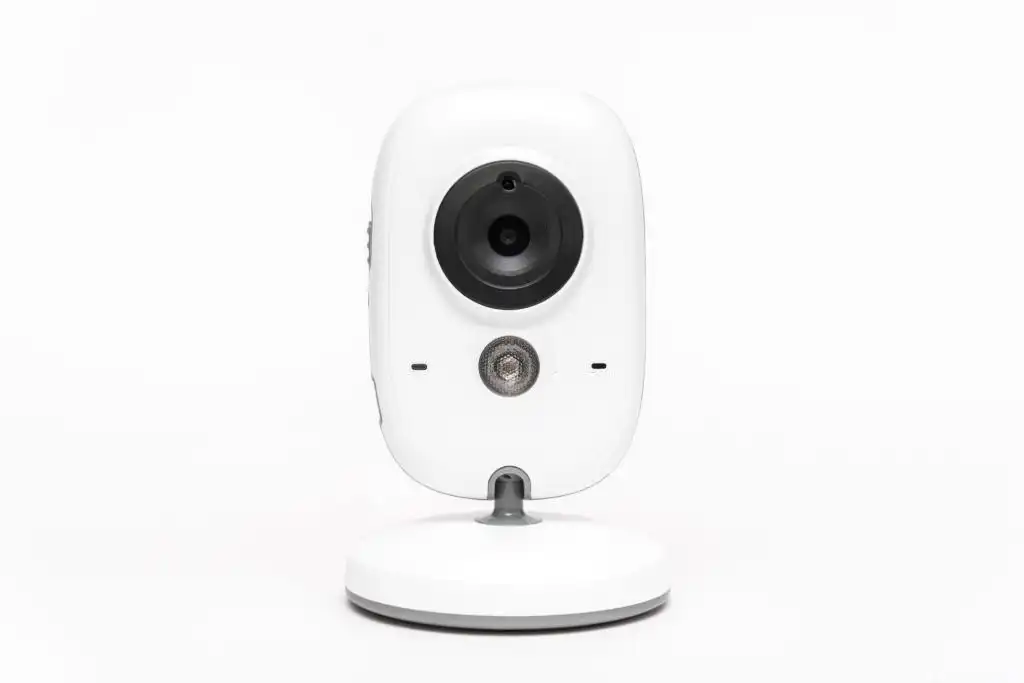 A crying, fussy baby will be audible from every room in the house. Some monitors even include an integrated camera so you can watch everything that is happening.
An alarm will be generated to notify the parents or guardians when abnormal movement is detected in the baby. The expected accuracy is over 98% for a baby monitor that is intended to be a noninvasive, low cost and efficient solution.
Breastfeeding chair
Finding a pleasant breastfeeding position for both mom and baby is difficult. Invest in a good chair that supports your arms, back, and bottom.
Nursery checklists contain practical rules for guaranteeing comfort and safety, just like hospital bag checklists do. However, feel free to modify your list as necessary since individual needs differ.
Safety tips for your baby's nursery
Every parent wants their nursery to be both safe and functional. As you're preparing your baby registry, be sure to include the following items:
In the room, you should never have plastic bags (shopping bags, garbage bags, wrappers, etc.).
Make sure to tuck away curtains, straps, ropes, strings, power cords, and other dangerous items far out of your little one's reach.
Flame-retardant nursery linens and furniture should be the only items purchased.
Place large pieces on the floor or wall to prevent furniture from slipping, and use non-slip mats underneath them.
If you're using a humidifier, choose a cool-air unit and be cautious of fabrics to avoid mold accumulation.
It is advisable that you install a smoke detector right outside of the door and put window guards on all windows.
Ensure the door to your child's room cannot be locked from the inside.
Never leave them in the nursery unattended, even while they're sleeping.
The nursery should be a pleasant, cozy, and secure space for the whole family. When purchasing, start with the essentials for the nursery and then, if your budget permits, add a few luxuries.
Also Read: 20 Clever Small Nursery Ideas When You're Tight On Space
Verdict on nursery furniture must haves
When expecting a new baby, creating a safe and comfortable environment in the nursery is important. In addition to the crib, other essential and nice-to-have items will help make life with a newborn a little easier.
To help you get started, we've created a checklist of the seven must-haves and nice-to-haves for your nursery. This list has everything you need to get started, from essential furniture to feeding and changing essentials.
So, what are you waiting for? Get started on creating the perfect nursery for your little one today!
FAQs on nursery furniture must haves
Can you put a crib in front of a window?
Never position your child's cot close to a window.
Babies and toddlers may fall through window screens or become entangled in window blind cables or drapes.
Which room is best for the nursery?
The majority of nurseries and children's rooms are somewhat compact. They are, at most, the size of a second or third bedroom and frequently even less.
The "nursery" in an apartment may be a sizable closet with the door removed or a portion of the parent's bedroom. As a result, thoughtful space planning is always necessary.
How long should the baby sleep in your room?
AAP recommends that parents sleep in the same room – but not in the same bed as a baby, preferably for at least the first six months.
They should have a crib or bassinet for sleeping in (or a co-sleeper securely fastened to the bed) but shouldn't have their own room until they are at least six months old, preferably 12 months.
Crib slats are essential for ensuring that your baby gets enough air circulation in their crib. If the crib had solid sides instead of slats, it would be difficult for babies to get the amount of air they need to breathe.
Since babies require large amounts of air to breathe, crib slats play a role in preventing SIDS (Sudden Infant Death Syndrome).