20 Modern Nursery Wallpaper Ideas For 2023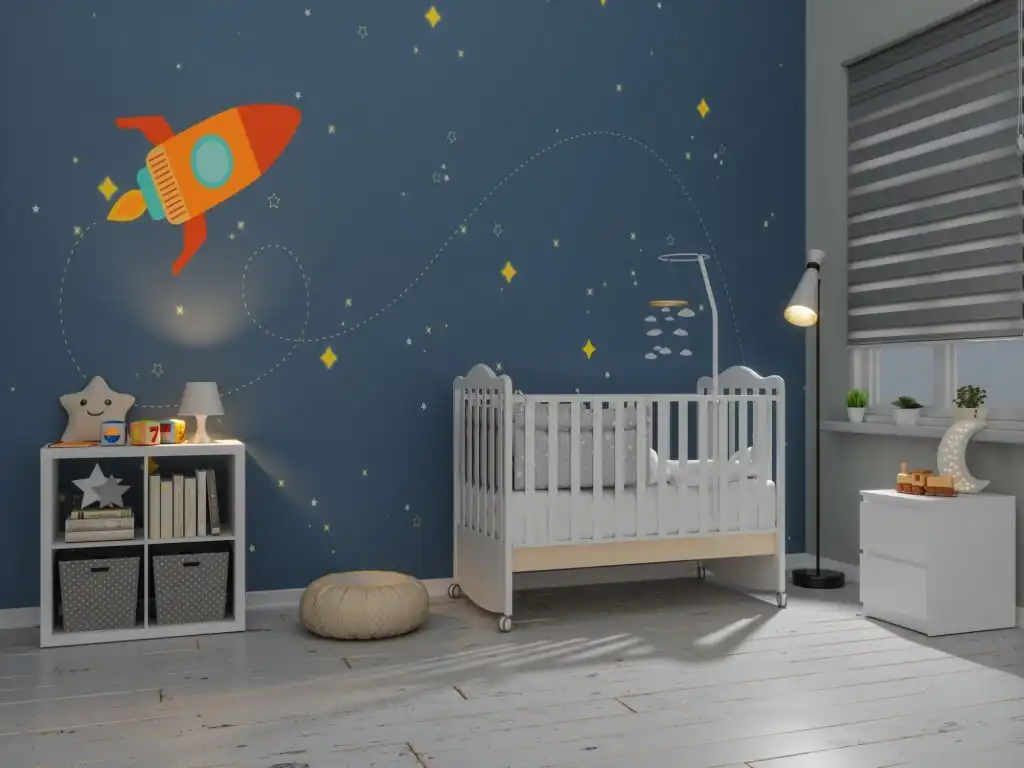 Are you looking for a way to give your baby's room some personality? If so, you might want to think about purchasing kids' wallpaper! A space can benefit from the color, pattern, and texture added by wallpaper.
Plus, it's easy to make a big impact in a tiny baby nursery. If you need help figuring out where to start, don't worry! We've rounded up 20 modern nursery wallpaper ideas to get you inspired. From jungle-themed wallpapers to geometric patterns, there's something for everyone. So, what are you waiting for? Get started on your baby nursery makeover today!
Outer space theme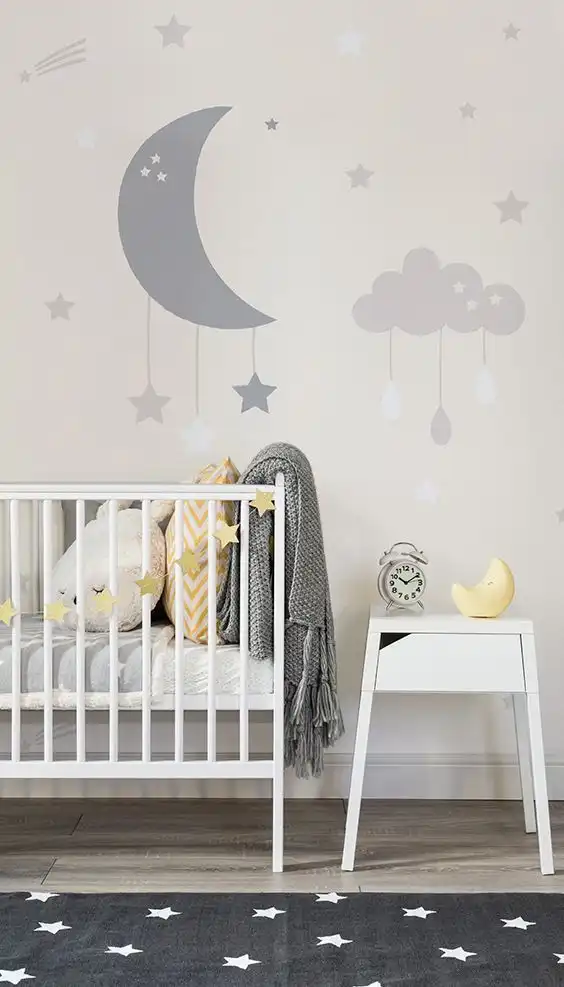 Many believe a nursery should contain neutral colors so your newborn won't be overstimulated. Select one wall for your decor items and another for your removable wallpaper. This pale moon wallpaper provides something additional while sticking to a neutral color scheme.
Scandinavian nursery wallpapers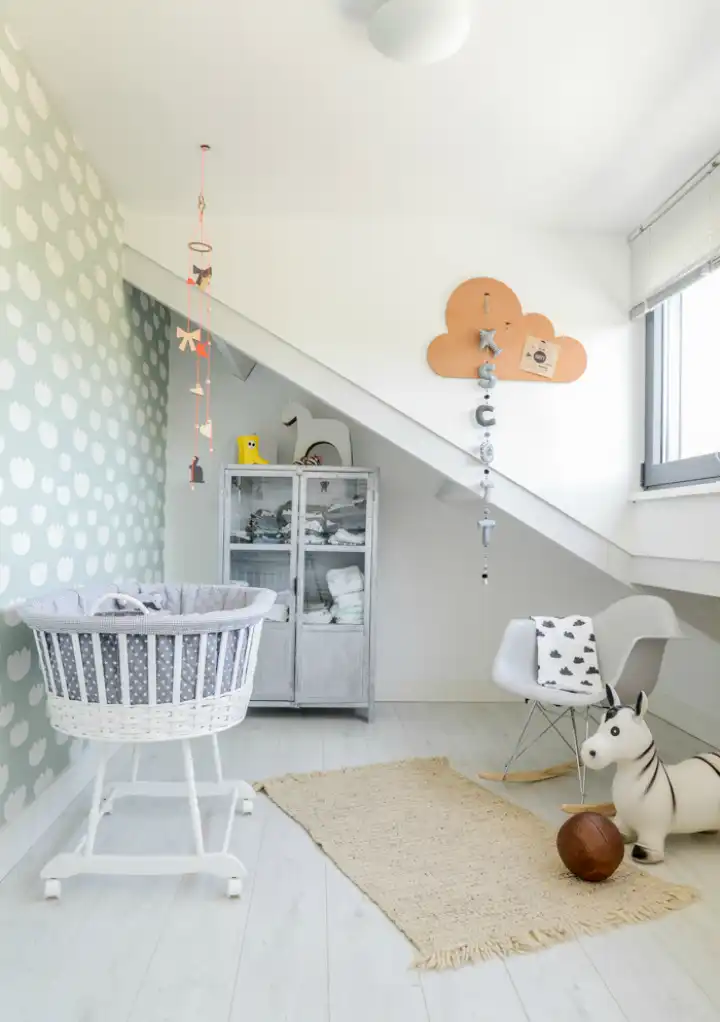 For a nursery, Scandinavian interior design is a fantastic choice. The light colors make the nursery feel more spacious. Your infant will experience living within a cloud thanks to this design. You'll find that even a single wall of wallpaper provides the desired pattern, allowing you to use plain bedding, rugs, and other accents.
Traditional wallpaper is poisonous. However, removable wallpaper is not. Peel the wallpaper off its adhesive backing, then attach it to the walls to apply it. And you may quickly change the background design once your baby grows up.
Removable wallpaper patterns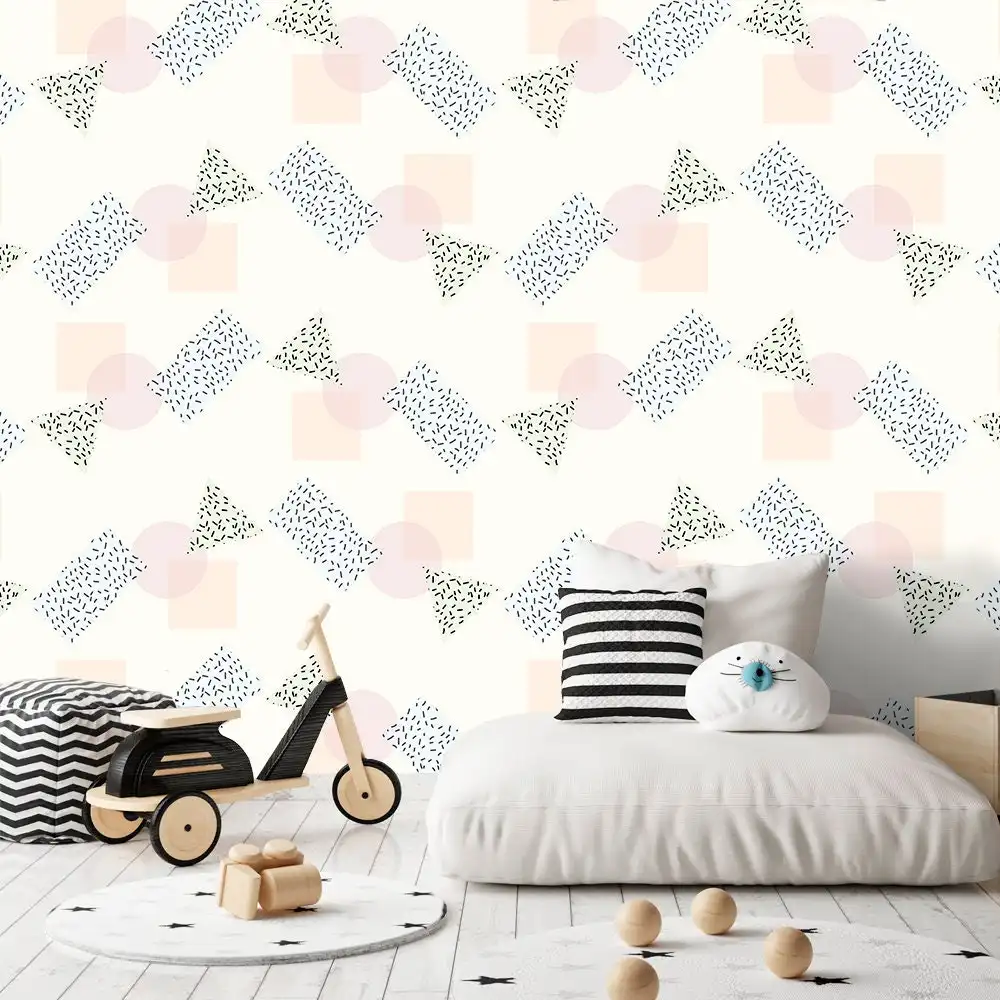 Create an intriguing and stylish nursery. Consider geometric patterned wallpaper. The complex patterns will stimulate your baby's mind. The wallpaper you picked for their nursery may inspire them to become Nobel Prize-winning physicists.
It's acceptable to substitute something multicolored for the two-tone as well. This geometric pattern will grow with your child and is ideal for a boy's nursery. Additionally, since blue and brown are neutral colors, it won't be challenging to remodel their space as their preferences change.
Blue galaxy removable wallpaper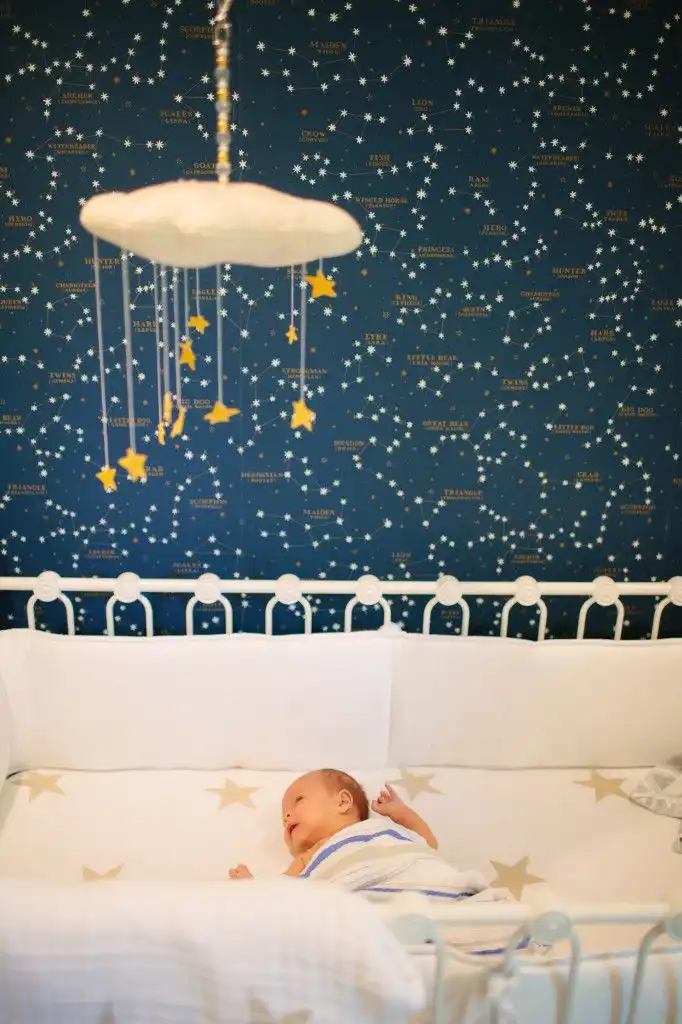 This might inspire your child to become the next Carl Sagan: a star theme with dramatic navy blues and glittering gold stars. It will encourage your child to dream bigger.
Floral baby nursery peel wallpaper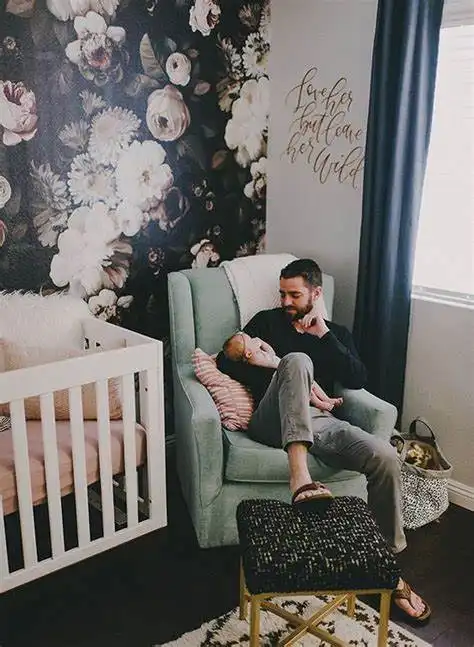 Consider floral wallpaper patterns as another option since they resemble murals. A feminine or gender-neutral area can be made. Since your baby can not speak, you are the best person to ask about your child's identity.
As they say, the best anyone could do was "go with the flow." You may improve your DIY interior design abilities in the meanwhile. In either case, you want wallpaper that makes your child's room appear as though it were taken straight out of a Dutch Golden Age picture. The next Johannes Vermeer might find inspiration in such a setting.
Abstract floral removable wallpaper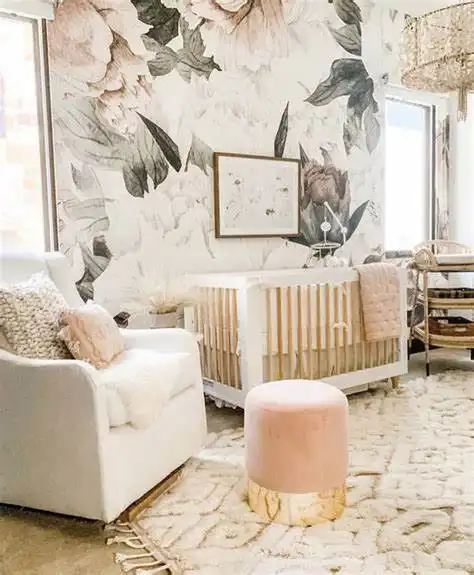 There are more options besides intense, dark florals for displaying large blossoms on your nursery wall. You may buy them in soft pink and green tones to keep your nursery nice and fresh.
Swan atmosphere removable wallpaper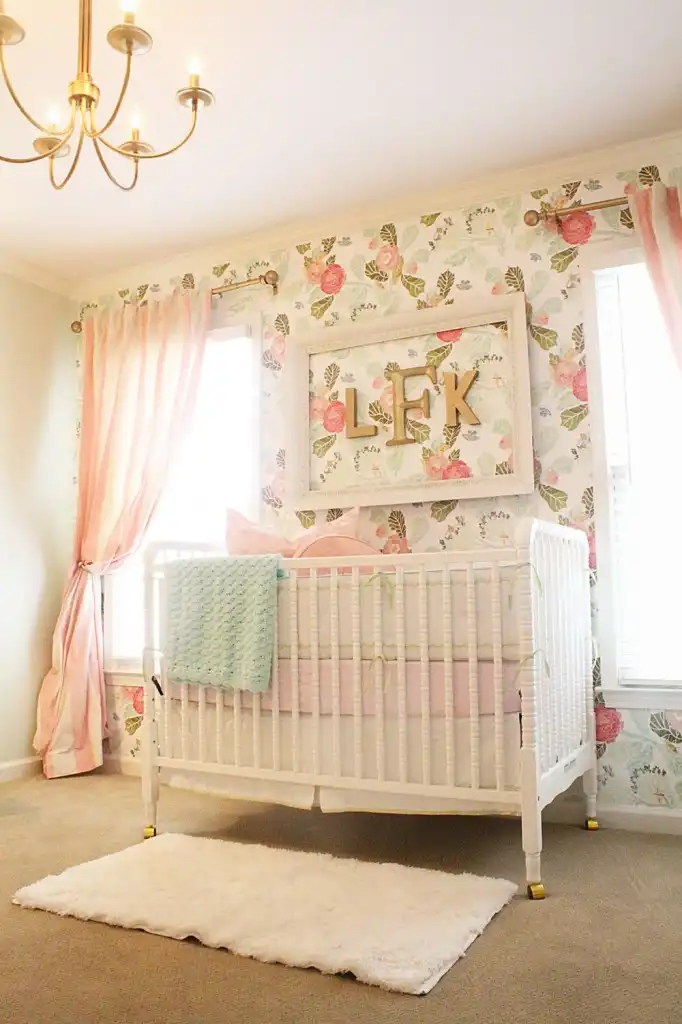 When designing a nursery for a tiny princess, pink is an obvious choice. However, there is a distinction between blush pink and baby pink.
Blush is a lovely hue to develop into because it leans toward beige. To create the impression of a cotton candy forest, wallpaper your pink nursery forest.
Pink flamingo removable wallpaper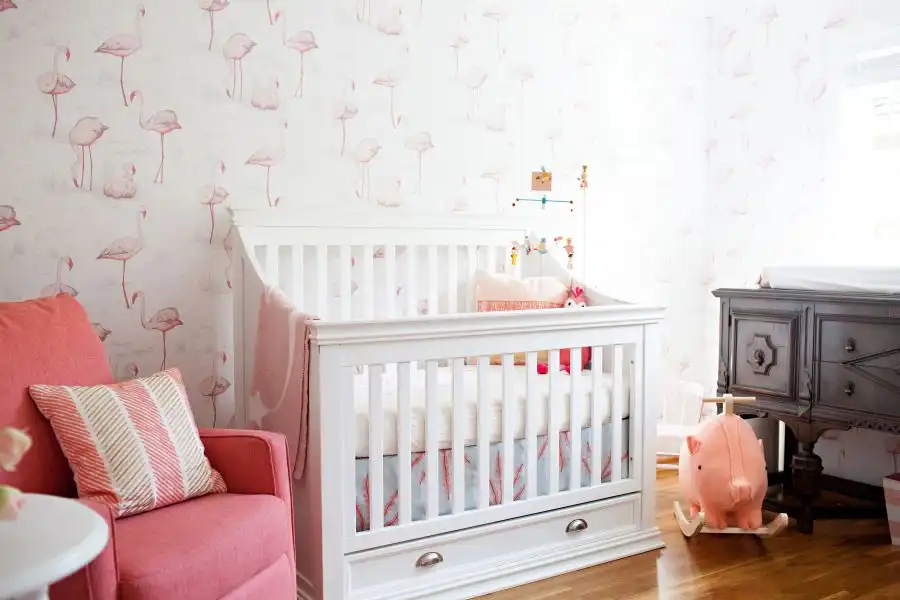 Does anyone enjoy pink flamingos? One cannot but recall the iconic movie of the same name by John Waters. However, the motif has a different meaning when applied to a baby's room.
A little girl's room would look great with this wallpaper. It boasts light, vibrant hues that you can use to paint the nursery's walls without becoming dismal.
Birds-eye-view removable wallpaper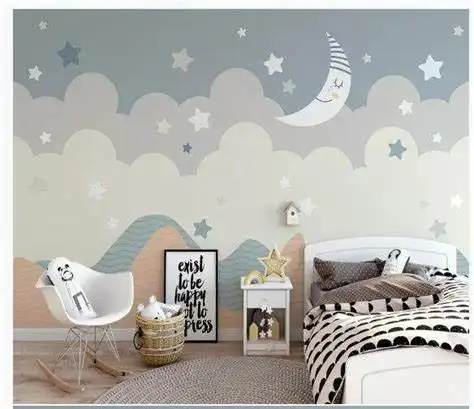 When you don't know the gender of your kid, how do you choose removable wallpaper? Go with blue instead of bright yellow since you probably don't want that. Your pattern will be acceptable to resemble the birds in the image above. Any healthy infant would be the perfect fit for this nursery.
Tree trunk removable wallpaper
Some parents favor having their child's nursery coordinate with the rest of their living space. But it would help if you didn't decorate your nursery with wrought iron when your home is rustic and industrial. Instead, use wood wallpaper to transform your wall.
Your infant will enjoy looking at this amusing design. At the same time, they are little, and as they get older, it will encourage them to appreciate nature.
Whitewashed removable wallpaper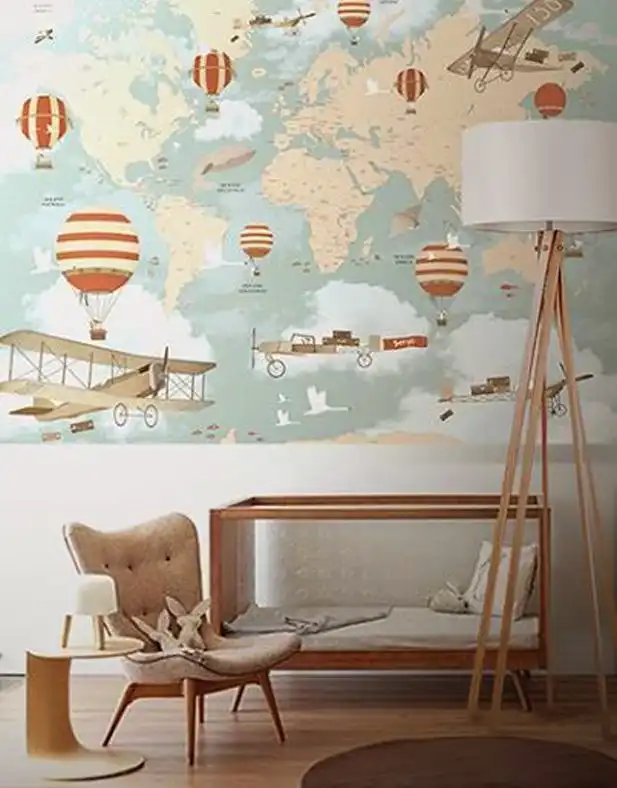 You adore shiplap but are willing to invest time or money to install it in your nursery. Instead, hang wallpaper that looks like an antique shiplap wall. It will not only give you the desired pattern, but it will also add a weathered texture that brand-new boards cannot provide.
Half-wall removable wallpaper
Different from conventional wallpaper, removable wallpaper is not inexpensive. Only cover half of a wall if you're on a tight budget. In your nursery, install a chair rail and only wallpaper the upper half. It will reduce your purchase amount while resolving your artwork-related issues.
Nursery wallpapers for twins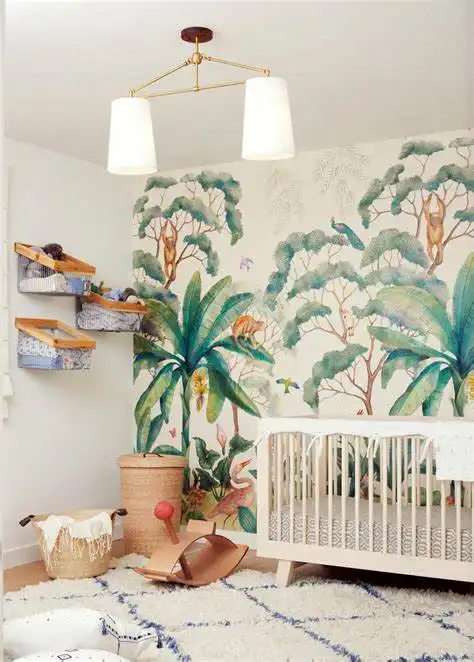 How will you decorate for two infants? The wallpaper holds the solution. A fun theme would be something like jungle foliage. Should adhere to prevent the nursery from leaning excessively towards either a boy area or a female space.
Butterfly removable wallpaper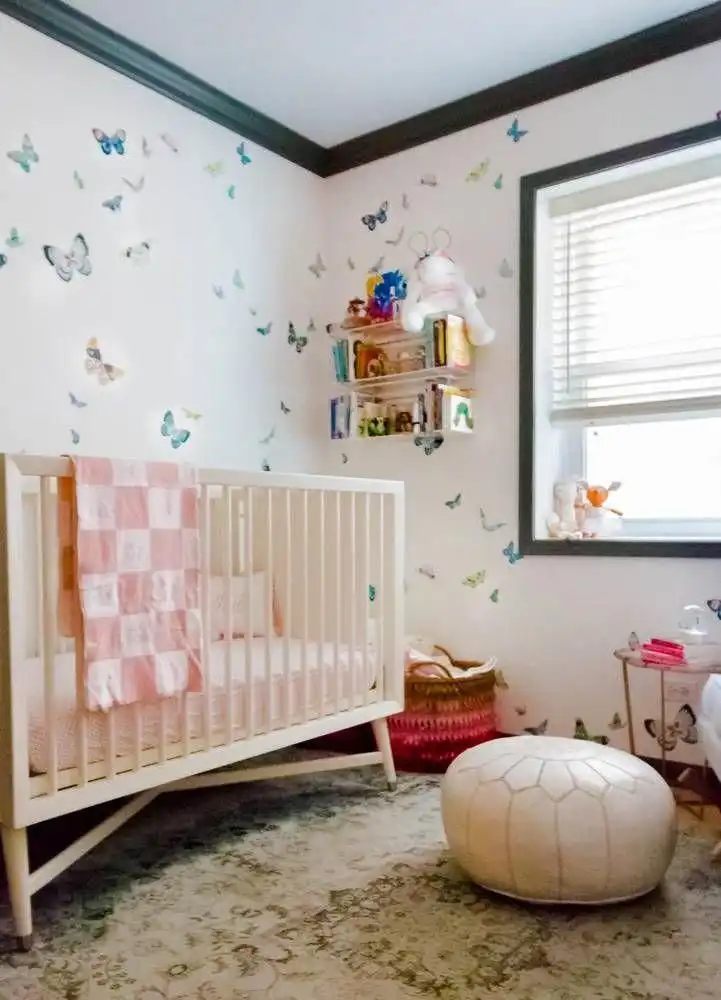 When wallpaper takes the place of wall art, it's crucial to pick a wallpaper with some depth. Search for a pattern with a shine.
These butterflies' pearly sheen is too lovely to be hidden by frames, which is the precise effect you want in your nursery.
Boho removable wallpaper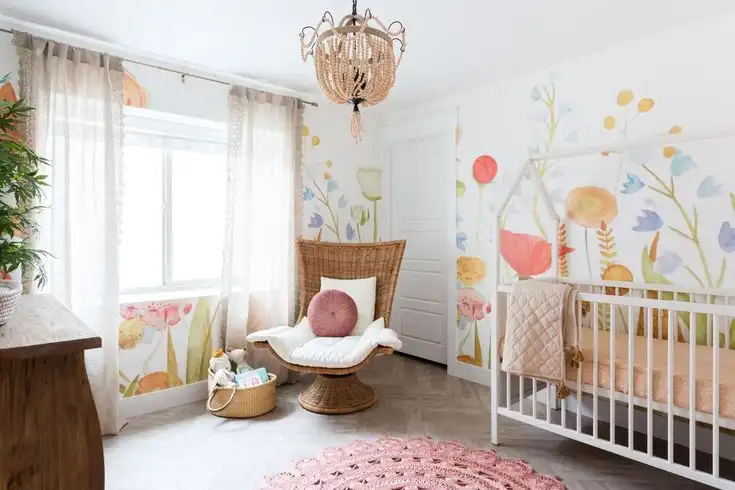 The sheer variety of possibilities makes decorating a bohemian nursery one of the most challenging. Do you choose wallpaper with patterns, or do you emphasize texture? Do the accessories in the room, or the pattern gives you your color? We advise using a wildflower wallpaper to highlight the room's more extensive features.
Tropical peel-and-stick wallpaper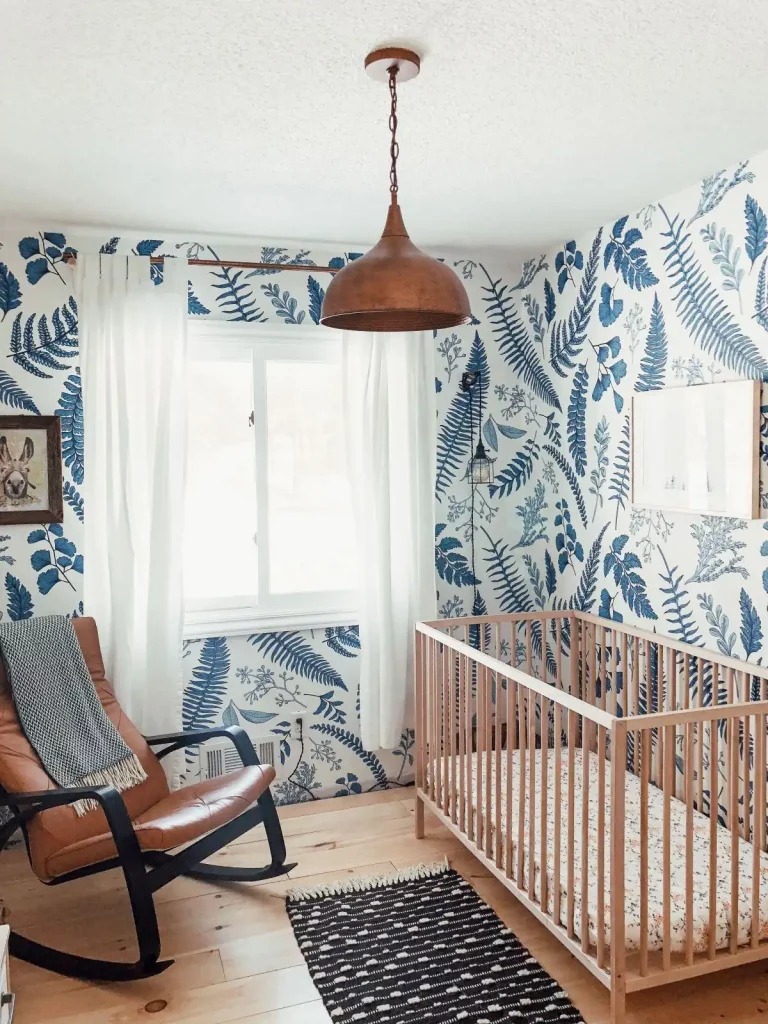 Peel and stick wallpaper is applied to the walls by simply removing the wallpaper from the adhesive. Keep on the botanical path but look within your color scheme instead of becoming distracted by this design's blue blooms.
Find the ideal blue botanical wallpaper if your nursery has a blue color scheme. Choose the green leaves if you like them best. Growing up in a space that feels like an extension of the forest outside the window will be fantastic for your child.
Cloudy skies' removable wallpaper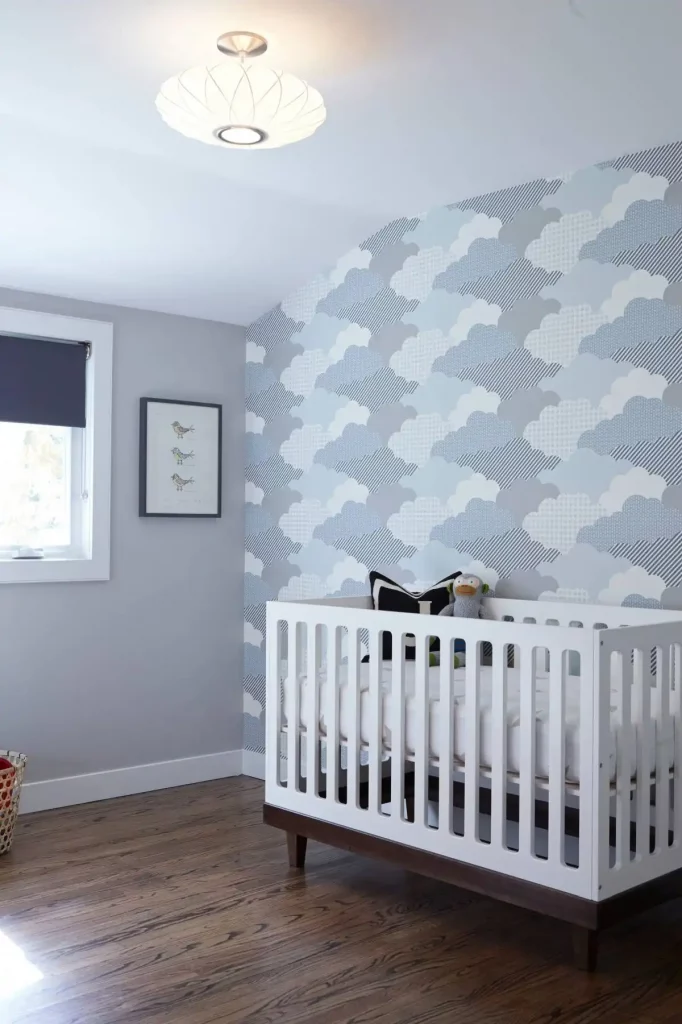 There are patterns for many of those necessities for babies. When you've accumulated so much, picking a wallpaper can be an effort to bring everything together out of desperation.
When you choose wallpaper with multiple designs, your nursery will look more put together. Just tuck the boldly colored blankets away.
Plaid pattern removable wallpaper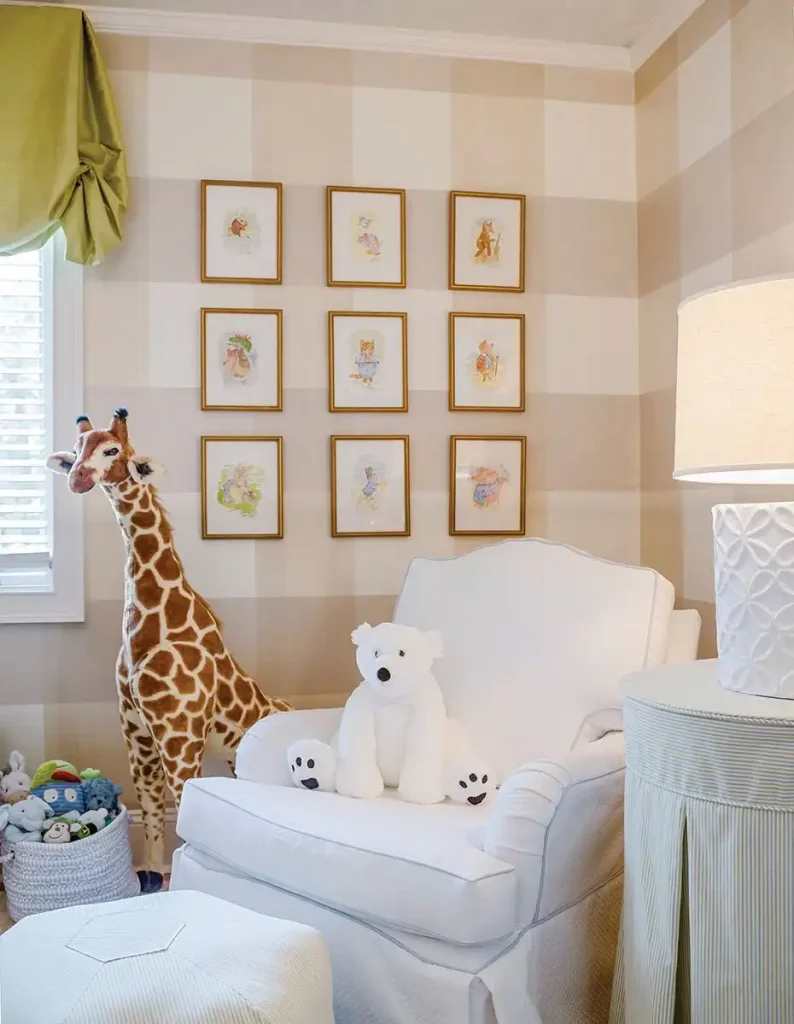 Keeping your nursery in the neutral zone can be challenging if you love Peter Rabbit or Winnie the Pooh. Choose a safe option, such as the nursery peel-and-stick wallpaper in beige plaid.
When youngsters grow out of Peter Rabbit, this won't need to be changed, but it will demonstrate your themed accents with energy.
Watercolor removable wallpaper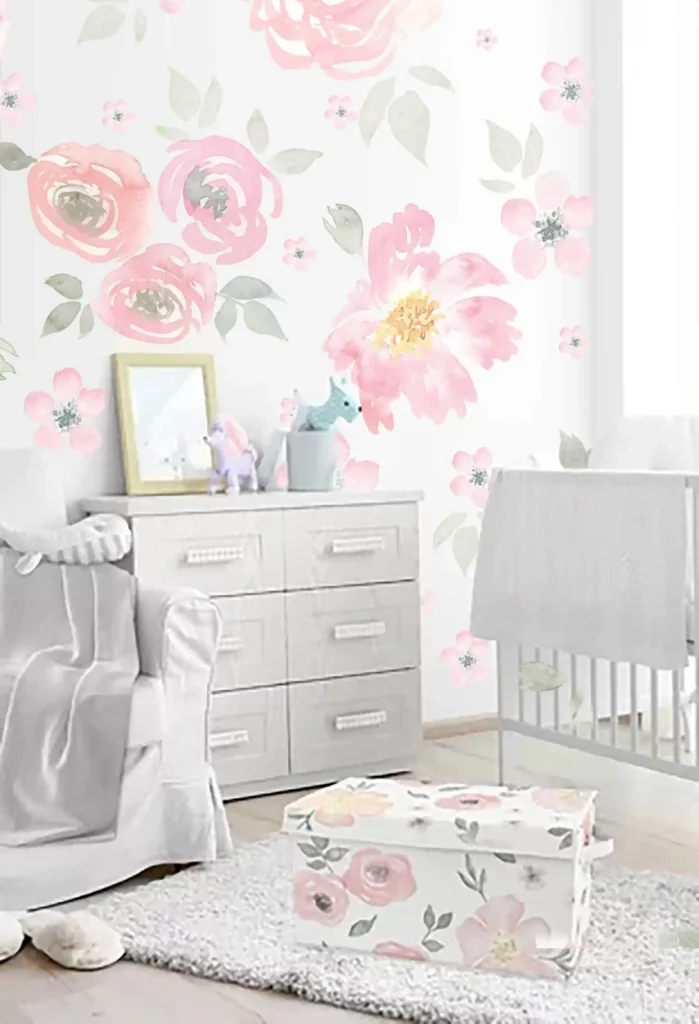 Are you looking for wallpaper to contrast with another wall on a separate wall? The solution would be a delicate watercolor pattern. Investigate the watercolors. Where patterns with solid lines seem too harsh on the eyes, a wall of watercolors will add the ideal soothing decor to your nursery.
Monochrome removable wallpaper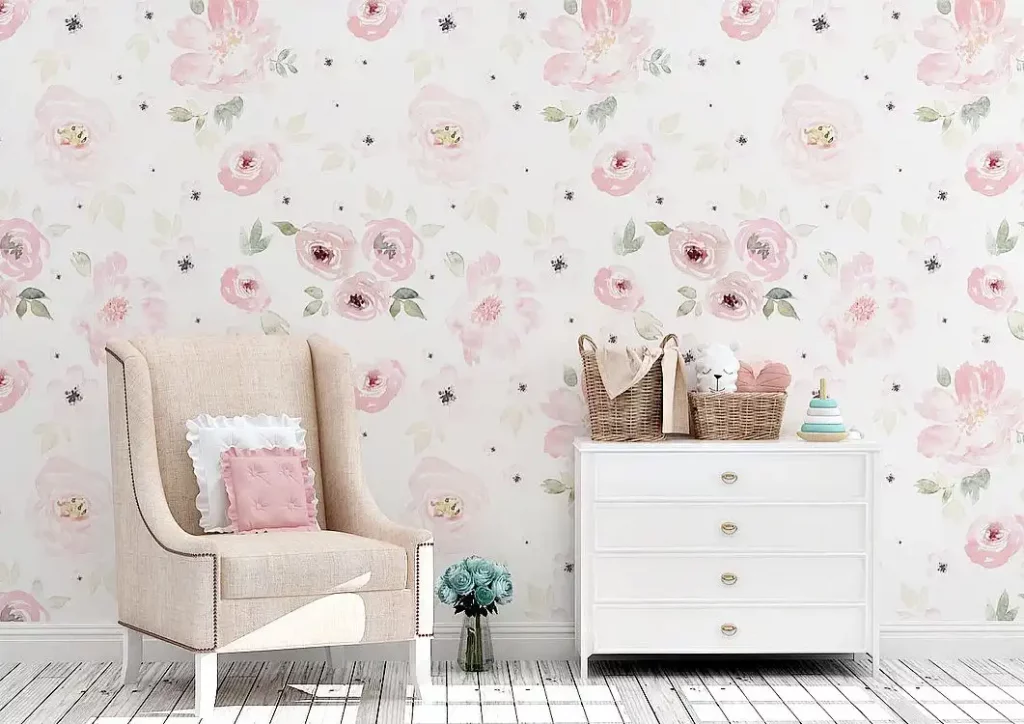 The best should be given to your new baby. When you give them a tidy and well-balanced environment, you'll benefit in the long run as they age. Remember that you will be spending the most time in the nursery during those early years when you design it.
Therefore, pick the wallpaper design that you like best. Drive for the color and theme you choose.
Mixed-color floral wallpaper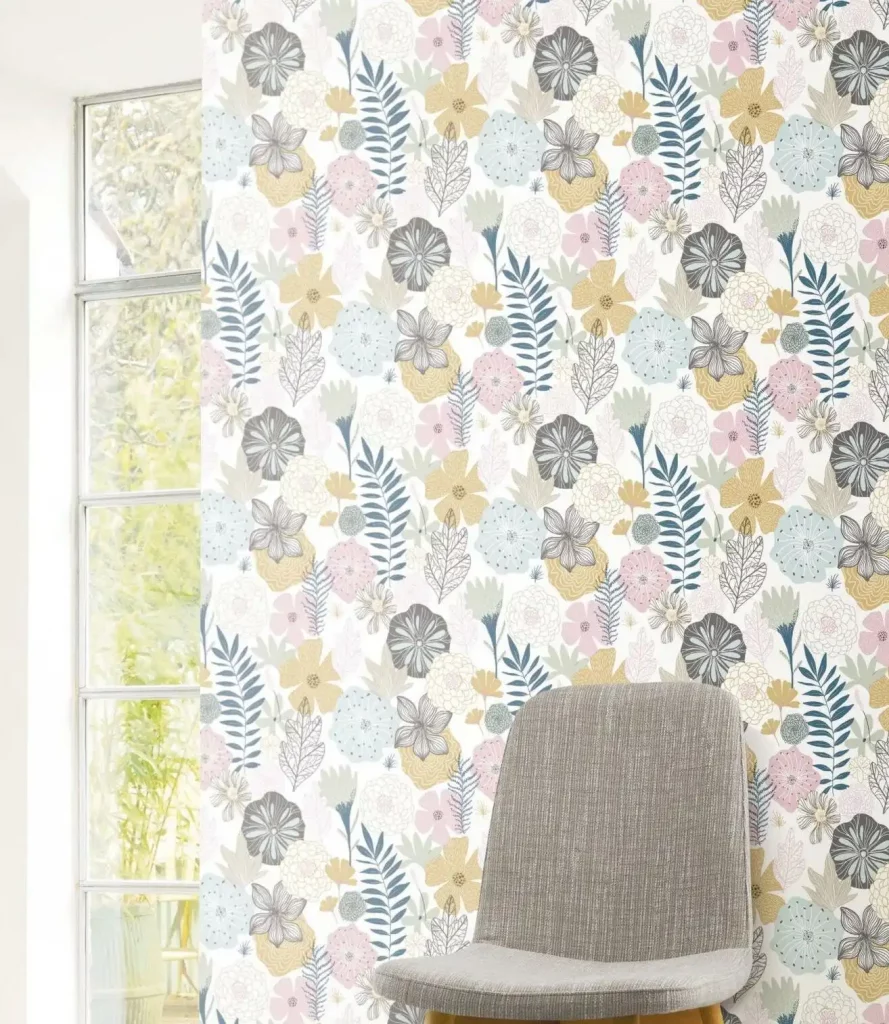 Anything that appears delicate and mild is usually a common motif or design for nurseries. These blossoms certainly meet the bill. Several color options are available for the Weese Blooms wallpaper; they are all serene and lovely.
If you decide to redecorate in the future, applying, repositioning, or removing is simple.
Forest landscape removable wallpaper
If you want to design a feature wall for the nursery or a bedroom, murals are another attractive choice. For these kinds of areas, the Melendez Misty Forest model is ideal.
Although the two hues are significantly different, they work nicely together in this scene because of the lovely coating of hazy pink that covers the tops of the trees. The foreground landscape is more vividly green.
Dog lover's removable wallpaper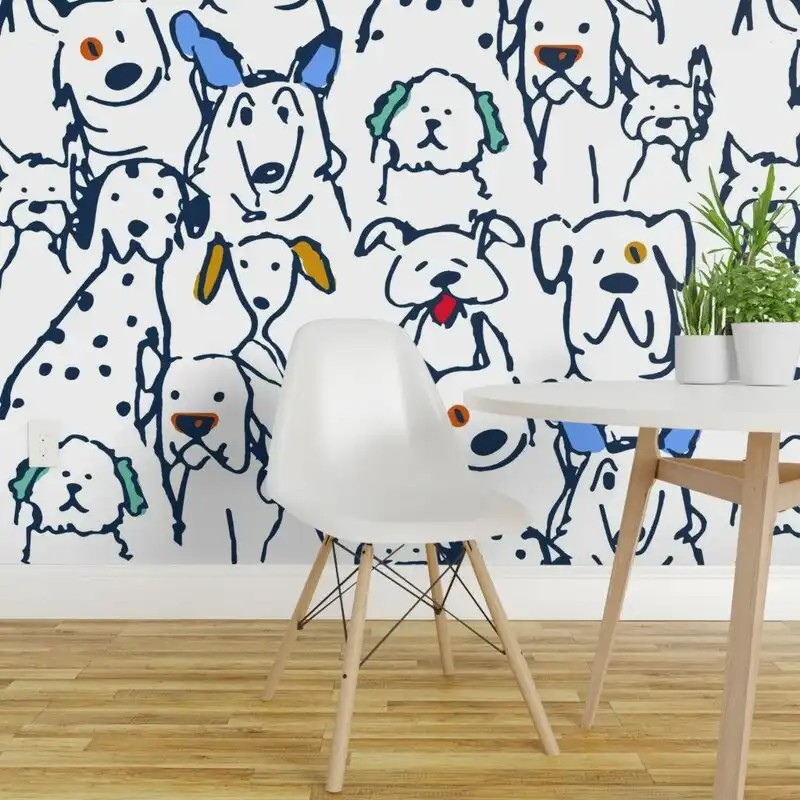 The Fulk Dog wallpaper has a woven texture. It is straightforward to install because of its peel-and-stick construction. A roll, three ′ L x 24″ W, can cover an entire wall with adorable and joyful dog silhouettes.
Baby branches removable wallpaper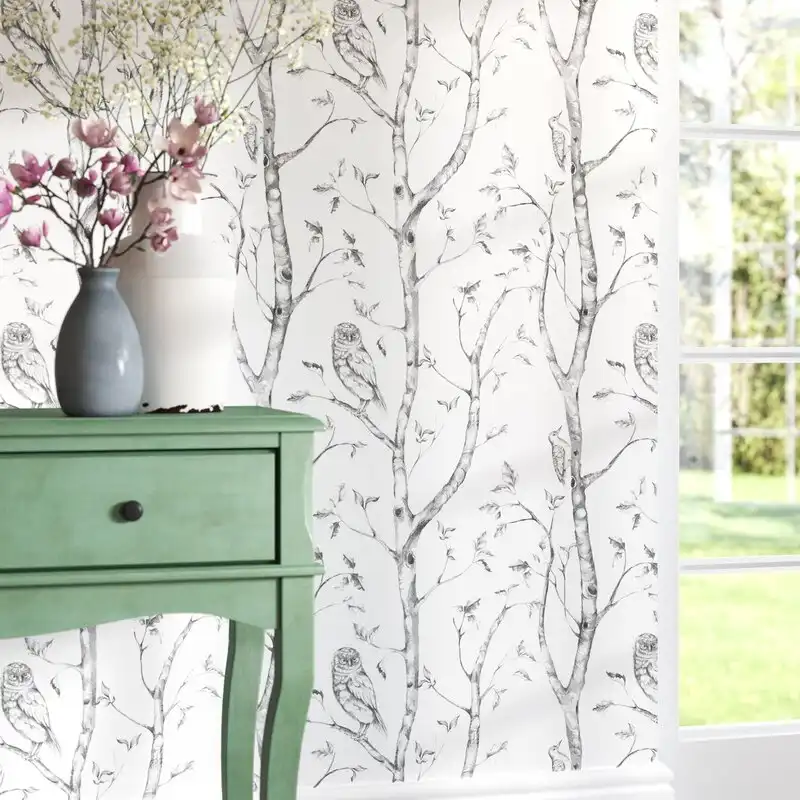 Many wallpaper patterns with natural elements are pretty calming and look great in nurseries or bedrooms. An outstanding illustration is the Kraker wallpaper, which features stylized silhouettes of birch trees against a white background. The colors are neutral, with little owls and thin silhouettes on the tree branches.
World map removable wallpaper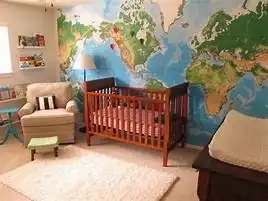 This is an excellent concept if you want to decorate a child's room in an entertaining and informative way. The 12.1′ L x 98″ W Wolfeboro World Map can cover a whole wall.
It is removably attached and has a semi-gloss surface. The design works well in nurseries, kids' rooms, offices, and other places.
Bold floral removable wallpaper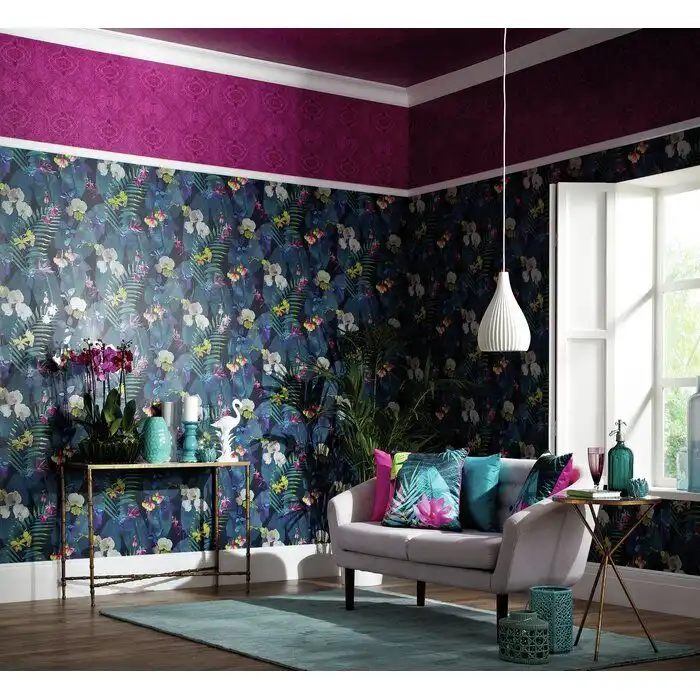 Something bright and striking can cheer the nursery space and contribute to a lively aesthetic. The Panorama wallpaper is perfect for accent walls since it features a floral pattern based on blue and purple hues with accents of pink, yellow, and white.
Applying the wallpaper to the room's walls might be a bit because the colors are dark. Making a border along the top and bottom could also look beautiful.
Zooscape removable wallpaper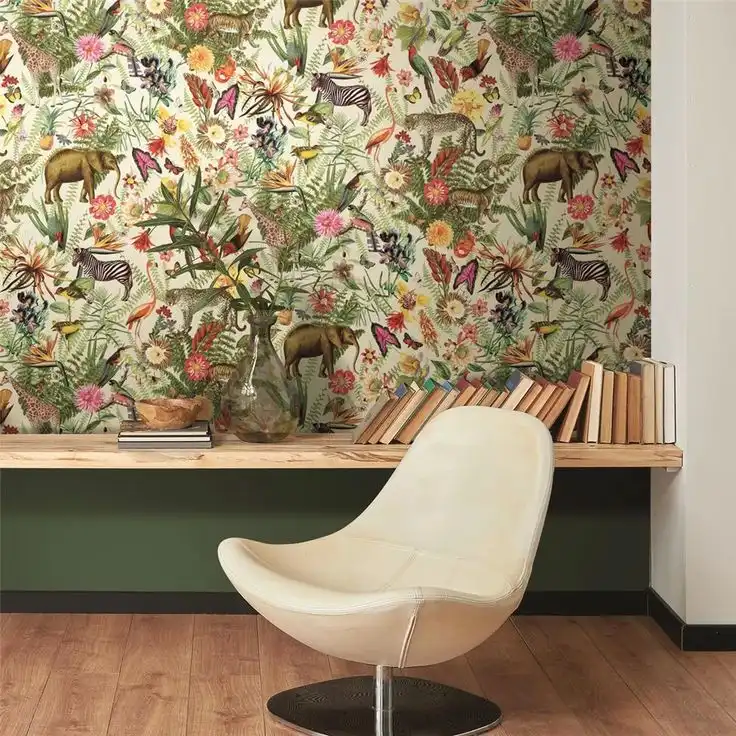 The charming Dunwoody wallpaper brings the zoo inside the nursery. You may apply it to walls, furniture, ceilings, and other flat surfaces because it is printed on vinyl and contains peel-and-stick vinyl.
The design is bold, vivid, and easy to apply without a mess. A wall in the nursery might be covered to make a lovely backdrop.
Galaxy removable wallpaper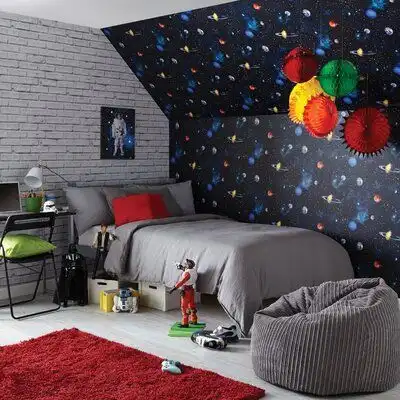 One of our favorite wallpapers is the Deberry Cosmos. It has a neat design that produces a 3D appearance and displays the amazing beauty of space. A roll is 57.26 square feet and measures 21′ L x 22″ W.
With this, you may make a stunning accent wall for a child's room or nursery. Making similar decorations on the ceiling would be cool.
Paw patrol removable wallpaper,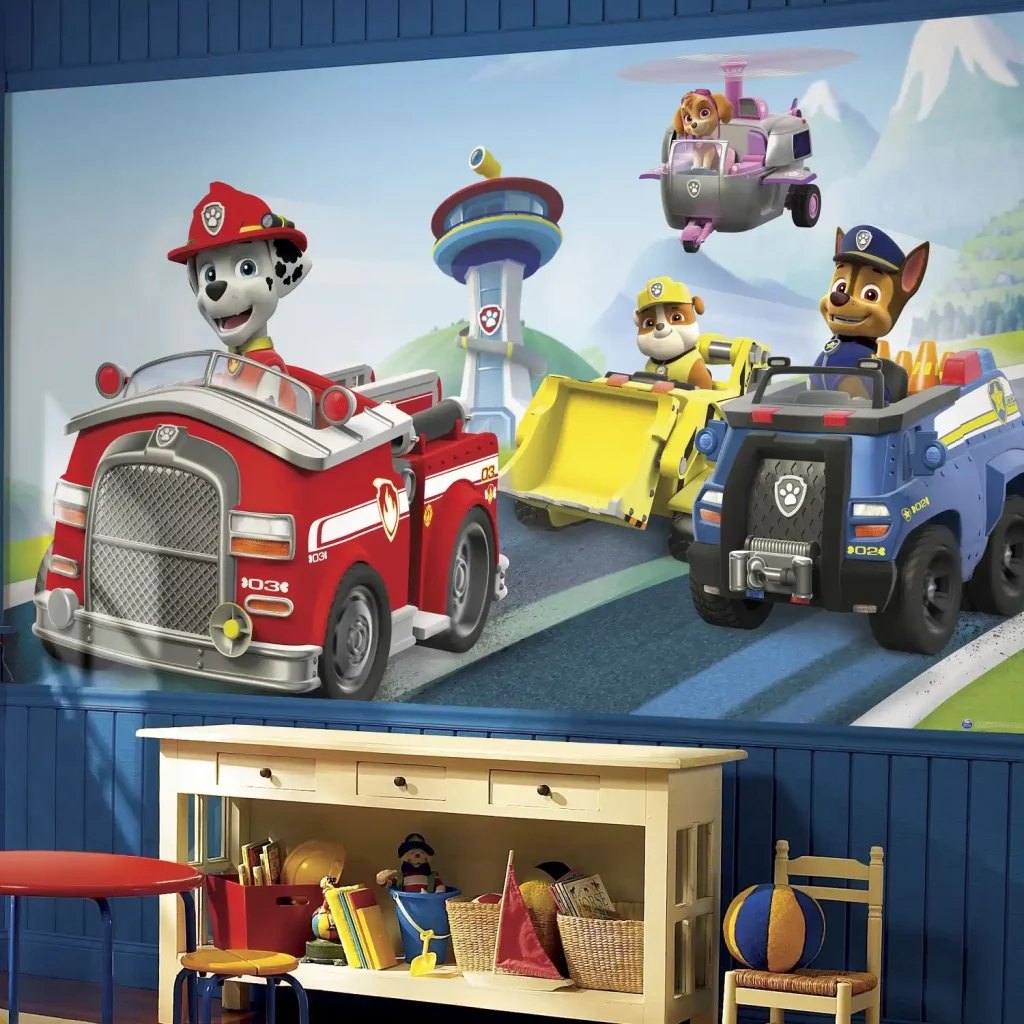 Of course, you may also choose from a variety of kid-friendly wallpaper patterns, such as this Paw Patrol mural. You can apply it on any flat surface, which is highly colorful, vibrant, and fashionable.
To draw attention to the accent wall, the rest of the room could be done in complementary hues or kept simple and neutral. This mural measures 10.5′ L x 72″ W in total.
Retro green removable wallpaper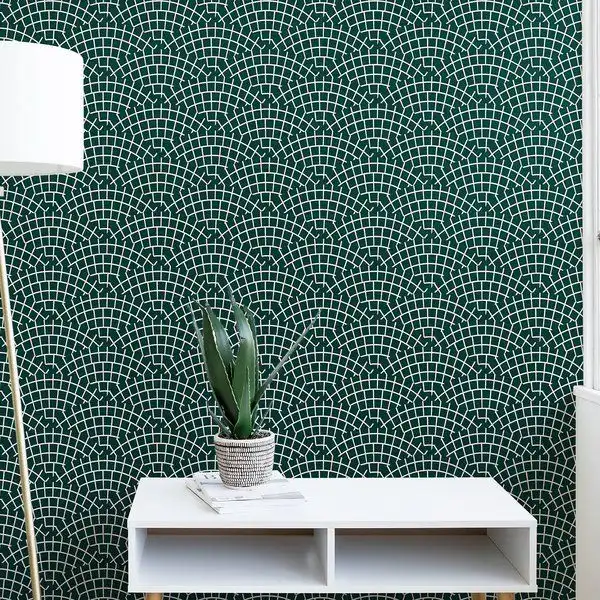 The design becomes more intricate the closer you go to it. The wallpaper in question is the Holli Zollinger Mosaic, which has a great design. The rolls fit together flawlessly to produce a repeated pattern that is complicated but also simple to look at from a distance.
This would look great in any house room, but especially in a nursery where it could serve as a distinctive backdrop for all the gorgeous accessories and furniture.
Botanical removable wallpaper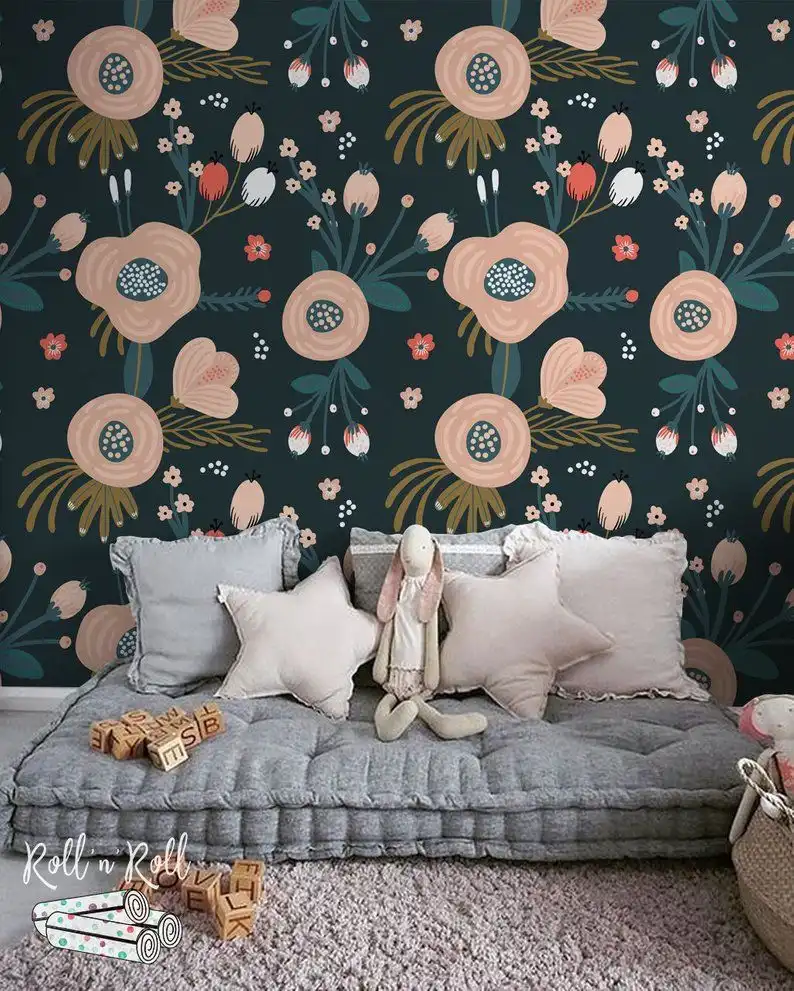 Another fascinating mural is Iveta Abolina's Floral Goodness. It has a lovely retro vibe and features a garden-inspired pattern on a black background, giving the space a cozy and inviting atmosphere.
This makes the mural incredibly adaptable and fantastic for many living spaces, bedrooms, and baby rooms. There are multiple peel-and-stick panels in each mural.
African safari removable wallpaper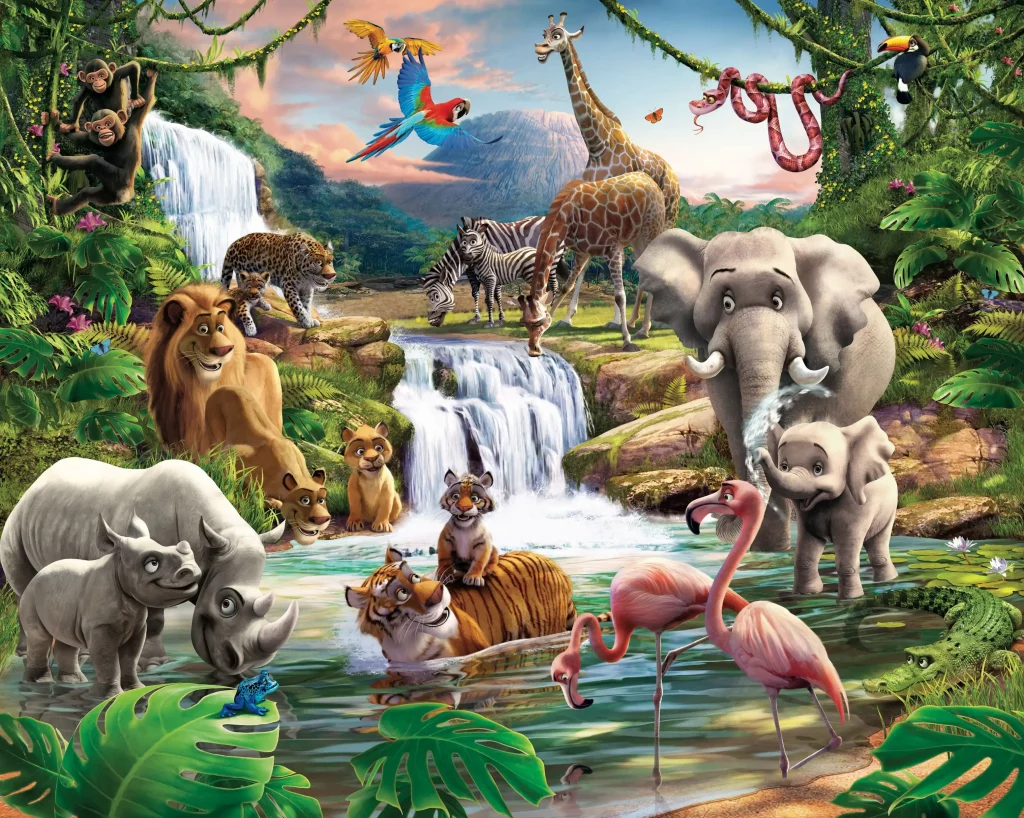 When you're a baby, the phrase "the world is a jungle" doesn't nearly have the same connotation. Why not allow them to continue living their fantasy as long as they want to?
Depending on your demands, you can choose several sizes for this vibrant jungle mural. The vivid colors have an adhesive backing, making installation and repositioning simple. As children become older, nursery rooms often get redecorated. Therefore, it's excellent to remove it without damaging the wall.
Hot air balloon wallpaper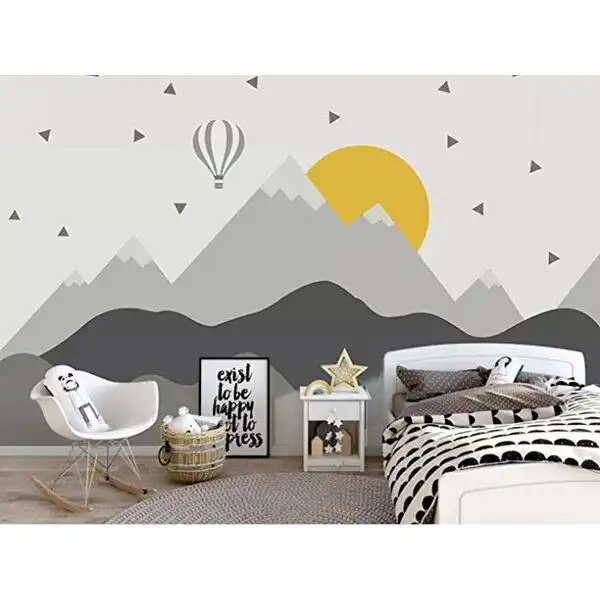 We wholeheartedly recommend the Marci Hot Air Balloon mural if you want something straightforward, adorable, and fashionable. It uses a stunning color palette of grays, whites, and a strong yellow accent. It may be used on a wide range of surfaces and textures.
Unicorn removable wallpaper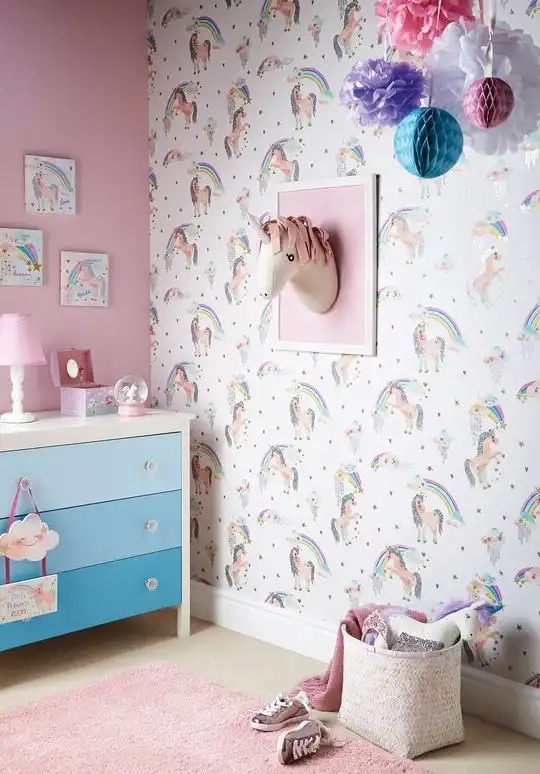 With their enigmatic and magical beauty, let the unicorns brighten the nursery. The Deatsville wallpaper's lovely pattern features playful unicorns, fluffy clouds, and vibrant rainbows on a bright background.
It can certainly be used to create a magical atmosphere in the nursery. Go with a different color scheme, or combine it with pinks for a more girly appearance. In either case, this will look wonderful.
Also Read: 23 Boho Nursery That Will Inspire You To Get Creative
Verdict
In conclusion, wallpaper is a great way to add personality to a nursery. A wide variety of modern wallpaper designs are available to suit any taste. When choosing wallpaper for a nursery, it is important to consider the room's overall design, the baby's age, and the wallpaper's durability.
How easy is it to replace removable wallpaper?
It would only exist if removing removable wallpaper from walls was simple. Peel and stick wallpaper may be removed without special tools, unlike traditional wallpaper.
How long does peel-and-stick wallpaper last?
Removable wallpaper is said to last for as long as you like if you apply it correctly. Make sure the surface is clear, smooth, and has the appropriate finish before you mount it to your walls.
Is peel-and-stick wallpaper safe for babies?
Wallpaper is the most secure wall covering you may use for your baby's room. Peel-and-stick wallpaper is manufactured with non-toxic ink, which is why.