23 Boho Nursery That Will Inspire You To Get Creative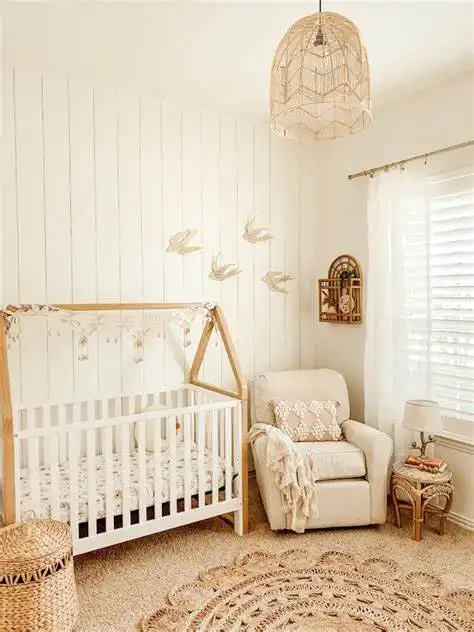 The boho aesthetic has taken hold of many homes because it creates an ambiance that is both well-put-together and effortless–the aspirations of most parents. The boho nursery provides many opportunities for interpretation, from a mix of prints to rich textures, earth tones to vintage details, and lush foliage to plenty of rattan.
The key to boho baby nursery decor is an eclectic mix of items that fit your tastes, meaning no two nurseries should look the same.
Whether you prefer vintage or rock-and-roll styles, rainbows or monochrome, minimalism or maximalism, there is probably a boho baby nursery design that is perfect for your baby-to-be's new space.
Monochrome boho nursery decor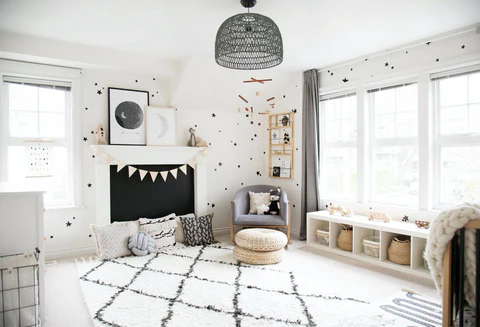 Refrain from the mistake of a black-and-white boho nursery for being dull. This incredible space demonstrates that you can maintain plenty of interest without adding many colors.
The black is clean and fashionable against white and tan; the stars on the walls bring about childish happiness, and every element in the room works together to create a boho love fest inspired by the celestial realm that your little one will adore!
Prickly & pink boho nursery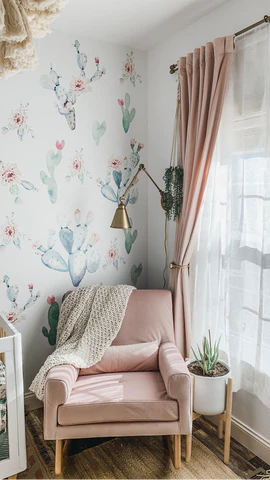 This delightful room demonstrates that you can be pink and nature-inspired simultaneously in a boho baby nursery for girls, and we adore it! The cheerful cactus wallpaper with Hints of pink complement the pink armchair and curtains, while the remainder of the area is kept neutral in a more classically boho style.
Wicker everywhere bohemian nursery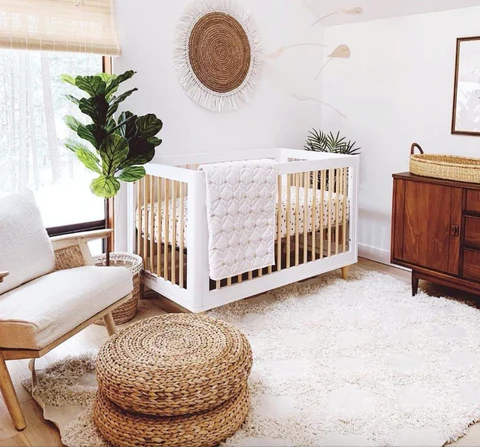 Natural materials take center stage in this boho-chic baby room are natural materials, from the baskets to the ottoman. The cot and white walls allow these pieces to prosper while crafting a vibrant and sunny ambiance.
Boho nursery rainbow wall decor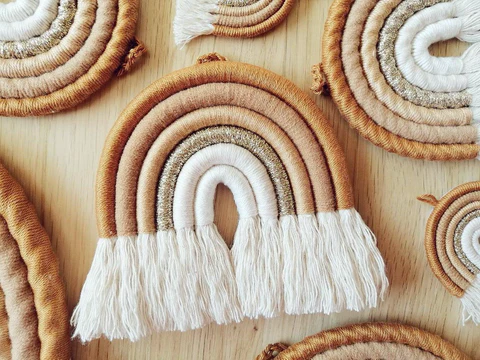 These beautiful Etsy rainbows embody boho-chic. No matter what your color scheme is, add some color and texture to your baby's bohemian nursery with one of these stunning wall hangings.
Boho chic nursery with vintage vibes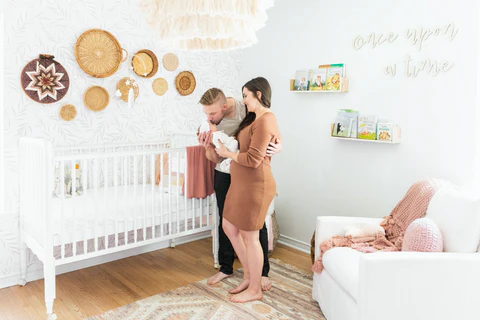 If you want to go wild with a bohemian baby room theme, one idea is to make the old new again. Vintage wall hangings, rugs, and mirrors are bohemian and easy to manipulate. If you enjoy music, pick up an antique guitar; if you want to channel a Californian mood, pick up a vintage surfboard.
Modern boho nursery name sign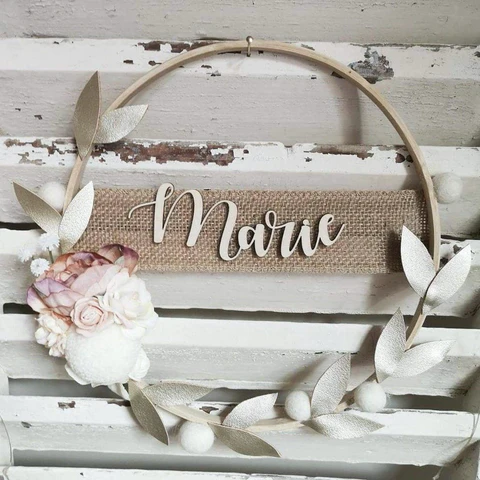 Name or monogram signs made of wood are trendy for nurseries now; make yours bohemian to set the tone. These are typically positioned over the crib but can be placed wherever to add a traditional yet bohemian touch.
Choose the boho name sign you love best from the many options available, including flowers, rainbows, leaves, and vintage-style fonts.
Boho nursery statement pieces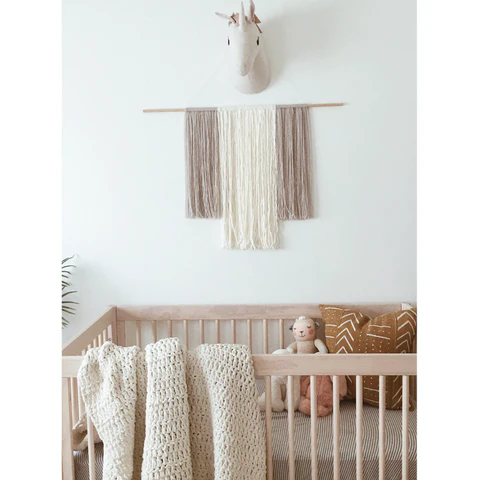 It is okay to do your own thing. This is your baby, after all! If name signs and potted plants are not for you, be encouraged to build a bohemian nursery that feels more authentic to your style.
Bring in a lot of color with your boho baby nursery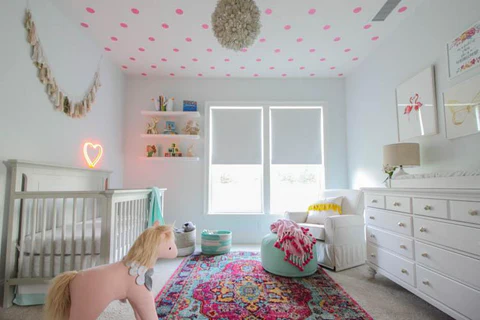 Boho baby brights are not the first concept that pops into your head when thinking of a "bohemian baby room," but they're an excellent way to make a unique space for babies. The daring oriental rug, polka-dotted ceiling, and splashes of turquoise create an exciting and visually pleasing space.
Combining this faux taxidermy and hanging yarn art on a baby's cot is delightful. What a fun and modern way to decorate!
Boho baby nursery rattan furniture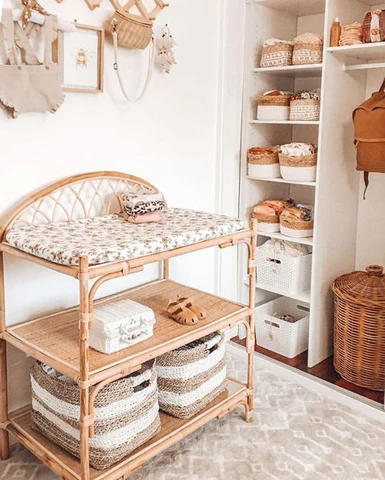 Rattan furniture is highly sought-after for its bohemian decoration style and ability to transform any space into the boho-chic room of your dreams.
You can try your luck on the Facebook marketplace and at local antique stores or spend a bit more money on new pieces with this delightful old-fashioned look.
Frothy & delightful boho nursery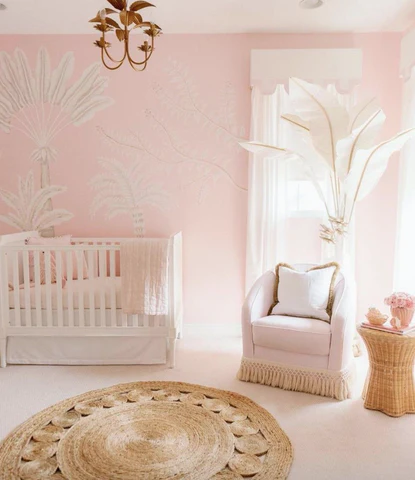 With its pink and honey hues, this stunning baby girl room will take your breath away. Your princess will love this room's boho charm and upscale twist and never want to redecorate or move out!
Crafty boho nursery shelves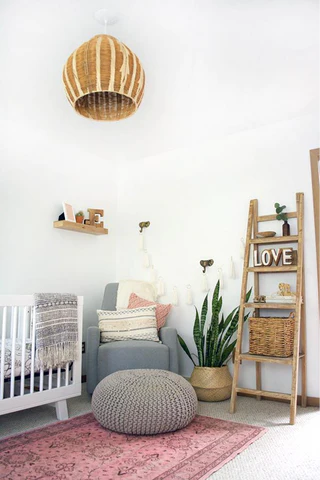 With accessories like this ladder-style shelf, which acts as a catch-all for trinkets and necessities, you can create an eclectic ambiance and make Baby's room feel snug and homey.
Eclectic boho nursery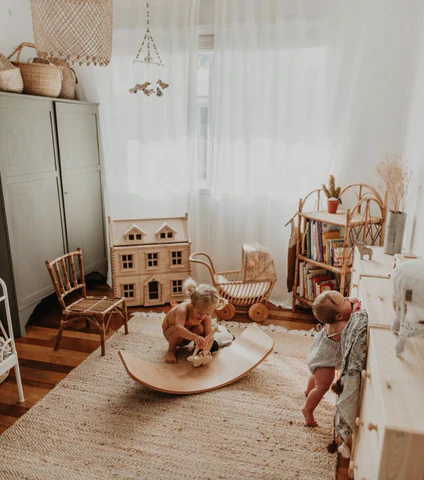 You can devote all your time and energy to designing a simple nursery or take a more relaxed approach and let the baby's room develop itself.
A boho nursery is all about textures, toys, and making many memories. This comfortably cluttered but chic space is the perfect example!
Cozy boho nursery decor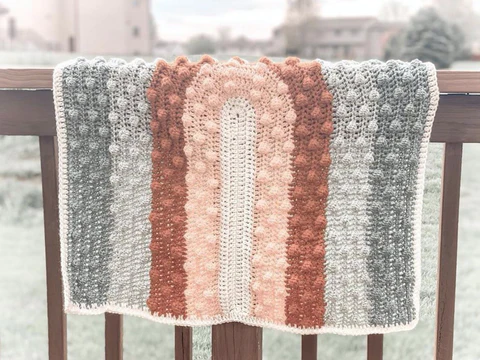 This gorgeous, hand-knit blanket might be the unique element your baby's room is missing. It's a beautiful illustration of how a retro mood can feel cozy and modern while encircling your boho babe in warmth and comfort.
Boho nursery tapestry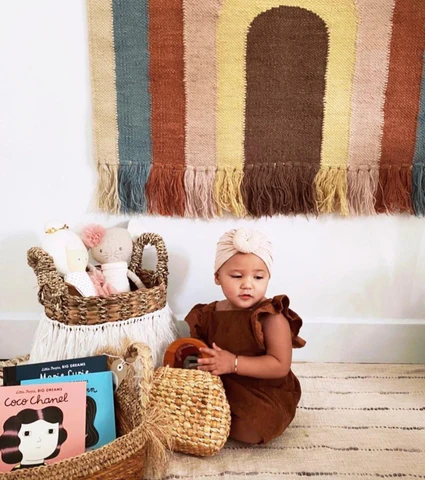 Nursery art is all a matter of personal taste and style. Still, the tapestry is a great place to start when creating a bohemian atmosphere.
Invest in plants for your boho nursery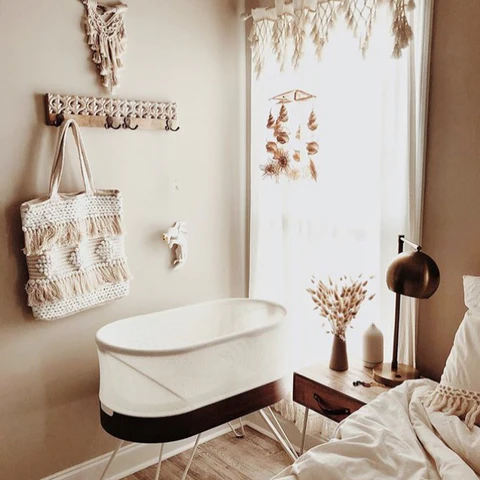 Plants are the key to bohemian nursery decor that is primed to perfection. Real, fake, dried, or otherwise, plants add a touch of elegance and charm to any room.
Find a method to "plant" some sweetness in the baby's room, whether with rose petals, potted ferns, snake plants in sturdy vases, or feathery items like those pictured above.
Light and airy boho nursery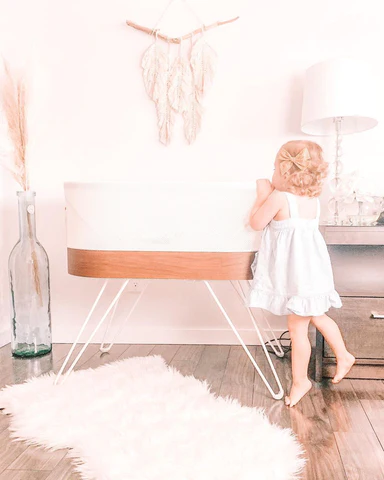 A boho baby room can be successfully executed without using any color, as demonstrated by this boho nursery which uses textures and intricate details instead of a color palette.
Boho nursery drapery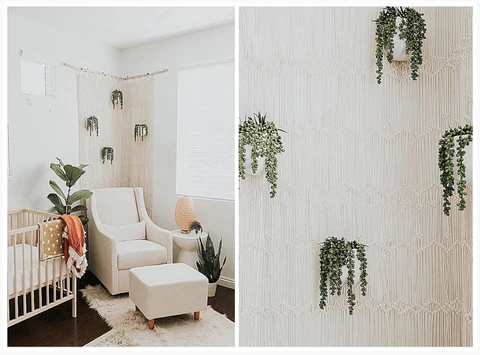 A mixture of fabrics and plants hanging from the walls creates an effortless boho-chic look. If you want to recreate a comprehensive look like this for a baby's room, you will want to use faux plants for convenience and safety!
Boho nursery art print mixing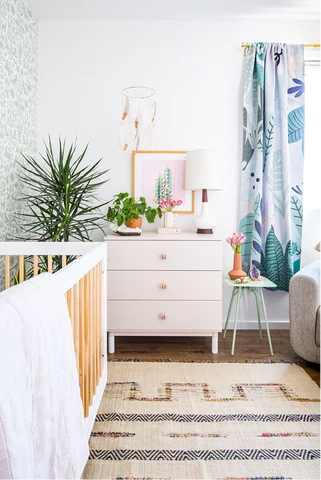 It does not matter if everything is pretty, as long as it does not clash! When decorating, combine various prints and patterns to give Baby's room a lush, bohemian feel.
The dramatic decor choices made by these parents included loud curtains, a wacky rug, and lovely wallpaper.
Multi-textured boho nursery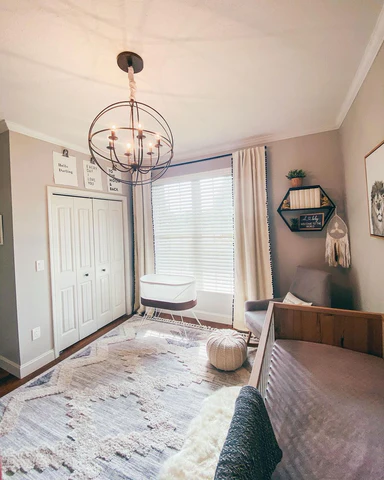 Not only is a muted color palette ideal for pattern mixing, but it is also excellent for blending different textures. Wood, brass, faux fur, and knits come together beautifully in this boho nursery.
Try a muted earth-tone boho nursery.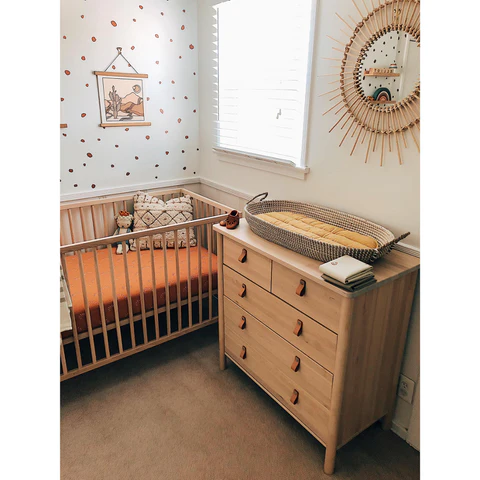 If you want to go with a boho nursery, you can't go wrong with many browns, coppers, and other earth tones. Simple details and a cozy feeling are key. Remember that boho nursery decor is all about the details you love, and the more you mix and match, the better it will be!
Loud earth-tone boho baby nursery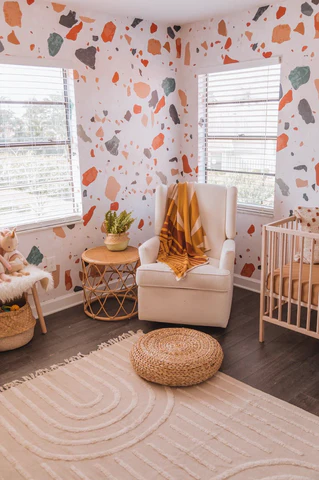 Although they are often seen as subdued, earth tones can be quite vibrant. Try out some earth tones in a crazy assortment if you are drawn to these colors and want a place full of joy.
This bohemian baby girl nursery combines all the best elemental colors in a dynamic display of patterns and shapes that are almost 80's retro. We love it!
Boho nursery sanctuary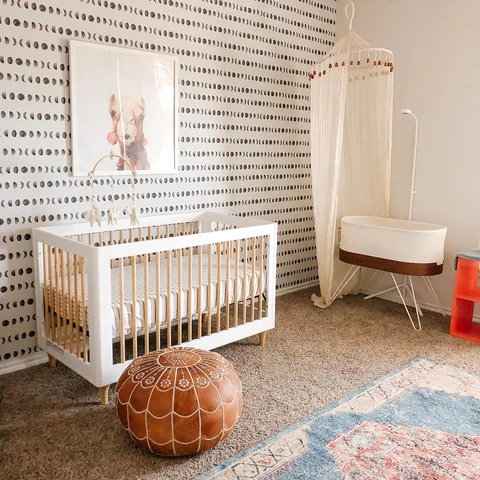 A sweet, decorative canopy is an adorable detail to add to a boho baby room (make sure it's out of Baby's reach). This whole nursery is gorgeous, but that cozy corner is the icing on the cake.
Also Read: How to Choose the Perfect Rug for Your Nursery: A Comprehensive Guide
Verdict
The boho style is perfect if you're looking for nursery ideas that are out of the box. With their eclectic patterns, natural materials, and global influences, boho nurseries are guaranteed to make a statement. Here are some of our favorite boho nursery ideas to get you inspired.
What is a boho-style nursery?
Boho nursery decor ideas are perfect for those who want to be super creative, as there are no rules.
A Boho-inspired scheme is defined by an eclectic mix of varying styles, making it ever-changing and unique.
What does a boho nursery look like?
The boho nursery style allows for plenty of variation, from print-mixing to rich textures, earthy colors to vintage details, and lush foliage to loads of rattan.
Boho nursery decor is an eclectic assortment of items that are put together to match your preferences—it shouldn't look uniform for everyone.
What is a boho theme?
Boho style is an expressive, free-spirited aesthetic that mixes cultures and art forms into an eclectic style.
When creating your boho-style space, mix patterns, metals, woods, materials, animal hides, and trinkets from your travels for the best effect.
What colors are boho?
An interesting boho color palette consists of earthy hues paired with neutrals or warm colors combined with unique colors. Yellow, browns, white, green, blue, grey, and red are famous bohemian colors.
Is there a difference between boho and bohemian?
The term "bohemian" has evolved to describe someone with an unconventional perspective of established social customs and traditions.
Modern bohemianism encompassed tendencies from the Beatnik and Hippie periods when the culture's aesthetic was bohemian. It still represents a counterculture mindset.