15 Whimsical Woodland Nursery Ideas for 2023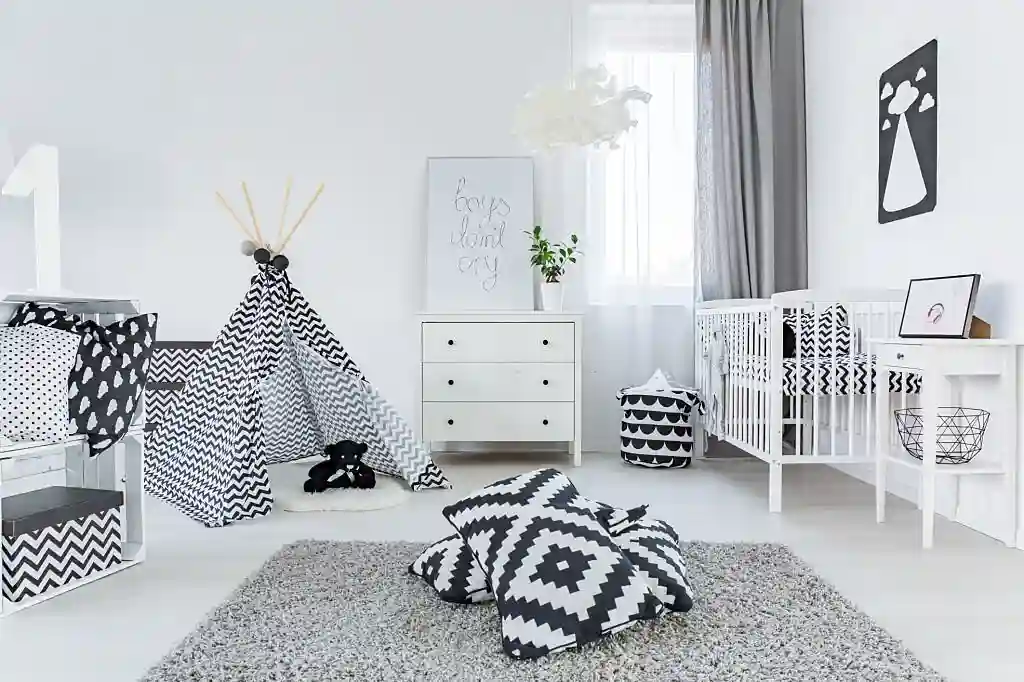 Whether you are expecting your first child or your fifth makes no difference. You'll undoubtedly experience the need to "nest" at some point.
Whimsical woodland nursery décor is a chic and flexible way to make a space for your babies, regardless of whether they have a separate nursery, share a room, or have a section of your one-room home all to themselves.
Here are my favorite whimsical woodland nursery ideas for your baby
Animal alphabet woodland nursery decor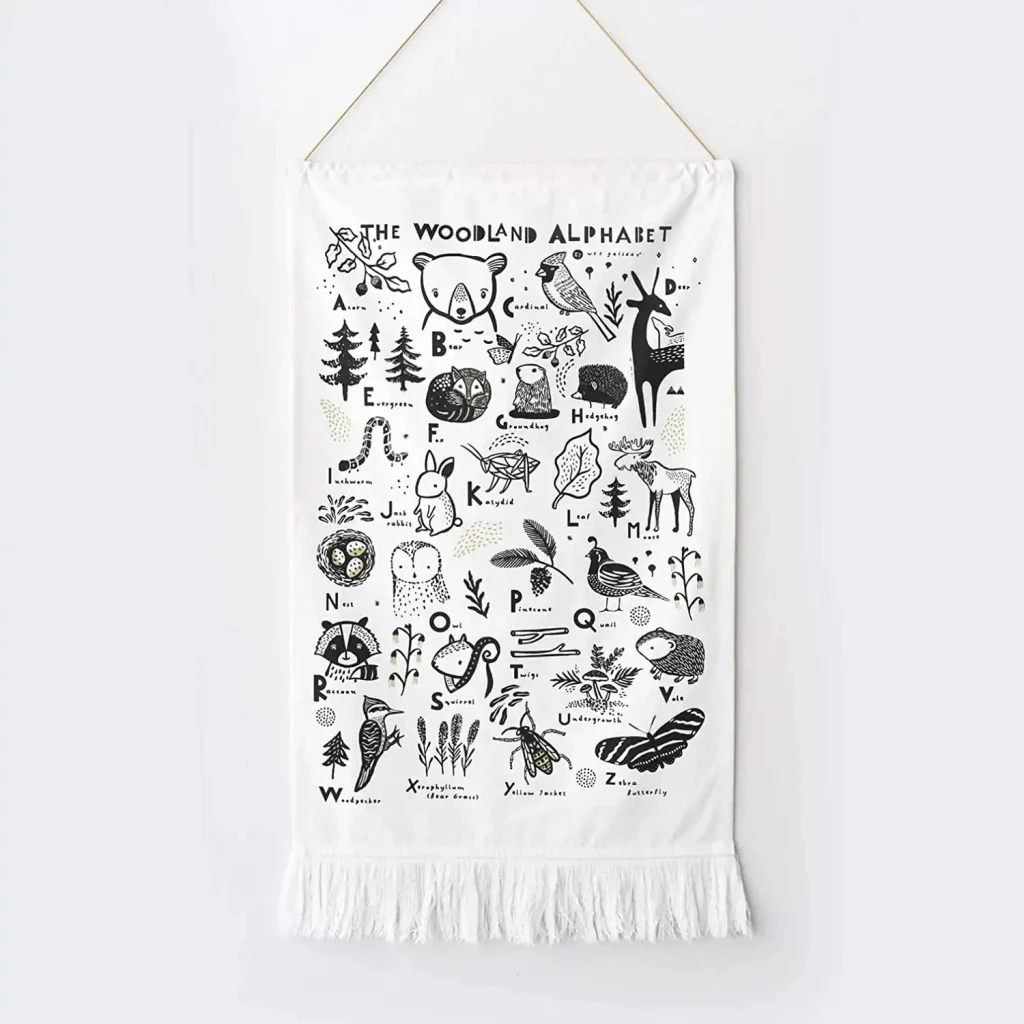 The animal aspect is a big part of woodland nurseries, and this monochromatic alphabet scroll is an adorable way to include them. It gets a thumbs up because it is gender-neutral, easy to use, and includes an educational component.
Hanging greenery woodland nursery decor
A little green can go a long way, and in a nursery with a woodland theme, this charming addition fits in just about anywhere—especially over the cot, as is the case here.
Won-deer complete woodland nursery accessories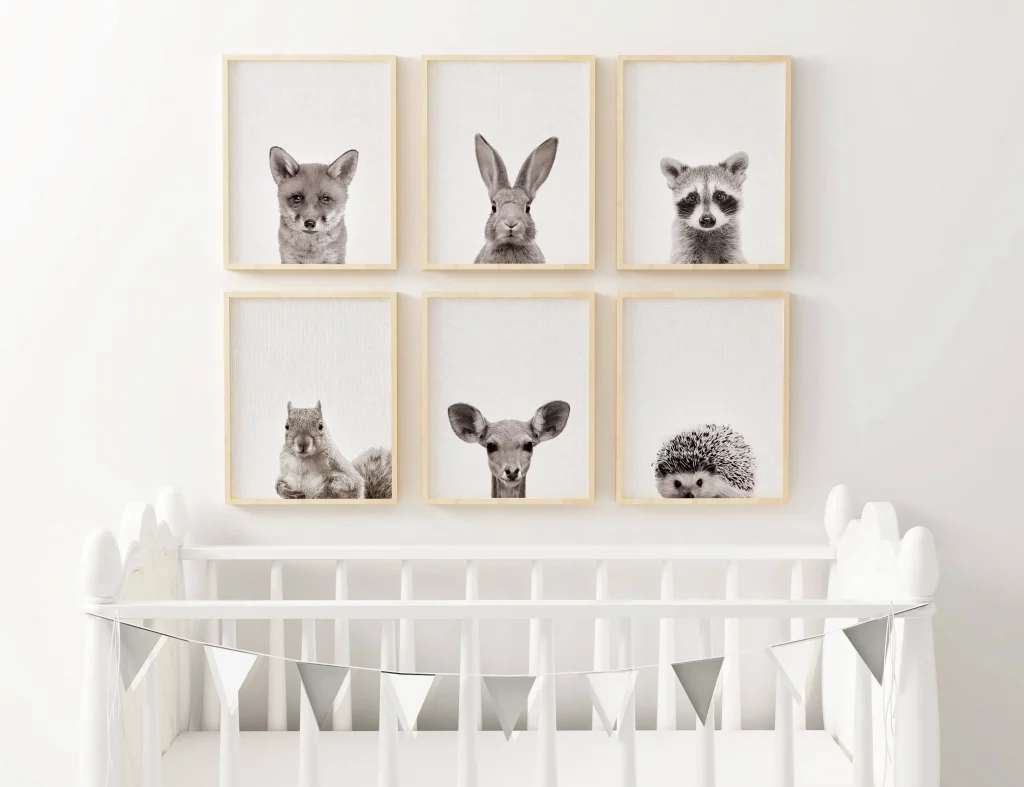 As with bed linens and blankets, a changing pad cover is an excellent example of a practical item that can improve your woodland nursery theme. You can replace these items later when your baby moves into a big bedroom.
Grayscale Woodland Nursery With Color Pops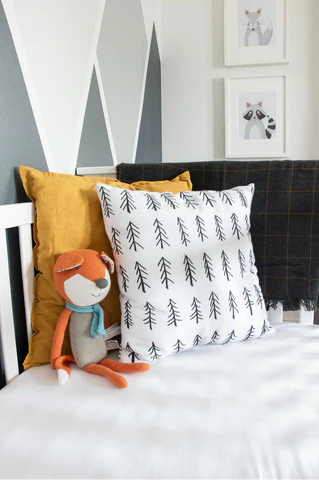 A nursery with a woodland theme is particularly adorable and enjoyable for infants because it introduces a wide range of textures and ideas, including numerous animals, plants, rocks, and twigs.
Because of this, a strong, neutral foundation like these gray mountains serves as the ideal stage for the vibrant accents you employ to embellish the room.
Woodland nursery blues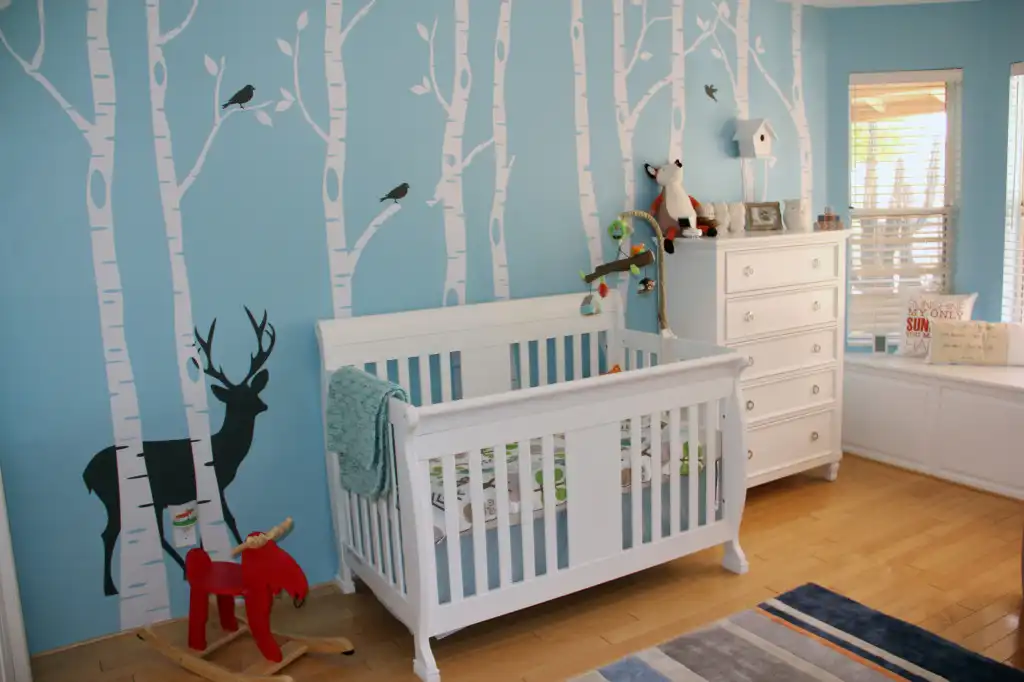 It's a strange decision because the conventional color scheme for woods nurseries tends toward greens, browns, and grays, but a strong blue may create a stunning backdrop for this theme, as shown in this young boy's woodland nursery.
Beary cute sheets for a woodland animals baby nursery
The nursery motif can be easily carried out with linens. Despite its abundance of blue, this charming bear crib sheet is the ideal gender-neutral complement to your baby's room with a woodland theme.
Framed friends for your woodland animal's nursery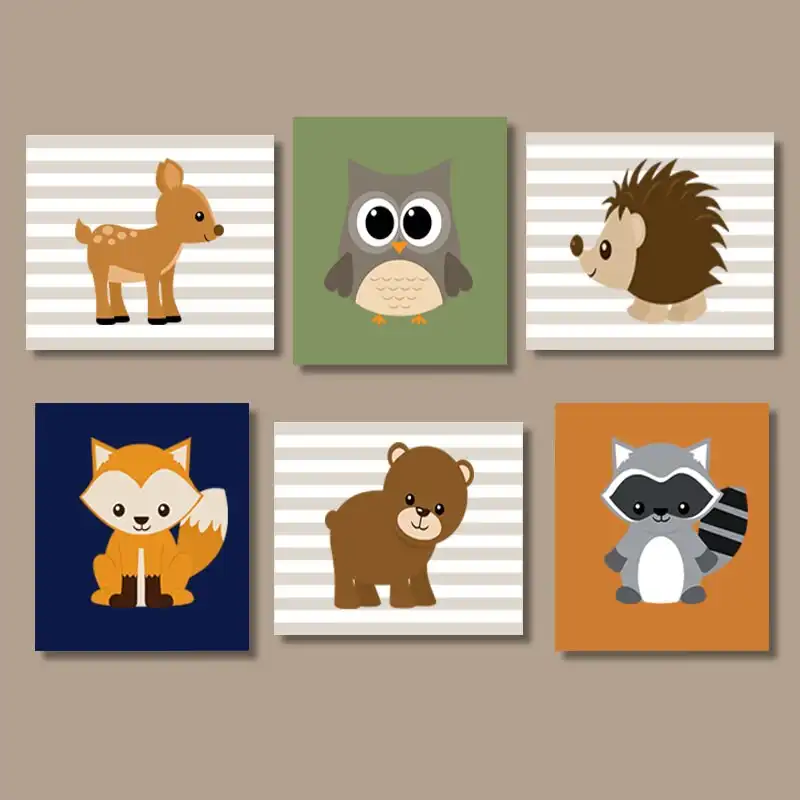 A group of happy animal companions makes your woodland creature-themed nursery feel even more snug and welcoming. Hang together as a set of four or place them around the room; there are many options with framed artwork like this!
Woodland forest nursery wall mural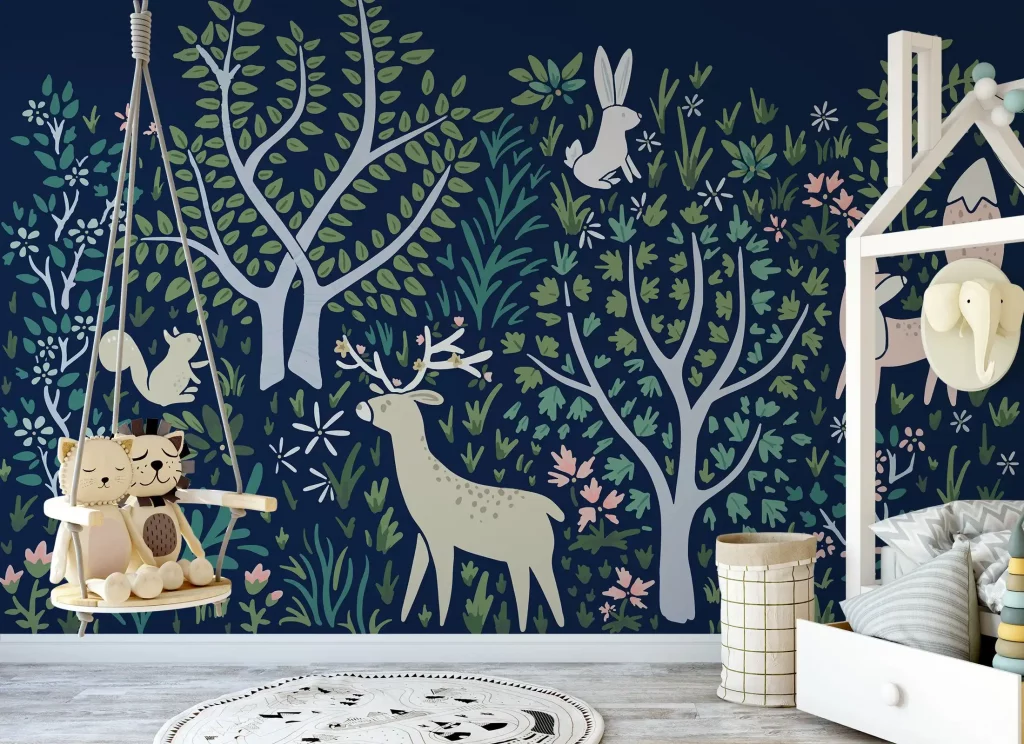 Breaking out the paint cans and brushes to create the perfect forest scene in your child's room can be simpler than you think. You don't need perfection; calming hues and straightforward shapes will do!
Wild-walled woodland nursery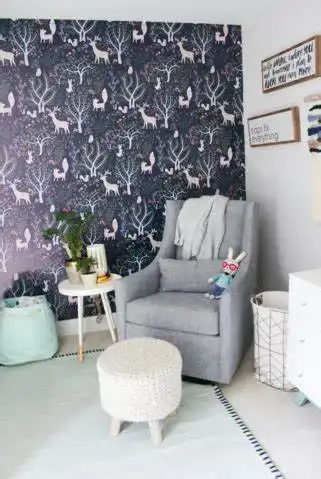 Your woodland nursery decor is nicely brought together by the wallpaper's vivid forest print, which also creates an ideal environment for the emergence and development of the imaginative play.
White & bright woodland nursery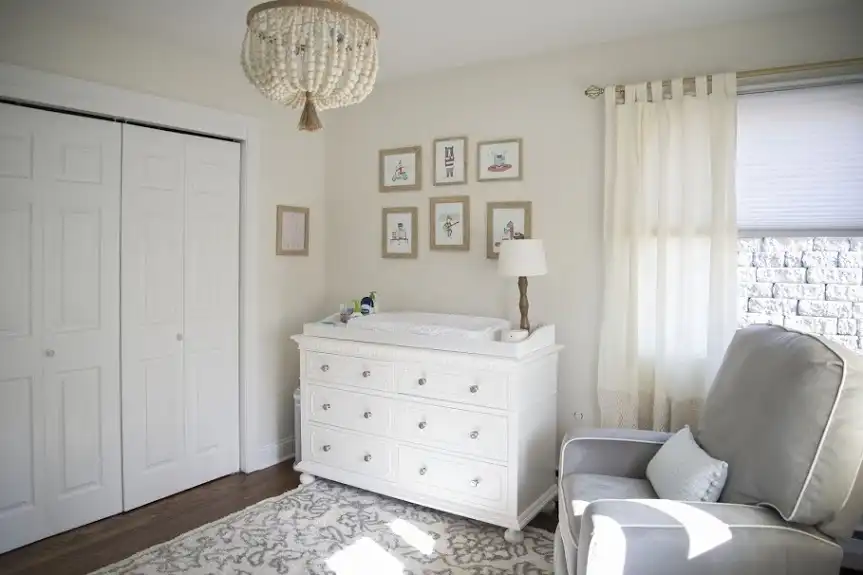 A light and airy ambiance are achievable, even if you're going into the woods! White walls, neutral flooring, and plenty of pale furnishing make this space extra sweet.
Mom brought the woodland details in with antlers, greenery in the maternity prints hanging on the wall, and subtle details throughout.
Woodland nursery with sweet creatures & light features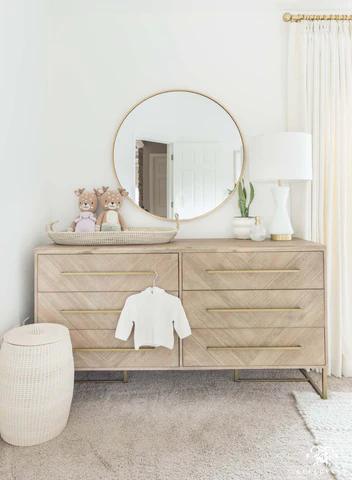 Every single one of the features in this gender-neutral woodland nursery's forest motif is a priceless addition to the room. We adore the plush toys perched atop the dresser; simple additions like this allow for easy updating as Baby develops without needing to redo the nursery completely.
Blush rush woodland animals nursery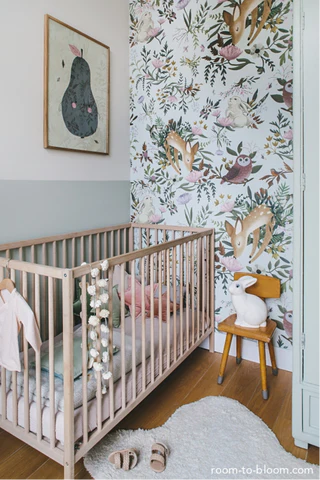 When you bring all that fauna in, remember the flora. You should utilize pinks and floral accents to create a feminine woods nursery that she'll love growing up in since a forest-themed baby room may be just as frilly as not.
Initial woodland nursery decor
Without being fancy, twig lettering brings the woodland nursery motif home. You can make something similar on your own, or for convenience and comfort, you can buy it from Etsy.
Dark & stormy woodland nursery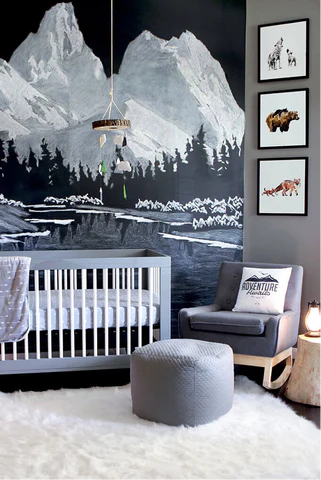 This stunning nursery demonstrates that adventurous vibes can be as masculine, bold, and neutral as you like all at once. A stunning baby room with a winter woods theme that will wow features a dark-hued wall painting, animal highlights, and wood embellishments.
Woodland walls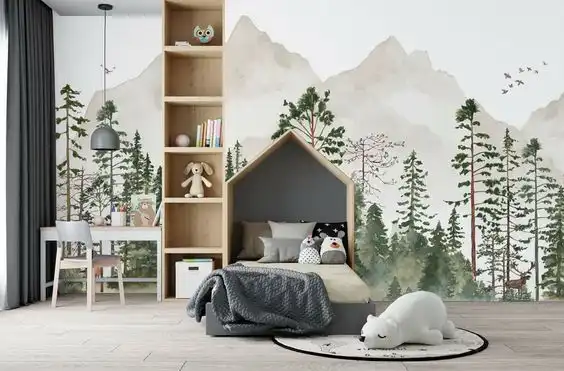 This washable, matte-finish wallpaper will transform the wall of your nursery into a lovely forest scene.
You don't need decorating abilities because the pieces are pre-cut and attractive. You merely damp your wall before pressing the paper on it.
Also, Read:
Verdict
Are you trying to find improvements for your woods nursery? You may be seeking ideas for decorating a woods nursery. Or are you browsing for nursery design ideas in general?
Whatever brought you here, remember that you don't need a picture-perfect nursery to convey how much you adore your child. No matter how their room appears, they will appreciate and love you.