17 Enviable Green Nursery Ideas 2023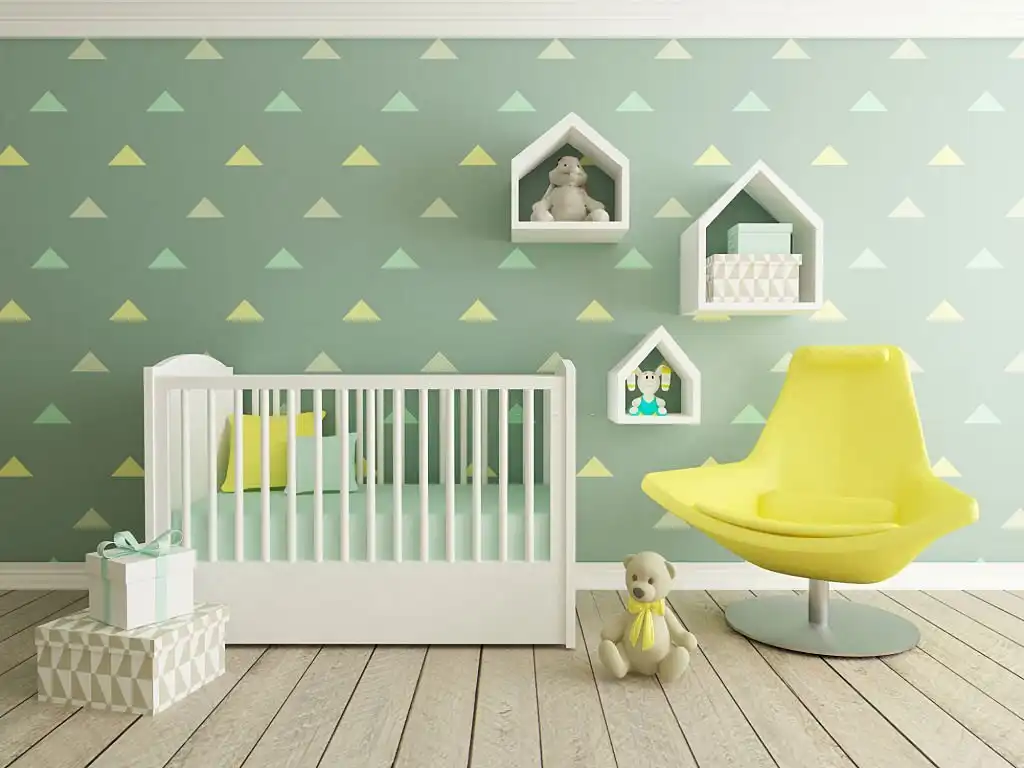 Are you looking for the perfect color palette to create a beautiful and functional baby room? Green is an increasingly popular choice, offering options ranging from bright and cheerful to natural and soft.
From bold and edgy statement pieces to all-out green nursery designs, there's something here to suit every parent's tastes. Here are some captivating green nursery ideas to inspire your home.
Olive green nursery crib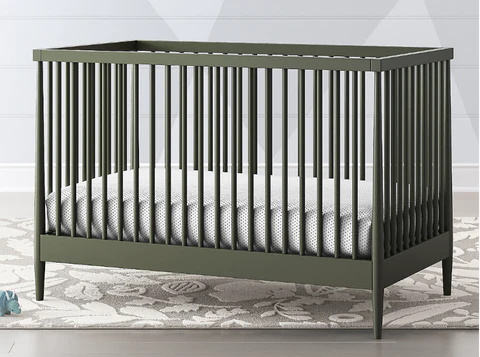 This classic, vintage crib comes in a stylish olive green color. It brings sophistication and elegance to any nursery, making it the perfect addition to any home.
Green textured nursery wall.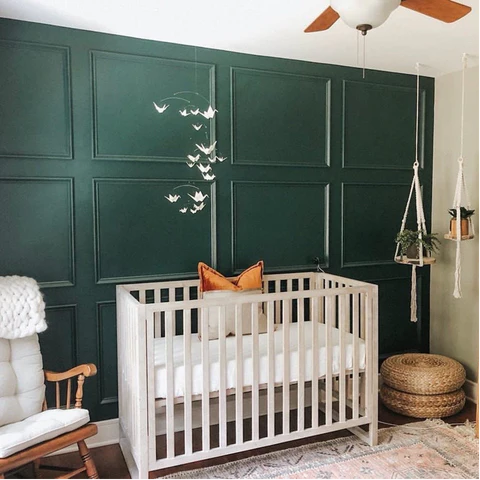 Create eye-catching designs by pairing interesting textures with vibrant colors. This evergreen accent wall, complete with square-shaped molding, brings a calming and inviting atmosphere to any nursery. Go a step further and add some hanging plants for added visual appeal.
Emerald green nursery crib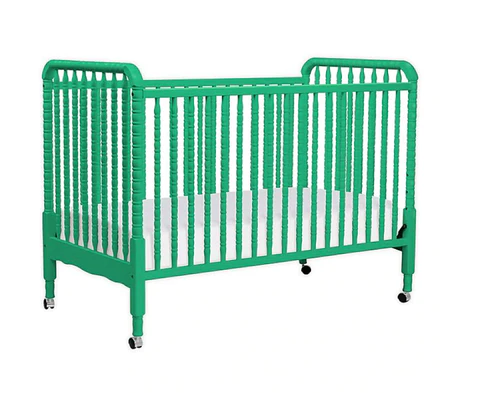 This Jenny Lind crib is sure to elevate the style of any nursery. The unique shade of green is perfect for adding a sophisticated edge to the space. This crib will be the perfect addition to your baby's room when looking for a statement piece that also stands up to time.
A green nursery where dinosaurs roam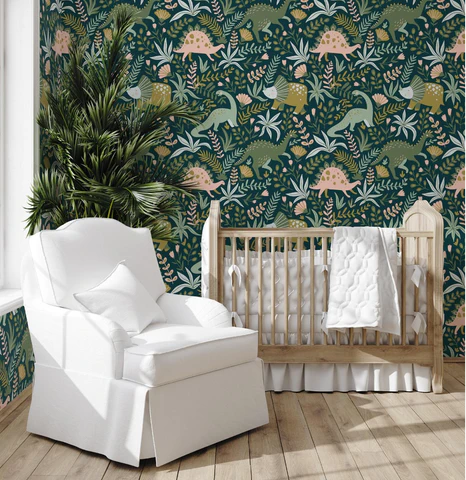 This modern chair, upholstered in a deep green velvet fabric, is the perfect way to bring style and sophistication to any baby's room. It makes a bold statement while adding warmth and comfort.
Velvet green nursery rocking chair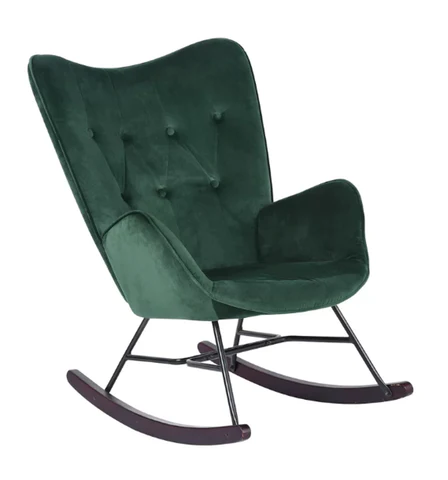 This modern-looking chair makes a bold statement in any space, especially when finished in deep green velvet. This piece of furniture adds an elevated level of chic to any baby's room.
Solid green nursery walls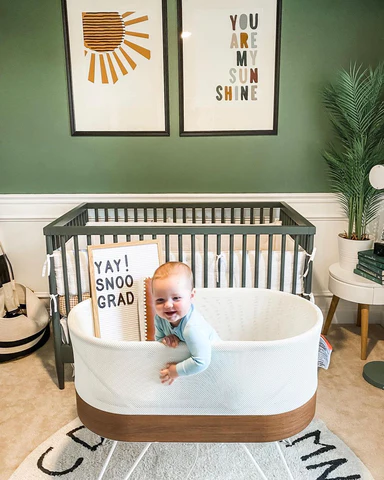 Make your nursery greener with this unique design choice! This mother perfectly combined green nursery walls with a forest green crib, inspiring parents looking to add a modern twist to their child's room.
A quirky green nursery chandelier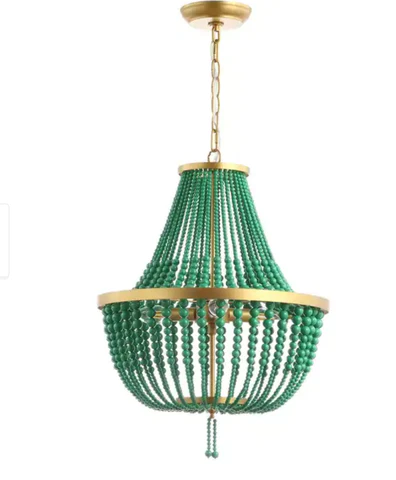 Beaded chandeliers are often seen in boho-inspired nurseries but provide a glamorous touch to any room. Try using a bold green color in the light fixture to add a unique, elegant look to your baby's nursery. This can take the design of your child's space to the next level.
A string of nursery greenery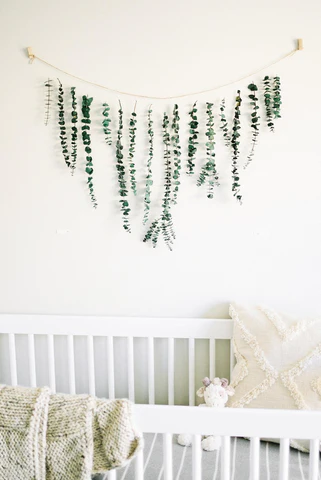 Dried eucalyptus is a beautiful and affordable way to bring the outdoors into the nursery. This neutral white baby room is lovely, with an extra pop of cozy color from the chunky mossy throw blanket hanging over the side of the crib.
Green rainbow nursery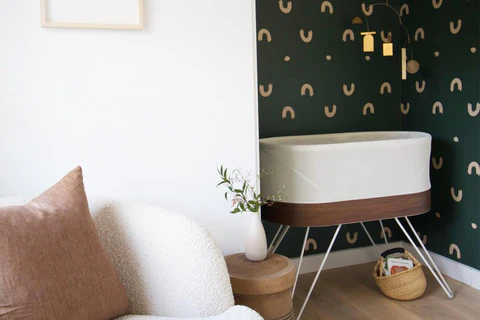 This unique wallpaper makes an eye-catching statement in any space. This dreamy, green hue is set off with bright rainbows and provides the room with a cool complement to the neutral tones. Don't limit yourself to only blue skies; this beautiful wallpaper will bring life to any room!
Moody green nursery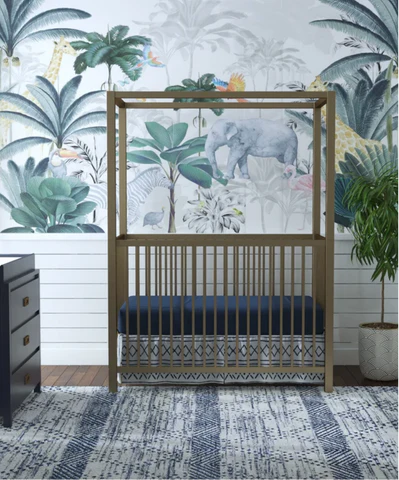 A chic baby room can be achieved using greens effectively. This jungle-themed wallpaper and plants create a darker, more photo-worthy space – perfect for your little one's nursery!
Green nursery with lots of succulents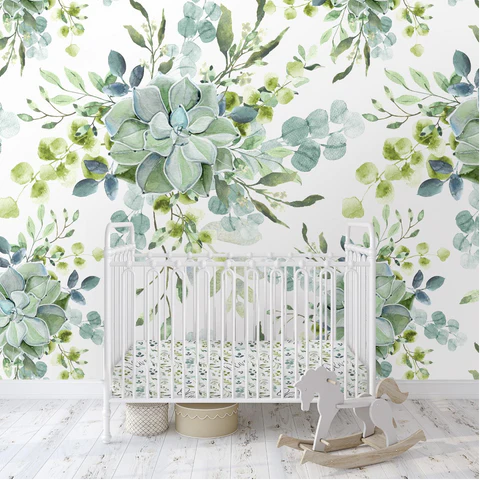 The trend of succulents continues to rise, making them a great design choice for nurseries. Suppose you're hunting for a bright, cheerful color palette perfect for a gender-neutral nursery. In that case, this combination offers plenty of green!
Palm tree-lined green nursery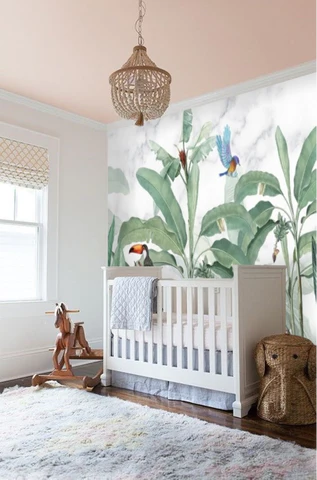 Create a stylish safari-inspired nursery with this peel-and-stick wallpaper. Featuring lush green palm trees for a unique, calming atmosphere, this wallpaper will make any baby's room feel vibrant and alive.
It's perfect for an outdoor-themed nursery or even for those that want a little bit of the outdoors brought into their home.
Serene pink & green nursery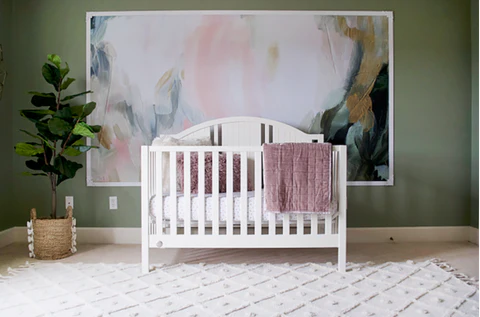 Create a dramatic look in your nursery with rose-colored accents. This green baby room is the perfect place for oversized modern artwork and luxurious crib accessories, adding the perfect amount of drama that any little girl's nursery needs.
Green nursery details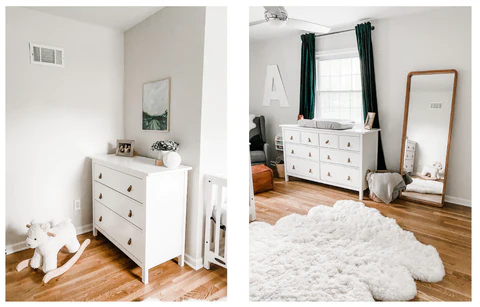 This baby boy's room is full of subtle and inviting touches, such as the lush green artwork, matching chair, and luxurious velvet curtains. Together, these elements create a cozy yet neutral space that provides the perfect atmosphere for your newborn.
Green nursery frond wallpaper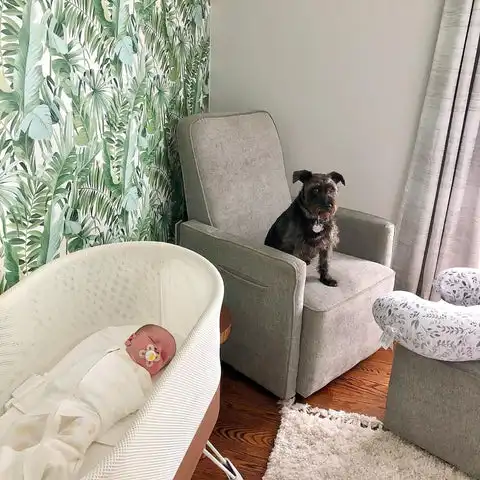 These walls create an eye-catching impact and offer the potential to minimize details for a more significant overall effect.
Mint condition green nursery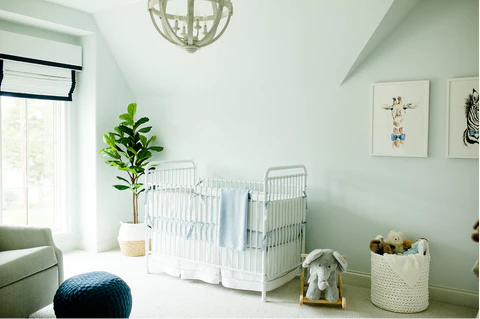 This nursery was designed to bring together a quiet and elegant atmosphere, perfect for welcoming a baby boy.
The color scheme is primarily pale shades of green, offering a gentle yet modern environment. Parents have created a lovely and inviting space by selecting the right paint color and incorporating it with other shades of green.
Teal appeal green nursery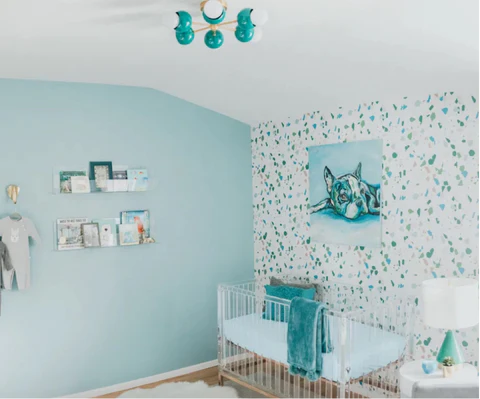 Teal green offers a subtle way to add a contemporary touch to your child's nursery. Depending on the variety of shades and textures used, it can create an exciting atmosphere for your little one. Consider this color if you want something unique but not too traditional.
Also Read: How to Buy Crib Bedding: Useful Tips For a Baby's Nursery
Verdict
There are many reasons why you should create a green nursery. You may want to promote a healthy lifestyle for your child, or you may love the color green.
Whatever your reasons, there are plenty of ways to incorporate green into your nursery design. From a green accent wall to potted plants, there are many ways to create a beautiful and stylish green nursery.
Is green a good color for a nursery?

Regarding nursery design, green is an excellent choice for adding color and character to the space.
Shades of green provide personality, drama, and depth, regardless if you're painting just one wall or the entire room. Green can lift your nursery design when chosen wisely and create a truly unique look.
Is dark green good for the nursery?

Dark green is an excellent choice for nursery designs – as evidenced by the previous examples.
The dark green hue creates an enchanting atmosphere with its ability to foster a dramatic but warm aesthetic. This dark green nursery looks stunning and welcoming.
Is green a neutral color for babies?

When selecting gender-neutral colors for a newborn baby, yellow and green are two excellent choices.
Whether or not you know the gender of your baby ahead of time, these shades can be used to create a thoughtful and personalized nursery for the little one.
Is green the calmest color?

Green shades can create a peaceful, serene atmosphere and help reduce stress. Beige greens and pale yellow greens are particularly restful shades of green that can evoke feelings of harmony and tranquility while promoting an environment of calm.
Perfect Neutral Baby Colours offer the ideal combination of de-stressing tones to ensure your baby feels safe and at peace.
What does green mean for babies?

Team Green is a term used to describe parents who opt not to discover the sex of their unborn baby before birth.
Also known as gender surprise, Team Green offers the excitement and anticipation of waiting until the moment of birth to find out if they're having a boy or girl – a decision many couples make to keep their pregnancy unique.