5 Expert Tips To Choose The Perfect Nursery Furniture Set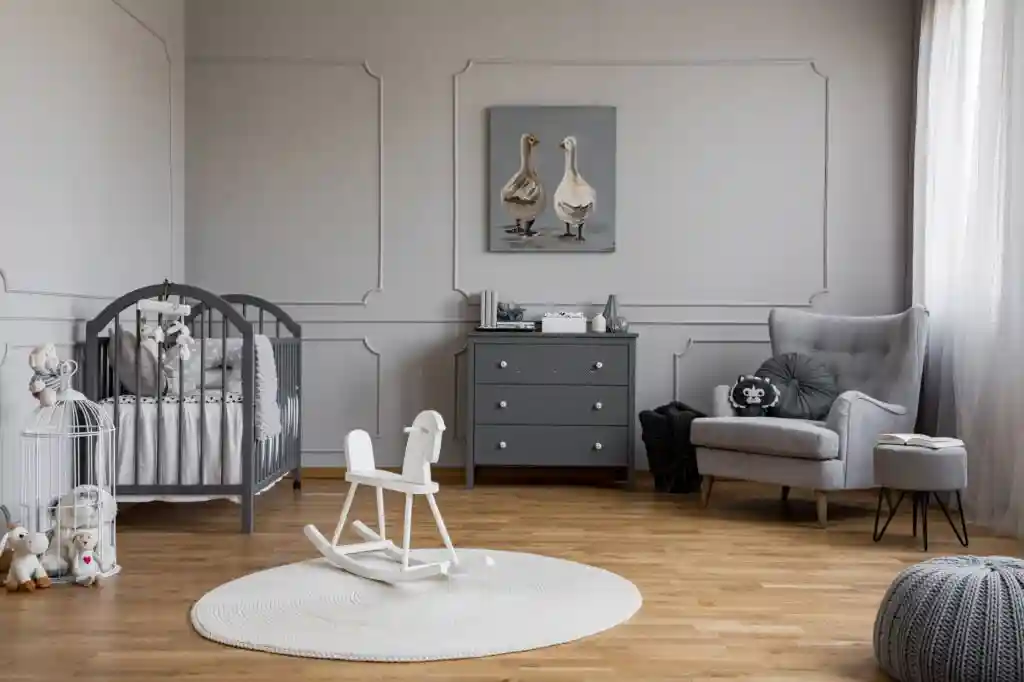 Your baby's nursery will probably be your favorite room in the entire house because it is so precious and carefully done! There is no better way to decorate it and make it into the nursery of your dreams than by selecting a nursery furniture set.
What are the advantages of buying a nursery furniture set?
If you're still undecided about whether to buy individual pieces or a nursery furniture set, allow us to help by outlining its primary advantages:
Cohesiveness
Your nursery will automatically seem consistent, exhibiting your good taste in decor because each piece of furniture has the same style and quality;
Practicality
You'll have everything in one spot rather than having to look through hundreds of cribs and repeat the process for your dresser and change table! It will be much simpler to compare the features of several sets if you've found a few that you like the look of;
Price
These baby nursery furniture sets are typically less expensive than buying each piece separately because you're purchasing two or three pieces at once.
What is included in a nursery furniture set?
It varies, as there are several sets to accommodate any conceivable circumstance! However, two or all three of the following are typically present:
Crib
When buying it, you may select from the following options to help ensure a restful and ideally lengthy night's sleep (although it won't work miracles):
Traditional crib: Best nursery furniture sets if you intend to reuse it for their future siblings or if you're willing to invest in a new bed when your child outgrows the current one;
Convertible crib: While convertible cribs are more expensive, they're a wise investment that will save you money in the long run.
They're worth it if you're not planning on having more children. One side of these cribs can be removed and replaced with a safety rail, allowing them to grow with your child by becoming a toddler bed and, in some cases, even a full-size bed.
Dresser
When it comes to storage space, this item will be indispensable! The majority of versions also come with a detachable top that acts as a changeable surface: a useful space-saving choice if you don't intend to buy a separate changing table;
Changing table
Have you got a big chest of drawers already? Would you like to add more storage using the top of your dresser? Or you may have a sizable nursery that you want to furnish with extra items. If so, select a set of nursery furniture that includes a separate changing table;
This functional furniture will also add extra storage space, whether you choose a model with drawers or open shelves.
The most practical choice is to get a three-piece nursery furniture set unless you already have one of these things.
However, if you don't have much room, we suggest getting a crib and a dresser with a changing top in a two-piece set.
What features should I look for in a nursery furniture set?
In addition to the safety requirements we've already discussed, the following elements could also simplify your life:
Removable changing table topper: This enables you to take it with you if you visit your relatives and make the most of that surface once your infant is no longer in need.
Adjustable mattress heights: This crib adapts to the needs of your child, enabling you to position the mattress at various heights to both make it easier for you to reach them and ensure their safety (for instance, you should start at a higher position for newborns, lower it towards the middle when they can roll over, and at the bottom when they can sit up);
Under-crib storage: You'll understand that you can never have enough storage space once you have your first child! Find a crib with extra storage space to save yourself some headaches if your nursery only has a few pieces of furniture with drawers.
Quick Tips
Selecting a nursery furniture set rather than separate parts will result in reduced overall costs, greater coherence, and quicker and easier comparisons of various models.
The complete option is a set with a crib, a dresser, and a changing table, but if you're short on room, choose a two-piece set that includes the crib and a dresser with a changing pad.
Although a convertible crib is more expensive, it will grow with your child and ultimately save you money.
Avoid cribs with a risky drop-side and search for baby furniture sets with safety features like straps for the changing pad and tip-over restraints.
Think about features like detachable changing pads, cribs with adjustable mattress height, and under-crib storage that can make your life easier.
Selecting nursery furniture with sleek lines will produce a more modern design, whereas decorative shapes feel more traditional. Look for a finish that feels cohesive with the rest of the space and shines out against the color of the walls.
Verdict
When choosing a nursery furniture set, consider the following factors: safety, comfort, style, and durability. A furniture set that meets these criteria will provide your child with a safe, comfortable, and stylish place to sleep, play, and grow. Nursery furniture sets that are durable and easy to clean.
How do I choose furniture for my child?
1. Make a plan before anything else.
2. Consider multiple functions when thinking.
3. Select classic components.
4. Give safety features top consideration.
5. Keep in mind the value of longevity and quality.
6. Consider storage space.
7. Opt for furnishings that suits the user's age.
8. Keep your child's perspective in mind.
How can you tell a quality dresser?
The joints of high-quality furniture will be doweled or screwed. Dovetailed joints and mortise-and-tenon joints are the best joints. On corners, re-enforcing blocks with an angled attachment should be utilized. Joints that are nailed, stapled, or contain obvious glue are signs of low quality.