The Best Nursery Furniture Sets for Your Newborn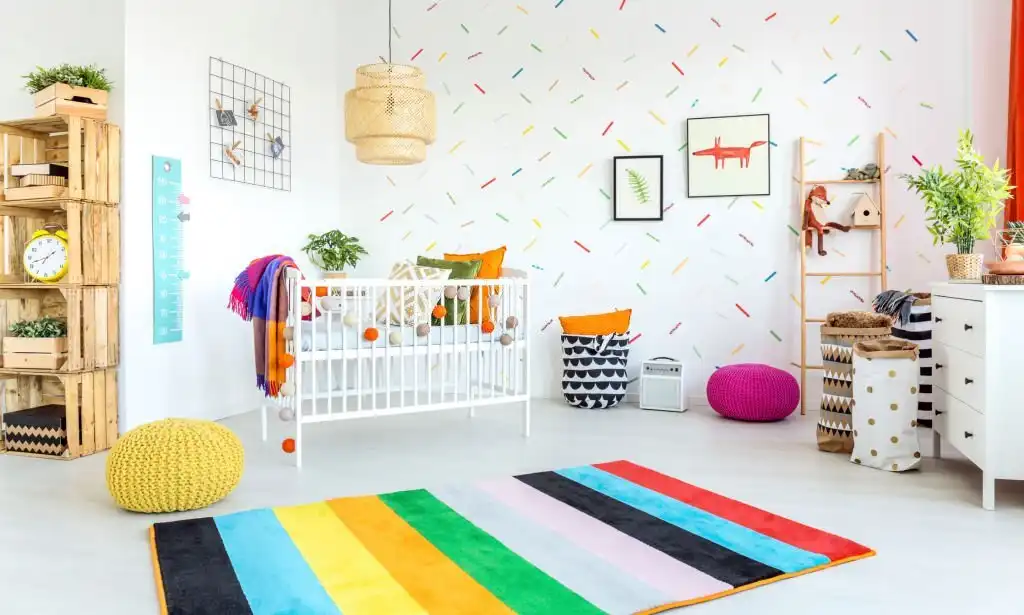 When you're expecting, your shopping list can feel never-ending. And with pricey car seats and expensive prams, it's not exactly gentle on your bank balance.
You should consider buying a nursery furniture set to save time and money when kitting out your baby's nursery. That way, you can tick all your nursery essentials off your list in one go.
Purchasing a set also means you won't waste time trying to mix and match individual pieces of furniture. Plus, it's often more cost-effective to buy nursery furniture as a set than to buy each piece separately.
If are you ready to explore the wonderful world of nursery sets? Read on to find the perfect set for you and your baby.
What's included in a nursery furniture set?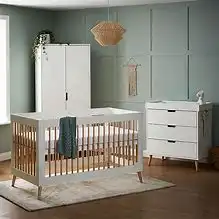 A typical nursery furniture set usually contains a cot, a dresser, and a wardrobe. If you want to check everything off at once, choose a set with plenty more extras – like a nursing chair, a wardrobe, or a changing unit.
The best nursery set for saving space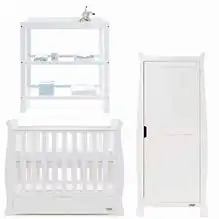 This Obaby set is perfect for smaller nurseries where space is limited. The compact cot and wardrobe will tuck away neatly in a corner, freeing up precious floor space. The changing unit has plenty of space to store essentials underneath.
The best nursery set for value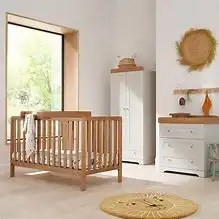 Nursery furniture sets offer excellent value for your money. Tutti Bambini manufactures some of the market's most affordable nursery furniture sets.
This set is an incredible deal. However, it is still expertly crafted with natural pine from New Zealand and therefore looks anything but cheap.
Additionally, the cot can be converted into a junior bed, a sofa, or a daybed. Therefore, once your baby has outgrown its sleeping quarters, you continue to get value for your initial investment.
Best nursery set for co-sleeping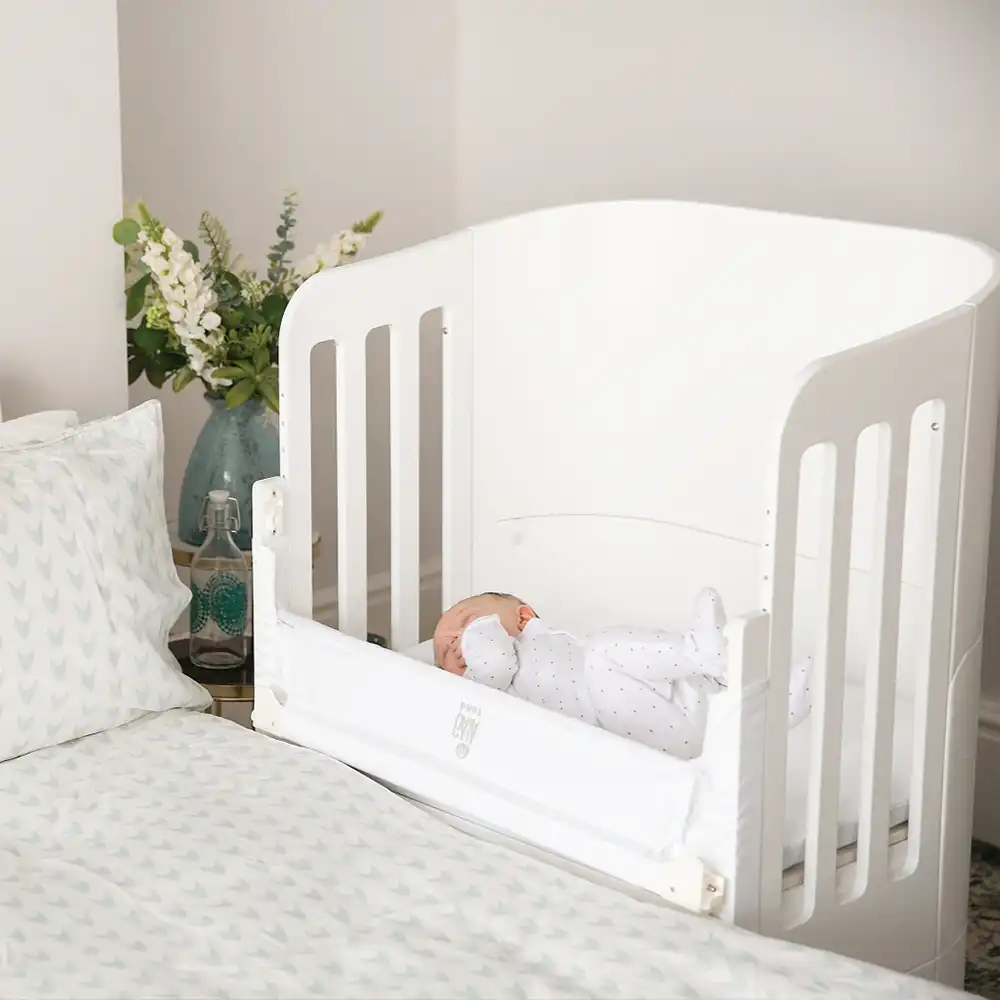 If you want to sleep safely next to your baby, you will need a co-sleeping crib to attach to the side of your bed. With the Gaia Baby nursery set, your baby can sleep beside you in the convertible bedside crib. Once they are ready to sleep alone, you can quickly transform the crib into a standalone cot.
And finally, when they are ready for a bigger bed, you can make the switch to create a toddler bed quickly. So this nursery set covers you from the co-sleeping phase to the no-sleeping phase. With a matching dresser, you can neatly store away all those diapers and clothes while your baby grows.
The best nursery set for getting sorted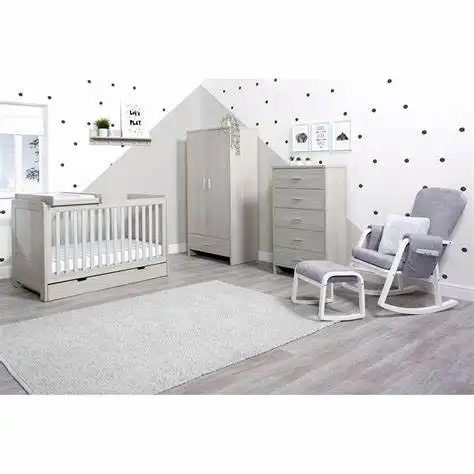 Suppose you want to get your baby's nursery in order right away. In that case, this Ickle Bubba furniture set is precisely what you need. With eight pieces, the set has everything you need for your nursery!
So, what does this mega set include? A bed cot with storage, a thermo-regulating mattress, a chest of drawers, a changing unit, a wardrobe, a shelf, and a rocking chair. Whew, that was a mouthful! You can even convert the cot into a toddler bed, so you won't have to think about replacing anything until your child is four or five years old.
Nursery set to grow up with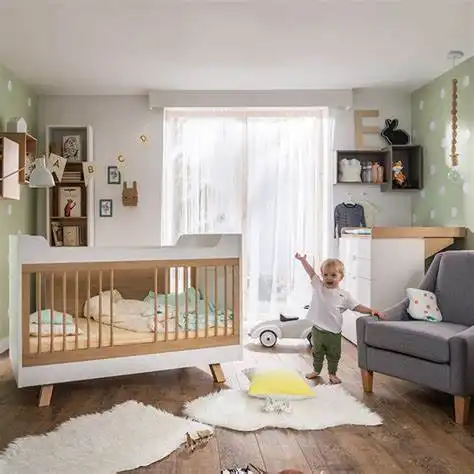 With an adaptive design, both your wallet and the environment will thank you. Investing in furniture that will grow with your baby won't need to buy new pieces continuously.
The Vox 2-piece set lets you convert the cot into a junior bed once your baby is ready. Your baby can sleep in this bed until they're four years.
And once your child has outgrown their bed, you can turn it into a desk! That way, you can continue to recycle and reuse the furniture, and your baby will have a place to do homework.
The changing table can be converted into a chest of drawers once your child has outgrown diapers. Separate the tabletop, and enjoy the dresser for many years.
The best nursery set for modern nurseries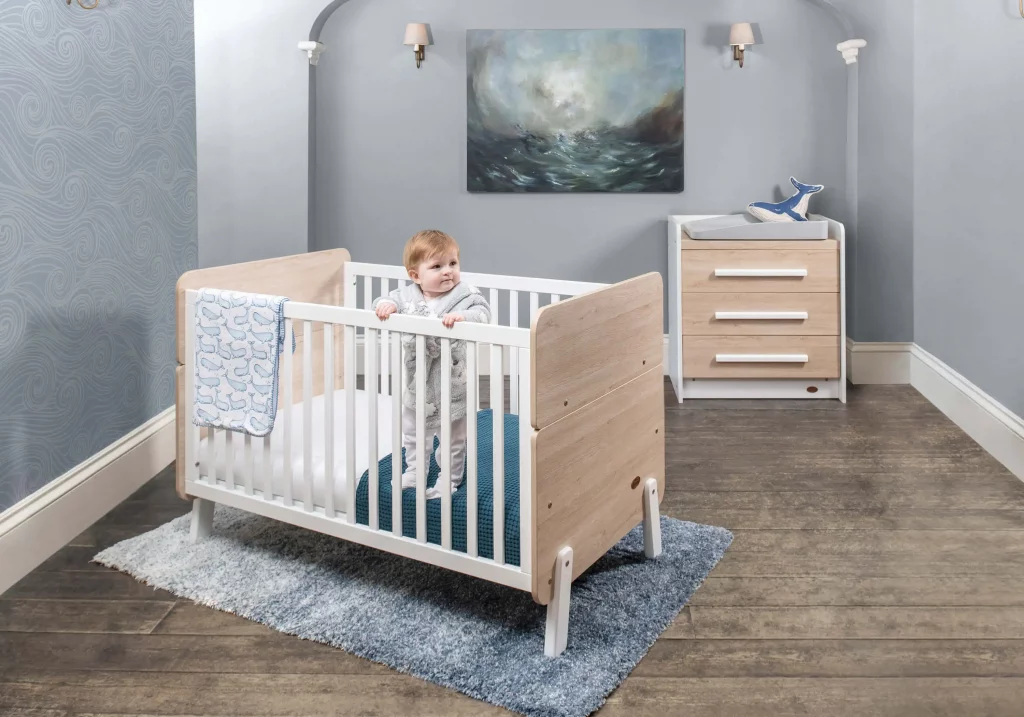 A nursery set's design can change your entire nursery's atmosphere. Choose a nursery set with a light, fresh color palette and simple styling if you want a more contemporary look.
This Boori furniture set will immediately give your nursery a modern feel. It combines modern style with practicality, easily converting the cot into a trendy toddler bed.
The smooth rounded corners, fun two-tone palette, and angled cot legs give it plenty of contemporary flairs and modern craftsmanship.
The best nursery set for traditional nurseries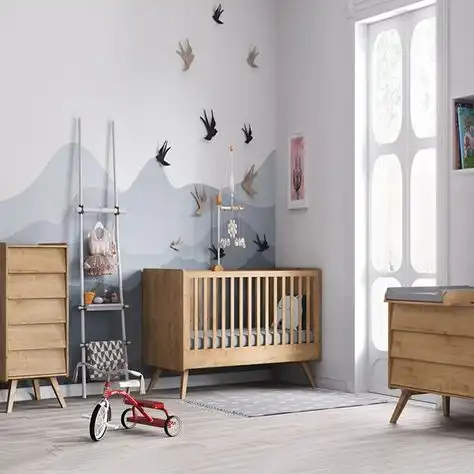 If you love a more classic look, pick a furniture set made from tough, natural wood, like oak.
The Vox 3-piece set in oak is an excellent choice for traditional nurseries. The natural wood grain in the furniture gives the room an enchanting, genuine feel. Furthermore, the set's uncomplicated design will enable it to blend into any nursery style effortlessly.
Verdict
Baby nursery furniture sets are a great way to get everything you need for your newborn. They typically include a crib, changing table, dresser, and chair. When choosing a baby nursery furniture set, it is important to consider its quality, style, and budget. Finding the perfect setting for your baby is easy with so many options.