How to Buy Crib Bedding: Useful Tips For a Baby's Nursery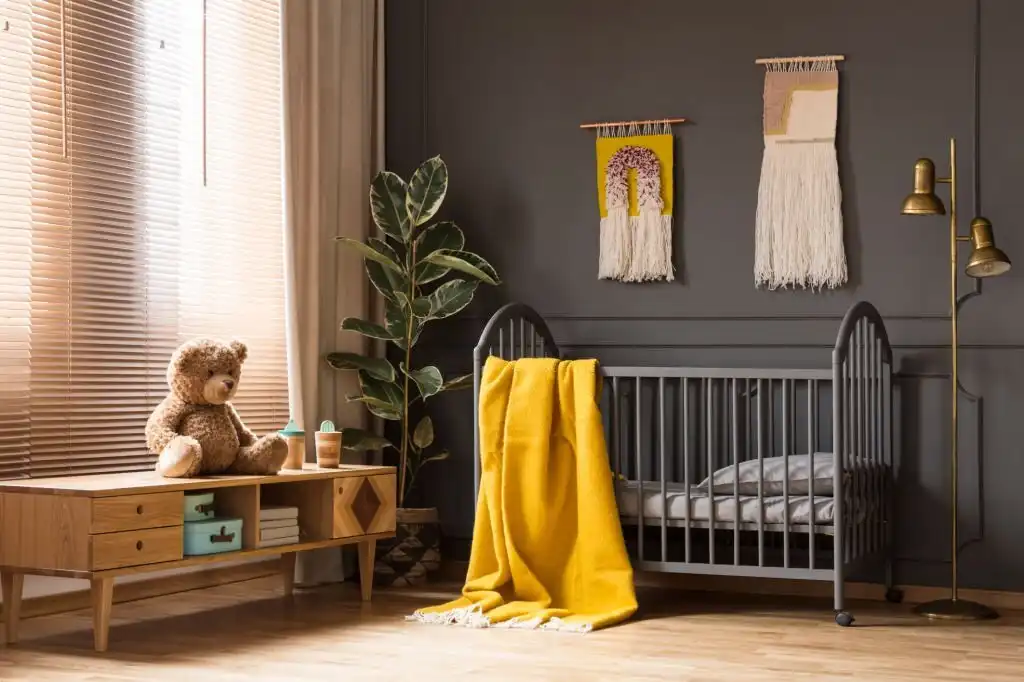 It is our responsibility as parents to provide a safe and friendly environment for our kids to grow up in. The quality of the bedding and other home textiles that our children are surrounded by should be considered, just as we take care of their nutrition, physical growth, and cerebral development.
We will attempt to address some of the most often-asked issues about baby bed linens, whether you're a first-time parent searching for high-quality crib bedding or a seasoned pro with a pair of munchkins by your side.
What are the best fabrics for baby crib bedding?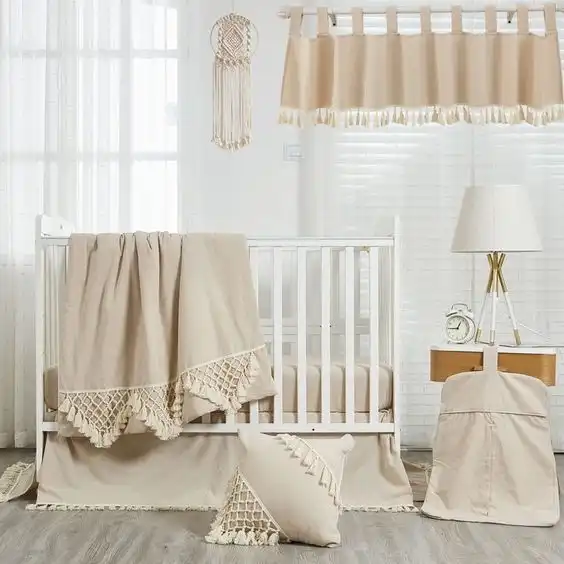 Babies skin is delicate. Thus special care must be used when selecting clothing or bedding for them. As a general rule, always choose natural textiles over synthetic ones, such as linen and organic cotton.
Pure fabrics have amazing natural qualities that hardly ever can be produced. Because cotton and linen both have a reputation for being breathable and absorbent, your baby will remain dry and comfy throughout the night. Additionally, linen is hypoallergenic, preventing the growth of bacteria, dust mites, and other pathogens, making it the ideal material for anyone with sensitive skin or allergies.
Synthetic materials, on the other hand, can aggravate allergies and irritate the skin, leading to rashes. Always consider the steps that made them look and feel the way they do, even if they initially appear to offer a greater variety or feel softer.
Our children's linens are constructed of OEKO-TEX-certified linen fabric, which means they are free of dangerous chemicals while remaining incredibly plush and comforting to the touch. Keep an eye out for the GOTS certificate if you choose cotton.
What are crib bedding must-haves?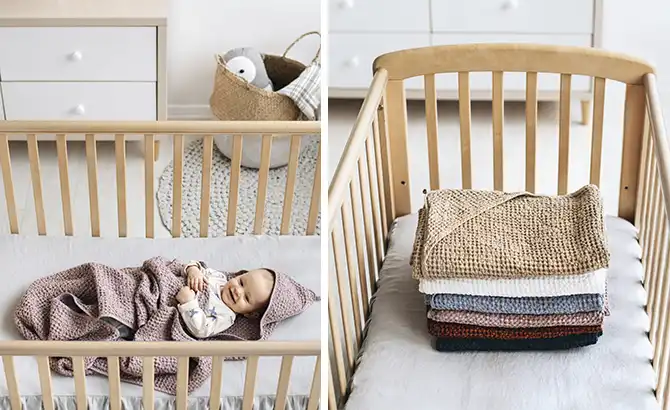 Overdoing it with accessories is one error most first-time parents make. Stuffing a baby's crib with too many things might be dangerous and cause asphyxia. According to the American Academy of Pediatrics, resting on their backs on a hard surface with little to nothing around them is the safest position for infants to sleep in.
So, if you're drafting a list of baby crib necessities, these are the things you should buy:
A baby mattress that is firm and covered in waterproof material to guard against leaks, bed bugs, dust mites, and other indoor allergens.
A fitted crib sheet will improve your baby's sleep and safeguard the mattress. When the infant is in bed, it's crucial to ensure the sheet is fastened around the mattress and doesn't come undone.
A crib skirt might be used for aesthetic reasons. Additionally, they conceal the under-crib storage, giving the nursery a more upscale appearance.
That's it. Anything else can result in a risky sleeping environment. Keep blankets, pillows, and toys for later years. You may swaddle a newborn in a blanket or a soft waffle towel to keep them warm at night without running the danger of suffocating. Swaddling babies prolongs their naps and promotes neuromuscular growth by replicating the pressure and tightness of the womb.
Also Read:
6 Tips for Choosing a Dresser for Your Baby's Nursery
Little Cribs, Big Comfort: Finding the Best Mini Cribs for Your Bundle of Joy
Verdict
There are many factors to consider when purchasing crib bedding for a baby's nursery. The type of fabric, the size of the crib, and the style of the nursery are all important factors to consider. It is also important to consider the safety of the crib bedding. When purchasing crib bedding, it is important to buy from a reputable company with a good return policy.
When can a toddler start using a pillow?
The infant must be mobile—that is, roll over, sit, or stand—to use pillows and other soft bedding items. They won't become caught in loose textiles in this way. Most frequently, it happens after the child turns one.
How many sheets do I need for a baby's nursery?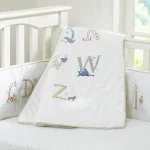 Crib linens are some of the most durable bedding components in your baby's nursery.
You must ensure that the sheets you select are strong, durable, and straightforward.
To ensure that you never run out of clean laundry, it is advisable to keep 2-4 fitted crib sheets in rotation.
How often should I wash crib sheets?
You already know babies are messy—leaks, drool, spills, etc. The best advice is to wash the baby's linens 1-2 times weekly.
To keep your baby happy and healthy, the mattress cover needs to be washed at least once every week.