How To Create A Baby Boy Woodland Nursery On A Budget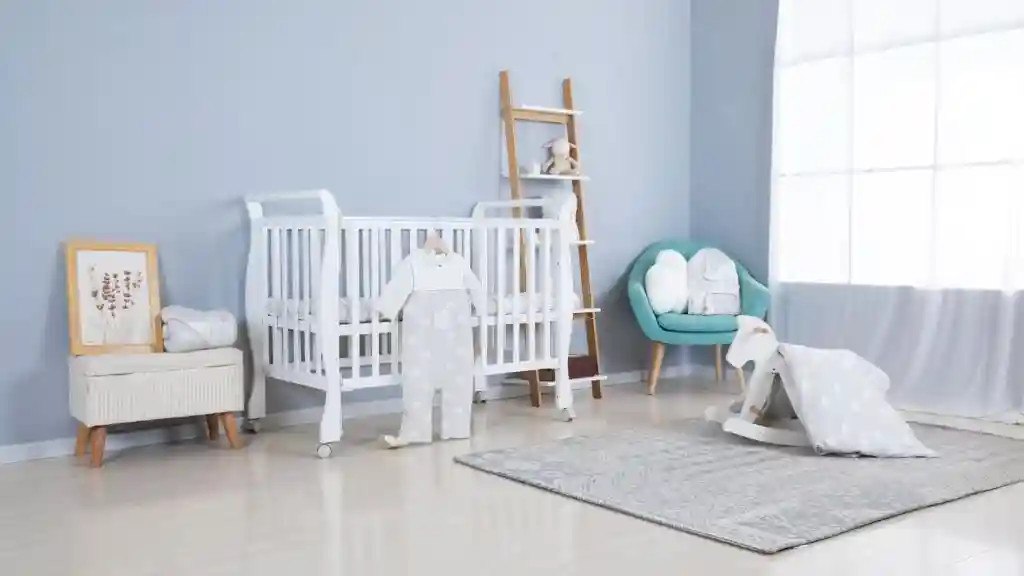 My favorite space in our apartment was my baby boy's nursery. It was the only space that I deliberately designed while sitting down.
I dreamed about rocking my newborn to sleep as I looked for the ideal woodland nursery decor, moved the furniture ten times (on paper), and decorated the room.
Although my baby turned two, his nursery stayed the same until our latest move.
Woodland nursery decor
Going with woods nursery décor seemed ideal because we wanted the baby's room to have a gentle but boyish atmosphere. We primarily used white, grey, and brown, with hints of red-orange and organic green.
I used various natural materials, like wood, cotton, knits, and fur, to give the space a rustic warmth.
Take a quick tour of the nursery!
Budget
Our baby woods nursery decor was done on a relatively tight budget.
We pulled the bookcase from another room and converted the dresser used as a sideboard in the kitchen (long story) into a changing station. His crib was a present at a baby shower. The glider was the only piece of furniture we bought brand-new.
Many of the decorations for our woods nursery were made by us. In contrast, others were obtained from Hobby Lobby and JoAnn Fabrics during sales or clearance. We also made extensive use of coupons.
The mini crib
We decided on a little crib because we had a small apartment. Even though the baby is now three, it still fits him perfectly. The design is well-constructed, simple, and pleasant.
Glider and Ottman
We were looking for a lovely, comfy glider and ottoman at a reasonable price before the baby was born. We visited numerous shops throughout town and rocked in an absurd number of chairs.
I've finally located the ideal chair, which is both cozy and lovely. The price was then $600, which made me gulp.
To acquire this rocking chair and ottoman online, we took a chance. I was unsure if it would last because it was so reasonably priced. Warning: it has endured splendidly! We've used it every day for the past two years, and it's still in excellent condition!
The glider is a timeless, adaptable style, and it is wonderfully comfortable (ideal for those lengthy breastfeeding sessions!).
DIY small nursing table
I knew I would need a little table for the baby's early days to carry a basket containing my water bottle and other necessities for nursing. I created one because I needed help finding one I liked at a reasonable price.
This was a straightforward DIY! A spherical charger plate was hot bonded on top of a wire garbage can after it had been turned upside down. Both goods cost $3 each and were purchased from Target's dollar section.
Later, I just added a few board books to the basket.
Birch twinkle tree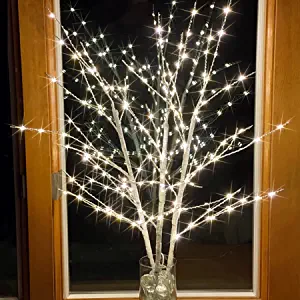 This was my favorite element of our woodland nursery decor, excluding a name banner.
I looked in vain for a suitable lamp to place next to the rocking chair and found this one instead! I loved how it looked, especially when it was lit up, and it provided just the right amount of light for reading and feeding the baby at night.
DIY woodland-themed name banner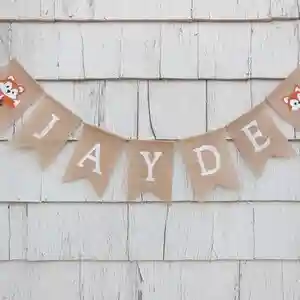 Burlap in two different colors that I purchased was cut into dovetail pennant shapes. We painted four distinct wild animals on the lighter tint. I used a sponge brush to paint over letter stencils on the darker tint.
We folded the top inch over the cream jute twine and hot glued the panels to the twine.
Despite being a straightforward undertaking, this was a labor of love!
Curtains
IKEA provided both sheer and gray curtains. Before the baby was born, I ran out of time to hem them, so I just puddled them. Both sets of textures are lovely and give the space a pleasant atmosphere.
We placed blackout panels behind the grey curtains as the baby grew bigger, and they were a great addition! I immediately noticed that he was sleeping later in the day and that his naps were longer. Mom wins, without a doubt!
Changing station
We painted the dresser white when we relocated and added brushed nickel knobs. Previously, we had used it in our old apartment kitchen.
This gadget has amazing storage capacity!
We placed his changing pad and a basket of diapers and wipes on top of that.
A moose light from a thrift store was also added. For late-night diaper changes, we spray-painted it black, added a sweet shade from Walmart, and screwed in a red bulb.
Gallery wall
I spent the most time putting together and organizing the gallery wall. I love how it ended, and I wanted to include a lot of textures and natural aspects.
I used a white canvas to paint the mountain scene.
We painted photo hangers onto wooden coasters and added Jack's monogram initials.
Inside a picture frame made of clear glass, I placed feathers (both from JoAnn Fabrics).
Family and friends produced both the substantial timber frame and the knitted garments.
Hobby Lobby provided the "You Are Fearfully and Wonderfully Made" sign.
Bookcase
I initially purchased this gray bookcase for the awkward bathroom in our first apartment (another long story). Shortly before the baby was born, I understood that the nursery was the ideal location when we moved into our second apartment.
In addition to his books, it was fun to have a space to exhibit some of the lovely presents he had received.
Rustic wire shelf
I loved this shelf's charcoal metal wire pattern that I discovered at HomeGoods.
The three cushioned board books I've got out are my baby's favorites, and he requests to read them repeatedly. Two tales have beautiful illustrations by my buddy Breezy Brookshire and include woodland animals. (She also provided the illustrations for the fox picture I mentioned above!)
Additionally, those Jellycat pacifiers snuggled on the shelves are the cutest! They are the ideal baby shower presents.
DIY woodland theme animal mobile
My baby cherished gazing up at his phone!
It was something my husband and I made. Although it took a little longer, this DIY was still extremely straightforward.
You will require the following:
1. Cutouts of woodland animals
2. Wood embroidery hoop, 2.9."
3. Acrylic Paints in your preferred hues (This trademark was employed. They are available separately at JoAnn Fabrics!)
4. Fishing line or nylon thread
5. Ceiling Hook No. 5 (Home Depot is where we found ours in white.)
Remove the outside loop from the 9″ embroidery hoop before you begin; you won't need it. If desired, you can paint or stain the hoops. Ours was painted white.
Paint your woodland creatures next. We made a more thorough wash by diluting our paints in water. This enhanced the natural appearance by letting the wood grain show through.
Our animal cutouts already had holes, so we just tied some fishing lines to one end and attached the other end at various lengths to the embroidery hoop. Most likely, you should tie double or triple knots!
Finally, secure the embroidery hoop with 3–4 more exact lengths of nylon thread. Then tie them all in a knot and hang them from the hook in the ceiling.
Woodland theme books
Without a collection of books on forest creatures, no nursery with a woodland theme would be complete.
Listed here are some of our favorites:
That's Not My Fox/Not That's My Owl Those Are Not My Hedgehog
2. The finger puppet book Little Moose asks,
3." How big is love? How high is hope?"
Finding versatile woodland nursery decor
The fact that so many of our woodland nursery décor items are adaptable is something I appreciate. Since these photographs were shot, we've relocated across the nation, and Jack's room is now set up again.
Instead, we changed the decor to reflect his toddler years better so that his room could develop alongside him. I removed some of the more "babyish" content and substituted a recent family photo for one of his ultrasound photos.
Now it's ideal for his tiny 2-year-old self!
Please feel free to ask me any questions regarding the wood's nursery decor, and I'll do my best to respond. Enjoy your decorating!
Also Read: 14 modern gliders and rocking chairs for the nursery
Verdict
To conclude, creating a budget-friendly woodland baby boy nursery is possible with some careful planning and thought. By considering what elements are most important to you and where you can save money, you can create a beautiful and unique space for your little one that won't break the bank. Thanks for reading!