10 Best Nursery Furniture Sets For Your Baby In 2023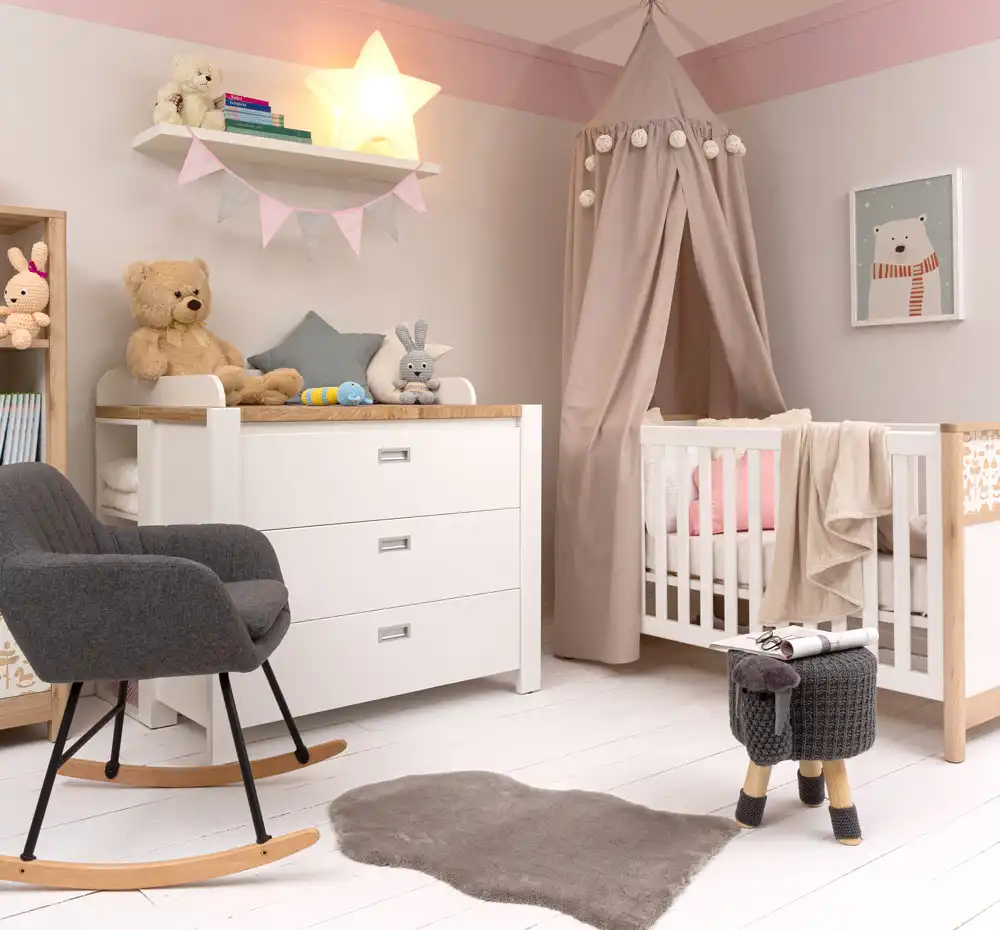 Setting up your nursery is definitely at the top of your list of preparations when a new baby is expected.
Your nursery furniture should be both beautiful and valuable. Make sure it's cozy, reliable, and reasonably priced.
To assist you in locating the ideal nursery furniture for your requirements, we have examined countless sets.
We'll review our top ten picks, considering size, price, style, durability, and more. You may start creating the ideal nursery for your new child, whether you need a cost-effective, traditional, or vibrant alternative.
1. Storkcraft Steveston crib and changing table combo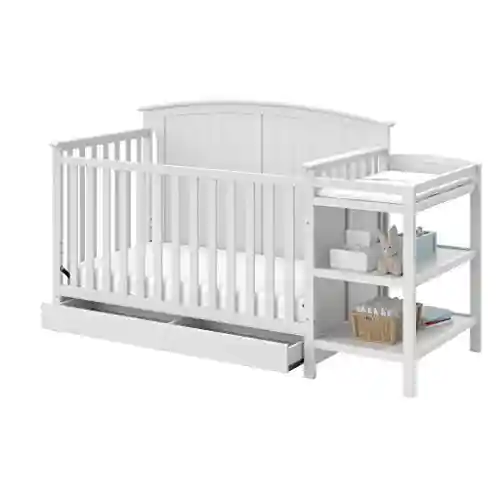 This nursery set is a terrific option if you're searching for straightforward, inexpensive furniture created by a brand known for its high-quality baby items.
The Storkcraft Steveston set includes a changing table with two roomy shelves and a 5-in-1 convertible crib. It comes in pebble grey, white, espresso, or grey as non-toxic options. The traditional style is understated, timeless, and lovely in any nursery.
This high-quality set is more affordable than many cribs sold separately.
Pros
The changing table has plenty of space for the infant and supplies.
One of the most reasonably priced kits available.
Clear instructions make it simple to assemble, even for beginners.
Cons
The size of the changing table is different.
2. Evolur aurora crib and dresser set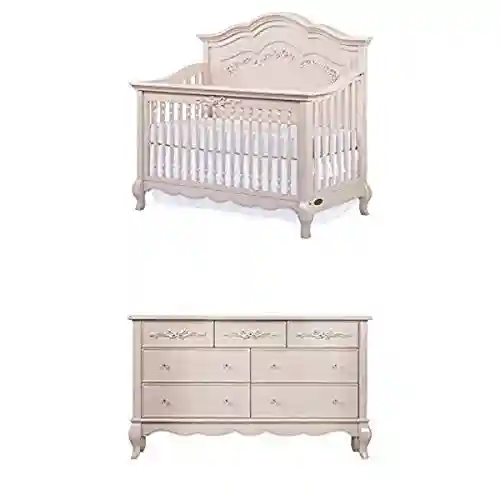 Check out the Evolur Aurora nursery furniture set if you're searching for a set with more color possibilities than the typical selections of white, gray, or espresso.
You can select from a lovely blush pink pearl, ivory lace, Akoya gray pearl, frost white, or metallic gold dust for the matching convertible crib and roomy 7-drawer dresser. This adorable nursery set has a whimsical design that makes it seem like it belongs in a storybook.
The cot and the dresser have elaborate Queen-Anne-style feet, scalloped border, ribbon and bow scrollwork, and dresser knobs. Any nursery will look beautiful with this distinctive set.
Unlike many other nursery kits, this crib includes a toddler mattress and 260-coil hypoallergenic crib. Therefore, there is no need to search for a mattress that would fit the set.
They are built to last, the strong hardwood structure. The crib transforms into a toddler bed, a daybed/kids sofa, and a full-size bed, which is fantastic (with or without the footboard).
Your nursery can be finished with matching pieces of furniture like a bookcase, nightstand, or armoire that can be bought separately.
Pros
Diverse color schemes.
Constructed of dense hardwood.
The crib can be put together in under an hour.
The set comes with a crib mattress.
Cons
more expensive than many other sets.
3. Evolur Belmar curve crib and dresser nursery set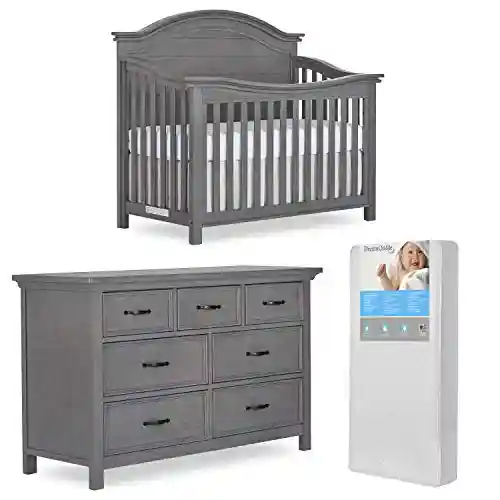 We adore the Evolur Waverly nursery set's straightforward yet distinctive design. This set gives your nursery a nautical air thanks to its weathered wood headboard and dresser.
This convertible crib and roomy seven-drawer dresser are constructed to last from kiln-dried hardwood.
Evolur also pays close attention to the subtleties. Quality elements used in the dresser drawer construction include English dovetail joints and heavy-duty slides. Because they are made entirely of solid wood, the drawer pulls are also durable.
The dresser's roomy flat top would make a great changing station with the addition of a safe changing pad.
The crib can be transformed into a toddler bed, a daybed, or a full-size bed (conversion kit sold separately). You may anticipate having this set last your child's entire life because the paneled wood design works equally well in a teenager's bedroom as it does in a nursery.
Three different finishes are available for this set: Windsor oak gray, worn white, and rustic gray. You can finish your nursery with additional furniture pieces like a tall chest, nightstand, or bookcase that can be bought separately.
Pros
Solid wood construction delivers long-lasting durability.
Complies with JPMA, CPST, and ASTM safety requirements.
A 260-coil mattress that is hypoallergenic and GREENGUARD Gold certified.
Cons
Some customers claimed the goods had dents and blemishes when they arrived.
4. Sorelle espresso Princeton elite crib and changer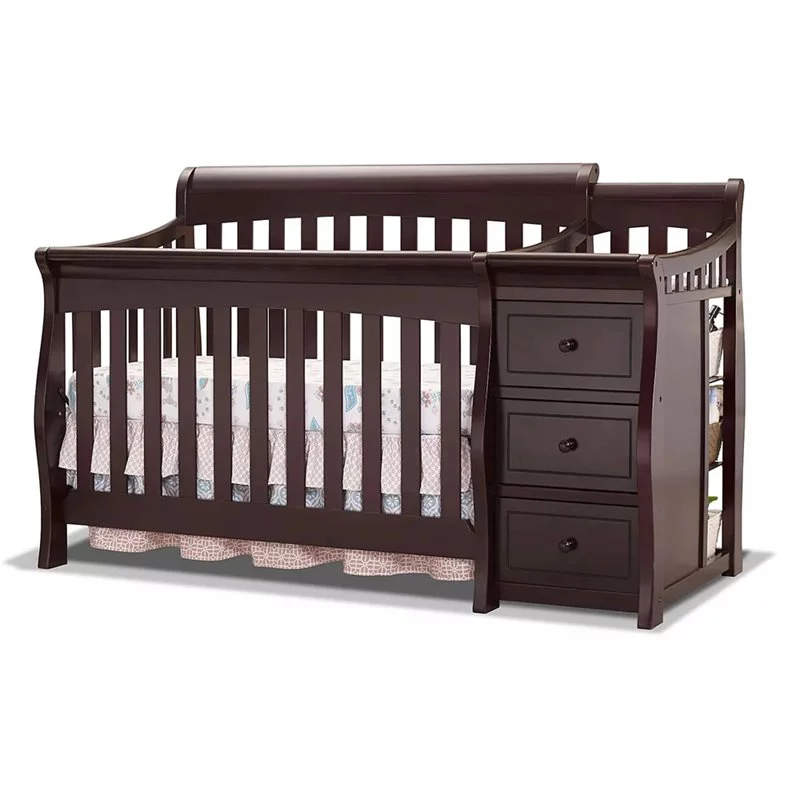 What if we told you that you could get a bed for your infant right away and that it would serve as their bed until they leave home? We're about to give it to you, though.
Before becoming a toddler bed, the Sorelle Princeton Elite crib serves as a baby bed. It turns into a double bed as your child gets bigger, which they will adore until they are 18 and ready to leave the nest!
Additionally, the included changer expands with your child. When your child is no longer a baby, it transforms into a shelf or nightstand!
Pros
Perfect for use in both small and big nurseries.
Four different mattress height positions based on the age of your child.
Solid dark wood for your nursery's lovely finish.
Smooth surfaces make it safer for young children.
Cons
Adult-size bed conversion rails are offered separately.
Only one side of the bed can be drilled to attach the changing table.
Customers discovered that their kit was missing several components.
5. Dream on me Jayden, 4-in-1 mini crib set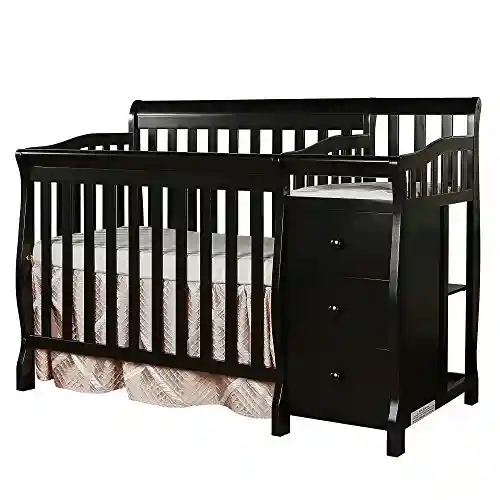 This furniture set is ideal for sharing a room with someone else or having a small nursery. This small design features a miniature crib, changing table, and three drawers for storing baby clothes or other necessities, yet it occupies almost the same space as the typical crib. Because the changer with drawers is removable, this set works well in almost any setting.
This lovely set, made of sturdy New Zealand pinewood, is available in six finishes. There is a choice to complement any room's decor, so believe us when we say that.
The crib comes with a mattress pad, but for optimum support, it is recommended that you use a portable or tiny crib mattress.
Pros
Compact for confined areas.
Meets CPST and ASTM safety requirements.
The set is available in six exquisite finishes to complement any nursery.
Pros
The 38 x 24 x 3-inch little crib mattress must be purchased separately.
It cannot be converted into a toddler bed or regular crib.
6. Delta Children Abby Crib and Changer Set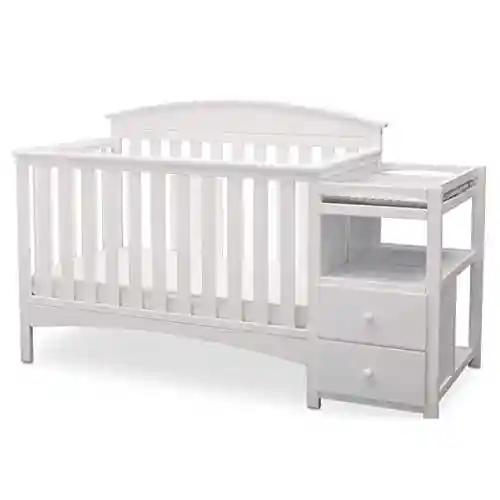 The Abby crib and changer by Delta Children is a traditional nursery furniture ideal for those seeking a timeless style. The attached changer provides a handy area for changing and storing baby clothes and diapers, with two shelves and two drawers.
Three color choices are available for this set: Bianca (creamy white), dark chocolate, and gray. It is sturdy and reasonably priced because it is made of sustainable, solid New Zealand pine.
Need to look around for crib mattresses? A hypoallergenic crib mattress and a toddler mattress made by Serta Perfect Slumber are available options.
Pros
Classic color schemes complement any décor.
Much more affordable than many other sets.
Dresser, changing table and crib are all combined into a small design to conserve room.
Cons
A typical change pad cannot fit on the changing table because it is smaller than most.
A separate crib mattress purchase is required.
7. Delta Children Essex 7-Piece Nursery Furniture Set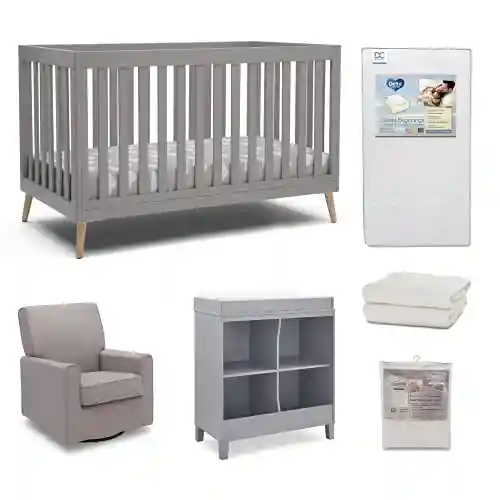 Consider this 6-piece collection by Delta Children if you're going for a contemporary nursery theme. The Essex nursery furniture set comes with a convertible crib, a bookcase that also serves as a changing table, and a glider. It is available in contemporary tones of gray, natural, or flax.
The straightforward crib with a square shape has rounded sides and contemporary splayed feet in a natural finish.
The toddler mattress and two-stage crib come with it are constructed of recyclable materials and are simple to clean. It is non-toxic, and GREENGUARD Gold certified. It also includes two cotton baby sheets in a muted color scheme and a mattress pad with DualCool technology.
Pros
A mattress pad made entirely of cotton keeps the infant cool.
Strong but lightweight and portable.
A multipurpose bookcase that serves as storage also serves as a changing table.
Cons
Railings must be purchased to convert to a toddler bed.
Some users reported a harsh chemical smell.
8. Sorelle Berkley Elite Room-in-a-Box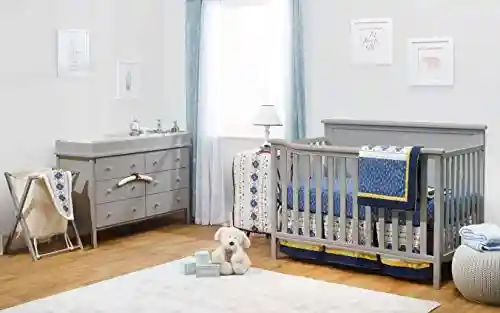 This is a fantastic option for a traditional bedroom set that satisfies your baby's needs for sleeping and changing. You need to add a crib mattress to be prepared for the baby's arrival (or, at least, your nursery will be ready).
The lovely Sorelle Berkley Elite pine furniture set comes with a crib that converts into a toddler bed, a double dresser with a changing station, and a hamper.
You can choose between three contemporary finishes for this modern furniture: espresso, gray, and white. As your child grows, there is no need to buy more furniture because the three-height crib converts to a toddler bed and a full-size bed.
Pros
It comes with a matching washing hamper for easy changes of clothing.
Cheaper than many alternative solutions.
Bed and dresser are still useful beyond the infant stage.
Cons
There are many pieces to assemble, and the instructions could be clearer.
Many users reported that the set came with missing or chipped pieces.
9. Evolur Cheyenne Nursery Set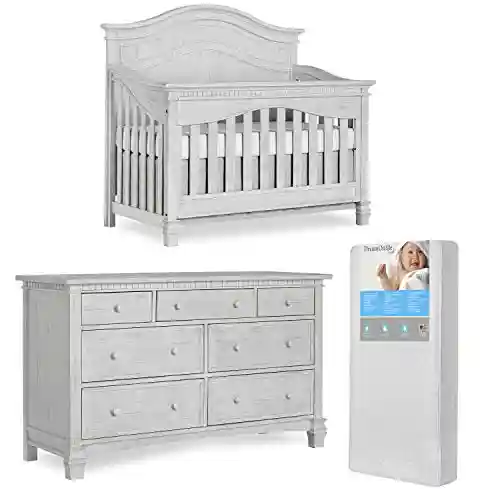 People who have a large nursery and desire the convenience of a cot, double dresser, and mattress can choose this elegant grey collection.
Evolur Cheyenne comes with a mattress, a three-tier dresser with ample storage space, and a 5-in-1 convertible crib with a Roman-inspired design.
There are three different ways to change the mattress height. Seven roomy drawers can be found in the dresser.
Pros
It is a 5-in-1 convertible crib that can grow with your child.
Big shelves for storing things.
Minimalist style.
Cons
Shipping came too early on the scheduled delivery date, interfering with other operations.
parents might experience issues with it.
It needs to be assembled.
10. Storkcraft Steveston Convertible Crib and Changer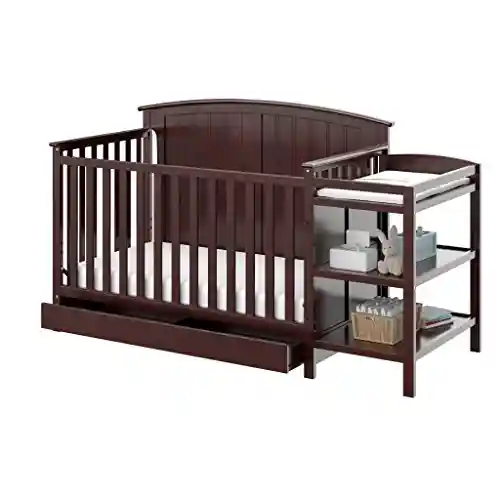 If you're looking for a crib, change table, and some storage in a more compact setup, look no further. The Storkcraft Steveston set is an excellent choice if you don't need a whole dresser.
This set includes a convertible crib with a changing station and an under-bed storage drawer. Despite its compact size, the changing table has two shelves where you may keep diapers, wipes, and other necessities.
Extra bedding clothing for the season and other infant supplies can be kept in the large drawer beneath the crib. A waterproof changing pad with safety straps is included with the attached changer.
You can get this espresso, gray, or white set to complement the nursery's decor.
Pros
Includes a water-resistant changing mat.
Under-bed storage space is useful.
The lovely crib design works well for older kids as a full-sized bed.
Cons
Older babies or toddlers cannot use the changer since it is too small.
After unpacking, users reported a heavy paint smell.
Also read: 15 Whimsical Woodland Nursery Ideas for 2023
Verdict
After considering everything, the best nursery furniture sets for your baby in 2022 are the following. These nursery furniture sets offer everything from considering your baby's comfort to different designs!
What is the best nursery furniture?
There is a wide range of nursery furniture available on the market today, so it can be challenging to know what is the best for your needs.
The most important thing to consider when choosing nursery furniture is safety. Make sure to choose furniture that meets all safety standards and is made from sturdy materials.