8 Modern Baby Boy Room Ideas You'll Fall In Love With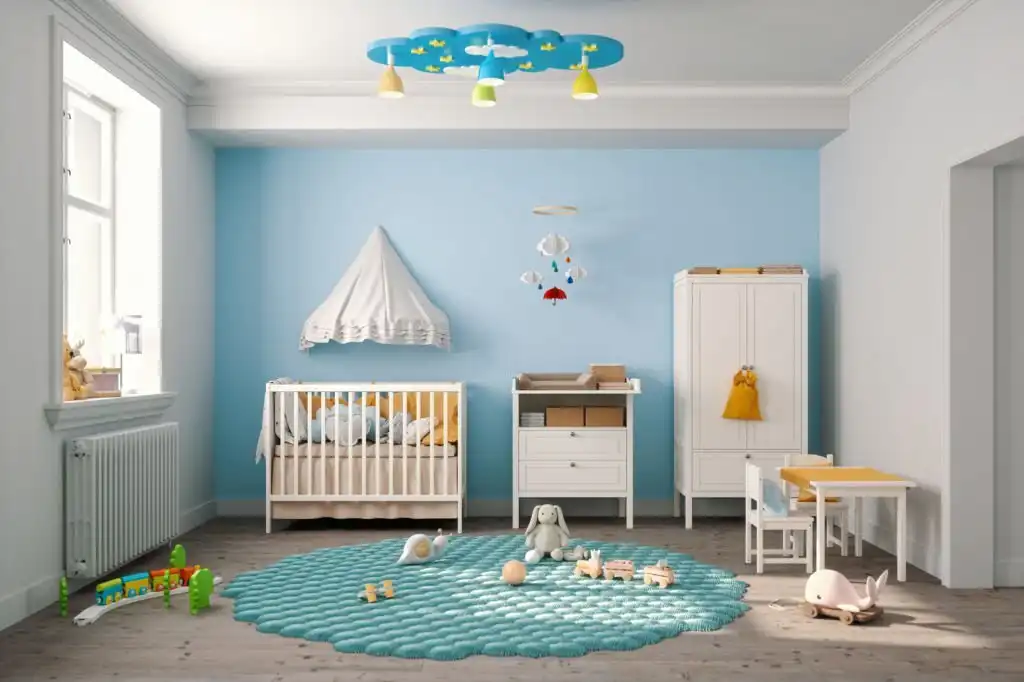 It is often assumed that decorating a baby boy's nursery design may be challenging, leaving little room for exploration.
However, this is untrue. With excellent baby boy nursery theme ideas available online, you can decorate your little boy's nursery much more quickly than you may have initially thought.
In the past, it was believed that pink was solely a girl's color while blue was for boys. But there are no color limitations in modern-day nurseries.
You are free to work according to your views and thoughts. If you have been looking for some amazing and original nursery room ideas for boys, we have them. Explore our creative ideas that may help you decorate the room attractively.
8 Unique baby boy room ideas
Here is a tip to make things simple and organized before we get started: divide the room's decor into four categories: furniture, wall painting, decor, and accessories. Work on each component while ensuring that they are coordinated with one another.
1. Baby boy nursery idea for small spaces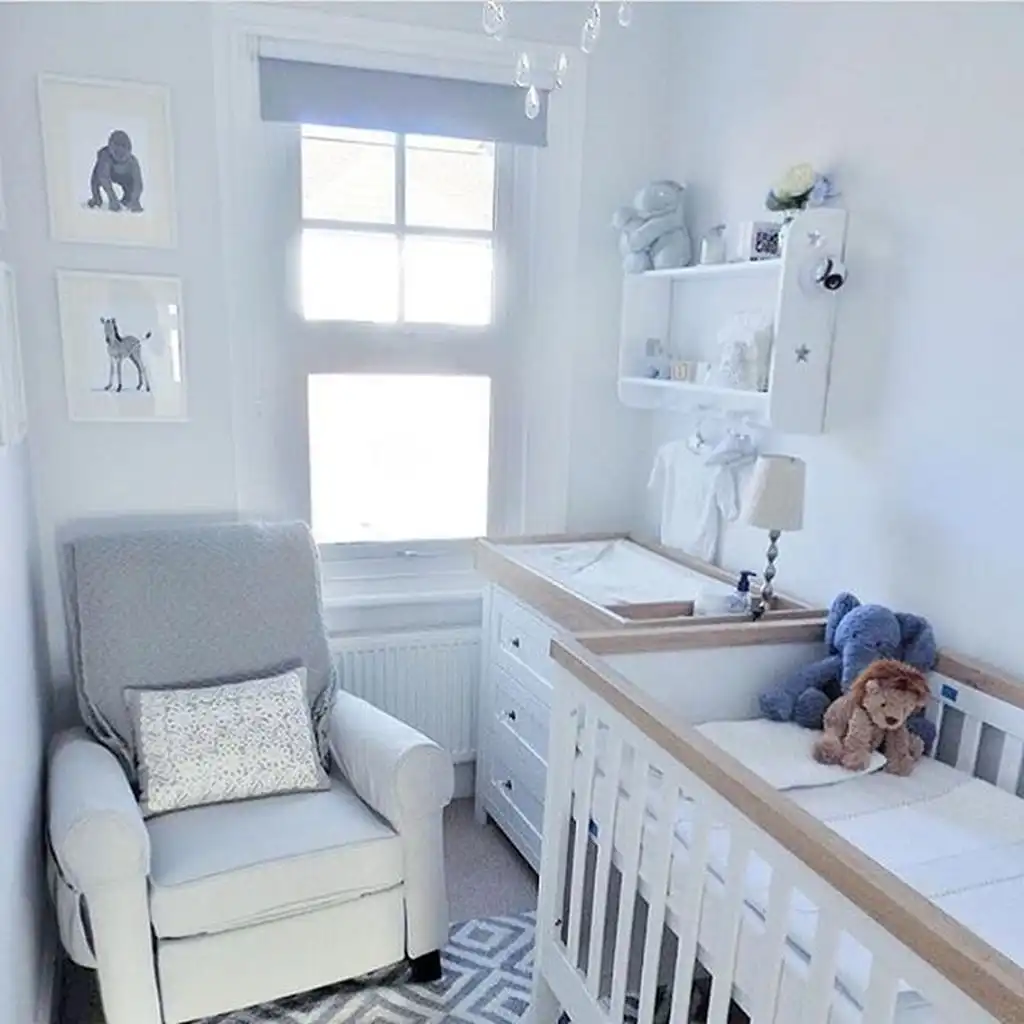 Don't give up if there isn't much room in your baby boy's room. You can get the most out of the studio room with careful planning and a few tactics.
Furniture: Pick only what is necessary because of the limited space. Mini-cribs are adorable and take up less room.
Purchase a mobile cot so you may move it wherever you need to. A baby crib with storage drawers and a changing station on top, on the other hand, will allow you to avoid using the area set out for the changing table.
Wall paint: The use of light and vibrant colors on the walls gives the impression that the space is more significant. Using this, you can produce an optical illusion.
Paint a prominent wall or a portion of the room orange or fuchsia pink, and then paint the remaining surfaces of the room white or another light color to create a creative contrast. Note that designs like horizontal stripes can provide the illusion that the space is larger.
Decor: Doors should be removed to make more room in the area. Replace all doors, including closet and room doors, with drapes. This both makes room and gives off a dreamlike appearance.
Try glass doors if you wish to use doors. Choose light-colored curtains and hang them from the ceiling to make the space appear larger.
Accessories: Wall hooks are a practical method to store items and use space. You can hang canvas bags from them, pack them with toys, socks, and other items, and secure them to the back of the door.
Another option to decorate and store items is with hanging shelves. The ceiling appears taller, thanks to the hanging lamp.
2. Modern baby nursery idea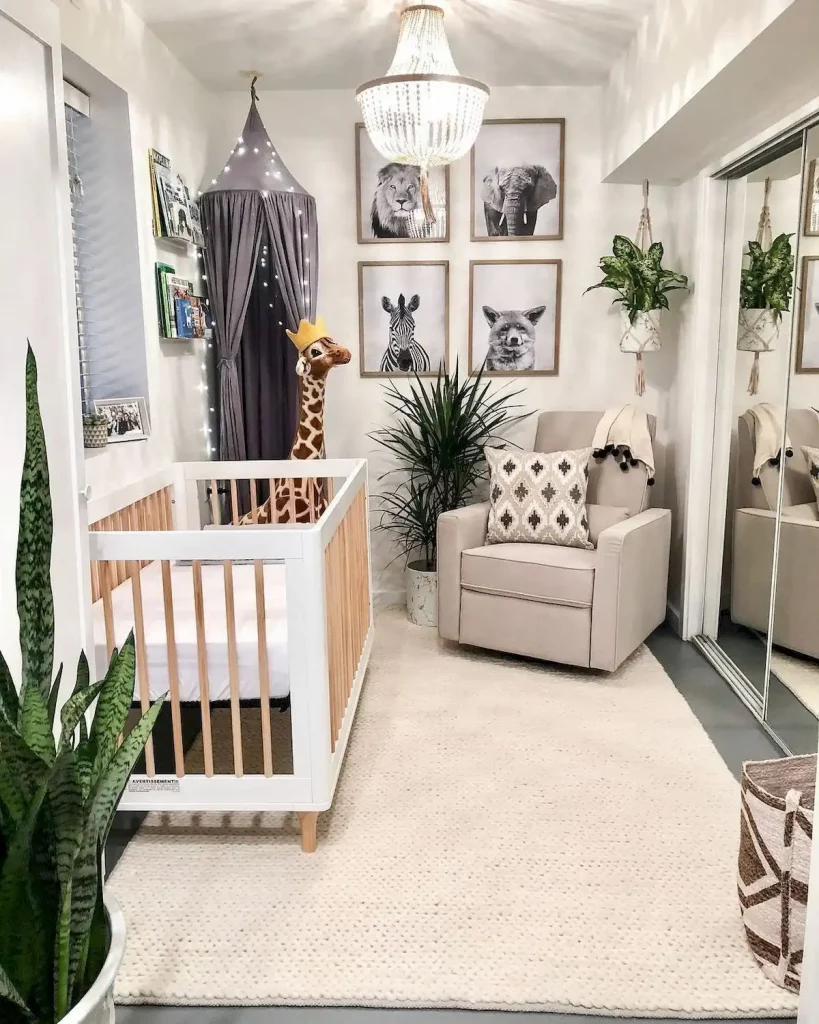 Modern baby nurseries are expected to be neat, stylish, and decorated with striking colors.
Furniture: The contrast of black and white is used in this concept. Choose white furniture with black details or grey furniture instead. Make sure everything you need is close by arranging the furnishings. Add a tipi, which is now a popular choice.
Wall paint: The walls can either be painted entirely white or black and white with a city mural on one of them. The modern motif goes well with patterns; choose one and paint it in odd places on the walls for a modern appearance.
Decor: The space could look drab if the walls are painted white, and all the furniture is white. Choose contemporary patterns for the upholstery, and use the same patterns for the bedding, cushions, and pillows. For better color coordination, use grey curtains in place of white ones.
Accessories: Adding an area rug is a great way to add color and detail to a contemporary baby boy's room.
Select a rug for the space that matches the upholstery's design.
Add some soft toys and essential modern wall art to round off the look of your newborn boy's room.
3. Simple baby boy nursery idea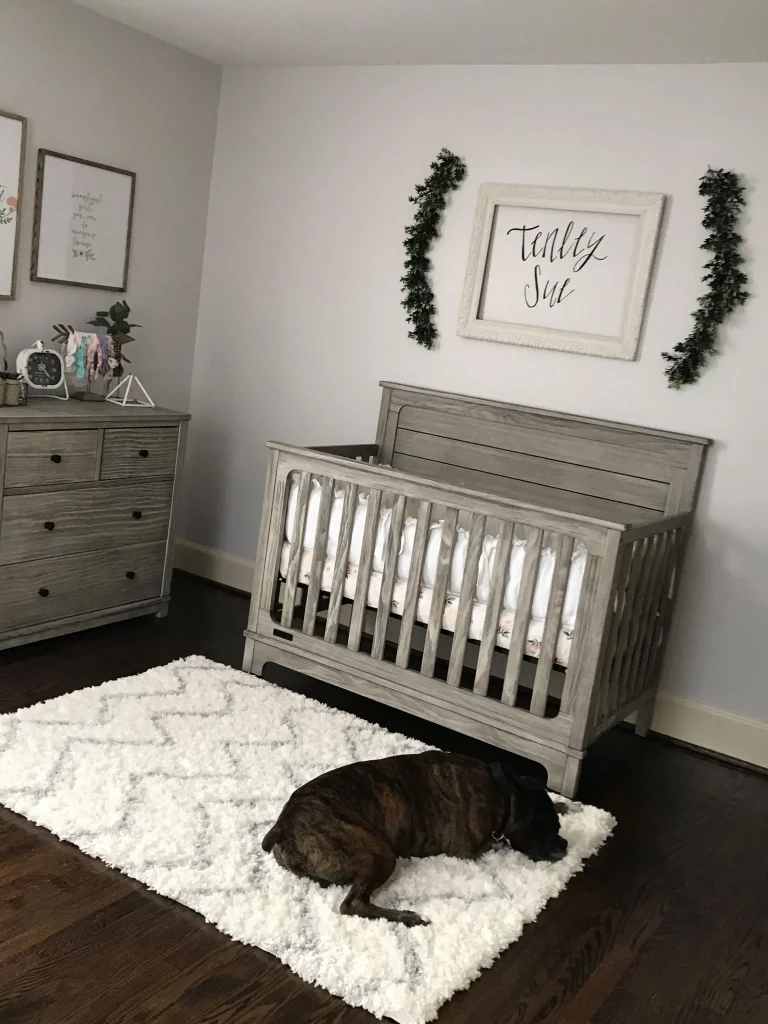 This idea is simple, neat, and clutter-free.
Furniture: You may keep a baby boy's room simple and still have it fully furnished. You can use a dresser as a changing table and storage cabinet and place a straightforward crib or a bed with raised sidelines in the nursery. You can use a nursing chair or a side table if necessary.
Wall paint: For the entire space, use a single hue. Use washi or masking tape to make some DIY textures if it feels flat.
Decor: Use yellow, orange, or any other brightly colored draperies to give color to a room that has been painted in a neutral tone. Select colorful pillowcases and bedspreads that go well with neutral hues like white, blue, or grey.
Accessories: Your baby boy is the center of attention in the room, so add accessories that will be practical for him. Use an area rug and soft toys in a corner to add the required elegance. You can also display images of your son.
4. Budget-friendly baby boy nursery idea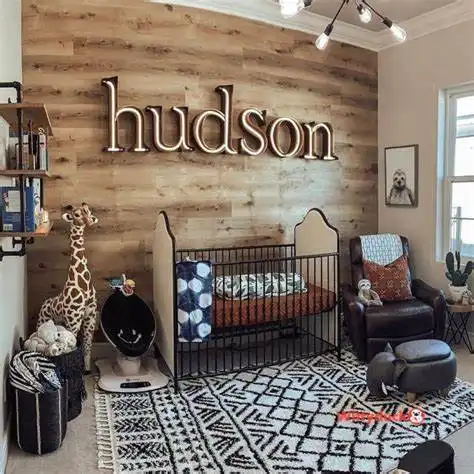 An elegant nursery for your baby does not have to break the bank.
Furniture: Purchase a crib that converts or one with drawers.
Adapt an old dresser to serve as a changing table.
Reduce the amount of furnishings.
Wall paint: You are not required to purchase or commission a mural or beautiful wallpaper. Here are some suggestions you might try that are affordable.
Use washi tape and your creativity to make unusual wall textures.
Use metallic paint to create polka dot patterns on a sponge.
Make patterns with masking tape and paint.
Decor: Don't overspend on pricey bed sets. Make your canopy tent if you wish to present an attractive appearance. It can be built on top of the crib for the infant or in a corner with a separate play space for your kid.
Accessories: Download digital photos, get them printed, then use repurposed photo frames to hang them. Another cool and affordable method to add color to the space is homemade cloth bunting.
5. Nautical theme baby boy room idea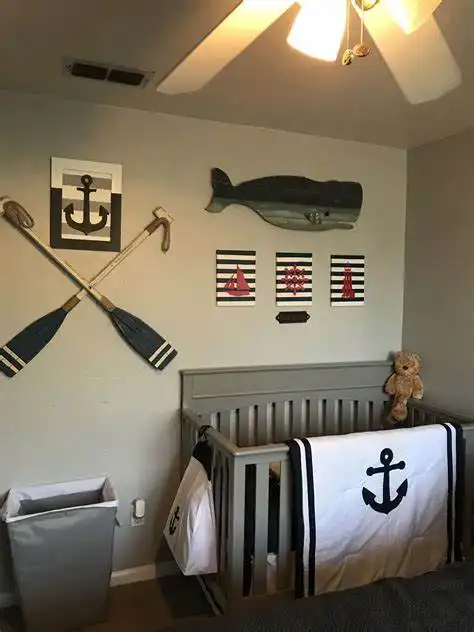 Whether Popeye or Jack Sparrow, a sailor represents bravery and strength. Why not make this nautical theme for your baby boy, using them as inspiration?
Furniture: You can choose furnishings in shades of white, blue, or rustic dark wood. Mixing and matching are also adequate. You can have a rocking horse, a nursing chair, a changing table, and a crib.
Wall paint: Given that this is a nautical-themed room, you can decorate it with nautical-themed elements like boats and ocean waves. Additionally, you can pick a wall in the room's corner (near the crib) and either paint a mural of the ocean there or just put your son's name there.
Decor: While remaining true to your original color scheme, pick curtains, cushions, and upholstery that contrasts with the color of the furniture. As an illustration, if you decide on white furniture, go with blue bedding, draperies, and other upholstery, and vice versa.
Accessories: The feel will be enhanced by things like an anchor and lifebuoy. These can be purchased or made at home using cloth. If the crib is next to a wall, another option is to cover it with a canopy.
You may spread a blue or ocean-themed area rug if there is room. You might also use a model ship, toy or cardboard paddles, a ship-shaped clock, etc., to decorate your baby boy's room.
6. Under-the-sea theme baby boy nursery idea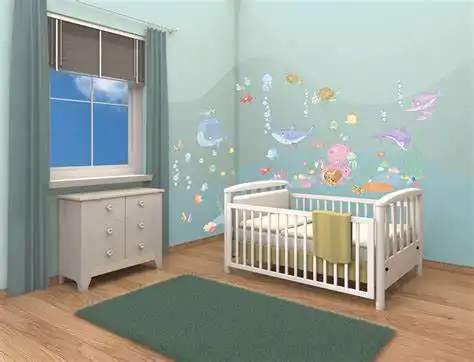 Detailing is essential for this theme to be compelling.
Furniture: Given that the motif is underwater, the furniture might be aqua blue or white with accents of coral or wood.
Wall paint: The paintings in this baby boy's room make it beautiful. The entire space can be painted azure blue. Get an underwater mural painted on one wall. You might also depict whales leaping from the ocean for more lifelike effects. You can paint corals, shells, and starfish on the other walls.
Decor: To let light into the room, choose light-colored drapes. Select drapes with corals and small fish patterns to go along with the theme. If you feel the room needs more texture, add cushions and bedding with sea animal or coral patterns. You could also add an area rug that completes the theme.
Accessories: Hang crib mobiles with illustrations of sea creatures like octopuses, starfish, seahorses, etc. Additionally, you can purchase seashell photo frames and display them on the wall. Put plush aquatic animal toys in the cabinets or close to the cot. You might also use blue side tables, lampshades, etc.
7. Outer space theme baby room idea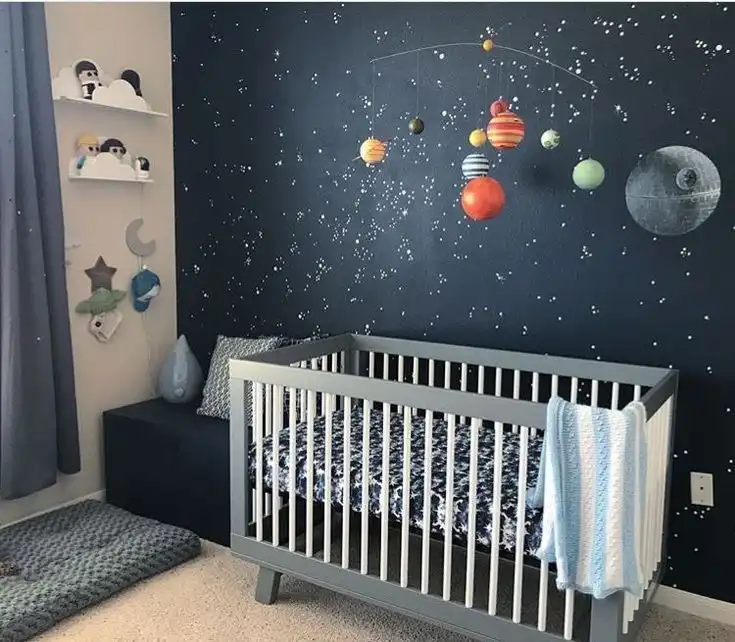 Here is an exciting theme for the future astronaut that your boy might become.
Furniture: The type of room you wish to create will determine the color of the furnishings. Choose furnishings in white, blue, and yellow hues if you want a cartoon theme. And only use the colors white and grey if you want to create a severe space theme.
Wall paint: Murals are crucial in this theme as they are in the underwater one. Paint the entire room light blue or white, or divide it in half and paint the remaining portion dark blue.
Draw a mural of the solar system or rocket with an astronaut on a wall. Try making your constellation art, which only involves a brush, a scale, some gold paint, and your imagination, if you don't have the money for it.
Decor: Use muted colors like grey, blue, or white curtains with spaceship and star patterns if you want the mural to stand out. Additionally, if the space appears too blue, add a splash of color by selecting a red or black-and-white bedspread and pillowcases.
Accessories: A room can be beautifully detailed with little things. Write an inspirational welcome message to your boy on an accent wall painted with chalkboard paint. The chalkboard's grey tone replicates the space where you could draw stars, the moon, or a constellation.
The room can be decorated with solar system baby mobiles, moon and star headboards, moon and star stacking shelves, celestial maps, and lights with outer space themes.
8. Blue baby nursery idea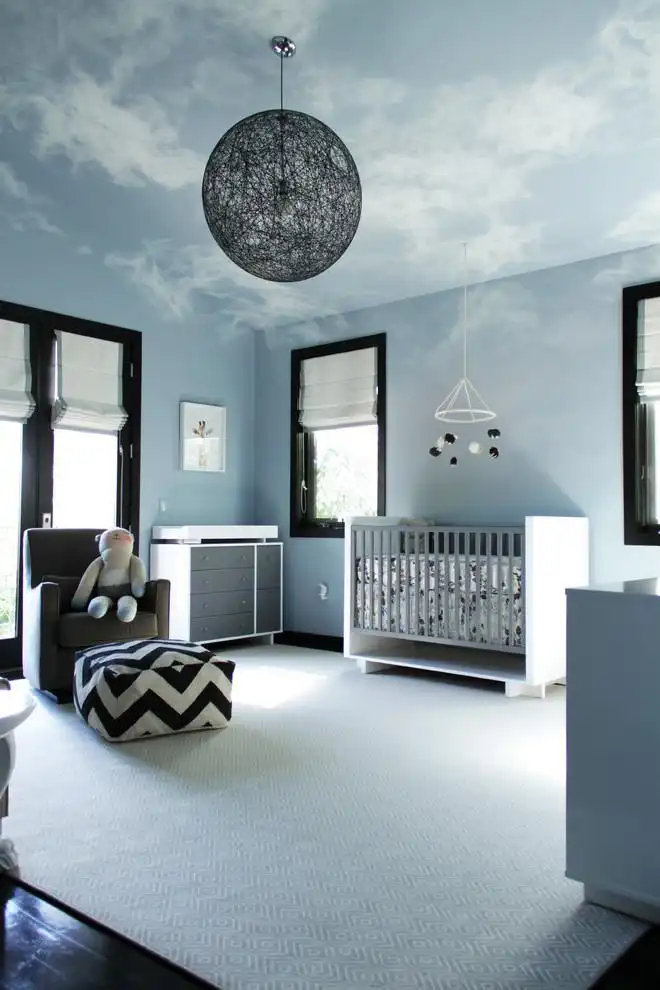 While modern ideas come and go, the all-time favorite remains a blue-colored baby nursery.
Furniture: A typical color scheme is a blue and white nursery. Purchase all-white furnishings for the space if that's the style you're going for. Furniture in wood or neutral color is better if you want to add some color.
Wall paint: Paint the entire space a calming blue to make it appear lighter. Alternatively, you may paint one side of the room white and the other navy blue. This reflects light as well as provides the room with a contemporary flair. A classy aesthetic can also be achieved with gold accents.
Decor: If you've decided to go with all-white furniture, choose area rugs, bedspreads, and pillowcases in shades of grey and blue. Even vibrant hues like yellow, orange, and green complement blue effectively. Pick up these hues for the drapes.
Accessories: Add a grey lampshade, white picture frames, a golden chandelier, or a bed lamp to complete the appearance and lessen the impact of the blue.
You may also get those wooden block letters and arrange them to spell your baby boy's name. Paint the ceiling with stars and the night sky to keep things interesting for your boy.
Also Read: 40 Nursery Ideas For Your Baby Girl: The Complete Guide
Verdict on modern baby boy room ideas
Plan how you want to arrange the furnishings in your newborn boy's room, a tiny room using small cupboards.
Paint the room with a color that would make it appear bigger and brighter, like a soft blue.
Try to blend contemporary, straightforward, and inexpensive decor to convey a more profound sense of what the area stands for.
FAQs on modern baby boy room ideas
What is the best color for a baby boy's room?
Blue is perfectly acceptable while painting your baby boy's nursery; many more vibrant and unusual color schemes are available.
Red, yellow, and green with dramatic undertones are lovely choices. Pastel colors, like mint or aqua, can work beautifully in your small boy's room.
What colors make babies happy
Yellow is frequently linked to happiness and cheerfulness. Therefore, it seems sensible that color would be used in your baby's nursery.
Opt for gentler hues like daffodil or dandelion rather than harsher, brighter options like lemon or neon. The warmth it produces creates a relaxing ambiance.
What should I put on my baby's nursery wall?
The most awesome things to hang on nursery walls are a collection of framed artworks, tapestries, lovely garlands, hanging plants, wallpaper, stickers, and toys.
A mirror, stickers, floral wreaths, and the baby's name are further options.