20 Best Nursery Ideas For Your Baby Girl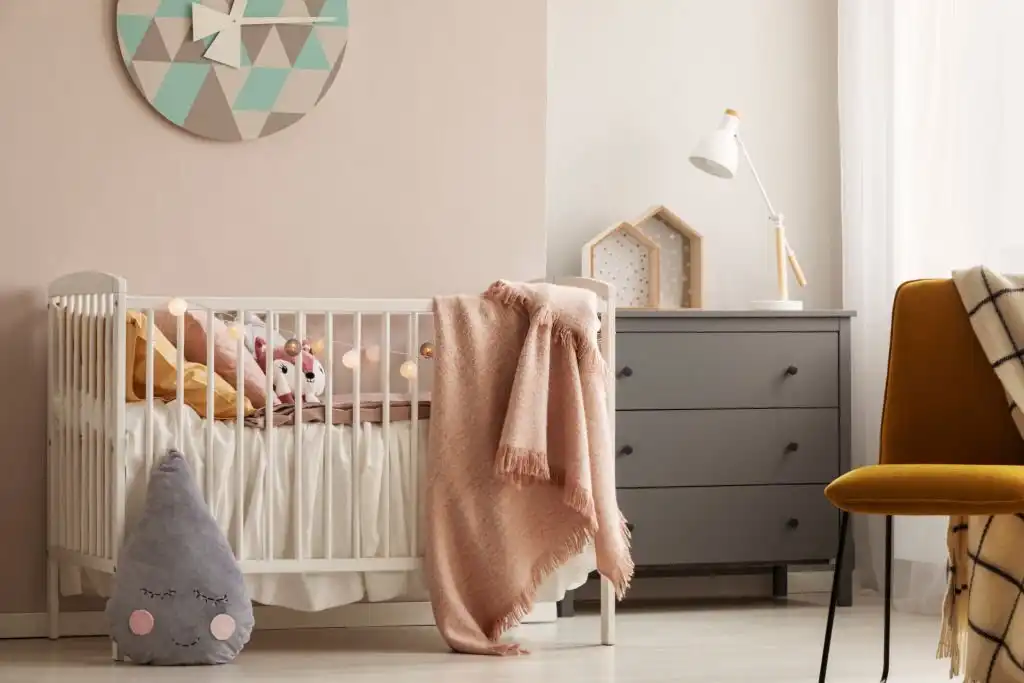 So many sweet and memorable moments come with preparing for the arrival of a baby girl. But as you start planning and gathering inspiration for your baby girl's nursery, you may feel like there are too many creative ideas to choose from!
There are a lot of factors to consider: Is your style more boho or minimalist? Do you prefer pink nurseries or something more unique? And are you drawn to classic girly nurseries or something more modern?
Fortunately, there is lovely baby girl nursery decor for everyone! I've gathered some of the most beautiful baby girl nursery ideas, from sleek and glamorous to relaxed and low-key, to help you take your little princess's room to the next level!
Blush Mural girl nursery idea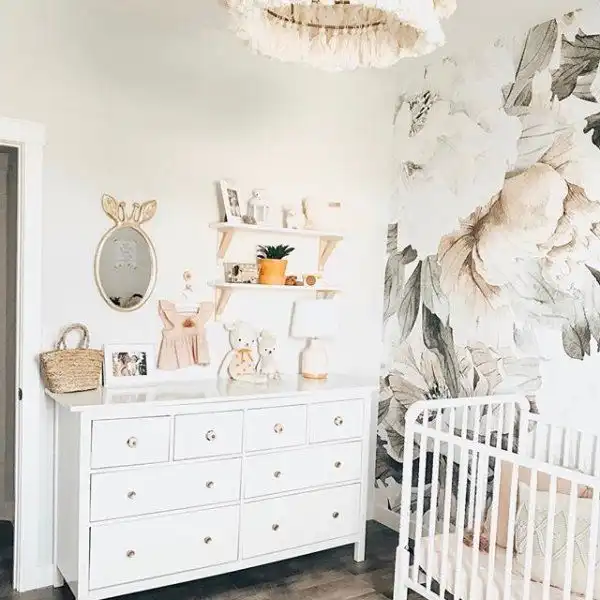 This nursery is certainly not for wallflowers! A beautiful mural or printed wallpaper creates a bold style statement in this girlish nursery. The expectant mother took it further by incorporating faux taxidermy in flower crowns and chains. Some girl nursery themes are meant to be in-your-face—and we adore this example!
Pops of pink girl nursery idea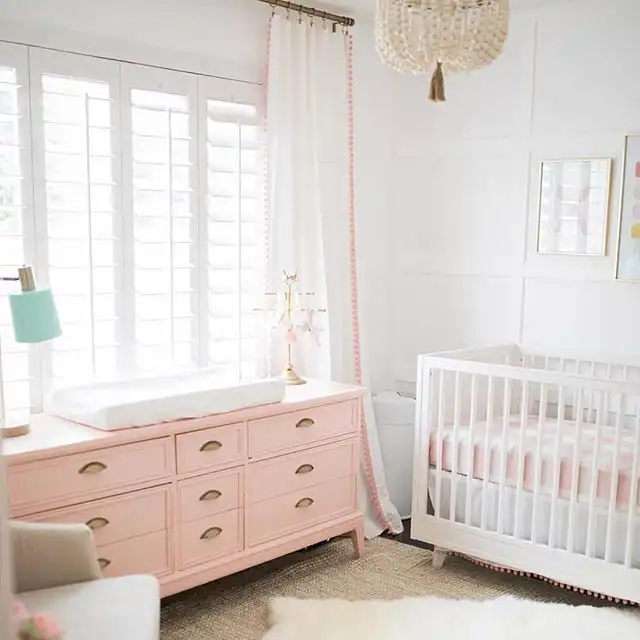 When considering the color pink for your nursery, know there are many ways to incorporate it to suit your tastes and needs. The bits of pink scattered throughout this room are a great starting point if you're undecided about how pink to go.
Green Baby Girl Nursery Theme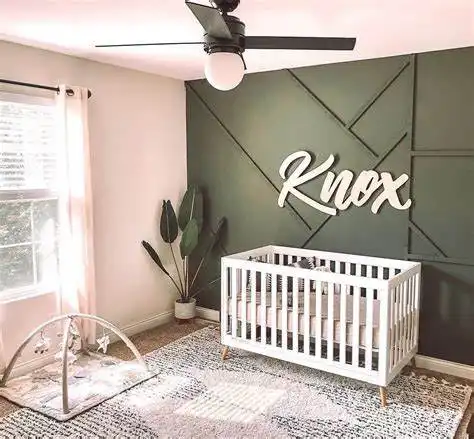 The most important rule in decorating a nursery today is no rules! This is a great opportunity for green nurseries, and opts for a sage (or emerald! Or mint!) shade for your little lady's nursery— an added benefit is that pink and green look stunning together, as this cactus-themed nursery demonstrates.
Show Stopping light fixture for a baby girl's nursery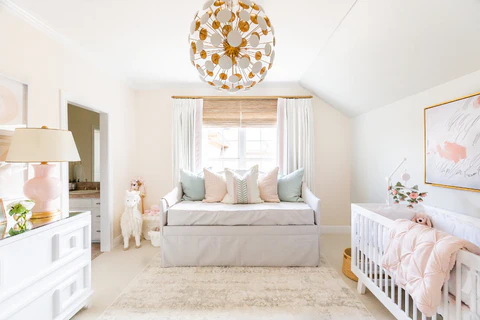 The stunning chandelier is the first thing you'll notice when you see this nursery. It's a great way to make the space feel truly hers, and the rest of the room will come together ideally.
The pull-out couch is an excellent idea; the balance of mint and ballet pink is very pleasing; the llama is adorable, and the crib art is delightful.
Bright rainbow girl nursery idea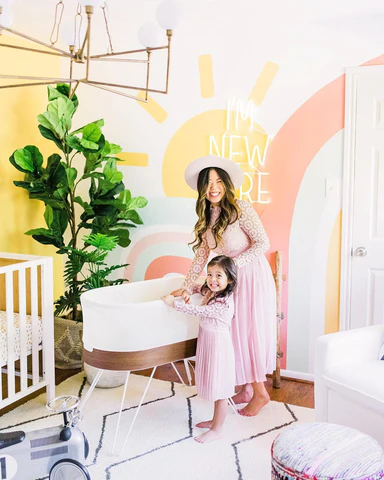 This baby girl nursery theme radiates positivity and happiness! The cheeky neon sign and the giant fluorescent mural are sure to put a smile on your face when you see this design by JoyfullyGreen.
Rainbow-lite baby girl nursery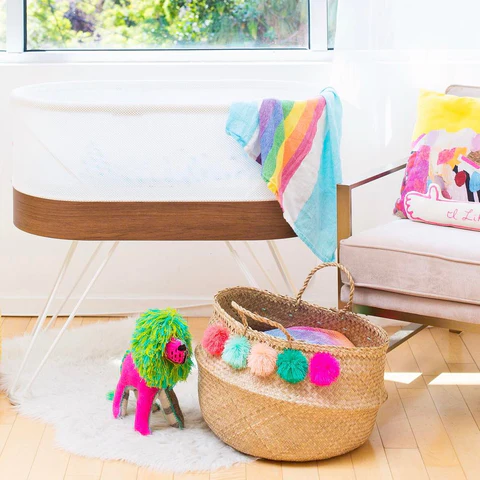 If you don't want to go all-out with a rainbow girl nursery theme by painting (or using two cans of paint), you can create a bright rainbow theme more subtly, as seen in the nursery for girls pictured here. A colorful pouf, multicolored blanket, and some pom-poms placed strategically = a happy, sunny space for your babe to sleep.
Flower pop girl nursery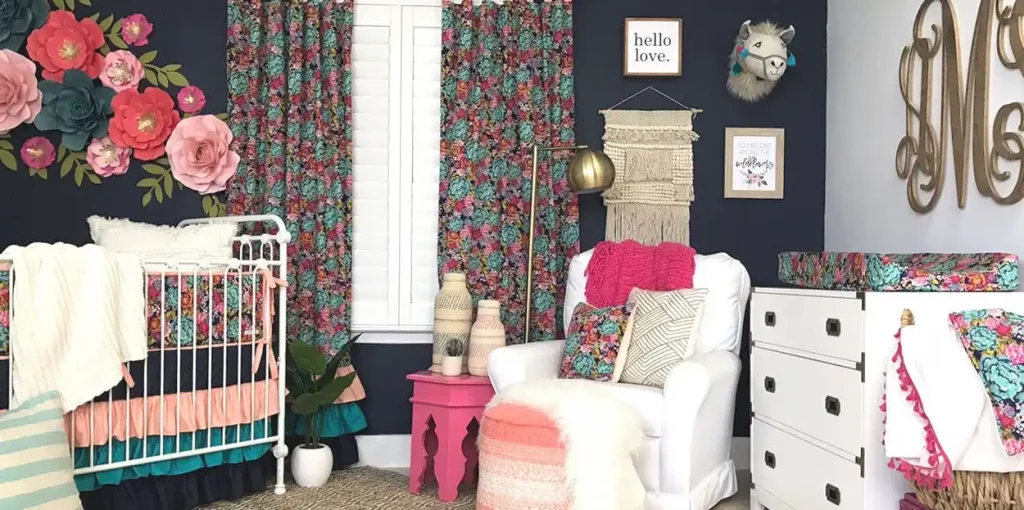 Handmade or buying paper flowers or the cheap-and-easy foam craft store variety are all great choices for adding bold 3D florals to any baby girl's room decor.
Glass houses girl nursery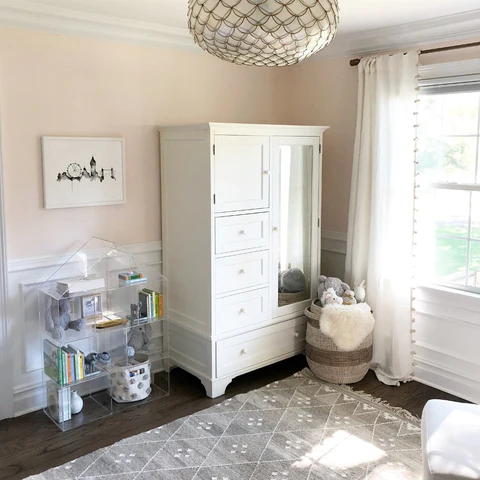 This transparent dollhouse bookcase, which is currently for trinkets, will later become her most cherished toy. Every young girl's room deserves a dollhouse, and this lucite version is extra special.
Simple shapes girl nursery decor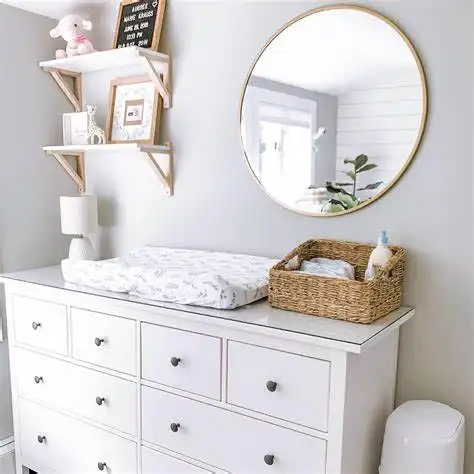 The round mirror, boxy dresser, and other basic shapes in the room's structural elements allow for creative additions in the future. For example, when your little girl turns two and insists on a dress-up rack in the middle of the room, it will be much easier to incorporate when the room is primarily simple in form.
Splashy art for a girl's nursery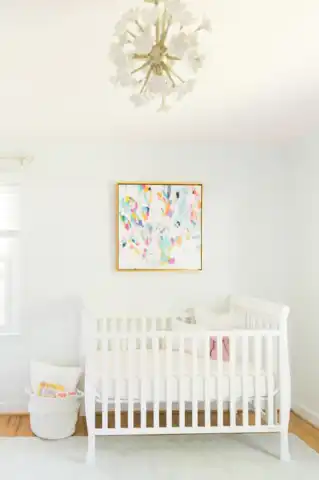 Wall art in a baby girl's room doesn't have to be conventional. Be unique and set her space apart with something fun, like this simple but striking piece of framed artwork above the crib. It brings in hot pink and gold in a very classy way.
Dreamy pink girl's nursery idea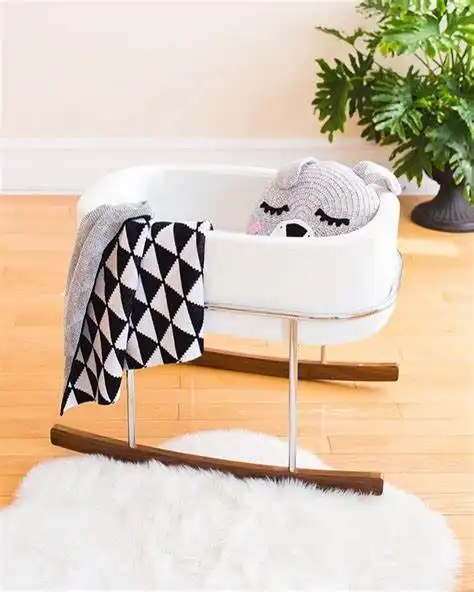 It's perfectly acceptable to make a girl's nursery a little girly! This baby girl's room decor is a soft, sweet pink dream, with blush walls, a plush rug, and oh-so-adorable accents.
Delicate textiles for a baby girl's nursery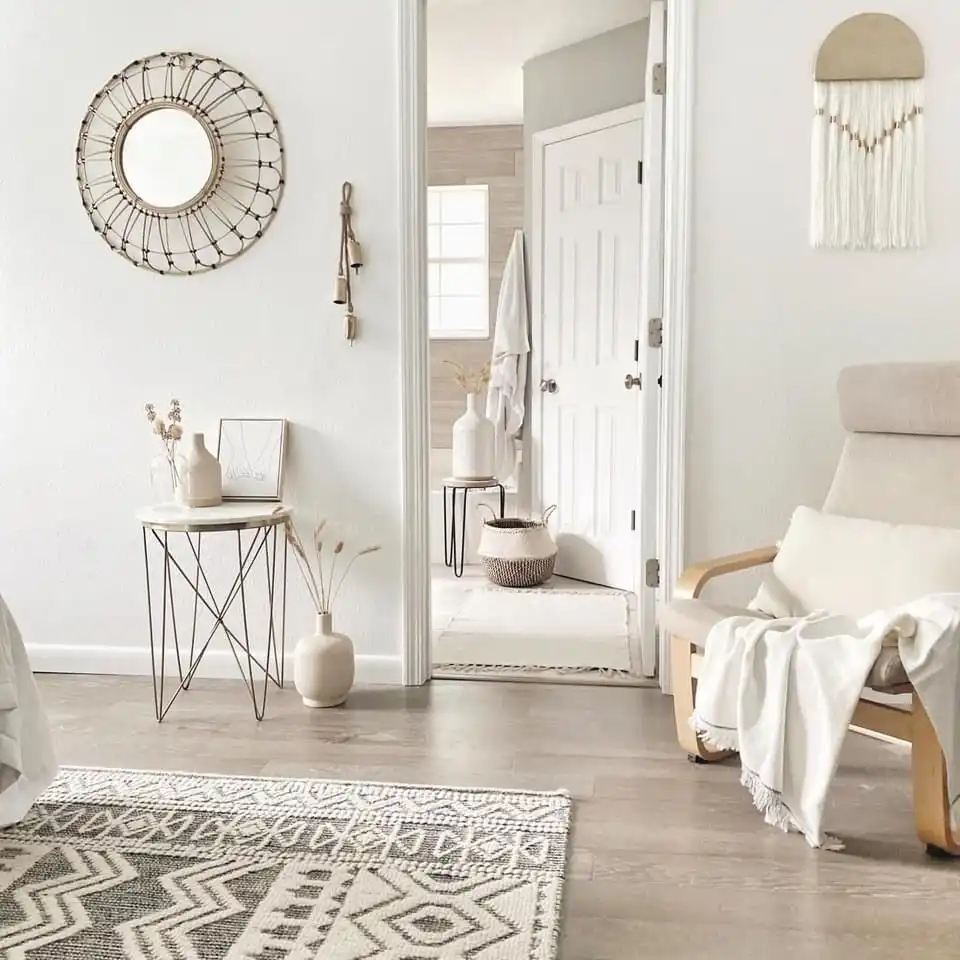 The translucent curtains and delicate baby blanket featured in the corner of this infant girl's room are lush and comfortable.
Purple girl nursery idea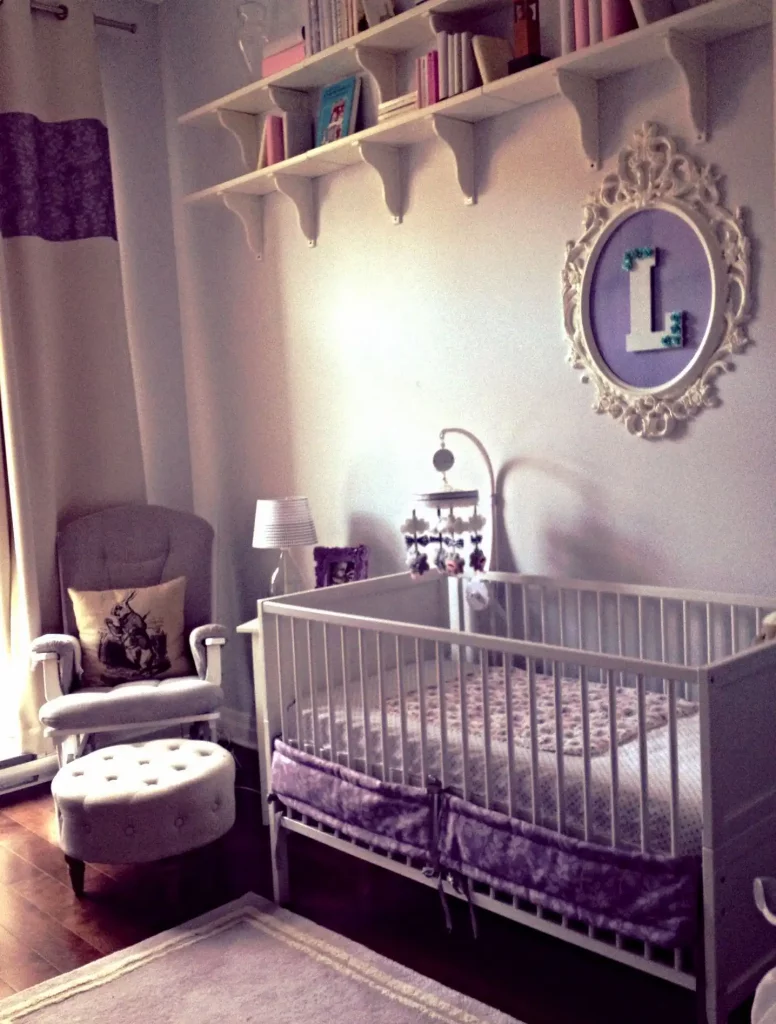 Don't just think about the color pink! Although it's not seen as often in a girl's nursery, purple is a beautiful, feminine color that will elicit oohs, aahs, and hopefully some zzzs.
Queen bee girl nursery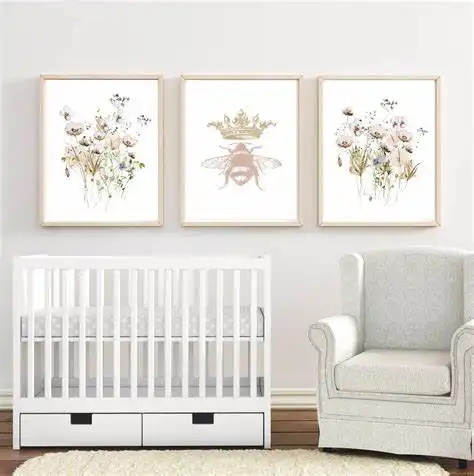 We are thrilled about this one-of-a-kind girls' nursery theme. This space was designed with a touch of royalty in mind, and every detail reflects that—from the bee wallpaper to the plush pink rug.
Shiplap accent wall for a baby girl nursery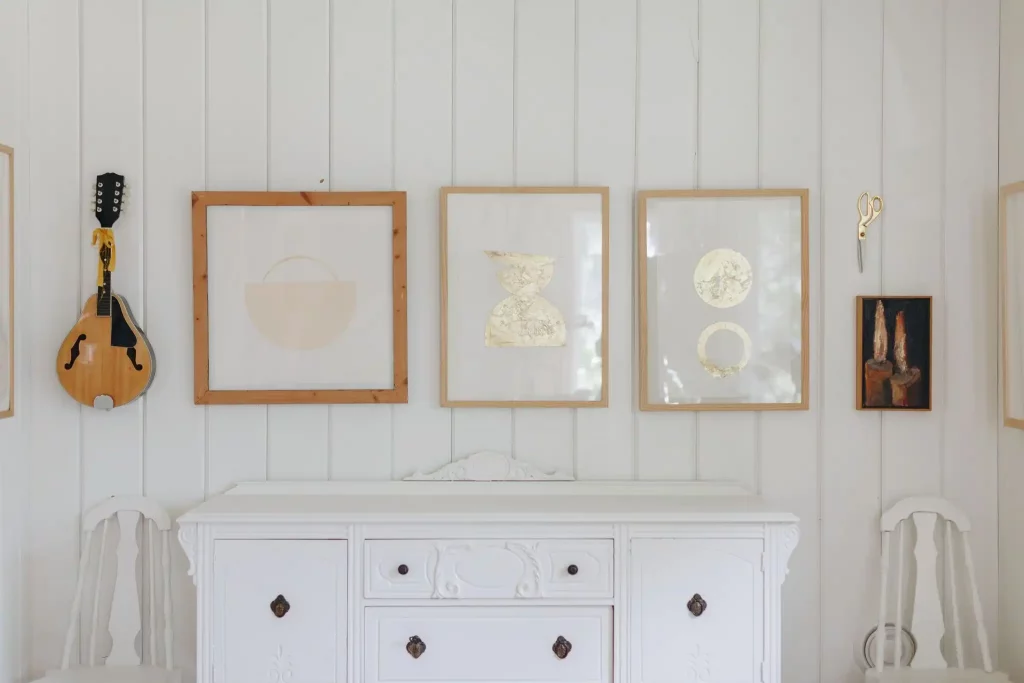 Shiplap-lovers, have no fear! Farmhouse style is not over, and shiplap will stick around for a while. Create a wholesome, beachy, breezy feel in your baby girl's nursery by adding real or faux shiplap to one wall. Then, bring elements of your favorite pastels to complete the precious space.
Pink felt sign girl's nursery decor.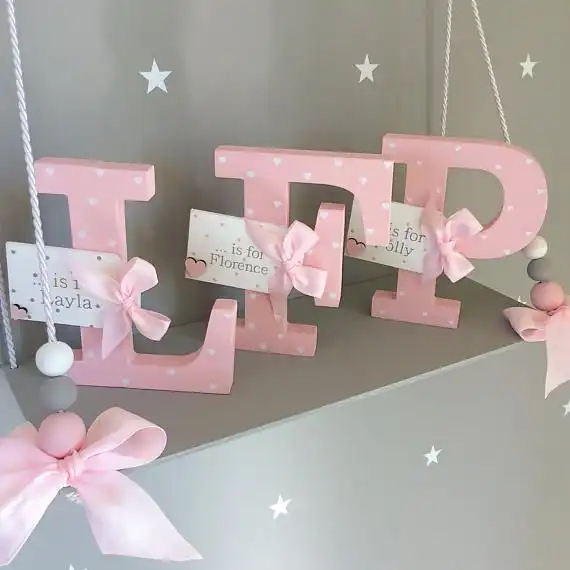 A small addition to your daughter's nursery might make the most extensive statement! Purchase a pink or purple felt sign that you can change the wording on as you please. Be sure to take a photo each time you switch it; she'll love reading your words of wisdom and whimsy when she's a few or many years older.
Stars & shine girl's nursery idea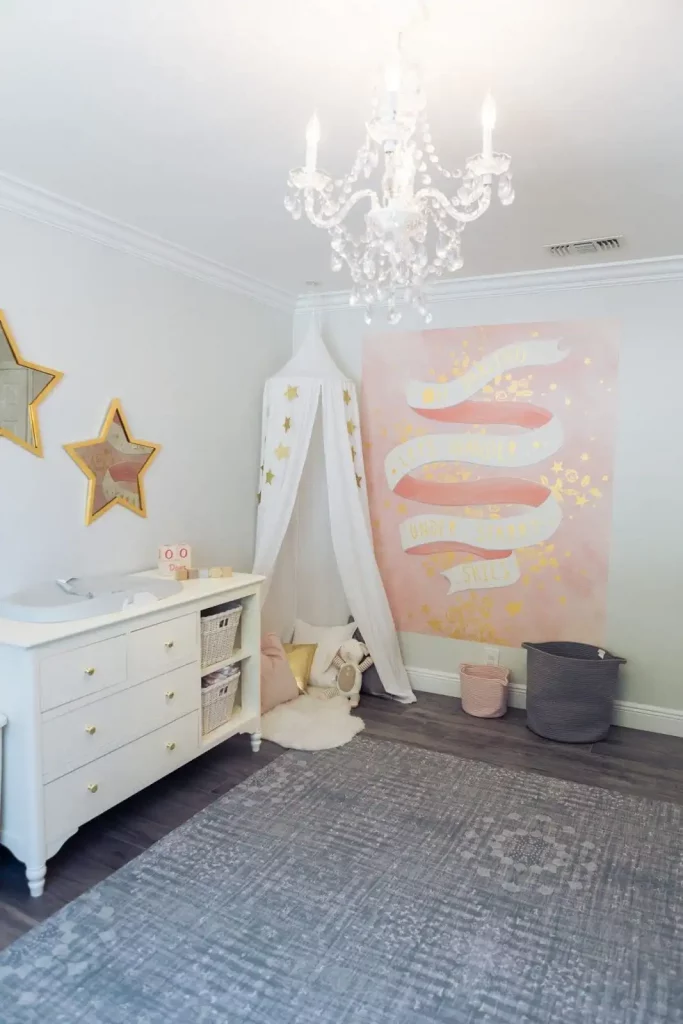 Aim high and embrace the glamour. A baby room with celestial elements and a dramatic chandelier in a girly-chic style? This look is fit for the princess you'll meet soon.
Contemporary neutral baby nursery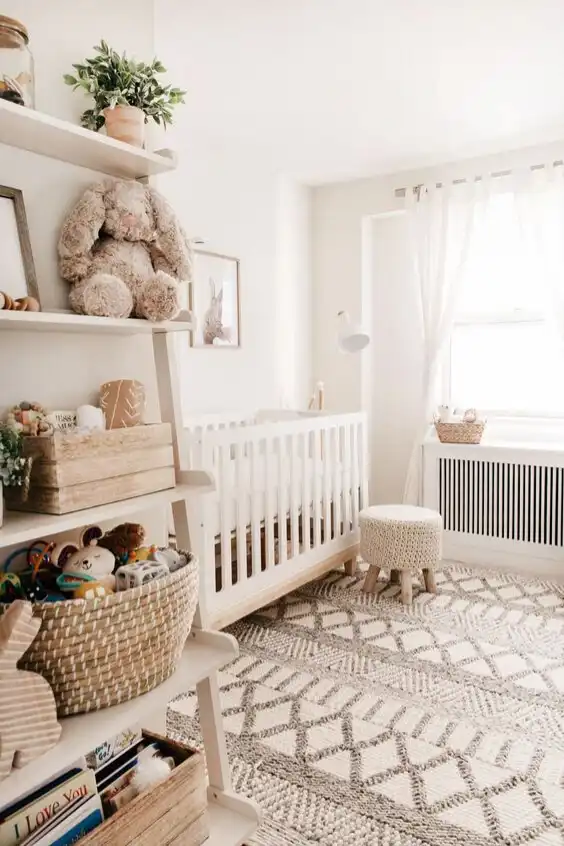 I love how both genders can enjoy this simple design. The crib and rug are perfect, but I also adore the toy storage being within reach for the kids. Just be sure to pick larger toys!
Cozy forest green theme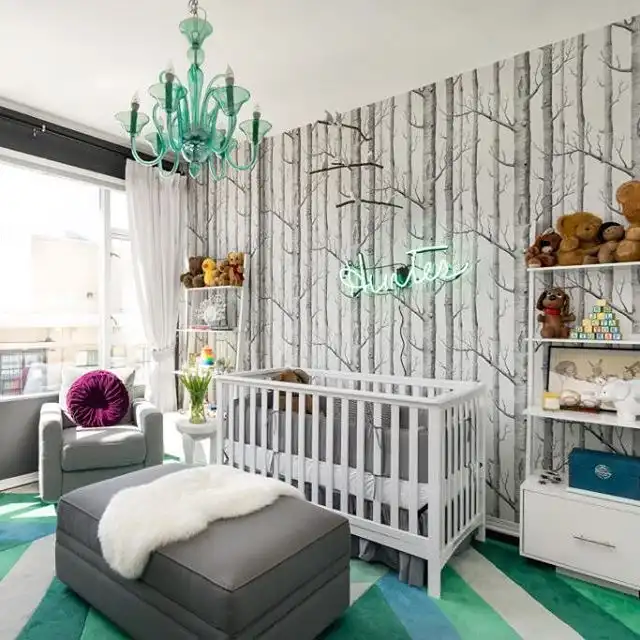 This is a beautiful look you can easily create at home! Grab some wood and paint from your local Home Depot, and you're all set. I love the lighting. You can find the art source under the photo.
Cute bunny-themed nursery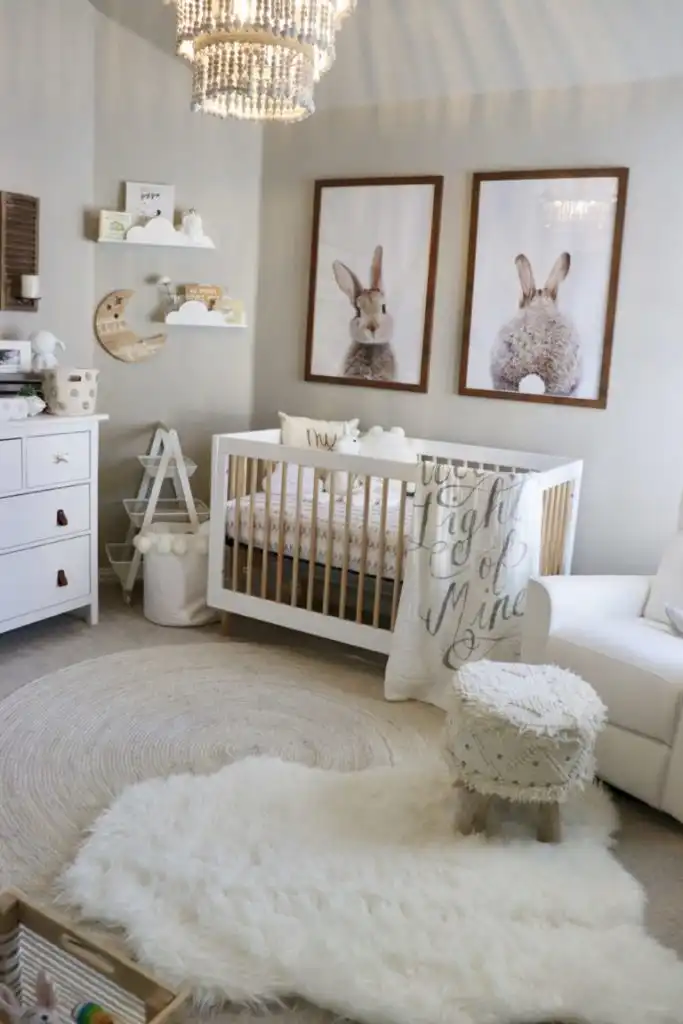 This space is adorable and perfect if you don't want a pink nursery! The bunny photos and crib go so well together. I was beautifully coupled with a fur rug, bead chandelier, and jute rug.
Also Read: 8 Modern Baby Boy Nursery Ideas You'll Fall In Love With
Verdict on baby girl nursery decor
In conclusion, many different ways to decorate a baby girl's nursery exist. Choosing a theme you and your child will love is the most important thing. There are many sources of inspiration, including magazines, websites, and Pinterest. Once you have a few ideas, you can start shopping for nursery decor.
FAQs on baby girl nursery decor
How do you decorate a baby girl's nursery?
First and foremost, bear in mind that you and the baby will spend a LOT of time in the nursery when designing it.
So choose a nursery design you adore and use colors and furnishings you genuinely appreciate. Take this free nursery style quiz to determine your style and receive tailored nursery advice.
What do you put in a baby girl's nursery?
You'll require a few nursery necessities for the baby's room. You'll require a crib, a crib mattress, a dresser or changing table, a nursery chair, storage, and lights.
How do you set up a baby girl nursery?
You want to set up the nursery so that the infant is at ease and that you have a reliable procedure for taking care of the newborn. In the nursery, we prefer to create zones or stations. 
First, there will be a crib in the sleeping area, a changing table/dresser in the changing zone, a diaper pail and storage for diapering necessities, a comfy nursery chair, lighting, a side table, and an ottoman in the feeding/nursing area.