How To Decorate Your Babys Nursery For Christmas On A Budget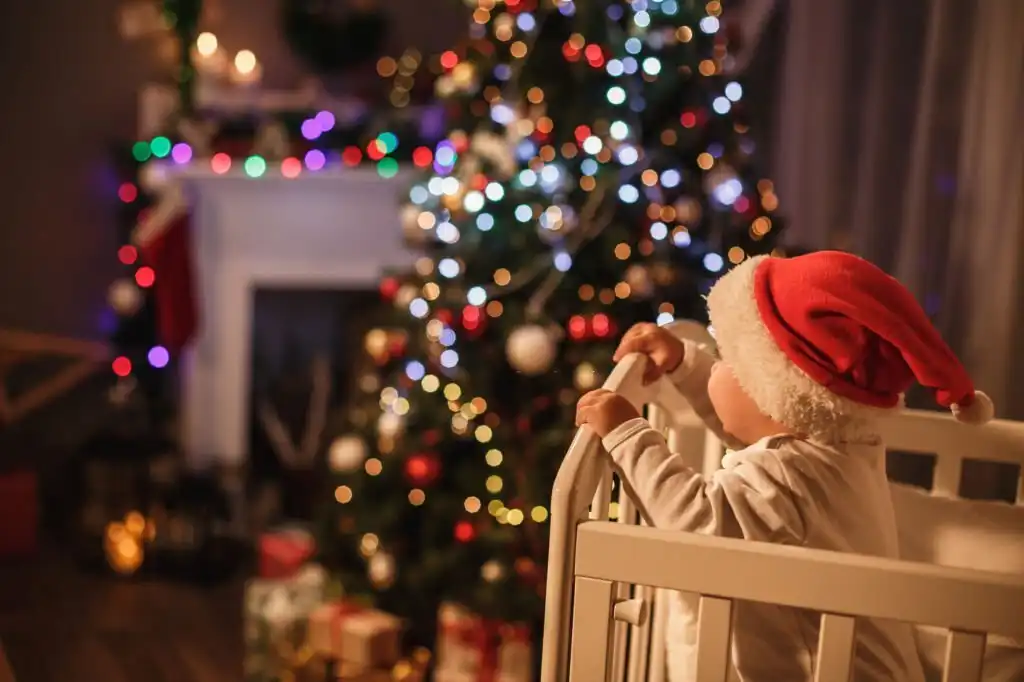 Introduction to How To Decorate Your Babys Nursery For Christmas On A Budget
Christmas is a season of joy, laughter, and family. Also, it a time for holiday decorating! Decorating your baby's nursery for Christmas is a terrific way to get them in the festive spirit. A fun and inexpensive approach to get your kids in the holiday spirit is to decorate their bedrooms for the occasion.
This blog post will cover some quick and low-cost ideas for Christmas bedroom décor for your kids. Garlands, string lights, a small tree, a countdown to the holiday, Christmas bedding and accent pillows, and other do-it-yourself crafts can help you turn your room into a winter wonderland. Your kids may feel the spirit of Christmas by having a festive bedroom environment created for them!
Read on for holiday decorating ideas for your kid's nursery!
Decorating your kids' nursery for Christmas
Holiday decorations can add a festive touch to any room, particularly kid's rooms. Before shopping for holiday decor for you, consider their age and preferences so that the decorations are age-appropriate and fit nicely with their style. With the right selection of decorations, you can make your kids' rooms cheerful and bring even more joy to the holidays.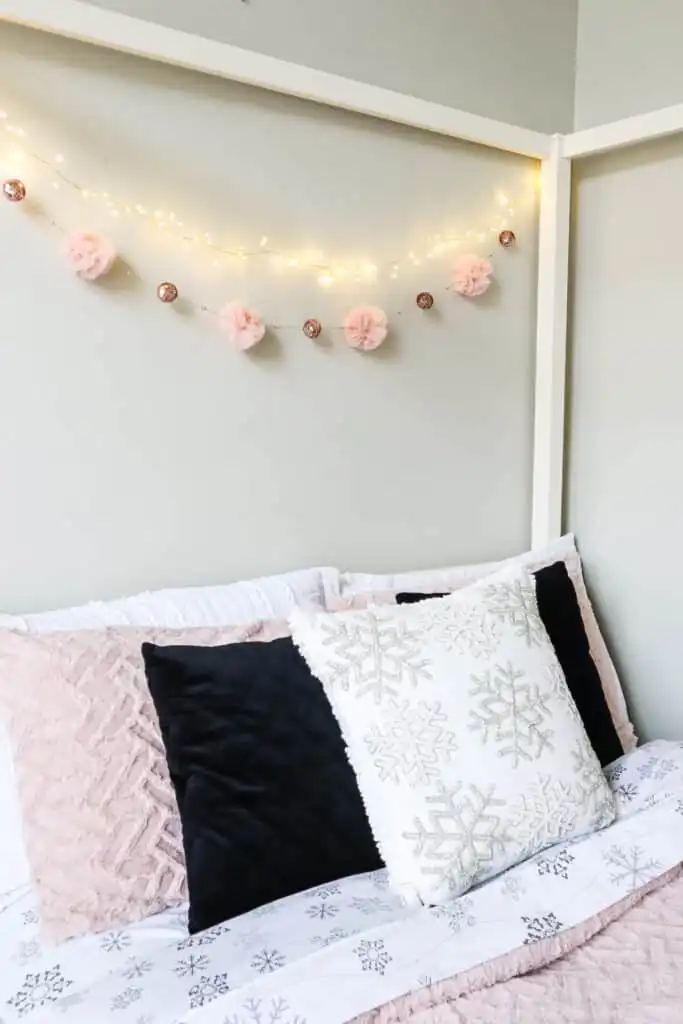 Your older children may have quite precise ideas regarding how they want their rooms decorated for Christmas if you have older children. In this situation, it's essential to have a conversation with them about a decorating strategy so that everyone is satisfied with the result.
On the other hand, if your children are younger, you'll probably have more say in how the room turns out. Additionally, you should ensure that the decorations are age-appropriate for a toddler's room and are safe for them to swallow without choking.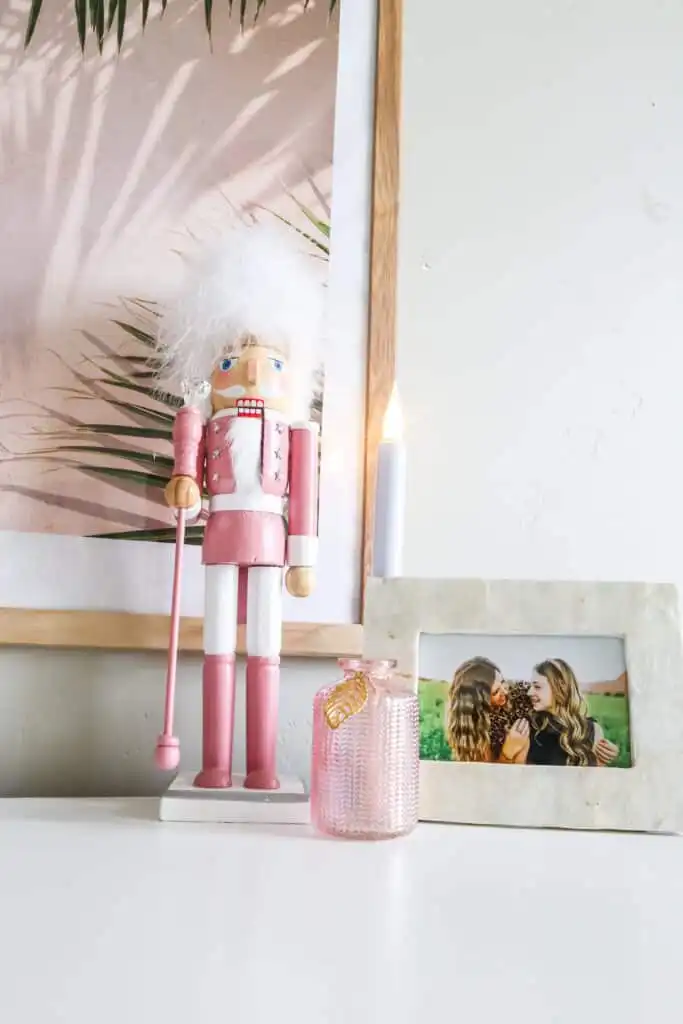 While you go through these Christmas bedroom ideas, keep in mind the ages of your children.
You don't have to spend tons of money!
While looking for Christmas decorations you enjoy, remember that you don't need to spend much money on them (and probably shouldn't). These are ornaments your kids will only have up for about a month.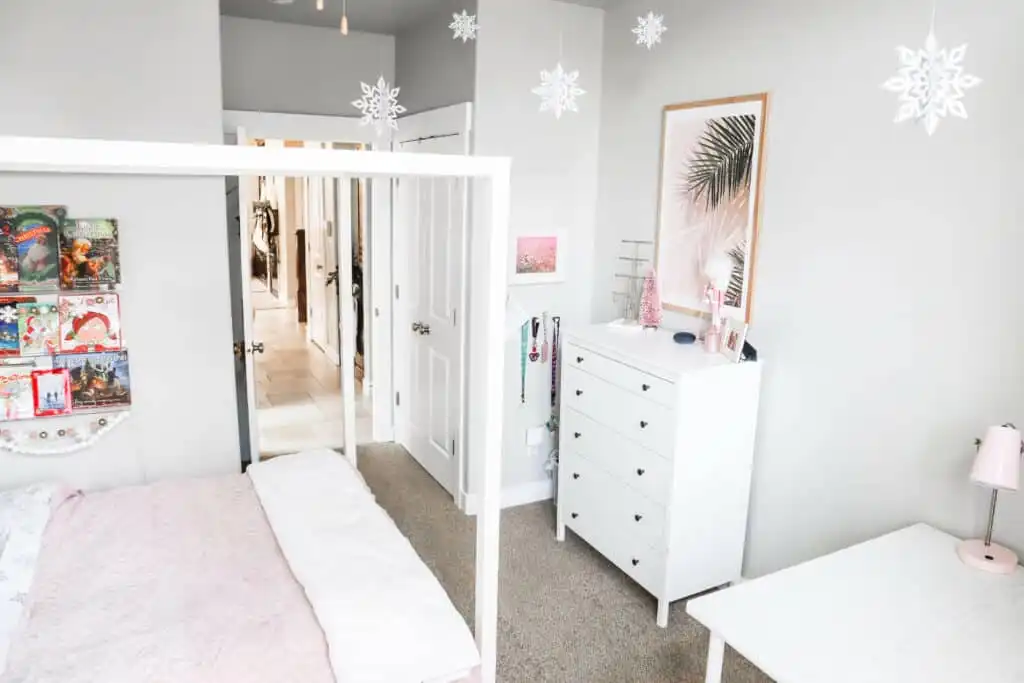 You may either browse your existing decorations and let your children choose a few pieces to add to their bedroom, or you can go out and get some brand-new decor. If you purchase new items, establish a budget and stick to it. I've listed a few suggestions for inexpensive, entertaining things you can buy. Still, there are undoubtedly more choices available online or in nearby shops.
Don't add to your stress by spending a lot of money on bedroom decorations, as you're probably already buying lovely things for your kids. You don't have to do everything to give your kids a festive Christmas bedroom; choose a few elements from these suggestions that you like, and stay with them.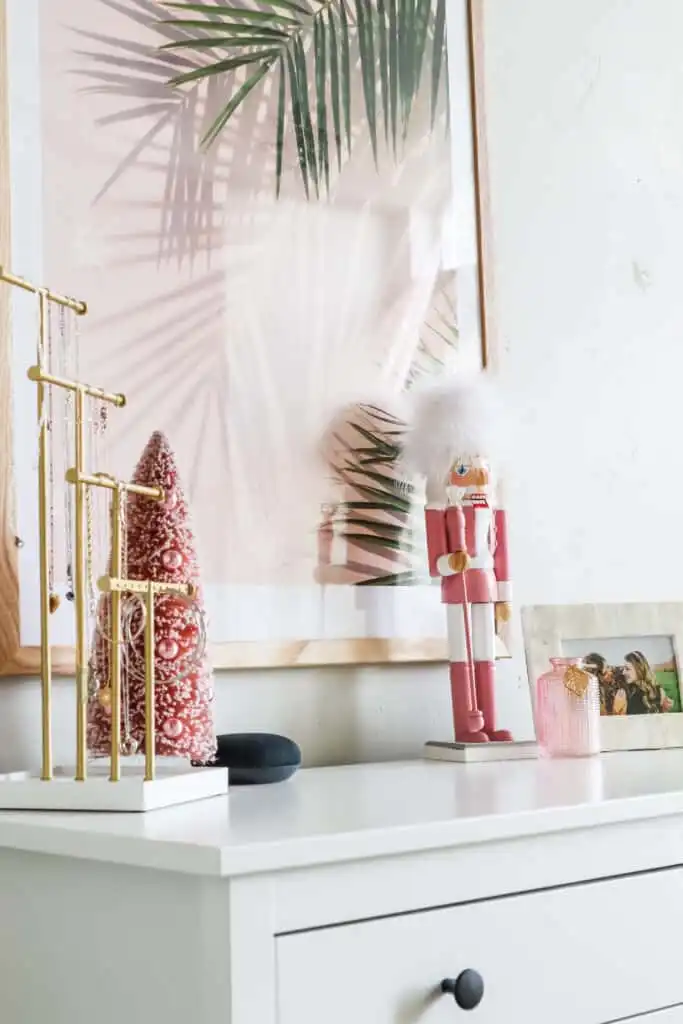 Decorating ideas for kids' rooms
Your children are the ones most anticipating the impending holidays in your home. So, to make your child even happier, make their room feel genuinely festive. Here are a few of my favorite kid-friendly Christmas décor ideas.
Get Christmas bedding
Adding festive holiday touches to a kid's room is the perfect way to make their bedroom feel extra special this winter. With a range of holiday-themed bedding sets, home decorators can choose styles that meet their child's taste. From snowflake sheets for a winter wonderland look to Santa Clause-themed decorations, there's sure to be something to fit every home decoration style.
To bring a touch of luxury and warmth at the same time, try adding a faux fur duvet. My daughter loves her new pink faux fur set because it feels soft against her skin and looks fantastic with any décor style. The plain color also means she can use it year-round! I'm entirely sold on the quality of the material and look forward to many years of cozy sleep for my daughter.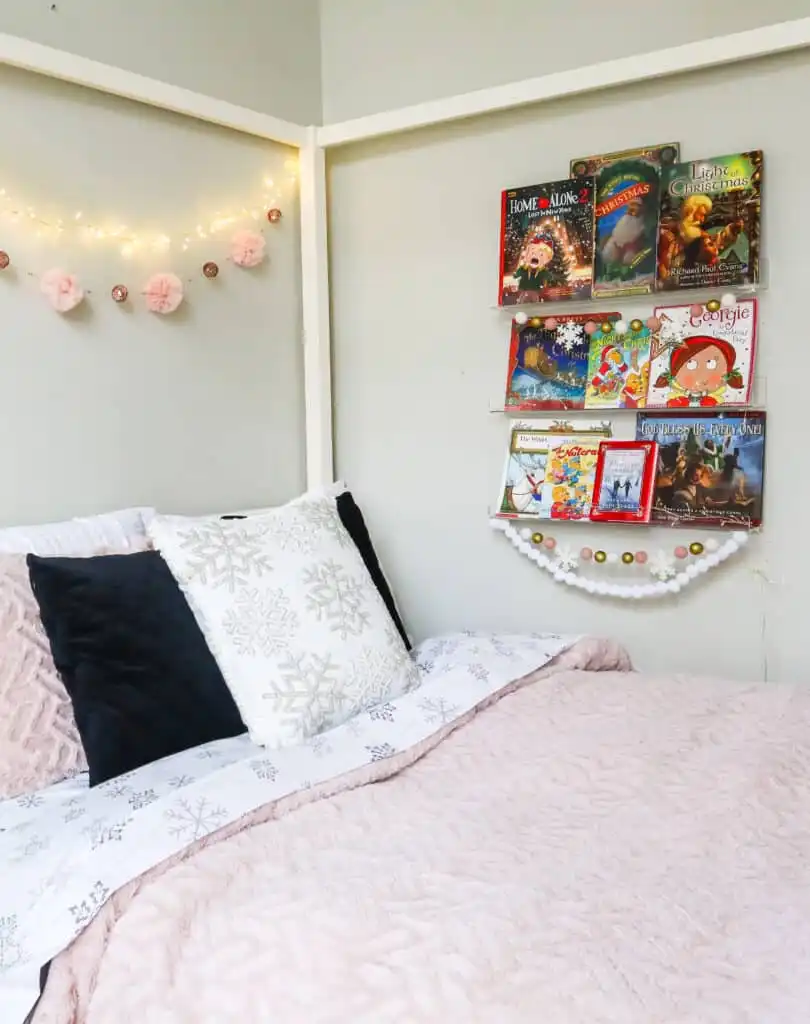 Adding a few holiday pillows to your kid's bedroom can be a great way to bring festive cheer into the home. If your kids are older, like teenagers, consider getting green velvet or plaid accent pillows. However, for younger children who still enjoy Christmas themes, a Santa pillow might be more suited to them! Use throw pillows as an easy and inexpensive way to make your children's room feel more seasonal.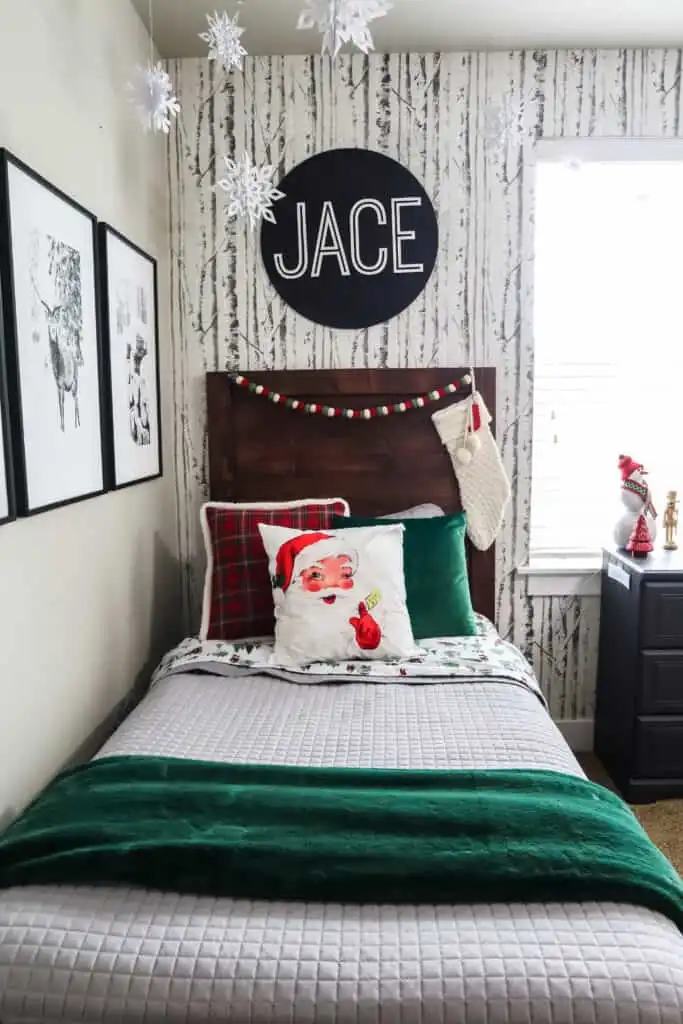 Hang some lights or garland
Garlands and string lights are essential to seasonal decorations—drape garland around the bed frame, headboard, or even above doorways for a festive look. Meanwhile, battery-operated string lights are great for kids' bedrooms – they create a cozy atmosphere without the worry of trailing cords. Looking for a fun way to get your kids involved? Let them choose between bright white lights and colorful ones!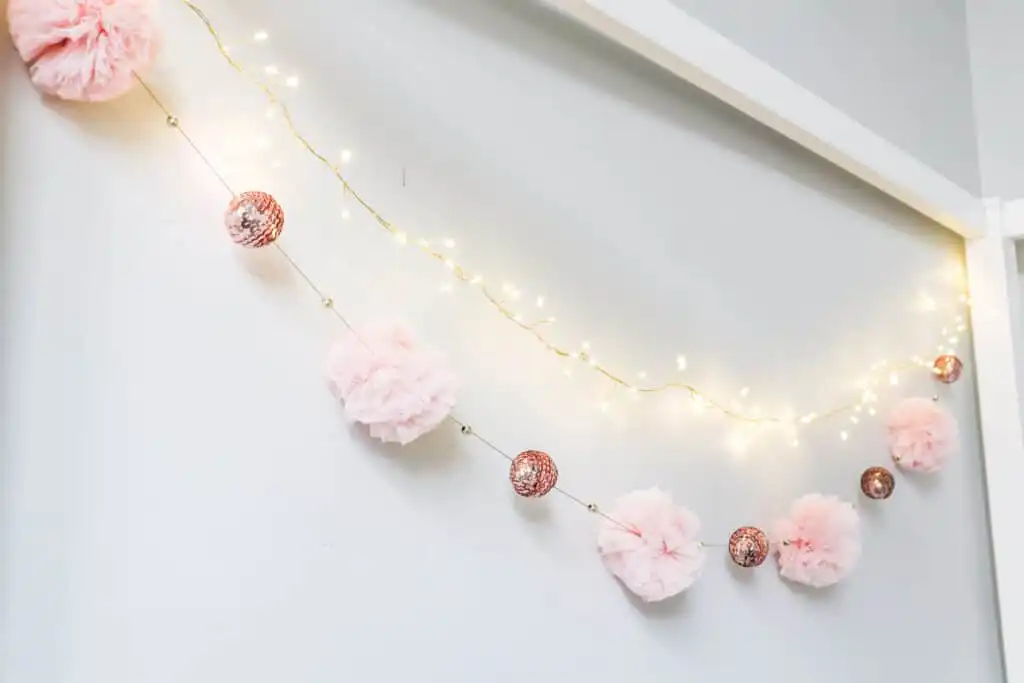 Hanging stockings can be fun to incorporate traditional Christmas cheer into your home. The stocking may contain small trinkets or treats like candy canes and chocolates for some families. Alternatively, consider writing kind notes for your loved ones to find in the stocking each morning in the lead-up to Christmas.
Get window clings or art.
Bring some holiday cheer to your home with simple Christmas decorations. From hanging festive wall art to applying window clings, these small touches will help create a festive atmosphere. For more options, you can find art and window clings at local dollar stores or online.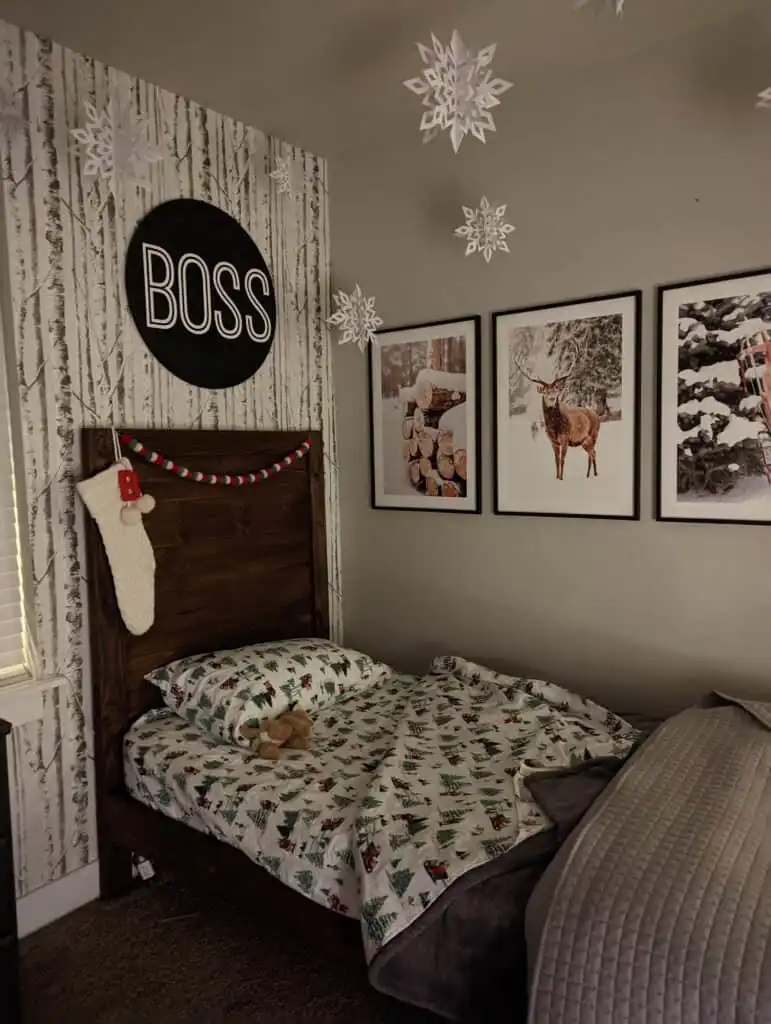 Festive decorations are a great way to brighten any home, and you can find reasonably priced prints online. It's also fun for kids as they choose artwork to feature in their room or even put up the decals themselves. You can easily add joy this holiday season with the right Christmas decor.
Add a mini Christmas tree.
Consider adding a mini Christmas tree to your child's room for an easy, festive Christmas decoration. They are readily available at most stores during the holiday season. If you can't find one that fits your preferences, you can always purchase one online. Adding a tiny tree to your child's bedroom is a great way to make their space feel more festive and magical during this particular time of year.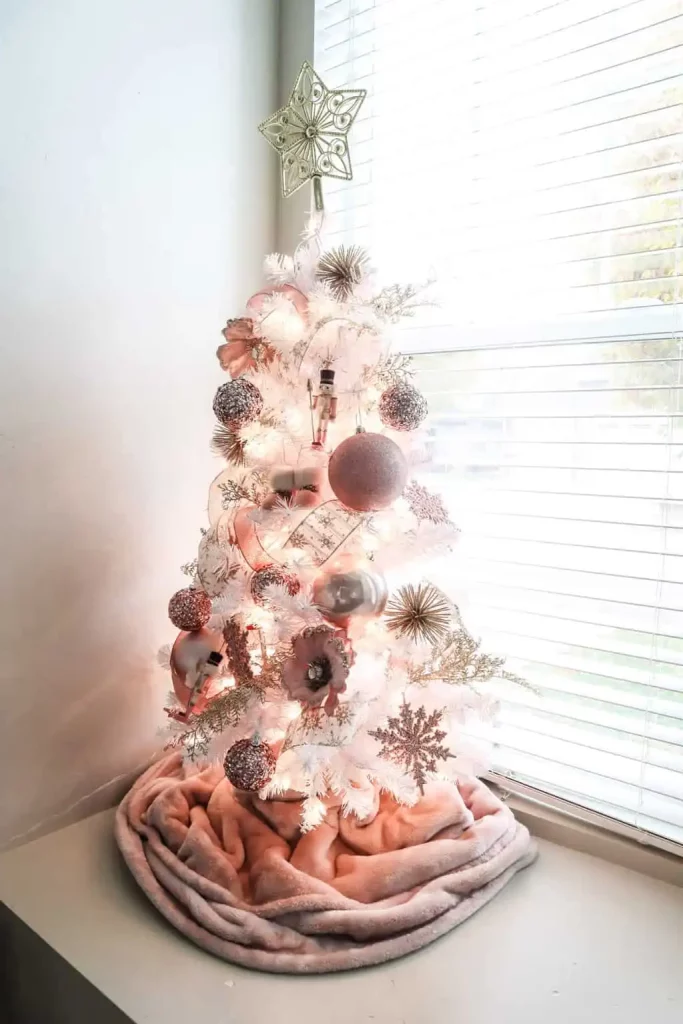 As a fun way to spice up the holiday season, consider exploring different styles for festive decorations. If your child's room is up for something bold, experiment with a pink or black Christmas tree adorned with all matching ornaments and accessories. On the other hand, you can also opt for a colorful tree that will instantly brighten the space. Alternatively, if you're tight on budget and space, display a wreath above their bed or by their bedside table.
Set up a countdown
A fantastic Christmas decorating idea is to add a countdown. These can be found online or bought pre-made, but you can also create your paper chain as a fun way to count down the days until Christmas Eve. This is a great way to get kids into the spirit of the holidays and decorate their rooms!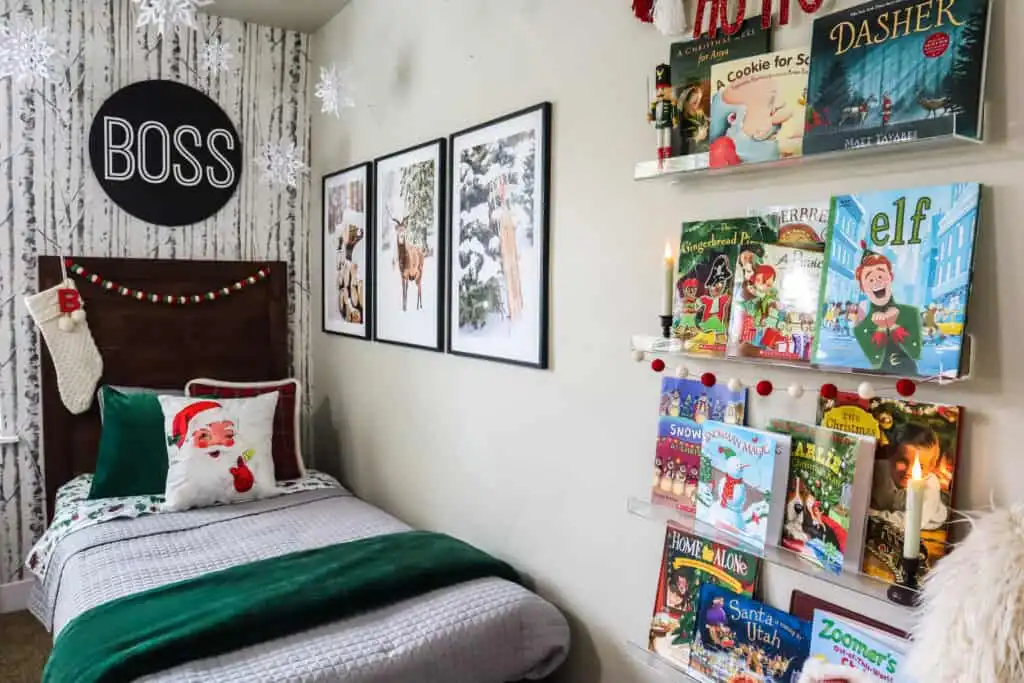 Introducing the "25 Days of Christmas" activity calendar. This festive idea can be fun decorating your home and adds to the season's excitement. For example, it could include reading a holiday book for each day leading up to Christmas, making snowflakes out of paper, and even decorating gingerbread houses. It's an excellent way for children to get excited about counting down to the holiday and have something to look forward to every day!
Add some Christmas artwork.
I recently purchased some winter art prints from Etsy, which I then printed through Mixtiles.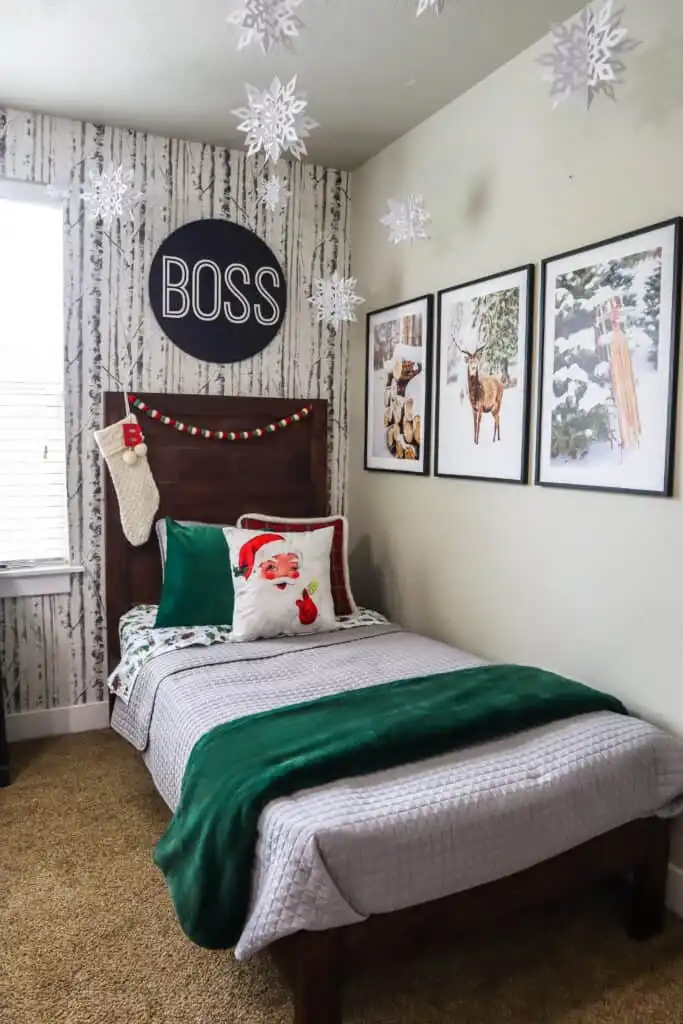 I'm happy with the results; the printing quality is excellent, and I appreciate how Mixtiles lets me hang them myself (they're lightweight!) and adjust their position without making holes in the wall. I'm confident my son will be happy with his winter-themed bedroom art!
Make a Christmas book wall.
Creating a Christmas book wall is a great inexpensive way to add holiday spirit to your child's bedroom.
I have written a blog post about this that lays out all the details, so be sure to check it out! Simply setting up some shelves in the corner of the room and stocking them with classic Christmas stories and other festive titles can instantly elevate the Christmas atmosphere.
A cozy Christmas kid's room
When our children are little, creating a festive atmosphere for the holidays is important. If you're looking for ideas to decorate your kid's bedroom, our suggestions can give you some great holiday inspiration. Whether you do something simple or elaborate, Christmas decorations can bring a special cheer and warmth to each room in your home.
Do you have any creative ideas for decorating your kids' rooms for Christmas? We'd love to hear them!
Verdict on how to decorate your babys nursery for christmas on a budget:
There are a few things to remember when decorating your baby's nursery for Christmas on a budget:
Try to find budget-friendly items that can be used year after year.
Get creative with your decorating; handmade ornaments and garlands are always a hit.
Don't forget the little details; a few well-placed Christmas lights can make the room shine.
FAQs on How to decorate your babys nursery for christmas on a budget:
What is the Christmas color this year, 2022?
Christmas 2022 will be all about metallic silver and gold, shades of green (think grass and leaves), and romantic pink and soft blue.
These rather unusual colors for Christmas décor will be on trend this year, so get ahead and start planning your holiday decorating scheme now!