How To Create The Perfect Baby Girl Christmas Nursery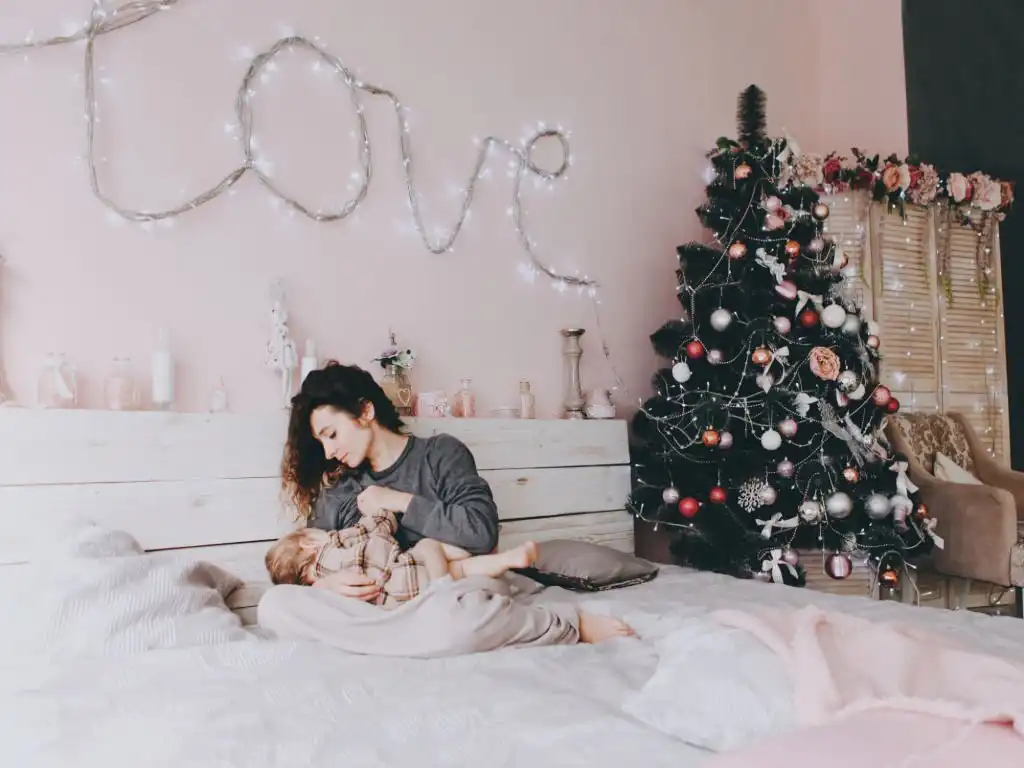 Introduction How To Create The Perfect Baby Girl Christmas Nursery
I knew I wanted to decorate my baby's girl nursery as soon as we arrived home. I started getting excited about her first Christmas. Christmas is my favorite season and a fantastic time of year, so I wanted her room to be as lovely and unique as possible.
I adore the pure green tree in our living room, but the nursery would be the ideal setting for our first flocked tree. The 8-foot Prince Pencil Tree I purchased from King of Christmas is of the highest caliber, and I cannot express how wonderful it is!
It didn't shed as much as you would expect a flocked tree would, which is something I love since you don't have to plug in each piece. You can see that this tree is magnificent, even without any decorations on it.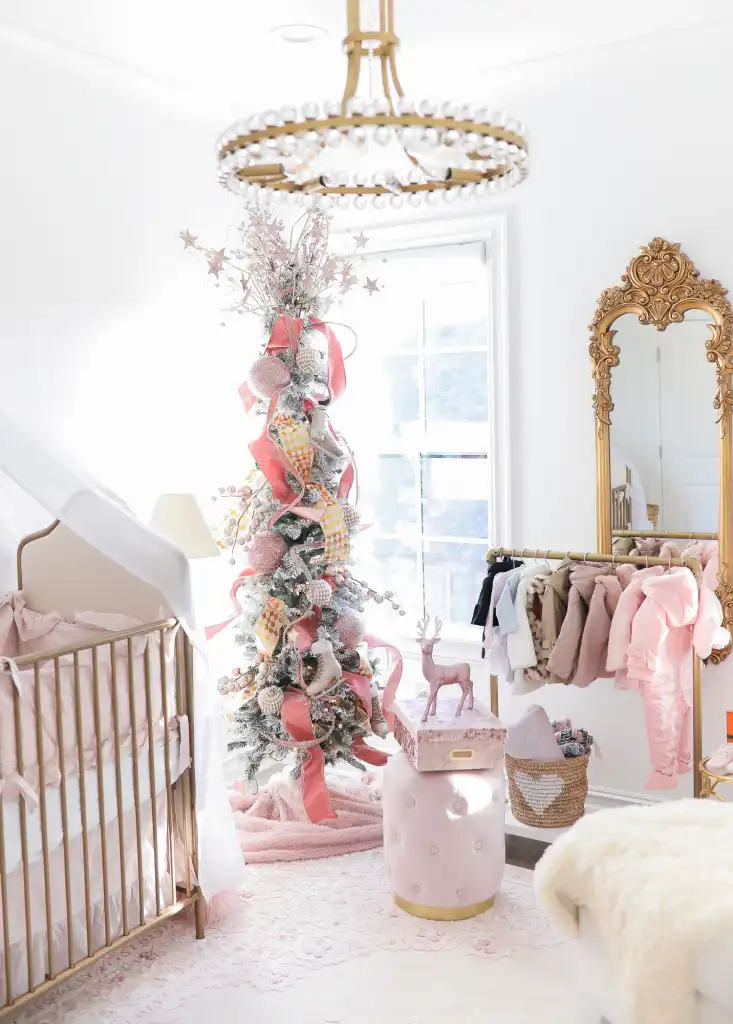 As lovely as the tree is when it is naked, I wanted a tree that would complement the nursery in pink, white, and silver. Except for three ornaments I bought at Marshall's, I had all the tree decorations, which was fortunate because my goal was to spend as little money as possible. My husband and I got married five years ago, and it was a Christmas wedding with light pink and silver as our colors. I could use all of the wedding decor, which worked out well and was amazing to pull out five years later.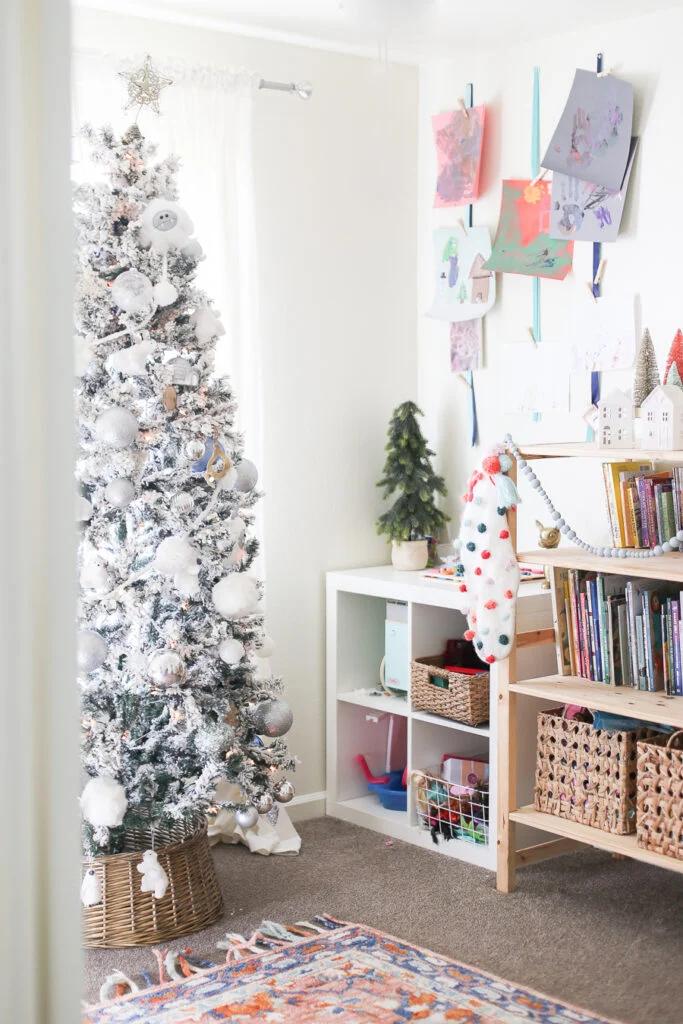 I bought the fur tree skirt, a ton of mercury glass, and silver decorations from Home Goods two years ago when they were on sale for half price. Last year, I utilized a lot of mercury glass in the dining room, but this year, it was all wonderful for this tree! I removed all white decorations from my living room tree decor to use in this space.
The pearl decorations you see were all found by my mother as leftover DIY wedding favors, and they were all the ideal size for her tree! Over a hundred of these ornaments were made with the assistance of my family and friends, and boy, were they a labor of love!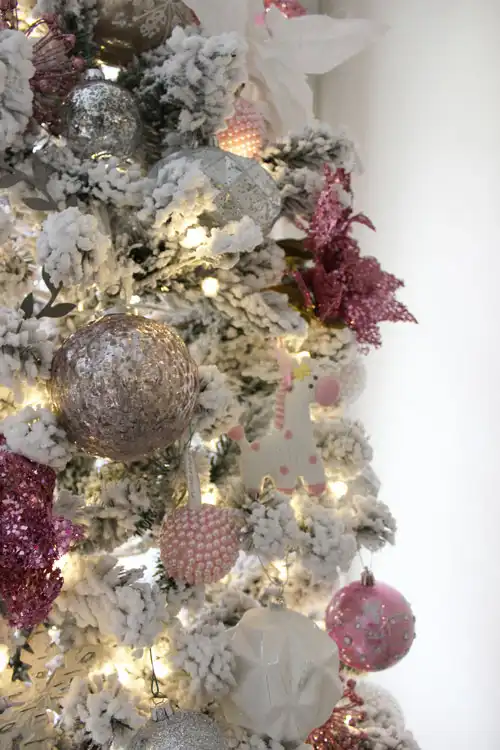 I like how the tree turned out and was made with materials I already had. Being an after-season buyer and a hoarder of holiday decorations pays off.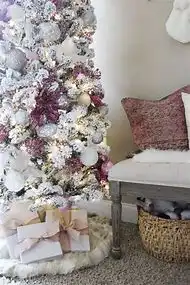 I wrapped a few presents for my baby and one for my niece to go under the tree. I just used the backside of some wrapping paper I had to achieve the classic white look, and I found this perfect pink and lace ribbon at Michaels!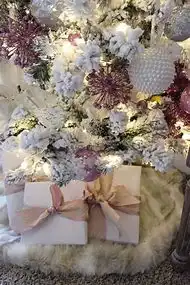 I wanted to decorate the small shelf above the bench next. I already had this "Merry Christmas Darling" sign from my best friend Amanda's Etsy shop last year, so I decided to use it and decorate it a little. I picked up all these bottle trees in the Target One Spot this year and the white house on the right. I already had the other white houses from last Christmas!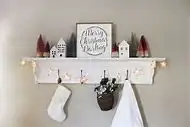 I found the adorable star garland and small fur stocking in the Target One Spot, and it works perfectly here!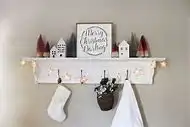 Now more than ever, I cherished spending time in her room! I'm coming in more frequently to take in the festive decorations and sparkling lights!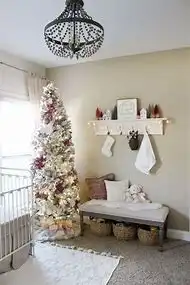 Verdict on How To Create The Perfect Baby Girl Christmas Nursery
In conclusion, the baby girl's Christmas nursery is a beautiful and festive room that will make any baby girl feel special on Christmas. The room is decorated with various Christmas-themed items, including a Christmas tree, stockings, and lights. The room is also equipped with several safety features, such as a gate at the entrance, to ensure that the baby is safe and sound.
Also Read: How To Create A Baby Boy Woodland Nursery On A Budget