20 Beautiful Blue Nursery Ideas for Boys and Girls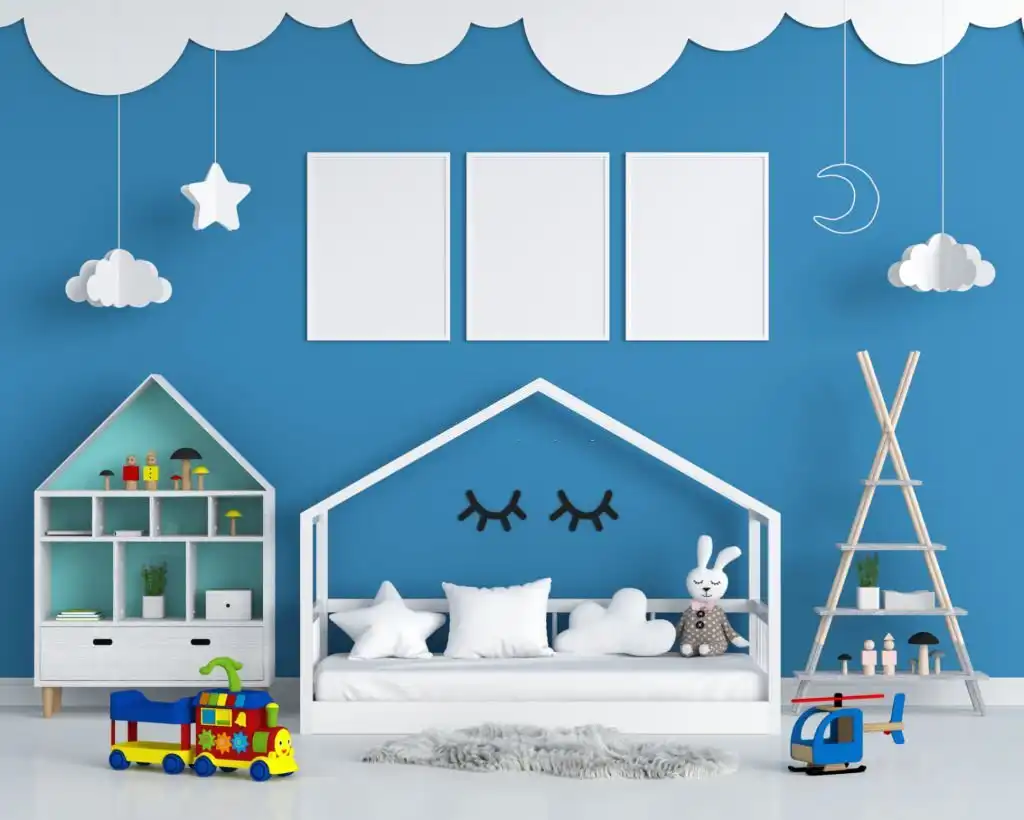 Introduction to Blue Nursery Ideas
Bringing a sense of peacefulness and comfort, blue is the perfect choice for any nursery. Scientific research has shown that blue may trigger physiological responses in babies, such as reducing feelings of aggression and calming blood pressure—a great ally to have on hand when tending to newborn nerves or temper tantrums from toddlers! Suppose you're still searching for the best color scheme to soothe your little one.
Why not explore the many remarkable possibilities of blue? To start, look at this stunning selection of 20 stunning blue nurseries. Perfect for adding modern flavor or sweet simplicity—no matter your design preference, there's sure to be something here that appeals to you!
Coastal Blues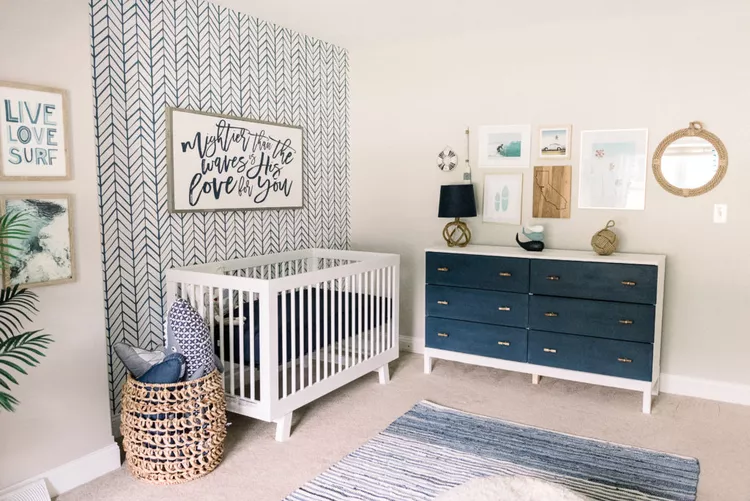 Featuring coastal elements, this elegant baby room from Project Nursery has an understated style. The wallpaper print accent wall and striped rug create blue patterned motifs reminiscent of the ocean's hues and waves.
Moody Blue Accents
This contemporary boho-style nursery includes a unique wall treatment in a rich navy hue. This allows other design elements – lush green plants, gold accents, and mustard yellow accessories – to stand out against the muted background. The subtle balance is aesthetically pleasing and helps keep the room cheerful.
Waves of Blue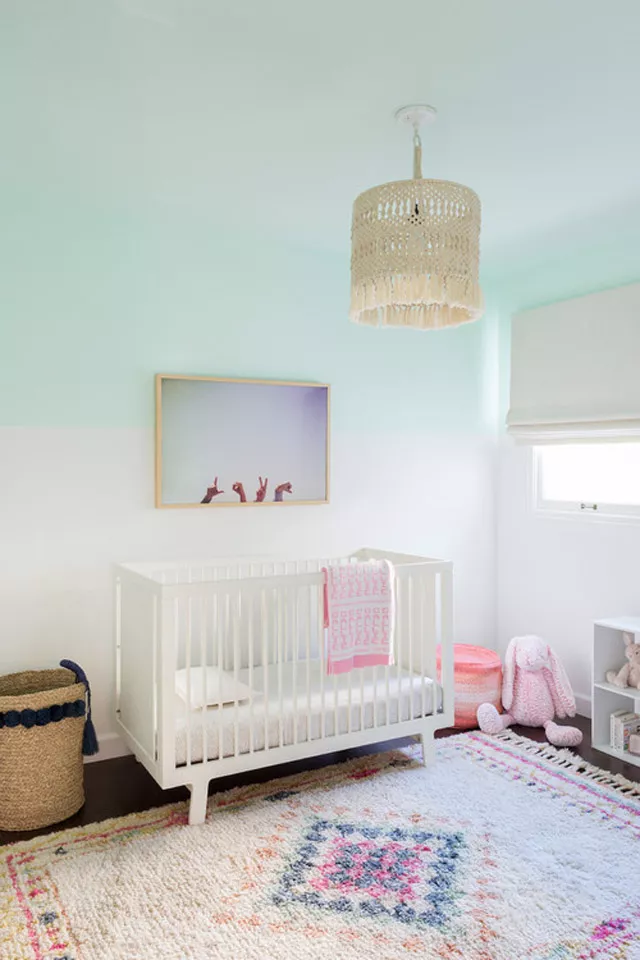 AE Designs created a beautiful coastal-inspired nursery with a simple yet stunning Ombre wall treatment. The soft lapping wave of soothing aqua offers an inviting atmosphere and refreshing feel to the room, which can easily be recreated in any home.
Starry Night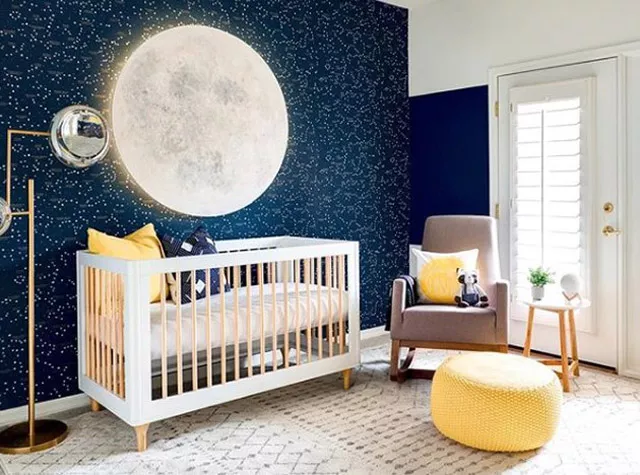 Feast your eyes on this star-studded space-themed nursery, crafted by J and J Design Group. The navy night sky ceiling, dazzling yellow hues, and captivating moon lamp will send your little one to the land of dreams each night. Out of this world, adorable!
Sunny Day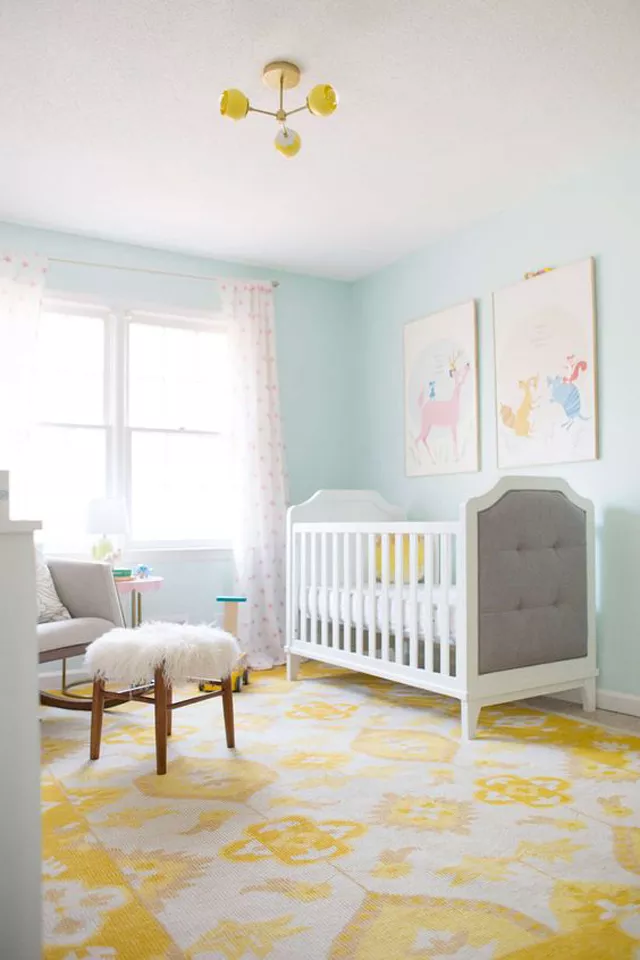 This lively nursery, designed by Lay Baby Lay, features a vivid aqua wall that accents the sunny yellow furniture for an airy summer atmosphere. This light and inviting space creates the perfect ambiance for any infant!
Cobalt Beauty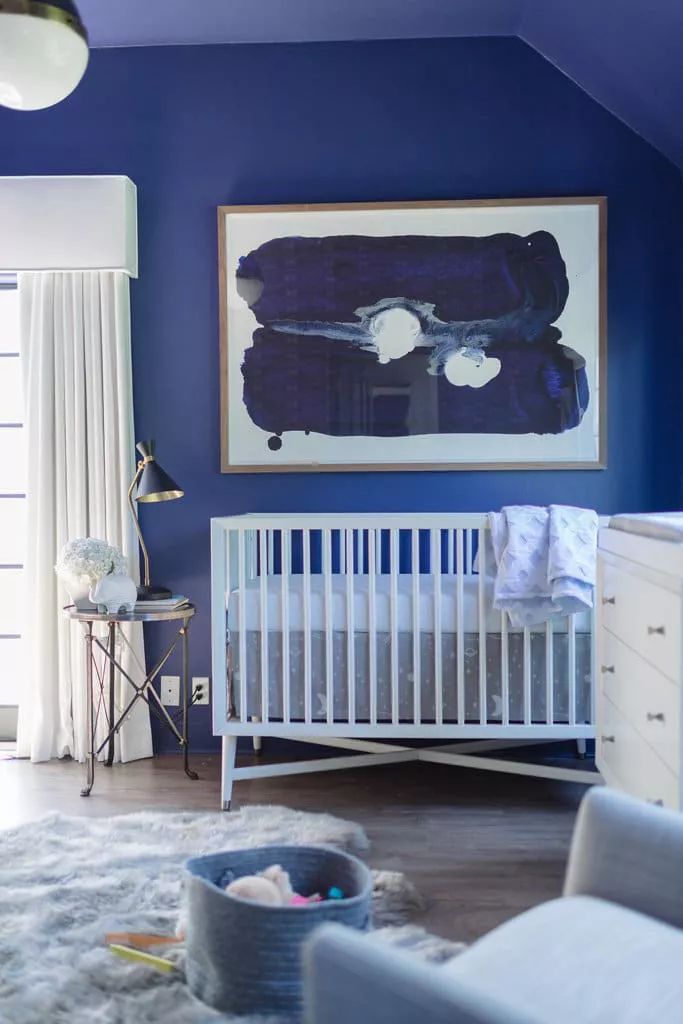 Do you want to be bold with your color choices? This nursery, featured by PopSugar, demonstrates the perfect blend of bright cobalt blue and crisp white accents. The ceiling painted to match creates an expansive illusion, preventing the walls from becoming too oppressive. This stylish combination allows homeowners to enjoy bold but airy decor in their favorite rooms.
Half and Half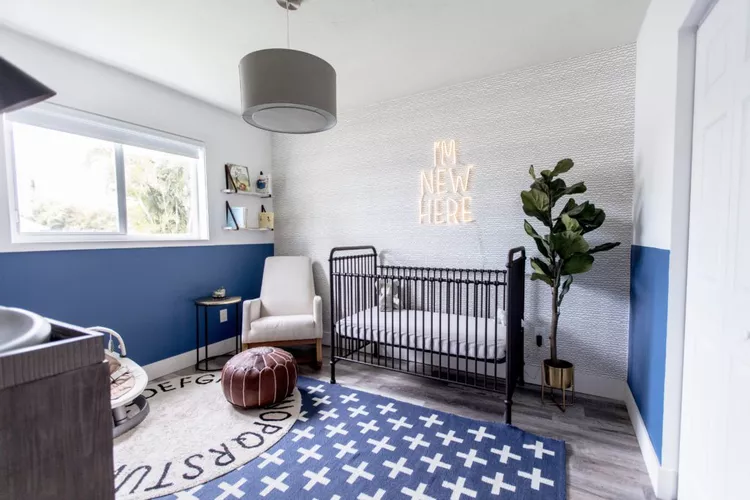 If you have a small room but want to experiment with a bold color, try using a 50-50 split. This contemporary space featured in Project Nursery uses a half-wall in an eye-catching shade. The bottom portion of the wall is anchored by the striking hue, while the remaining upper portion creates an illusion of height and depth. It's both stylish and practical!
Barely Blue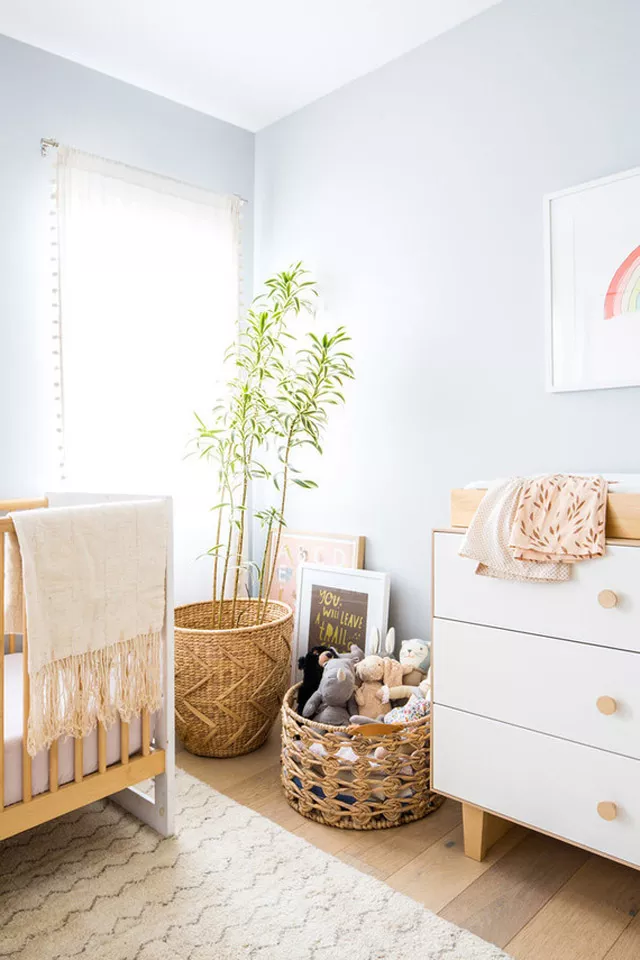 For those who prefer a more subtle décor, this minimalist nursery from 100 Layer Cakelet provides a soothing atmosphere, utilizing a barely-there blue tint to soften harsh all-white areas. This low-key approach is perfect for creating an understated yet tranquil space.
Fresh Florals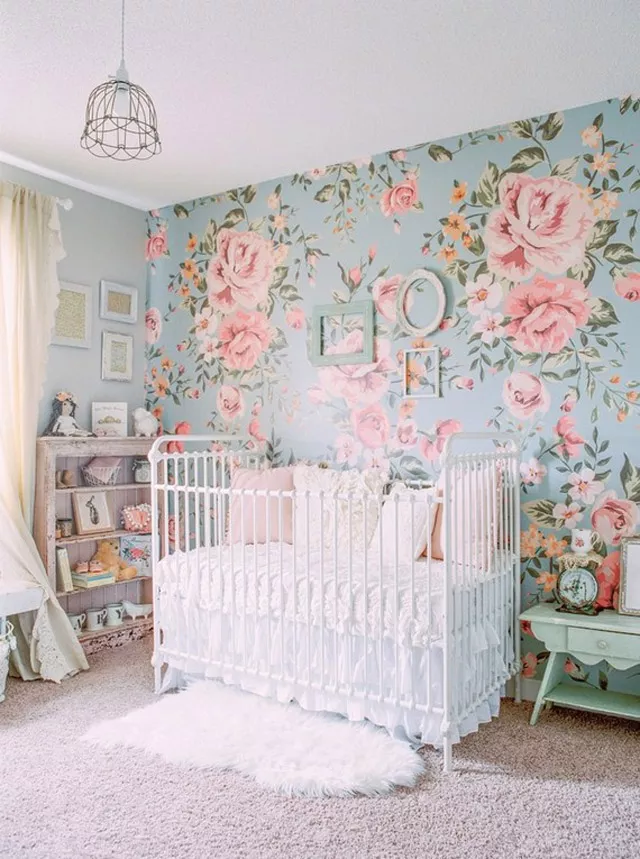 This stylish nursery from 100 Layer Cakelet proves blue can be feminine, too. The eye-catching floral print and blush accents create a dreamy atmosphere. Soft textures evoke a sense of warmth, making it the perfect spot for any little girl to relax or play. Altogether, this room is every bit as enchanting as it is charming!
Periwinkle Perfection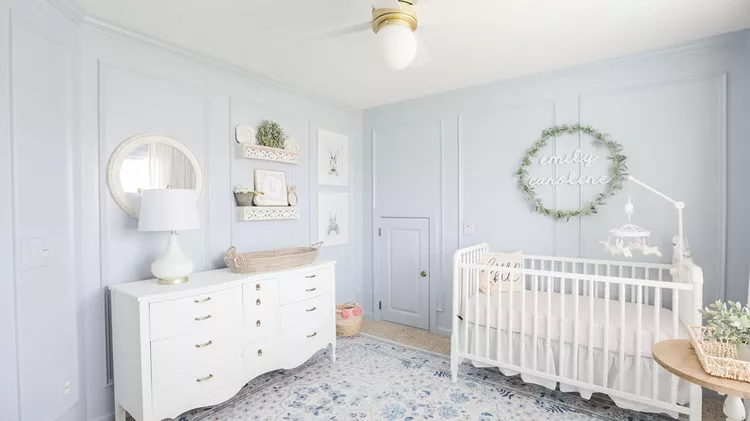 A hint of violet transforms a soft blue hue into the attractive shade of periwinkle, creating a beautiful vintage look for this nursery room from Project Nursery. Carefully decorated with pastel shades like pale peach and muted sage, this cheerful choice is ideal for a girl's bedroom in spring.
Blue Skies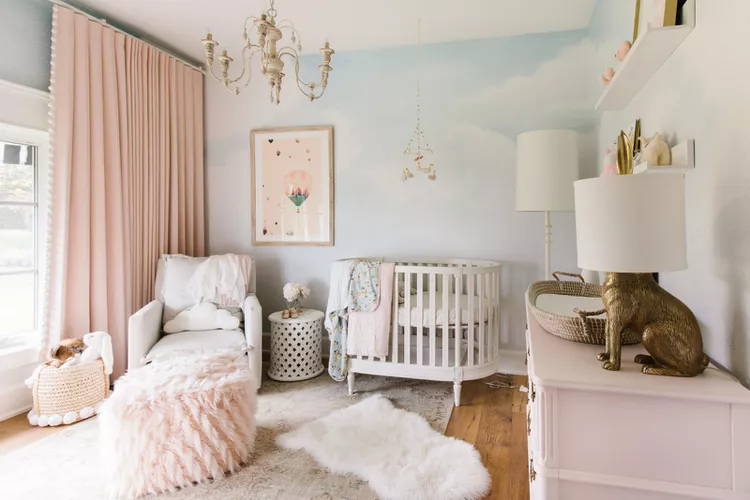 Jillian Harris crafted this luxurious nursery room with a realistic sky mural and numerous soft cloud-inspired textures. Its calming blue and pink tones provide a warm and inviting atmosphere where you and your little one can rest and admire the beautiful sky together.
Aqua and Red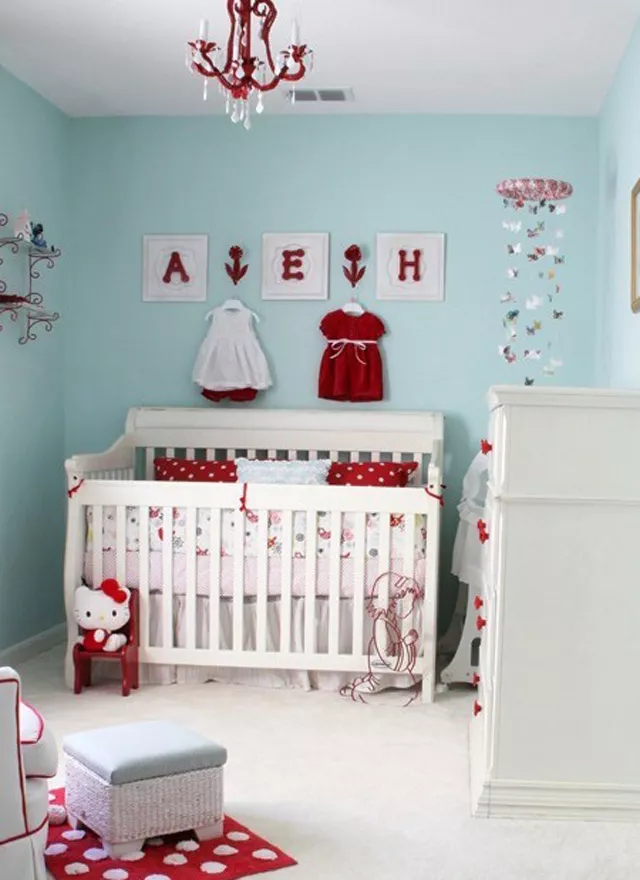 Nothing satisfies your sweet tooth like a wonderfully designed nursery! This unique blue and red nursery by M is for Mama and will certainly deliver, with its candy apple notes and cotton candy walls. Whether you're looking for something eye-catching or just an enchanting room makeover – this one's sure to deliver.
Teal Cute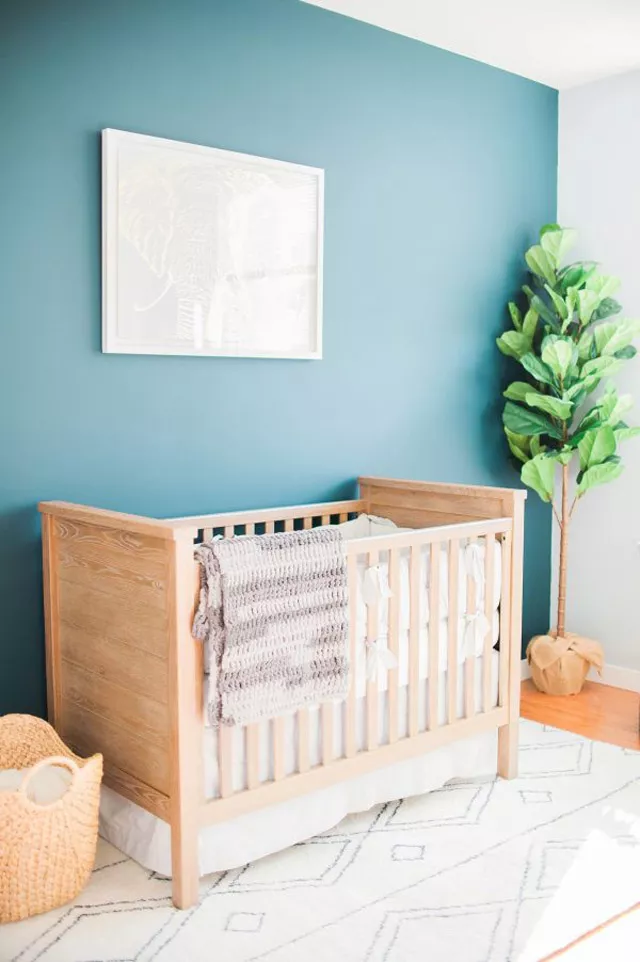 Style Me Pretty recently featured a gender-neutral nursery space with a bold teal display. Teal is the ideal neutral for nurseries, combining blue's relaxation elements and green's energy influences flawlessly. The color can pack quite a punch into your design without overwhelming the room.
Clean Slate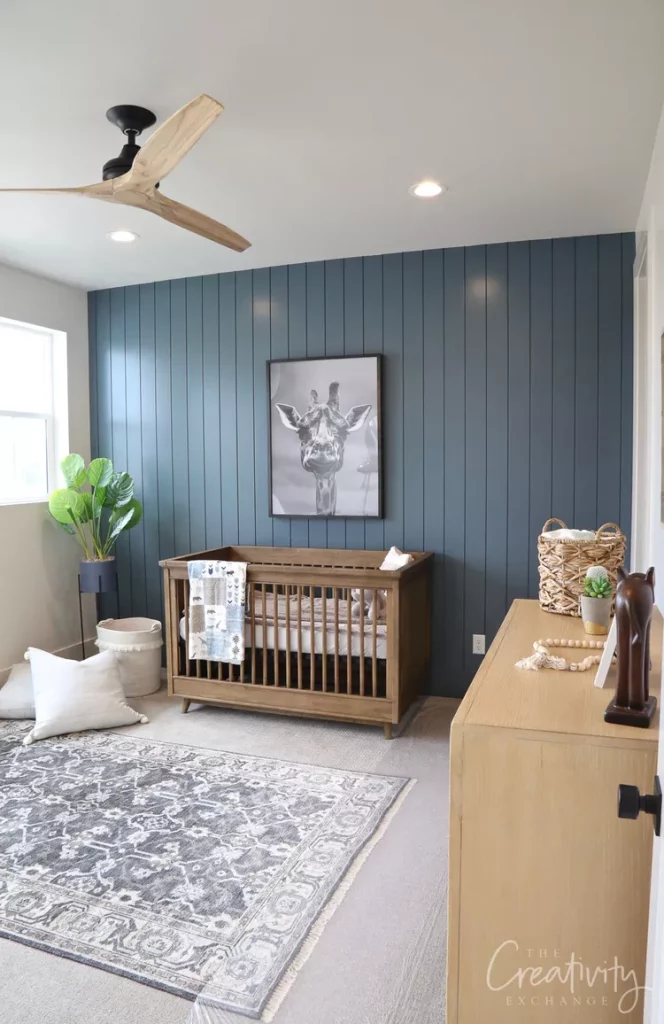 This contemporary space, spotted on the Creativity Exchange, combines soft shades of grey and hints of blue to create a modern and masculine vibe. This unique color combination provides the perfect accent hue for any room looking to achieve an industrial look.
Indigo and Orange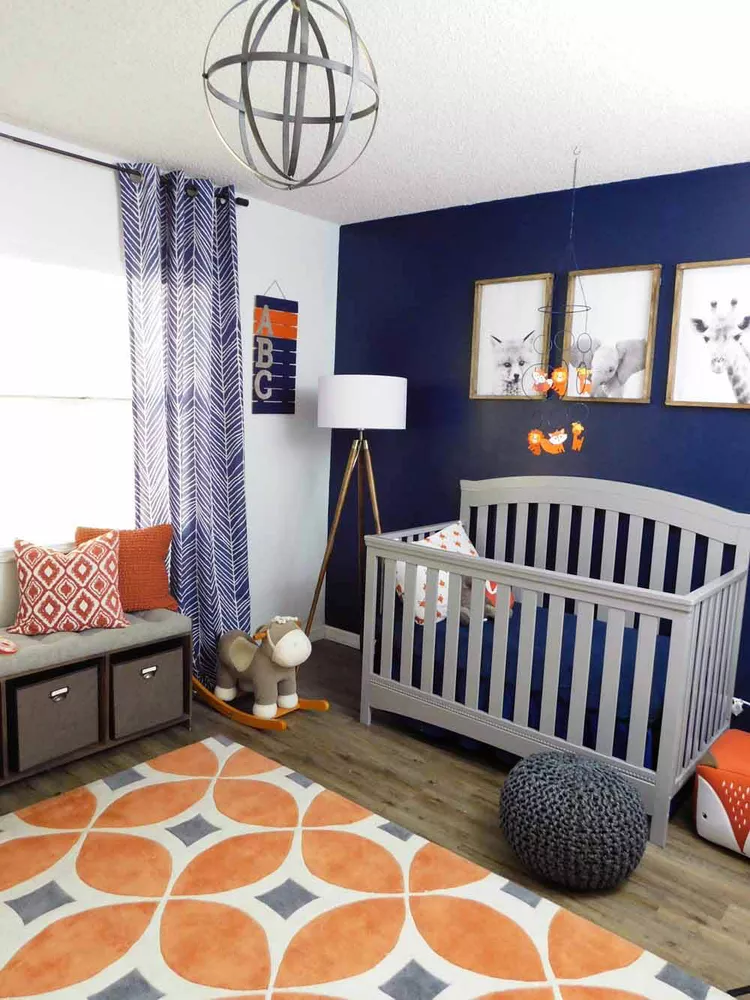 Blue and orange is a timeless combination for a boy's room. In this modern space from My Design Rules, these two colors create an eye-catching look, with the deep indigo blue adding just enough contrast to the vibrant orange hue. It's a bold yet classic choice that works in any decor style.
Navy and Pink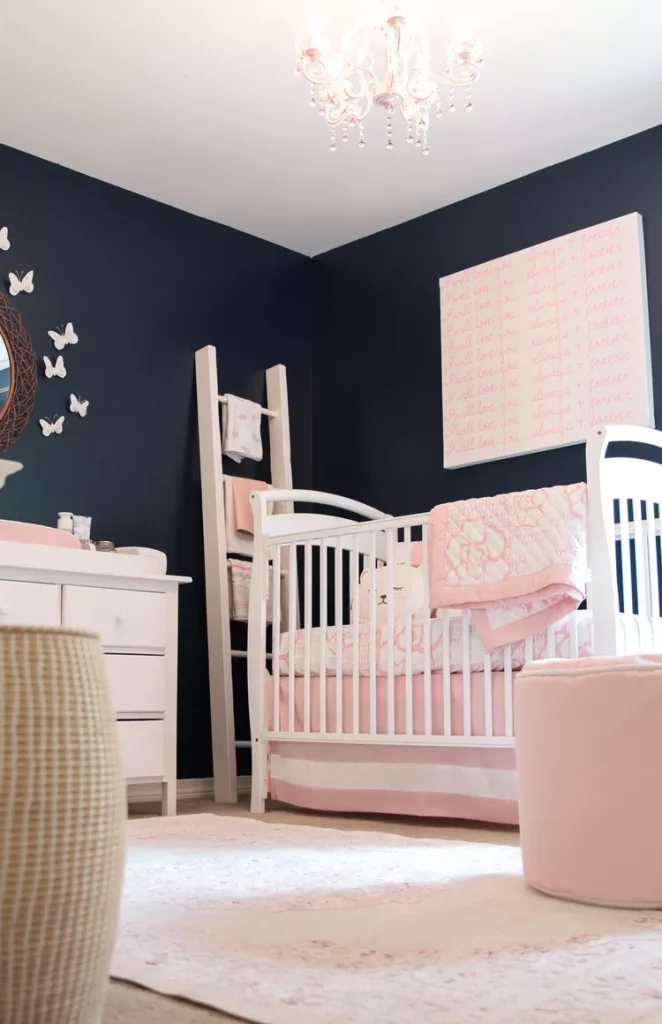 Project Nursery created a stunning space with vivid contrast through its thoughtful combination of bold Navy walls and energizing pink accents. This ensemble gives the room a feminine feel that will transform your space. Let this look be your motivation for pairing unexpected colors!
Peak-a-blue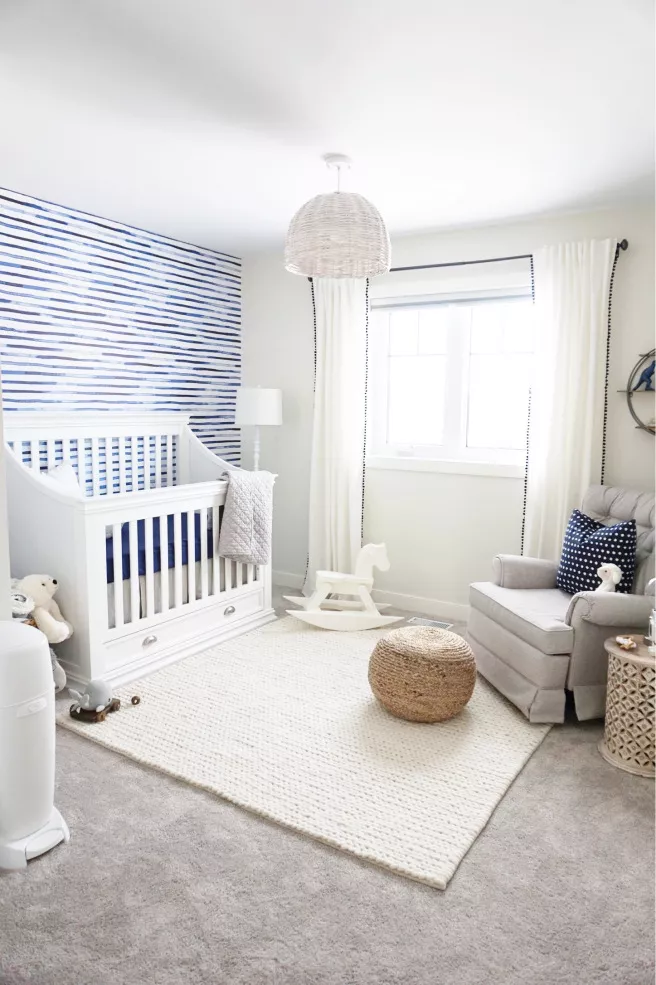 A carefully curated selection of blue accessories can help bring a touch of the ocean into any all-white space. August Lace's coastal nursery shows us just that; this room emanates a sense of calming simplicity through minimalistic decorations and nautical pieces. This room demonstrates how even a handful of elements can have an impactful influence on the atmosphere.
Mint and Navy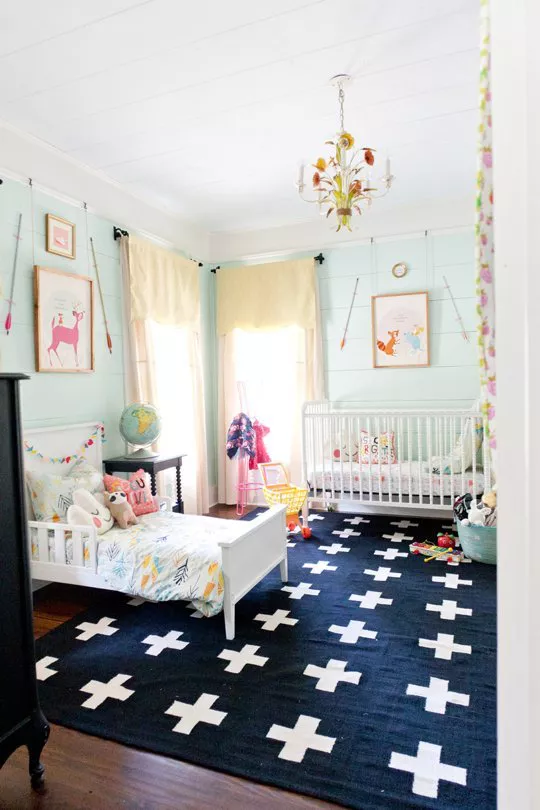 Although people don't frequently combine greens and blues, this underused color combination makes for a sweet nursery color scheme.
An appealing gender-neutral combination of blue accents and crisp mint walls can be found in this Adaptable nursery design by Lay Baby Lay. Another option would be to pair a light sage with a periwinkle or gray-infused blue or to add a splash of lime to a deep navy or cobalt blue.
Powder Fresh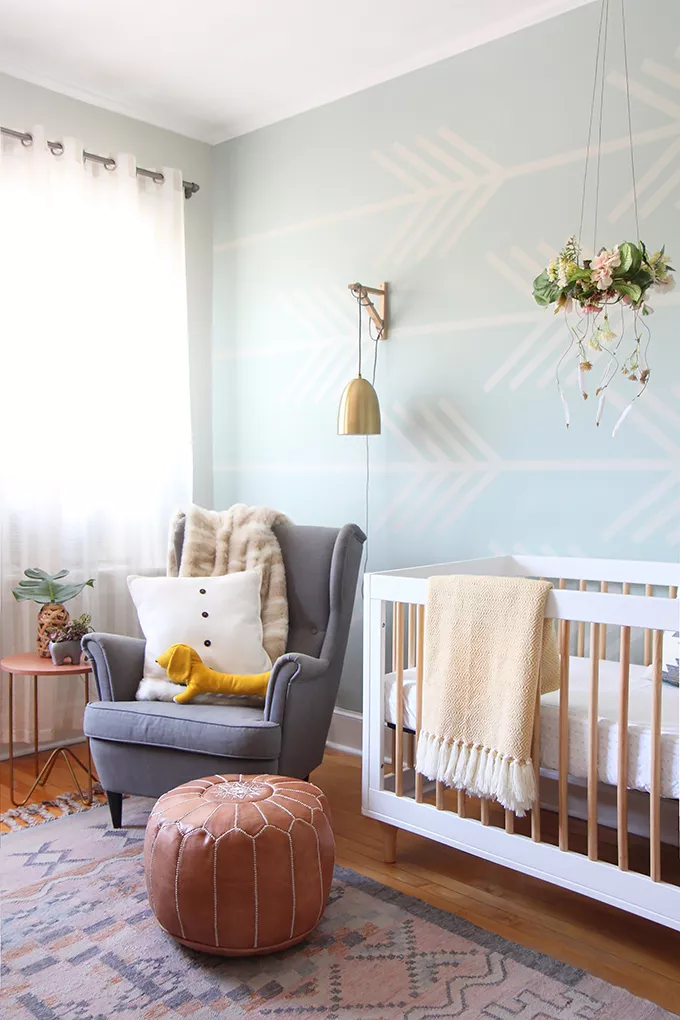 Powder blue receives a modern touch in this stunning woods nursery by I Spy Design.
The room's calming blue accent wall, set against silver-gray walls and coupled with soft pink and blue decorations, offers a subtle homage to nursery history while having a trendy theme and a clean, contemporary appearance.
Inky Print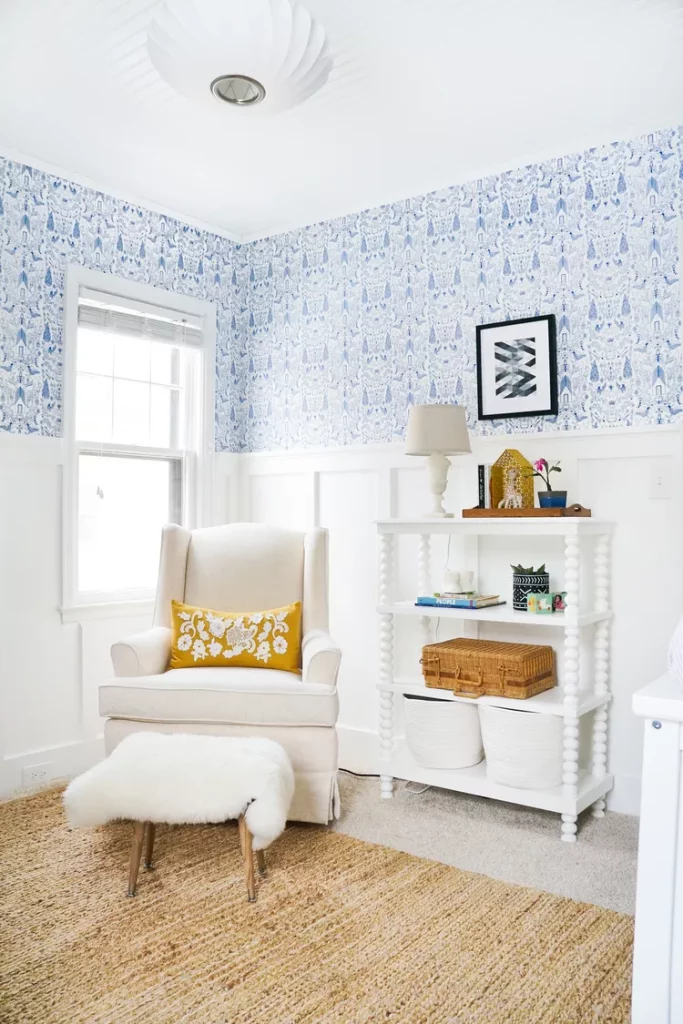 This cheerful and adorable nursery from Francois et Moi has a stunning wallpaper print that adds a humorous touch. It has quirky drawings of wild flora and animals. Striking yellow accents highlight the inky indigo print. The room's vibrantly colored and patterned pieces are given plenty of clean white paneling to stand out.
Also Read
Conclusion on Blue Nursery Ideas
There are many reasons to love blue nurseries! They are calming, serene, and versatile. Plus, blue works well for both boys and girls. If you're looking for inspiration, here are 20 beautiful blue nursery ideas for boys and girls.
FAQs on Blue Nursery Ideas
Can a girl have a blue nursery?
Blue has traditionally been the color of choice for a baby boy's room. Still, in the 21st century, rigid gender conventions are becoming obsolete. Any gender would benefit from a nursery in blue.
What blue baby means?
When your infant develops blue baby syndrome, also known as cyanosis, their skin turns blue, especially when they cry. The lips and hands of your infant have the most noticeable discoloration. A deficiency brings on this illness in oxygen in your baby's blood.