Top 9 Nursery Decorating Ideas in Red and Gray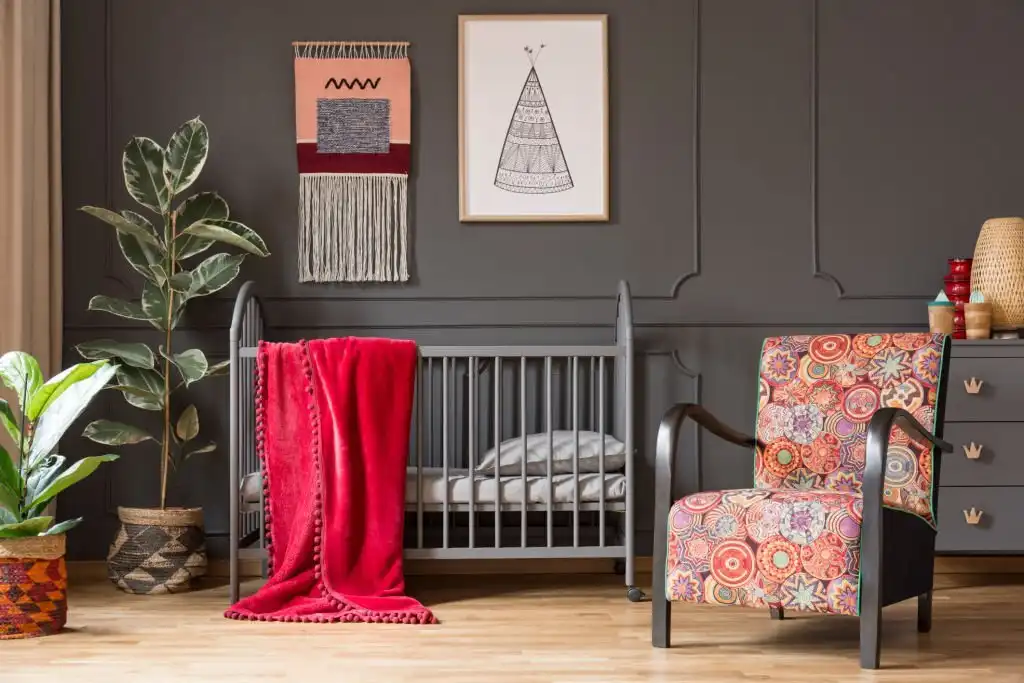 This contemporary nursery offers an excellent balance of textures, graphics, and geometric shapes. Featuring a serene grey palette with Benjamin Moore's Plymouth Rock and Irongate on the walls, it is punctuated by playful pops of red in the form of Ladybug Red accents on the feature wall.
A Liberty Star Flat-weave Rug in beige and white tops of the atmosphere. Altogether, this grey, red, and white color scheme exudes warmth and sophistication—the perfect combination for any Tudor home with Southern Flair!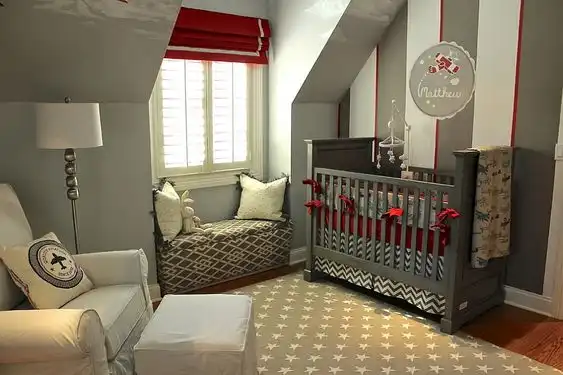 This nursery was created with modern, vintage, and personal elements. From stores like IKEA and Craigslist to antique markets and thrift shops, the parents created an eclectic but inviting room for their little ones.
Flea-market finds that the eye-catching red dresser, complimented by Benjamin Moore's Deep Silver on the walls, creates an interesting contrast that will captivate any child's imagination. Accents like the fun owl pillow and classic toys tie together both families' backgrounds.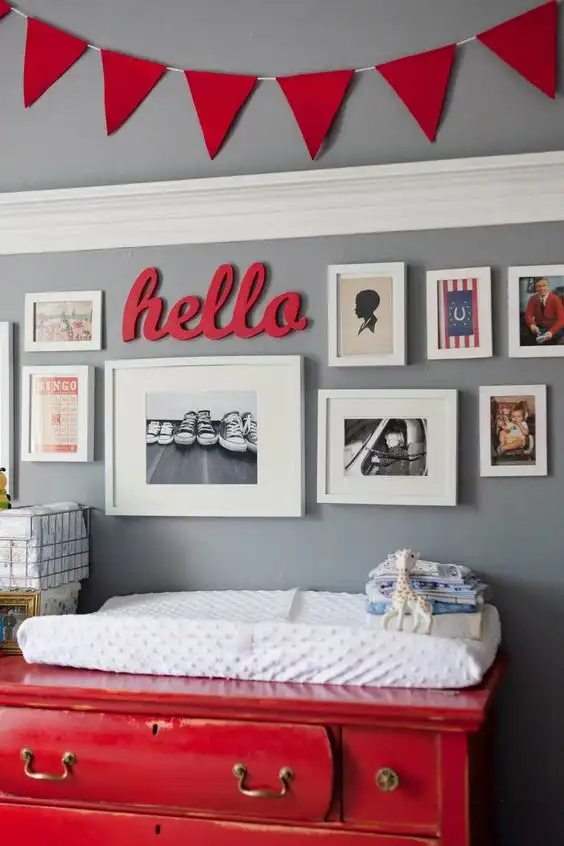 This impressive minuscule wanted to give their little one a special room that was gender-neutral and still full of fun. Taking design cues from the circus, there's plenty of color and whimsy that children enjoy.
It appears it's made an impression – the child is already pointing at various decorations in the room and grinning! The creator stuck to modern furniture styles for versatility should she want to use the space for a second child. This nursery certainly stands out!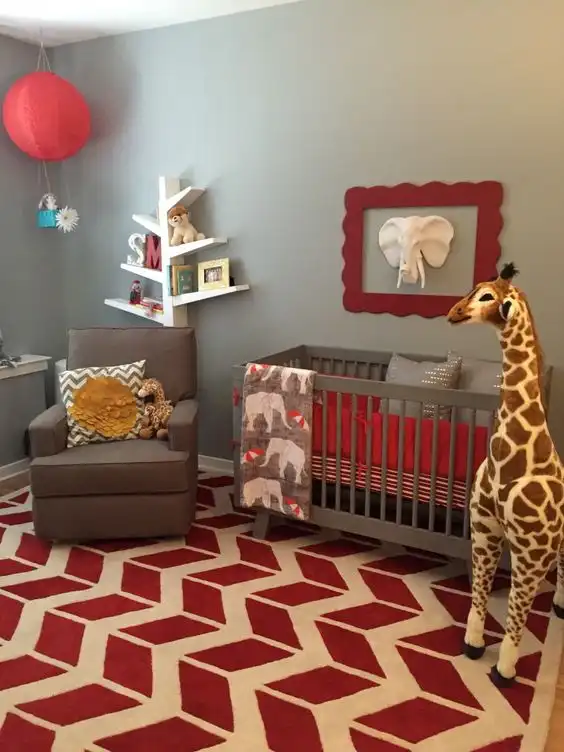 Modern and chic designs come together in this inspiring baby nursery featuring red and gray color elements. A standout feature is the red accent wall that brings a bold look to the room. Tulip Pod Baby Furniture from Canada completes the style with its contemporary design.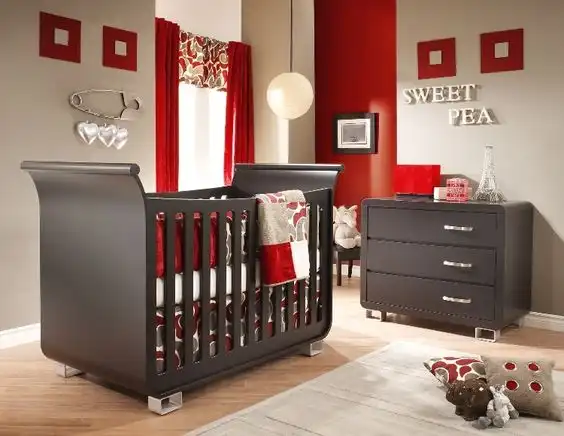 This vintage-inspired baby nursery features an eye-catching painted red crib, providing a charming and unique look. Complemented by soft grey Martha Stewart Cement walls, this design exudes a beautiful style. Take inspiration from this eclectic space for your next decorating project!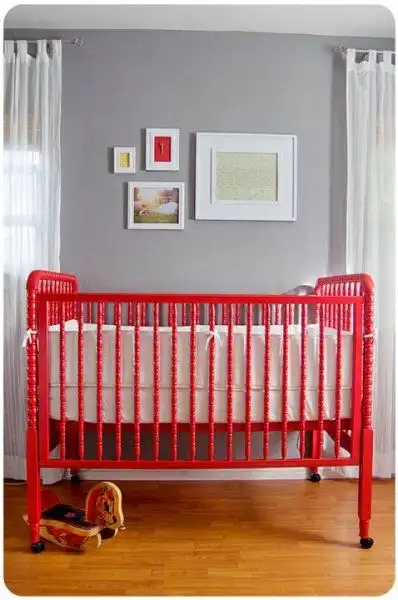 Creating a gender-neutral nursery? Consider the circus theme. With grey, white, and red colors, you can create a sophisticated room with eye-catching decorations like the red marquee letter "K" and an oversized stuffed animal, making it magical for kids.
Joy Kelley from HowJoyful has some helpful tips for getting started. Check out Etsy or eBay for online purchases that'll elevate this design!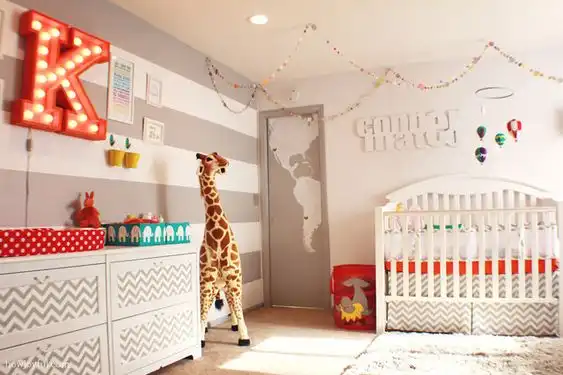 This nursery offers a blend of traditional and contemporary stylings, featuring Red Squiggle wallpaper by Vivienne Westwood. The use of light and dark grays on the walls and closet adds an interesting touch to the overall look.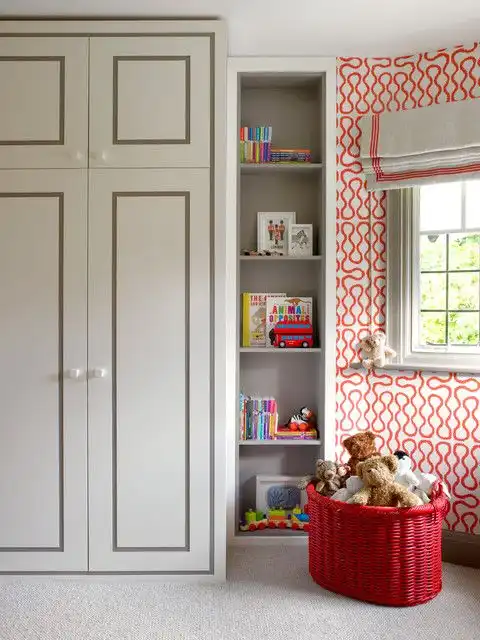 The Rockwell's Star-Gazer Nursery is beautifully designed with a light gray and white theme, featuring an additional touch of dark red to create a unique look. We designed this nursery to create a playful yet sophisticated atmosphere with minimal effort and cost.
The thrill of planning this room was similar to creating a party setting – only that you will enjoy the results even longer! As for baby Modette, we already had all the necessary items for the nursery in place, so it simply needed updating.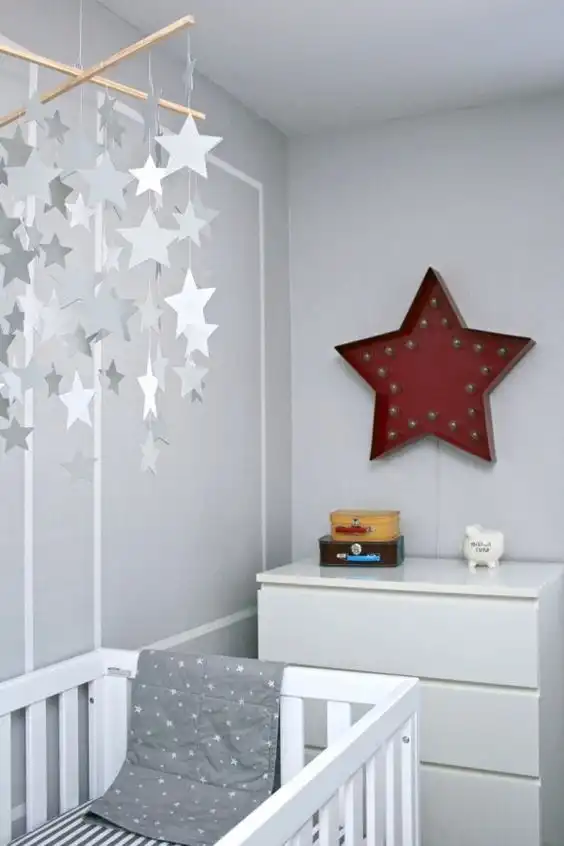 This stylish baby nursery, designed by Christina Forrest, is the perfect blend of classic and modern decor. Its grey damask wallpaper adds a touch of sophistication to the room, while its four-post crib, velvet, satin accents, and chandelier add elegance and glamour. The combination of grays and reds lends itself perfectly to this sophisticated yet slightly gothic design.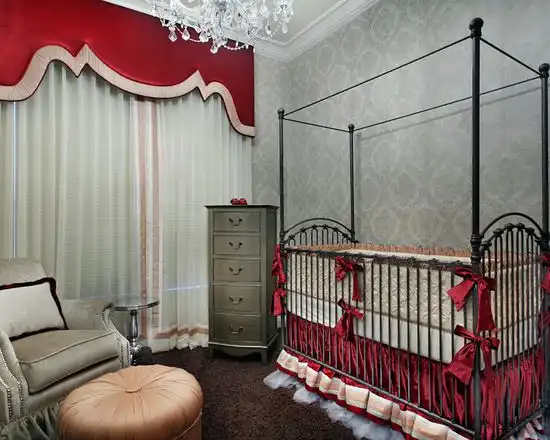 Parents have a lot to consider when designing or curating the perfect nursery for their baby. Parents seek specialized advice and solutions, from choosing the right furniture and decorations to creating an aesthetic that fits the rest of their home.
We offer insight on baby nursery ideas, best nursery furniture, good nursery design, nice nursery design decorating ideas, nursery designs, nursery furniture ideas, and more. No matter what kind of look you want to create for your little one's room, we have all the inspiration to make it happen!
Verdict
There are many ways to incorporate red and gray into your nursery decor. Using these colors, you can create a trendy, stylish, and sophisticated space for your child.
FAQs
What colors go with GREY in the nursery?
Gray walls are useful in many spaces due to the neutrality and variety of decor combinations they can be paired with. Whether you use crisp white colors for a light and bright look or dark woods for a more rustic feel, gray walls offer versatility that serves as a great long-term color without needing to repaint frequently.
What colors compliment red?
Primary red is compatible with various other shades, including yellow, orange, blue, white, and black. Cherry red is the deep red color associated with tomatoes and blood. This vibrant hue works well with azure blue, gray, pale orange, tan and pale yellow.