15 Striking White Nursery Ideas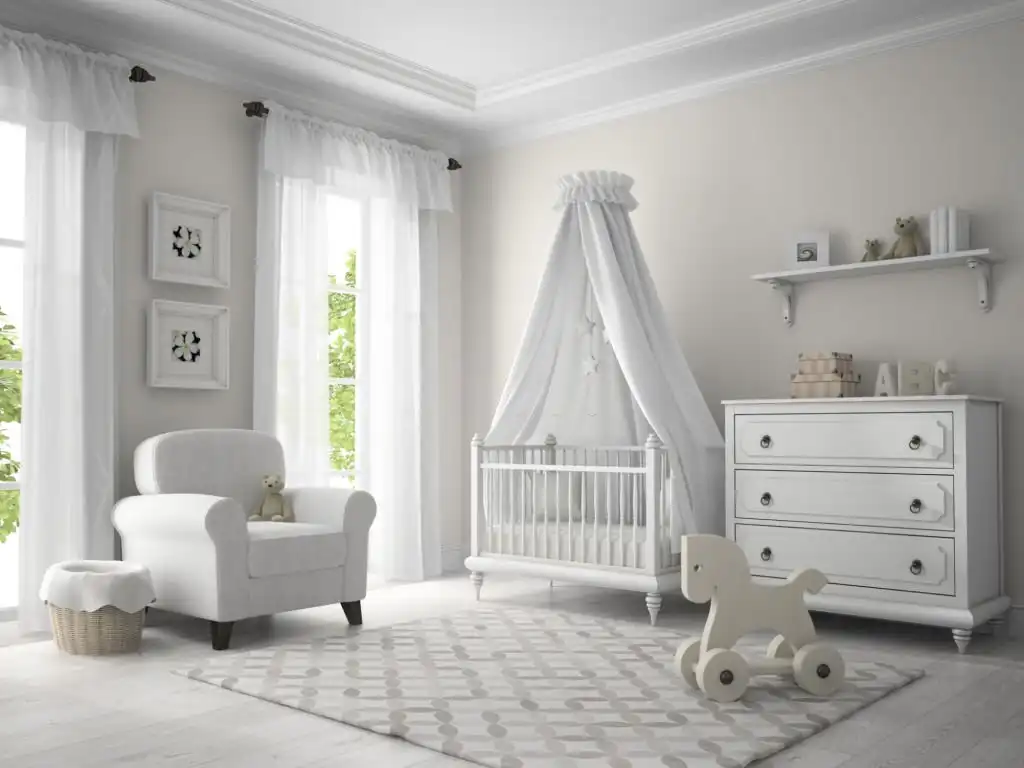 Introduction to White Nursery Ideas
Are you a parent looking to give your child's bedroom a modern yet ethereal makeover? If so, an all-white nursery may be the right choice for you! Neutral grey and beige nurseries, as do black and white ones, remain popular. However, pure white remains timeless and can be the perfect atmosphere for children to grow up in.
Sure, it might sound intimidating initially, but the texture is key when creating a clean yet warm white nursery that won't look out of place or too "vanilla." With some bold rugs, wall hangings, and other design elements are thrown in, your baby's room will become effortlessly inviting.
A few inspirational rooms with boho vibes, classic designs, or modern touches can help get you started — take a look at these amazing white nursery ideas we've handpicked for you!
Clean elegance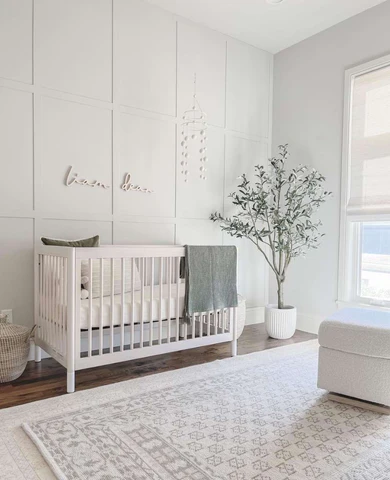 This neutral-hued space showcases an elegant design thanks to architectural wall details, prominent rug layering, and a tasteful potted plant. Without the crib, this bold white room could be any bedroom, and that's why it stands out. This simple layout will make any homeowner proud, whether for relaxation or quality family time.
A white nursery that sparkles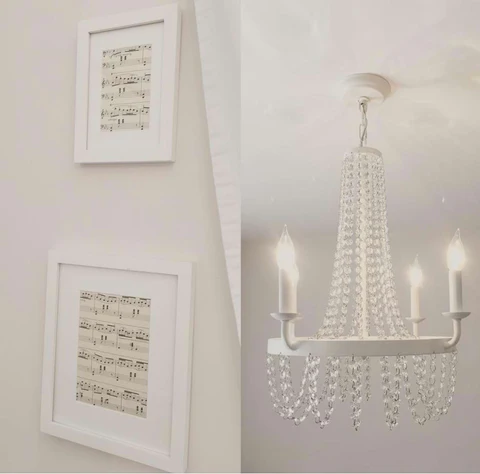 An all-white nursery is often the right choice for a clean and organized look. However, if you're concerned that this may lead to a lack of detail, there's an easy fix. Introduce drama with a beautiful white chandelier – a great focal point without introducing any color!
Vintage white nursery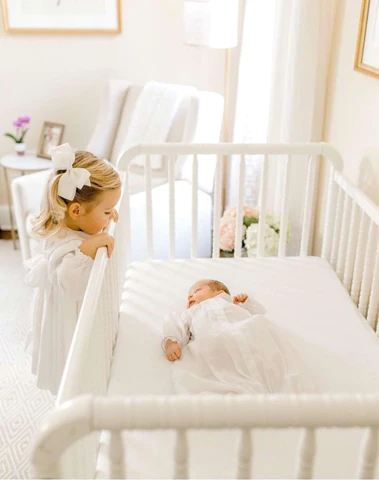 Drawing inspiration from the past can be a great way to design a nursery. To achieve this timeless look, pair neutrals like white walls and bedding with a wooden crib.
Adding framed artwork and fresh flowers also helps to create a lovely and inviting atmosphere that will stand the test of time. With these elements in place, you've got an elegant baby room that any parent would love!
White nursery with gold accents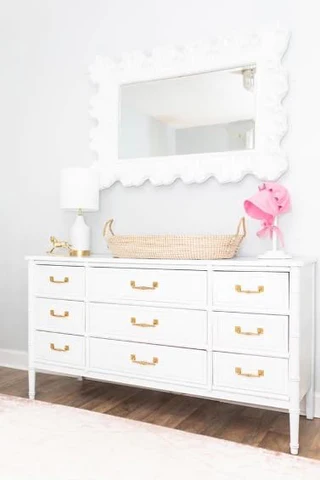 Make your nursery shine with the addition of a few metallic decorations. Gold accents will add some sparkle and whimsy to this baby girl or boy's room, creating an enchanting atmosphere fit for any fairytale. You can include them in drawer pulls or atop dressers for a magical touch.
Ultra-modern white nursery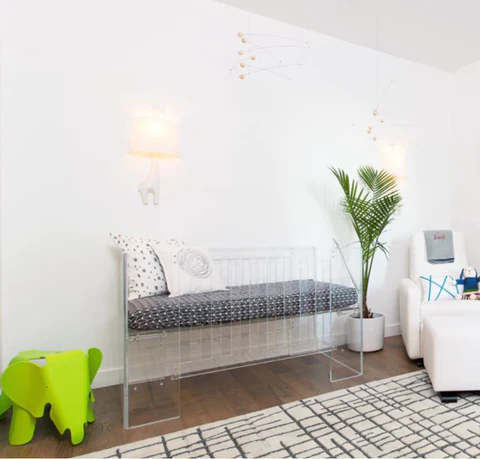 A unique, aesthetically pleasing design element is to use an all-white color palette and then introduce splashes of color with accessories. A bedroom adorned in this style could be a fun, dynamic place for children to grow up in. Imagining the possibilities of such a space is exciting.
Minimalist white nursery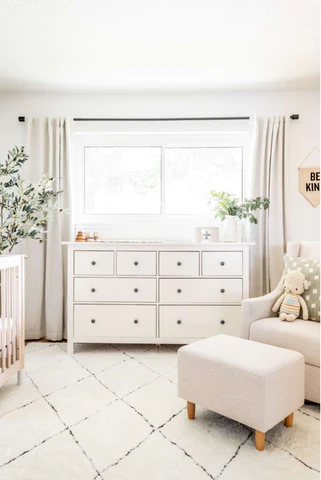 This nursery utilizes a simple and minimal white theme, allowing for an emphasis on fewer furnishings. Yet there are still playful touches in the form of stuffed animals and wooden toys that suggest this is a welcoming space for a baby.
White nursery with a touch of gray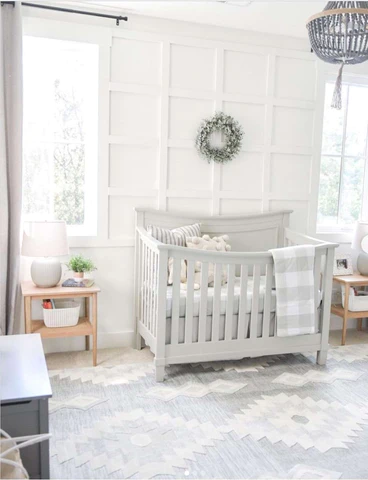 Soft grays are a great way to add visual interest and keep the room feeling light and airy if you're looking for a subtle contrast in your nursery that doesn't include black and white. Grays can be eye-catching without deviating too far from the classic all-white palette.
White nursery with natural pops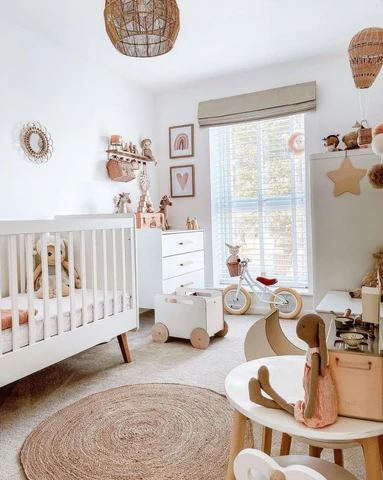 White is one of the top choices for nurseries, as it creates a blank slate that makes focal items stand out. Additionally, toys, decorative pieces, and accessories can be easily added or removed without clashing with the background.
Painting the walls white and using predominately white furniture will allow parents to refresh the nursery design as their little one grows continuously. Moreover, with its beautiful backdrop, your baby's room can be a play space where they can explore endlessly.
White nursery with whimsical details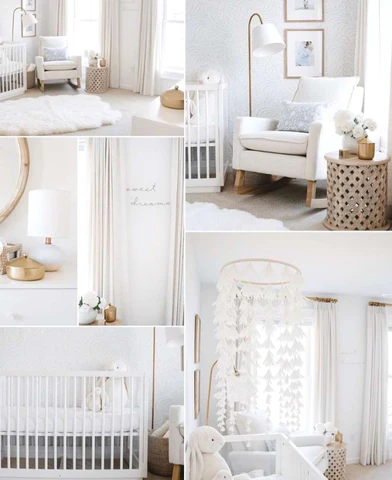 Decorate your baby's nursery with subtle elegance and create a unique space. Use wallpaper to add a unique touch, hang soft feathery accents, adorn the flooring with a comfortable rug, and bring it together with beautiful metallic accents. Add fun and functionality to your nursery for an unforgettable setting.
White nursery with texture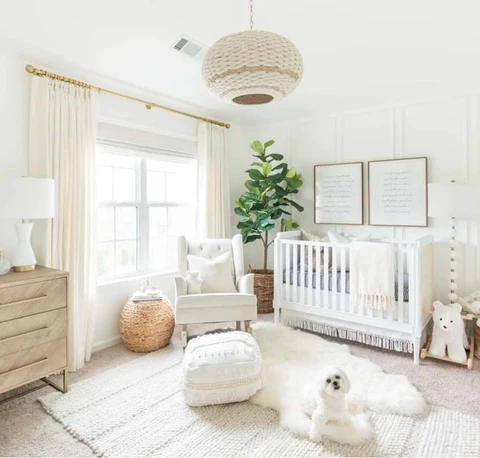 All-white nurseries provide a classic and timeless look, but you can also add visual interest by incorporating different textures.
Baskets, light fixtures, rugs, blankets, and even bedding with fringes all make great additions to an all-white nursery. For an elegant yet cozy atmosphere, consider mixing and matching these materials for a peaceful space with plenty of character.
White floral theme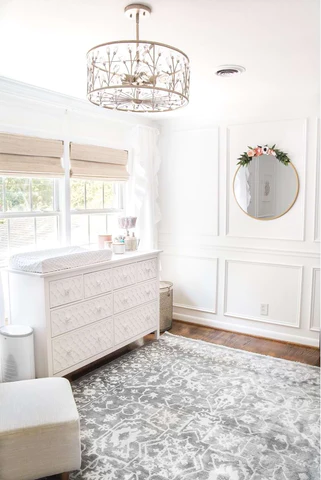 A baby's room can be designed in a soft, feminine style, even with mostly white furnishings. Floral accents like area rugs and drawer pulls can help create a delicate look that any parent will love. Add some floral elements to the walls and lighting to complete the style.
White nursery with a tufted crib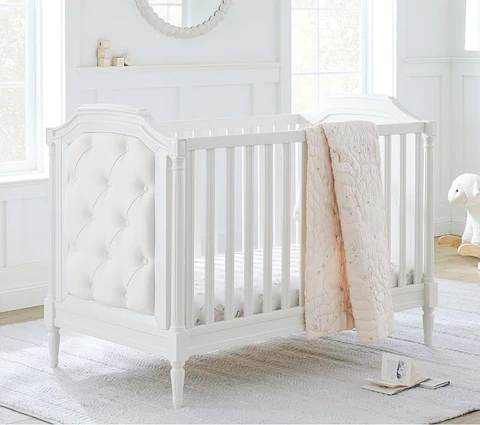 Add a special touch to any nursery with a showstopping statement crib. Incorporating texture into an all-white baby room is a great way to create a one-of-a-kind space and make the baby's sleep spot the focal point. Plus, it instantly adds sophistication and style without going overboard. Make sure to check out these high-end statement cribs today!
Bright white nursery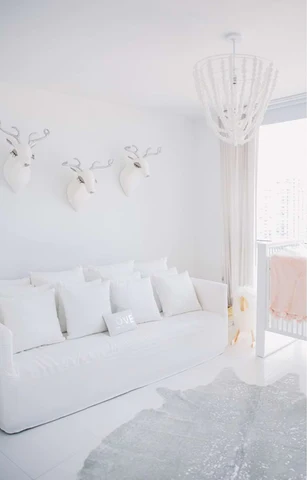 Megawatt white is quite a statement; these parents certainly nailed the style. From the shimmery floor covering to the wonderfully cushioned daybed, this all-white design is both dramatic and elegant. This look may be ideal for you if you're fortunate enough to have plenty of light in your child's room.
Mod white baby room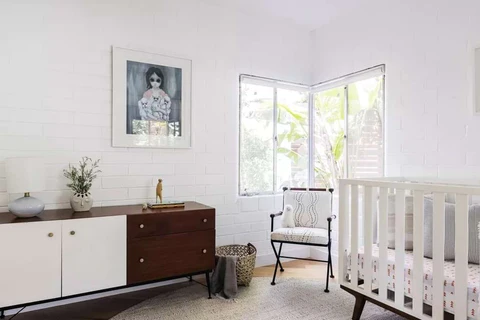 For those looking for a modern spin on a classic baby room, incorporating Mid-Century Modern furniture with vintage accents and artwork against white walls could create an incredibly stylish nursery. Anyone can make their child's room unique and beautiful with the right elements.
Open & airy white nursery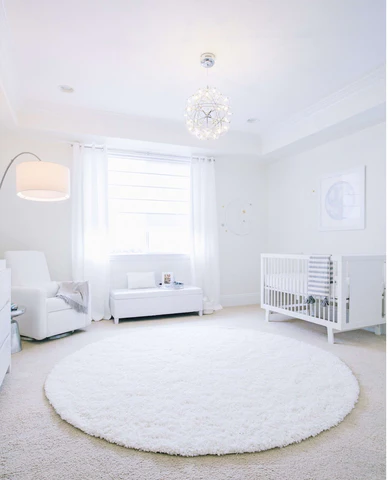 This bright, airy nursery brings a celestial theme to life with just the faintest of hints. To add a touch of sophistication and convenience, why not include SNOO in the decor?
This one-of-a-kind smart bassinet responds automatically to your baby's cries, providing peace of mind by soothing fussing and helping to increase sleep significantly. With function meeting form in every detail, this white nursery will shine.
Verdict
If you're looking for a chic and elegant nursery design, you can't go wrong with an all-white palette. White nurseries are timeless and can be easily adapted as your child grows. Plus, they're incredibly versatile – you can add pops of color with art and accessories or keep it simple and serene. Check out these 15 stunning white nursery ideas for inspiration.
FAQs
How do you style a white nursery?
Create a bright, airy space with white as the base and use black to add interest. Furniture, walls, and floors can all be white, while small accents of black in soft furnishings provide a contrast. Think rugs, cushions, wall art, and hooks for maximum effect
What color is calming for babies?
Neutrals like beige, tan, and taupe are ideal for creating a safe and comfortable environment for your baby. These shades don't overwhelm babies' developing vision, allowing them to relax easily and drift off into dreamland. Neutrals offer an earthy touch of comfort that will add warmth to any nursery.
What colors help babies sleep?
For decorating your child's bedroom, colors such as blue, green, pink, yellow, or orange are ideal due to their calming properties. This can encourage the brain to relax and ready itself for sleep by providing a non-stimulating environment.