5 Things to Consider When Choosing a Glider or Rocker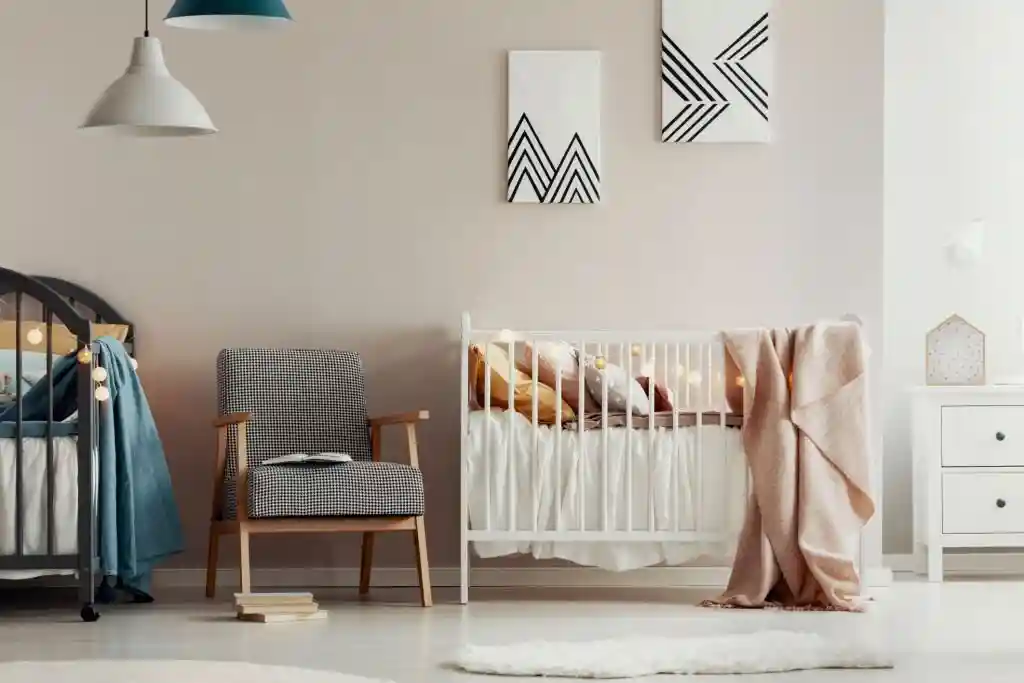 There are many different types of nursery chairs on the market, especially nursing chairs, so it is essential to ensure that the one you purchase has all the characteristics you need.
Every parent will have varied wants, and some parents won't need certain things. However, there are a few key features that all nursery chairs should have. Firstly, they should be comfortable for both you and your child. Secondly, they should be easy to clean and maintain.
Thirdly, they should be durable and able to withstand wear and tear. Finally, they should be affordable. With so many options available, it is important to take your time and choose the perfect chair for you and your little one.
All glider rockers give a secure place to sit, but different kinds have different advantages. When selecting a nursery glider rocker, keep these five qualities in mind:
Comfort
Your baby will need to be fed in the middle of the night, so you'll need a chair that is as comfortable as possible for both of you. A glider chair with a soft cushion is a good option, as it will allow you to rock your baby back to sleep after feedings.
Herefore, selecting a comfy chair with additional support is crucial, especially for new mothers. A supportive chair will help to ensure that you are comfortable while nursing your baby and will also help to prevent any back or neck pain.
For late-night nursing or bottle-feeding sessions, a comfortable chair with a lumbar pillow, a thick seat cushion, neck support, a recline mechanism, and a higher back is ideal.
If you decide against a chair, add an ottoman to feed your pet late at night while putting your feet up.
By the way, if you can visit a nearby store and sit in several of these chairs, I recommend determining which type of chair is most comfortable for you by experimenting with various designs, features, and sizes.
Durability
A glider rocker is an investment, so it's important to learn where it was made and whether high-quality components were used. Checking the manufacturing process and ensuring that the glider rocker meets your expectations in terms of quality will help you get the most out of your purchase.
Additionally, you should consider the chair's construction. A robust hardwood frame, kiln-dried wood to prevent warping or to bow, good rocker rails, strong legs, a locking mechanism, safety features, smooth chair glides, and a gliding mechanism are all things to look for.
Verify the product's warranty information carefully. Most trustworthy businesses will provide a warranty of at least three years.
Additionally, a nursery rocker will be vulnerable to spills and stains, so check that the fabric can be cleaned and won't leave behind water stains. Selecting a chair with performance fabric can guarantee that it will continue to look excellent over time.
Safety
The safety of you and your child is paramount; another critical feature to look for when choosing a glider or rocker is that it is Greenguard certified. This certifies that the chair meets strict chemical emissions limits for cleaner indoor air, keeping you and your loved ones safer.
Additionally, if the nursery chair you select has a sliding mechanism, check that the hardware is hidden to avoid curious fingers from accessing the mechanism.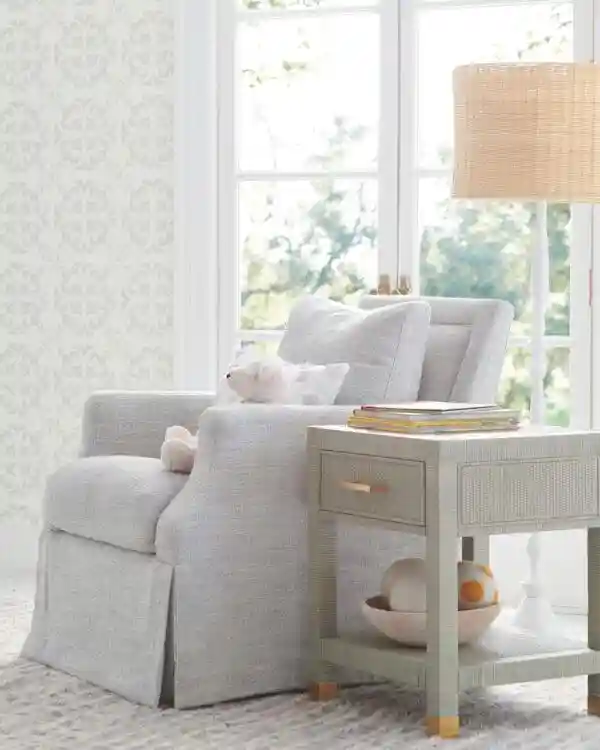 Style
Since this is an investment piece, you should pick a nursery rocker that blends in with the rest of the furniture in the baby nursery and is attractive enough to be utilized in the living room or bedroom. A classic style would be a great choice that will never go out of style.
Another option would be to choose a modern style that complements your home's other contemporary pieces. This could involve selecting furniture with clean lines and a minimalistic aesthetic. You might also consider adding some industrial elements, such as exposed metal or concrete. By doing this, you can create a cohesive look that still feels fresh and exciting.
Another thing to consider is whether the chair comes in various fabrics and colors, so you may choose a glider or rocker that complements your preferred design theme and color palette.
Size
I advise measuring your room and confirming a chair's measurements before buying one to ensure a proper fit. Choose a chair with a reasonable footprint if your nursery is cramped for room.
Make sure you have enough space to recline a chair without bumping into a wall if you choose one that reclines. You can turn the chair to a specific angle to fully recline if the chair swivels and reclines.
Additionally, if you are tall, you should pick a chair that won't take up too much room in your child's nursery while being comfortable for taller parents.
What is the best glider or rocker for your nursery?
There are a lot of different chairs on the market, so it can take some time to figure out which one will work best for you. I've researched and come up with my top picks for the most popular gliders and rocking chairs.
Verdict
When choosing a glider or rocker for your nursery, there are a few things to consider:
Decide what style you want. There are many different styles of gliders and rockers available, so take some time to browse and find one you like.
Consider the size of the chair. You want to ensure that it is big enough to be comfortable but not so big that it takes up too much space.
Consider the price.
The more expensive chairs will most likely be more comfortable, but they will also take up more space. Finally, decide what features you want on your glider or rocker. Some features include cushions that support your back, armrests, and footrest. Choose one with all of the features you want so that you can use it for years to come.
Gliders are a type of nursery furniture promoting comfort by simply letting somebody sit tied to its smooth operations because baby experiences gentle movements such as swaying, perhaps coupled with another simple forward and backward motion, hence becoming very advantageous in promoting quality sleep at home too, making it just as important in baby's breathing development for infants which is dangerous when prone thereby avoiding Sudden Infant Death Syndrome(SIDS).
This kind of industry grows popular due to the recent manufacturing boom providing much variety according to Materials (wooden or metal), Adapters (with ottomans), Upholstery (fabric or leather) Armrests, Cushions, Rocker base types suiting any purchaser.
Also Read: 5 Expert Tips To Choose The Perfect Nursery Furniture Set
What makes a good rocker?
A superb rocker finds a pitch where the pressure is lifted off your spine. Although everyone has slightly varied preferences for this position, a decent rocker is constructed with long runners that offer various sitting angles and a back that is tilted back.
What is the difference between a rocking recliner and a gliding recliner?
Glider recliners are similar to rockers, with the difference being they move back and forth on a linear route rather than an arched one. Gliders like Willow from Southern Motion move horizontally and smoothly backward and forward.
What should I look for in a baby rocker?
Consider safety: A strong safety strap that keeps your baby secure will be found on an excellent baby rocker. Scrutinize the frame to ensure it is sturdy and balanced so it can handle easily. And confirm that it was constructed from sturdy, high-quality materials.
How important is a glider in a nursery?
A glider is ideal for calming, hugging, and reading to your youngster. It can also be a cozy spot for nursing or bottle feeding. Nursery gliders' calming motion mimics the womb and aids babies' relaxation and sleep, and provides parents with the necessary back support.