A Neutral Modern Safari Nursery For Atlas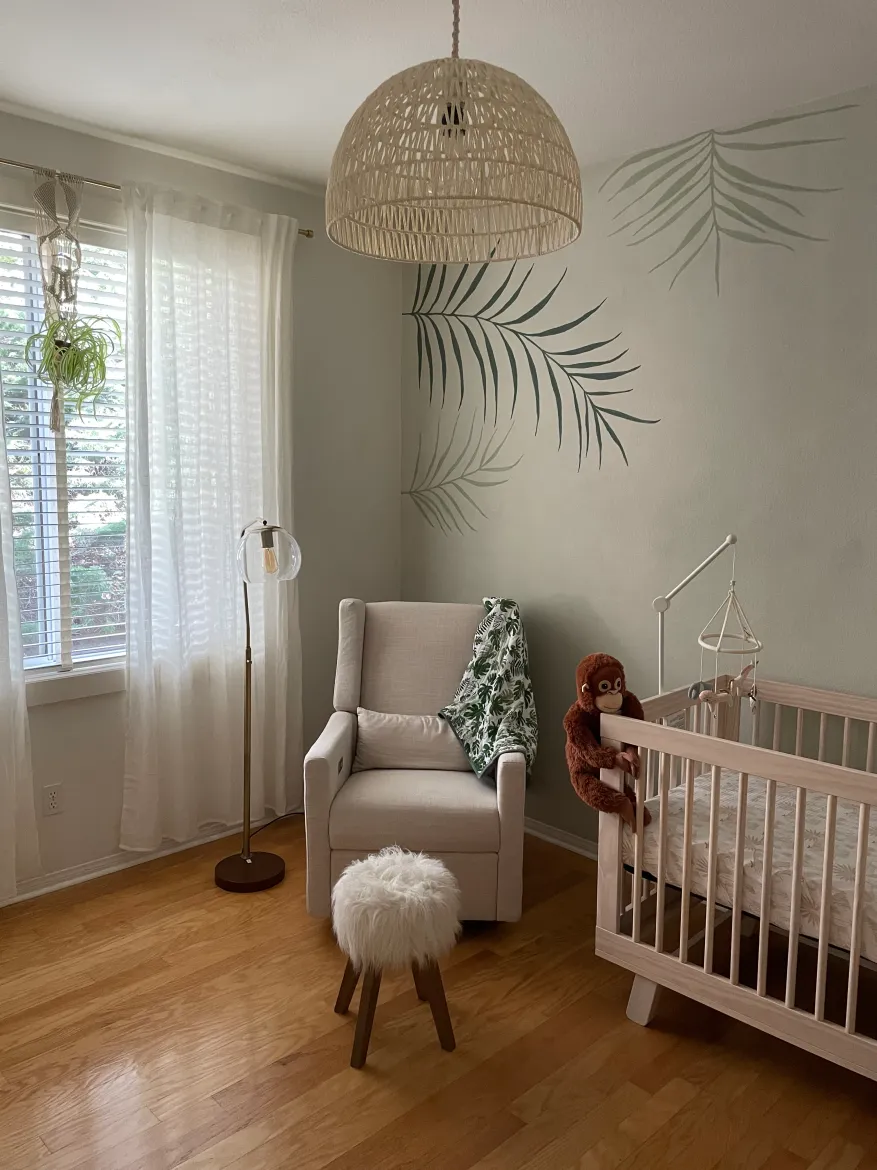 I'm finally sharing Atlas' nursery with you! When we chose Atlas's name, I wanted my baby nursery to be a tranquil haven for him in his early years and beyond and reflect my dreams for him (as a globe traveler).
I wanted to ensure that the furnishings and décor in his room would last a long time and be low in VOCs because I value sustainability and using clean items. In case you're interested, I've included links to where I purchased each item in our nursery. Here it is, our modern/boho nursery with a jungle and travel theme!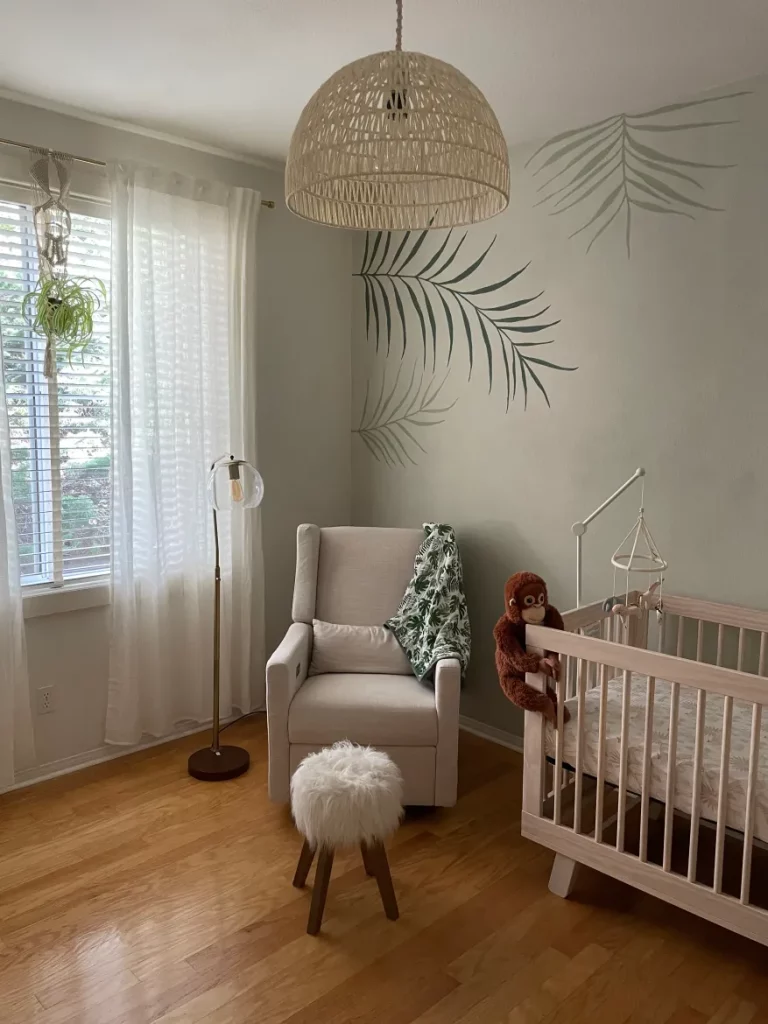 The nursery is furnished with brand-new, gently used items I've gathered through time. I strive to be resourceful while decorating by utilizing items I own as much as possible. We've had this floor lamp and this tiny stool with fur for a while.
I also built the macrame plant hanger hanging from this curtain rod a few years ago (similar linked here). The glider recliner, where I've been spending a lot of time lately, is a new addition to the room, as are the lamp fixture and linen curtains.
As parents, we want what's best for our children. We chose the Babyletto Hudson Crib for our baby's nursery. The Babyletto line of products is all Greenguard Gold Certified, meaning they have low chemical emissions and are healthier and more sustainable for your home.
As Atlas grows, the crib can also convert into a toddler and full-size bed. We chose the Naturpedic Organic Mattress for the inside of the crib because it is waterproof and has a firmer side for the baby and a softer side for when he's a toddler.
Even though the mattress is waterproof, we also got a waterproof mattress cover for extra protection. We got two types of fitted sheets – an elephant safari-themed sheet and quick zip sheets for easy washing (because of blowouts). Thanks for everything, Babyletto!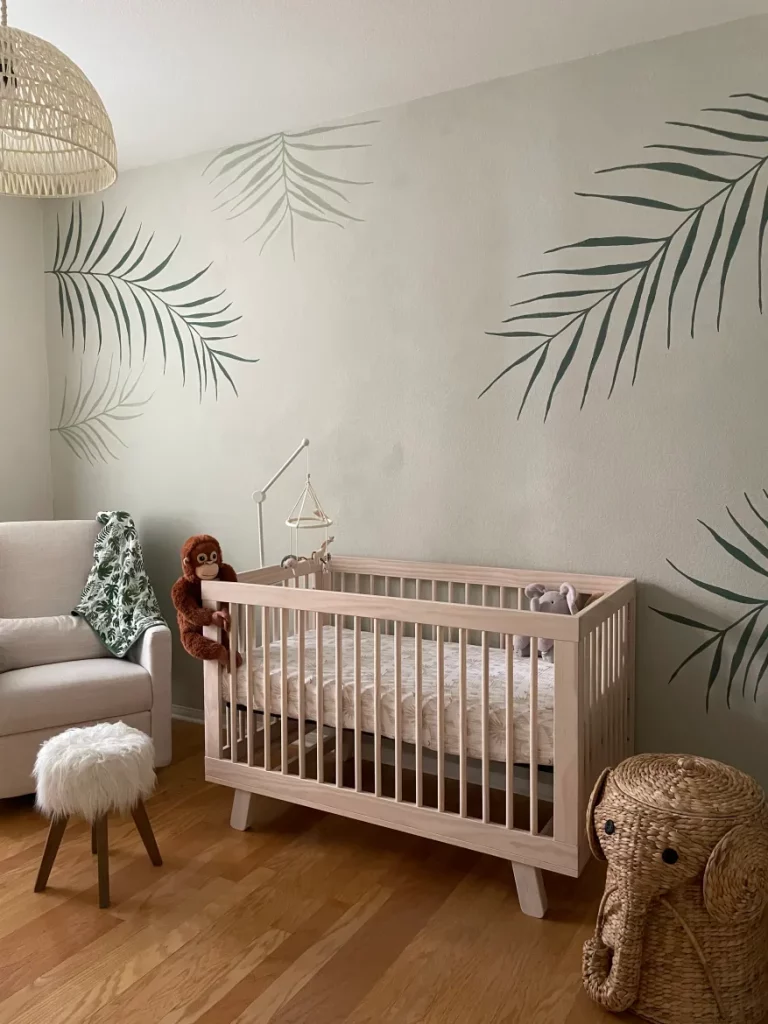 We asked friends and family to decorate our nursery with a safari theme, so we got many animal-themed items. Here are links to the mobile, armchair, monkey rocker, animated elephant, and elephant laundry hamper.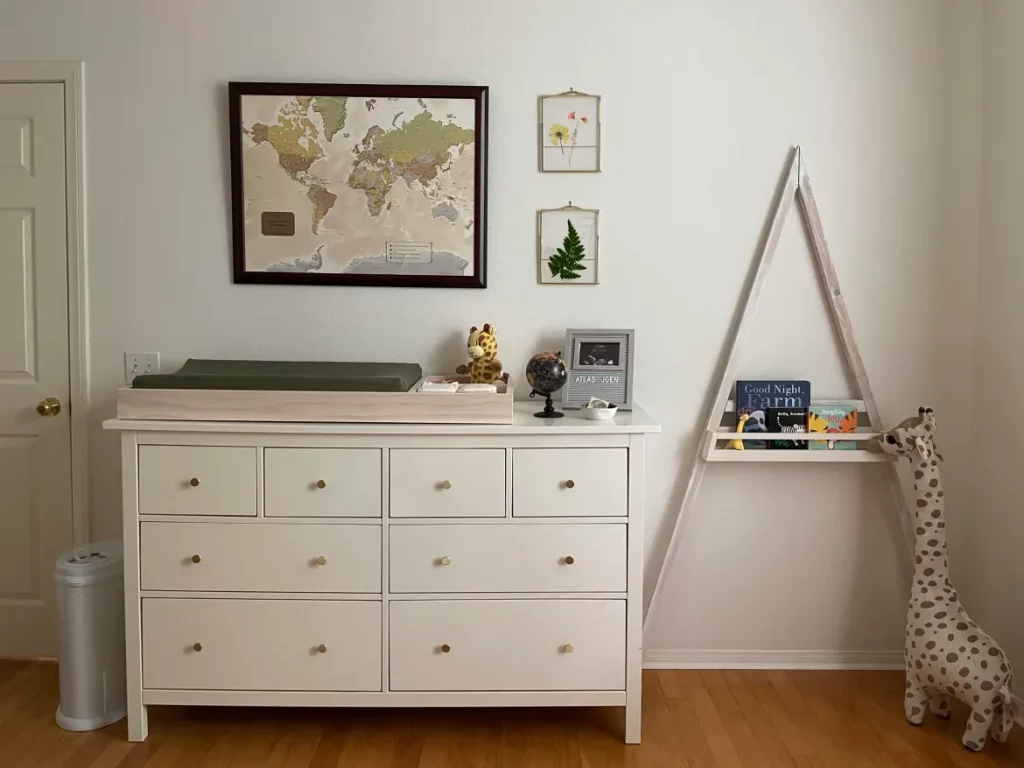 We discovered a gently used dresser from the Facebook marketplace on the opposite side of the room that he can use when he gets older.
I replaced the drawer knobs with ones that matched the curtain rod to personalize it. To save room, I incorporated this universal changing tray so that our dresser also serves as a changing table.
The changing pad is waterproof, and I covered it with a matching cover to add some theme-related green to this side of the room.
The photo frames have pressed flowers to fit the motif, but I'll probably replace them with family vacation pictures. The pale diaper we bought used does a great job trapping stench in his changing area.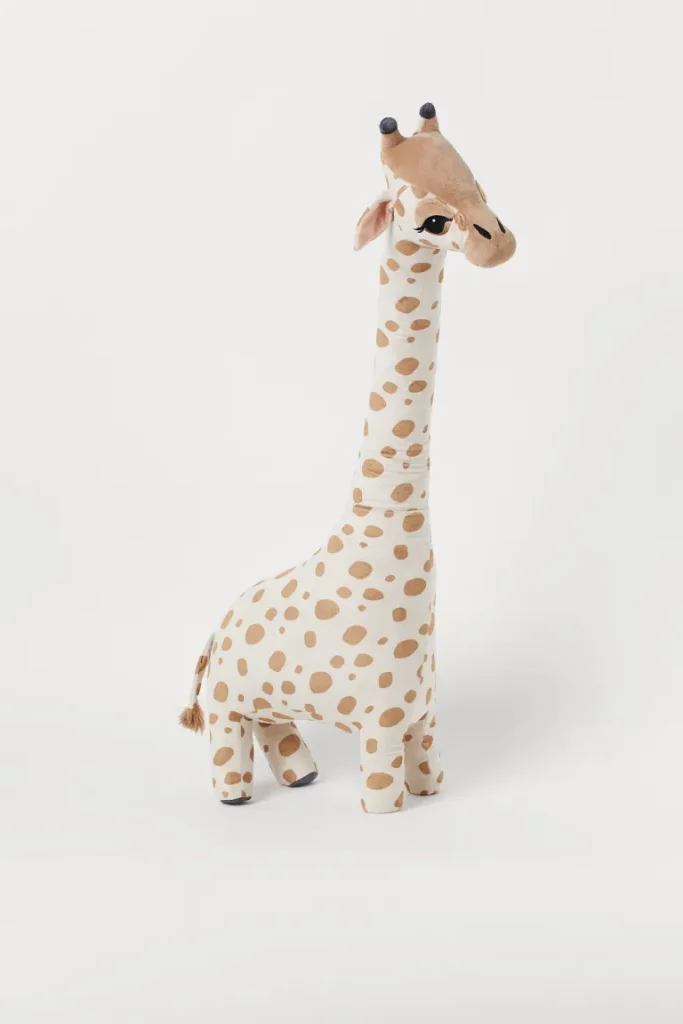 The most sentimental area of the space is this corner. My dad created this arch, which was utilized as a backdrop for photos for my baby shower, and added a small shelf to turn it into an "A" for Atlas. We're hoping Atlas will develop a special reading relationship with the giraffe.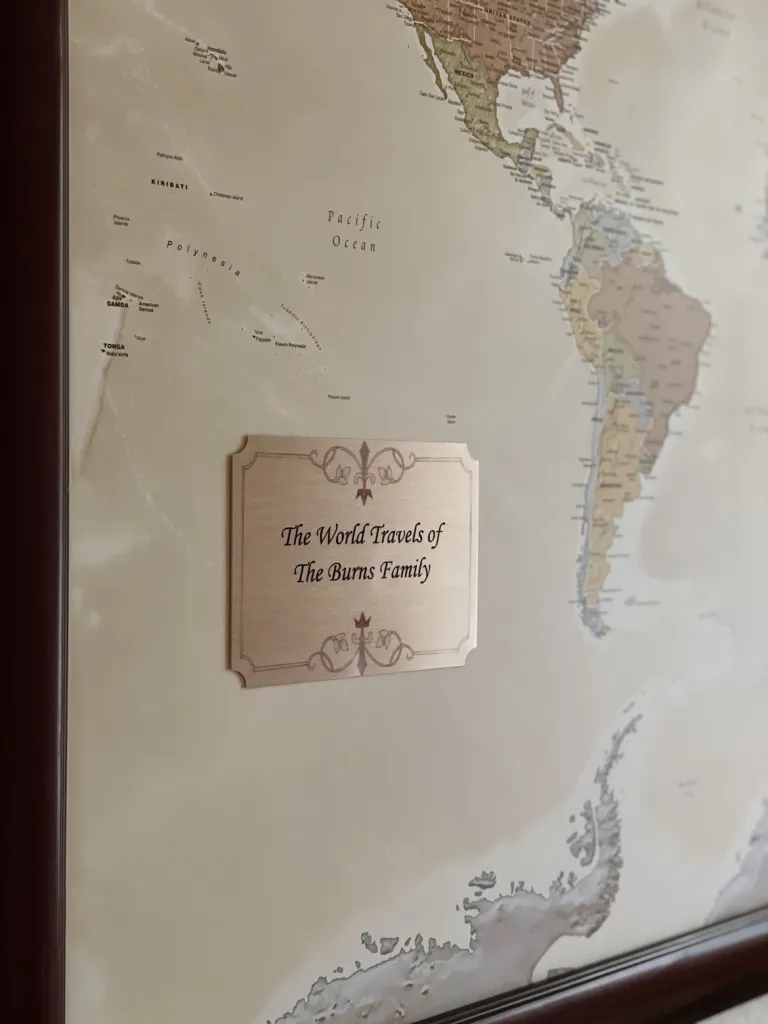 Ah, the finer points. Tarzan scenarios started running through my head as I designed the nursery, so I gave Atlas's room a world travel map and a little globe (or something similar). Josh bought the globe for me for our first wedding anniversary, which typically calls for a present made of paper.
The globe/map detail is also a wonderful nod to his name, Atlas. My sister also gave me the letter board when she learned I was pregnant.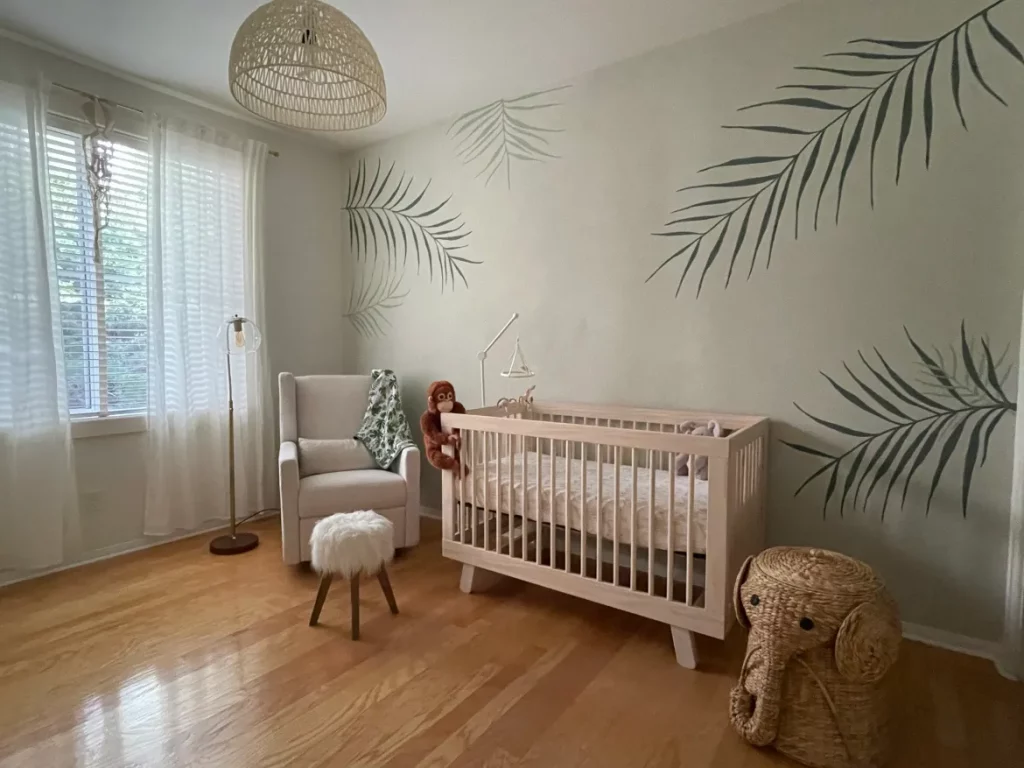 The accent wall art I painted myself and regrettably cannot link to as wallpaper unifies the nursery. Since wallpaper was so expensive and I was painting this mural while pregnant, I wanted to use a paint that was both healthy for me and low in VOCs for the unborn child.
After studying, I learned that lime paint is manufactured by combining minerals with water. Although it's difficult to notice in the images, the walls have an earthy texture that perfectly fits the concept because of the lime paint minerals.
The paint was obtained from Color Atelier, a small business in Northern California. Vendome Beige served as the backdrop color, while Ritual and Cypress Ink served as the hues for the leaves.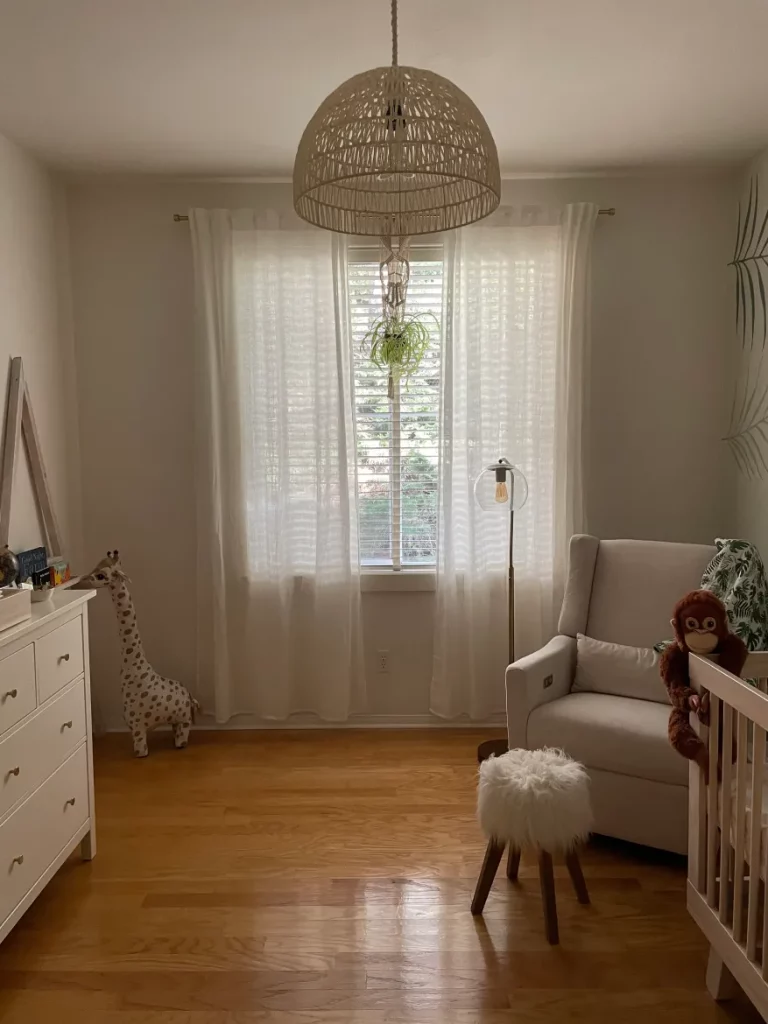 I'm pleased with how our nursery turned out, and I hope it might inspire your little one.
Also Read: How To Create A Baby Boy Woodland Nursery On A Budget
Verdict
While there are many ways to style a nursery decor, a modern safari theme is a fresh and neutral option that can be tailored to your baby's Atlas name.
This safari theme is perfect for girls and boys and can easily incorporate into your home decor. Consider a modern safari theme if you're looking for something new and different for your baby's nursery.